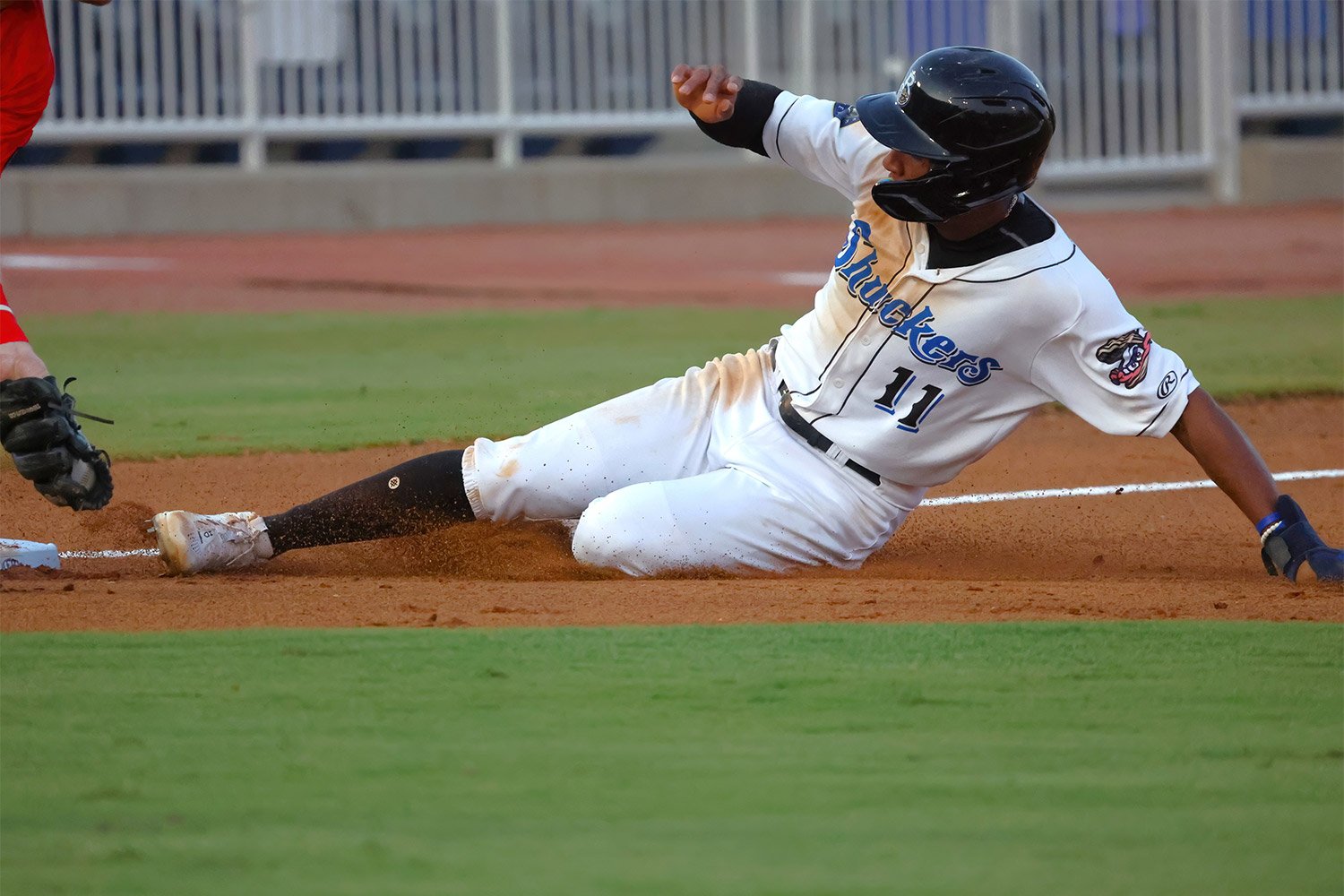 Image courtesy of Biloxi Shuckers
Game Balls:
INF Isaac Collins makes it all better. What a month of July this young upstart is having. I've talked about him on more than one occasion in July - and, rightfully so. He continues to be one of the more unheralded and under-discussed players in the entire system. 3-for-4, 2 RBI, 1 R, 1 BB, 1 K, 1 HR. 

LHP Nate Peterson gets the nod for a very noteworthy debut versus a tough Cedar Rapids opponent in his High-A debut. More of this, please, Mr. Peterson. We're rooting for you!
RHP Thyago Vieira absolutely gets the nod for helping the Sounds escape with an improbable victory after LHP Clayton Andrews scuffled in the ninth and final frame. More below, but suffice to say it was a fantastic piece of closing work.
Abraham Toro gets the nod for his clutch double in the 8th inning leading to a break-out frame when the Sounds came into their half trailing 6-5. Toro continues to be so trustworthy with his switch-hitting bat. I maintain he's currently, and oddly, the best 1B on the Sounds roster (I don't know how much this is actually saying, but it is saying 'something'

?

)
OF Yophery Rodriguez is starting to make a not so subtle case we may have another stud on our hands, folks. Two HR today. A clutch two-run jack in the 10th. He now has 6 HR in his short DSL season. A 4-for-6, 4 RBI, 2 R, 2 HR day is nothing to scoff at. The season BA is now 0.298 with the OPS sitting dead set at 1.000 in 152 PA's. I refuse to get ahead of myself but it is really really hard to not think of a certain other OF'er in Biloxi when I look deeper into his Game Logs and Advanced stats. I'll leave it there.
Transactions:
RHP Jason Woodward (4th Round Pick) was assigned to the ACL Brewers but with a designation of 'Injured - Full Season'

RHP

 Craig Yoho 

(8th round pick) was assigned to the ACL Brewers

UDFA RHP

 Isaiah Jackson

 was

 assigned to ACL Brewers
UDFA RHP Blake Whiting

 

was assigned to ACL Brewers

UDFA RHP

 KC Hunt

 

was assigned to ACL Brewers

UDFA RHP

 Bayden Root

 was

 assigned to ACL B

rewers

LHP Russell Smith was placed on the 7-Day IL by the Biloxi Shuckers (retroactive to 7/23)
C Jeferson Quero was placed on the 7-Day IL by the Biloxi Shuckers
C Jason Lopez was activated off the 7-Day IL by the Biloxi Shuckers 
---
Final:  Nashville  10, Norfolk (Orioles) 8 
Box Score / Game Log

Game Notes 

Via the Sounds' site, game details, please visit and review: 

Sounds Overcome Early Deficit in Win Over Tides
 
Coming into their series opener at Norfolk, the Sounds were losers of six of their past nine contests. RHP Jason Alexander was in a struggle from the first batter into the rest of his outing. He was already at a pitch count of 51 after 2 IP. After these same 2 IP, he saw 7 H, 1 BB, 4 ER, and 2 K. His primary issue was hanging off-speed pitches - early and often no matter the count. These balls were smacked all over the park to all fields. When he located his sinker down and out of the zone he found swings and misses. Unfortunately, the off-speed arsenal just wasn't capably executed. All this being said, kudos are deserved for Alexander. He dug deep when he didn't have his best stuff and ultimately gave his team 5 IP in entirety. This allowed the team to claw back and make a game of things. Ultimately, after the victory, the Sounds moved to 12-9 in the second half one game back the first place Iowa Cubs.

Three Quick Strikes:

1) I don't know if I've seen a home run hit harder by a Sound all season than OF Tyler Naquin's solo blast over the right field wall in the top of the sixth frame. He absolutely got a hold of an inside off-speed breaking pitch and rocketed it in a straight line drive. The Tides announcer definitely concurred with my observations. I'd love to see some Statcast data on that rifle shot - it just might be the hardest hit Sounds hit in 2023.

2) Unfortunately, I continue to be relatively unimpressed with INF Luis Urias' Triple-A work. For a talented infielder who was mired in a season-long slump at the MLB level, a player the Brewers sure could use in good form given their ongoing offensive woes, I'd certainly like to see more competitive AB's. Instead, what I do see on a nightly basis (at present, mind you) is a player whose body language looks like that of a player who doesn't want to be in Triple-A. Will Urias find his way back to the Brewers ball club in 2023? I remain skeptical if this is the version of Urias we will continue to see. The walk he took in the top of the 8th frame was a nice start for my eyes. He laid off several enticing pitches and took the free pass. Let's build from there.
3) LHP Clayton Andrews has been in an up-and-down struggle since he was optioned from the Crew back to the Sounds. Tonight was part of the down. He just didn't have it and he left the bases juiced with only one down and the Sounds clinging to a 10-7 lead in the bottom of the ninth inning. This forced manager Rick Sweet to call upon RHP Thyago Vieira. He struck out his first batter all on off-speed pitches. He then gave up a weak 91.3 mph seeing eye grounder that scored a run as it squeaked into LF. The bases remained full. It was 10-8 Sounds. Vieira once again began a count with a very successful off-speed delivery low and in the zone. He got to 0-2 on a high heater fouled to the backstop. He came back and rifled a heater down the heart of the plate for the swing and the miss. This was the Vieira we grew to love in the early part of this season. It would be absolutely huge if this was the Vieira we got to close out the season.
---
Final:  Biloxi 7, Birmingham (White Sox) 4
Box Score / Game Log 

Game Notes  

Via the Shuckers' site, game details, please visit and review:

Shuckers Set Stolen Base Record, Meeker Sets Career-High in Innings in 7-4 Victory

The Shuckers came into their home series opener having scored 55 runs in their series versus Montgomery last week - leading all of Double-A baseball. They've scored six or more runs in 11-of-12 contests. They have 32 home runs in July alone. This offense is what you call 'on something'. And, they just keep breaking records up and down the lineup. Here's OF Lamar Sparks breaking the single-season Shuckers team steals record with 47 games remaining!
 
RHP James Meeker set a career record of 6 IP as he continues to develop an approach and a philosophy as a starting pitcher - this man will do anything for his ball clubs. The one definitive thing I am seeing in these early starts to Meeker's new role as a starter is his punch outs are down as he is pitching to contact more and more. It's such a small sample size so it's meaningless to make anything more of this observation at the present time, but, this observation is backed up by facts. He continues to not walk batters, however, so there is reason to believe as he continues to learn how his mix plays in extended innings the strikeouts will rise some with it. All told, he finished his night after 6 IP, 

Three Quick Strikes:
1) I try to be extremely fair in my observations during these games. SO, when INF's Freddy Zamora and Ethan Murray flash the leather and execute on multiple occasions, I am going to tell you about it. Tonight, both young men showed us why they are such tantalizingly good defenders and why their collective uncharacteristically sloppy play over the past month plus has been so frustrating. Murray made a web gem play at 3B deep and past the foul line. Zamora made clean scoops and accurate throws from SS. These men need many more games like this as they move up the system if they hope to make it to the MLB level one day. This is what I have come to expect from both of them (perhaps, unfairly) and I imagine this is what they expect from themselves:
2) With C Jeferson Quero shelved with a hand bruise (7-Day IL), it was a scary moment when 1B Wes Clarke took an inside heater high and directly off his elbow pad. He was grimacing in pain and flexing his hand (likely a stinger or nerve flare after contact) and was ultimately pulled from the contest early. INF Zavier Warren was inserted in his place. Needless to say, Clarke's versatility and capable power stroke are a nice ingredient for manager Mike Guerrero and his staff. We'll have to stay tuned tomorrow to see if he is given another day's rest or if anything residual occurred.
3) Special kudos are in order for the collective scoreless bullpen work of RHP's Ryan Middendorf and Cam Robinson. Both young men have suffered through extended bouts of inconsistency in 2023 and, yet, they inspire us all with their commitment to continuing working on their crafts in hopes of reclaiming former glories. Just one year ago, both hurlers were a prominent part of the organizational bullpen picture. In 2023, they have experienced a heavy dose of the baseball rollercoaster. So, tonight, we salute their efforts - Middendorf picked up his 5th Hold and Robinson picked up his 7th Save. Special kudos to Robinson who fought off the insanely weak dribbler single to start his frame and ensuing five-pitch walk. That type of resilience is what every closer absolutely needs.
---
Final:  Cedar Rapids (Twins) 4, Wisconsin 1
Box Score / Game Log 

Game Notes 

Via the T-Rats' site, game details, please visit and review:

Wisconsin Held to One Hit in 4-1 Loss

Full Game Highlights:
(Note: With a mid-day matinee tilt tomorrow for game 2, there is no post-game podcast)
Let's Wrap This Up Quick:
There isn't all that much to discuss when your squad loses a 4-1 affair and your offense musters one single hit.
We'll start with LHP Nate Peterson's highly successful High-A debut: 4 IP, 4 H, 1 BB, 1 ER, 3 K. The moment was certainly not too big for last year's 8th Round pick as he looks to continue improving and building in 2023. He continues to have a very solid season. The T-Rats offense did try to make the most of their lemons: they swiped two bases after two of their six generously gifted free passes. They also managed to get into scoring position three times while executing at a 33% clip. The Rattlers even managed to knock a tying run across early off the bat of INF Robert Moore. It remained tied 1-1 into the fifth inning. Unfortunately, the combined relief work of RHP Nick Merkel and LHP Karlos Morales was incapable of matching the Kernel's scoreless four innings out of their bullpen. It's on to the next. And, well, that is just about it. They'll look to bounce back in game number two.
---
Final:  Carolina 6, Columbia (Royals) 5
Box Score / Game Log 

Game Notes 

Via the Mudcats' site, game details, please visit and review:

Mudcats Open Road Trip with 6-5 Victory in Columbia

The Mudcats improved to 14-10 in their second half - alone in first place leading second place Salem by one game. RHP Yujanyer Herrera got the starting nod to open the series and he did not disappoint as he seems to be rounding into his best form of his 2023 season. This appeared to be an intentional combined bullpen game with Herrera and RHP Chase Costello really did the heavy lifting. Herrera finished after 3 2/3 IP, 2 H, 2 BB, 1 ER, 3 K. The hits were certainly not spectacular - seeing eye grounders up the middle of the infield. Costello also shined in his 3 1/3 IP: 3 H, 1 BB, 1 ER, 4 K. 1 HR. RHP Jeison Pena fought himself for much of his outing and allowed the Fireflies to crawl back into things late but he held the 6-5 lead and we'll take that as a success.

 Three Quick Strikes:
1) A notable development we witnessed tonight is dropping down CF Luis Lara into the three-spot of the batting order. Interestingly, manager Victor Estevez had 1B Tayden Hall (an on base machine in his own right) into the lead-off. This is an intriguing development because it subtly speaks to what several of us have hinted at in 2023: Lara has sneaky gap power. He packs a punch in his smaller frame. He came through, to boot, tonight with a key two-rbi triple to deep right center field tacking on the pivotal 5th and 6th runs in the 6th frame. This might be a small storyline throughout the series: where does Lara bat given his highly capable array of offensive skills?
2) I alerted you all to the ongoing fantastic and unrecognized play of the Shuckers' INF Isaac Collins on more than one occasion this summer. Well, I am going to again remind you of the ongoing fantastic work behind the dish and at the plate from the Mudcats' C Jose Sibrian. This is just a really solid backstop and a capable bat. He throws runners out on a consistent basis. He has gap power. He corrals and tags with skill. There's a distinct reason why he was a rumored trade target by clubs last season and there's a distinct reason the Brewers re-upped this young man: he's a very good baseball player. He finished his evening 2-for-3, 1 RBI, 1 R, 1 2B. He caught 2-of-4 base stealers - he currently catches base runners at a very impactful 36% clip. He made an expert catch and tag at home plate to prevent the tying run to cross. I continue to absolutely love his game.
3) I absolutely love the improved approach and results I am seeing from young OF Jace Avina. He is seeing the ball better. The defense, the hustle, and the intensity will always be there - this is a young man who clearly loves playing the game. But, there were serious concerns from this fan given the early-season slump amidst crazy strikeout numbers. That all seems to have settled down to a sense of normalcy - if that makes sense. He still has quite a bit of work to do to cut back his swing and miss tendencies but a 29% clip is much more palatable than a 50+ % K rate. Tonight we saw a near missed home run blast left of the left field foul pole and a next pitch blast off the low wall in left center field. He finished his evening 1-for-3, 1 R, 1 2B, 1 BB. How he closes his season is a storyline I am tracking on a nightly basis.
---
ACL D-Backs Black 10, ACL Brewers 5 
Box Score / Game Log

After trailing 4-2 by the second inning, as RHP Ryne Moore struggled in his 3 IP (6 H and 2 BB), the Crew saw the D-Backs Black run away with the game in the middle innings. It was 9-2 before the Crew managed to plate three runs in the bottom of the 8th. As always, there are notable performances in the finer details within:
The ACL Crew fell to 18-17 still just 1.0 GB of the ACL Reds. Plenty of ballgame left!
---
DSL Yankees Bombers 11, DSL Brewers #1 10
Box Score / Game LogThe first thing that obviously pops off the screen when you scan the box score and the game logs is OF Yophery Rodriguez's ongoing output. Stellar (as ntoed above in the Game Balls). However, there was quite a bit going on in this one and, wildly, the four runs the Crew Uno plated in the 10th weren't enough! Oh, those DSL tilts can be wily.

Let's just start with the collective outfield of the Cerveceros Uno went a combined 10-for-17, 4 R, 8 RBI, 2 3B, 2 HR, 2 BB, 0 K. Sweet goodness. Who were the other bandits in the box beyond the perennially intriguing Rodriguez? LF Idalberto Santiesteban and his 3-for-5, 1 R, 1 RBI, 1 BB, 4 SB output. And, RF Brian Sanchez and his under-the-radar campaign continued: 3-for-6, 1 R, 3 RBI, 2 3B, 1 SB. That is quite the offensive display as a whole - you can win some games with that type of work?. Let's also recognize INF Kevin Ereu's 2-for-4, 2 R, 1 2B, 1 BB, 3 K day and his ongoing subtle statement indicating maybe he's getting over that early season injury? Who knows? It's too hard to tell beyond his season as a whole has been a disappointment and his error in the 10th certainly appears to have led to the winning Yankees run.
The real unfortunate part of this game, however, was the spoiling of another hugely impactful RHP Enniel Cortez start: 5 IP, 4 H, 1 BB, 0 ER, 6 K. The man has been, simply put, an Ace this entire DSL season. I'm jonesing to see what we might have here stateside. His numbers, across the board, are extremely noteworthy. Go ahead and check out his MiLB player page HERE

The Brewers Uno fall to 21-15 with the loss. 
---
DSL Marlins 8 , DSL Brewers #2 7
Box Score / Game Log

The DSL Cerveceros Dos are better than their 13-23 record would indicate - let me get that out of the way. They have managed to lose several tight ones over the past couple of months and today's game was definitely one of those. Their three run ninth inning rally ended when C Freider Rojas struck out. Once again, they showed fight and their collective effort fell just short. A closer look at the box score and the game logs shows us several things:
The combined relief work of RHP Dikember Sanchez and RHP Justin Caceres - 5 IP, 2 H, 1 BB, 5 K, 0 R - was the only thing that allowed the Crew #2 an opportunity to steal one late. This was a heck of a performance by these two young hurlers.
INF Demetrio Nadal is taking his increased opportunity and running with it: 2-for-3, 1 R, 2 RBI, 1 BB, 1 SB, 1 3B. In a summer of pleasant surprises in the Rookie Leagues, Nadal is certainly on the list. 

PH Cristopher Vazquez continues to flash potential when given opportunities. His pinch-hit two-rbi single in the ninth inning rally brought the game to a 7-8 deficit. He has a limited sample size, for whatever reasons at present, but it's hard not to notice his impact.
---
What a solid opening night of baseball for this last week of July. And, whoa, we only have four games tomorrow?! It's a classic affiliate affair. The T-Rats will open things mid day when RHP Cameron Wagoner looks to keep building off his fantastic start in Dayton just last week. Will he give us another clinic in effective off-speed deliveries? Carolina, Biloxi, and Nashville will all be playing their game two's in the evening. 
That's a wrap for me. As always, thanks for reading and thanks for supporting Brewers Minor League baseball.
Think you could write a story like this? Brewer Fanatic wants you to develop your voice, find an audience, and we'll pay you to do it. Just fill out this form.
MORE FROM BREWER FANATIC
— Latest Brewers coverage from our writers
— Recent Brewers discussion in our forums
— Follow Brewer Fanatic via Twitter, Facebook or email
1