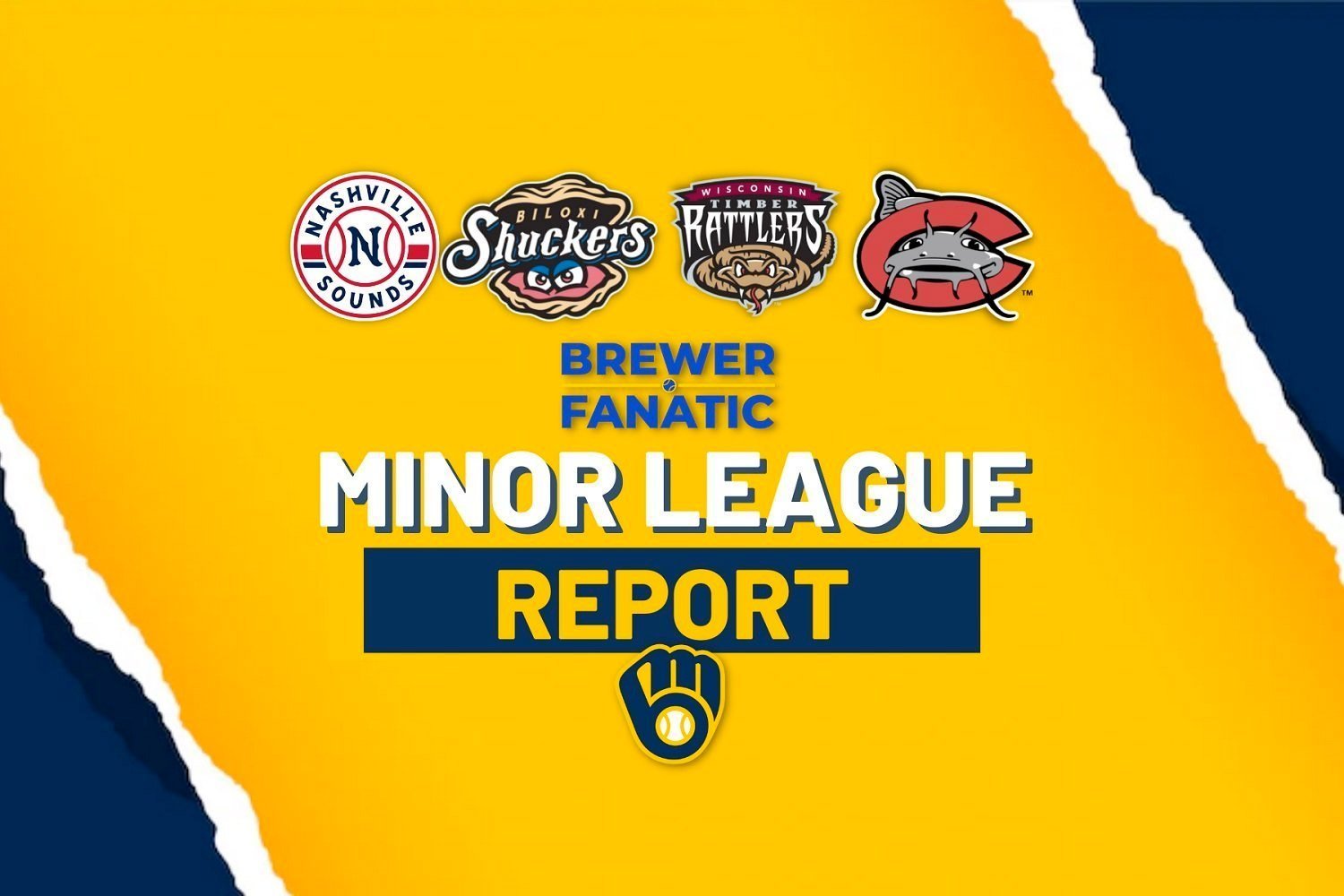 Image courtesy of Brewer Fanatic
Transactions: 
OF Eduarqui Fernandez was assigned to the Carolina Mudcats from the ACL Brewers Blue - he will be wearing jersey #15.
Firstly, a brief word:
You could make many an argument for highly coveted internet Game Balls to pitchers like LHP and DSL upstart Osbriel Mogollon, Biloxi's RHP Victor Castaneda, Carolina's RHP Alexander Cornielle continuing his recent run of excellent starting pitching work, RHP Cam Robinson and his first save in Double-A after a scoreless frame, RHP Ryan Middendorf and three more scoreless 4 K innings of work in Carolina (un-scored upon in his three outings since his ACL promotion), RHP Justin Topa's successful return to Triple-A relief, RHP Nash Walters got a key out in 1/3 innings of work and extended his scoreless streak to well over a month, and hey it's three more scoreless innings from the great Nashville bullpen. These are all great things. BUT, folks, tonight is about the future of the Brewers outfield. It is extremely bright. And, heck, OF Hendry Mendez - who continued his scorching hot July - didn't even get on the list with a 3-for-3 two-run, 1 rbi, 2 SB evening. And, it would appear, he stole home to claim the Mudcats first run! Let's all take a breath and ponder what that Brewers outfield might look like in the years ahead.
And, now, let's get into the game recaps!
***
Carolina Pre-Game Notes  (Note: contrary to the published pre-game notes, the Mudcats are playing Fayetteville not Down East)

Final:  Carolina 7, Fayetteville (Astros) 3
Box Score / Game Log                              
Via the Mudcats' site, game details, please visit and review:
Mendez Collects Three Hits in 7-3 Victory
OF Hedbert Perez took on the unenviable task of replacing Jackson Chourio in center field for the Mudcats. As noted above in the 'Transactions', we'll soon be seeing a healthy dose of 20-year-old outfielder, Eduarqui Fernandez. However, on this night, the fill-in was really Oswel Leones who took left field and batted second in the Mudcats lineup. RHP Alexander Cornielle came into tonight's game with three previous starts in July in what has proven to be his best month for Low-A Carolina:  17 IP, 13 H, 5 BB, 16 K, 4 ER, 2.12 ERA, 0.210 BAA, 1.06 WHIP. So, how did Cornielle and the upstart Mudcats perform? Quite well. Quite well, indeed.
Three Quick Strikes:
RHP Alexander Cornielle is quickly carving a name for himself in the Brewers pitching stable. Where current Mudcats Ace Carlos F. Rodriguez has seen his K:BB ratio narrow across his season, Alexander has seen it steadily improve to a now comfortable 2.5-3:1 gap. He's also lowered his WHIP considerably and it's giving his team a legitimate chance to claim victory every time he takes the hill. Tonight's line: 5 IP, 5 H, 2 BB, 3 ER, 9 K. That will play most nights. This is one of our most exciting young pitchers. If you don't know his name, it's time you start to learn it. You've been politely advised.
It's time to really start placing more value on what we're seeing from OF Hendry Mendez in July. Heading into tonight's contest he had hit to the tune of 0.348 in 69 lead-off AB's with an 0.871 OPS as the, then, second youngest player in Low-A. Well, now he is the youngest player after Chourio's promotion. With his running-mate gone to High-A, Mendez continued to play like a stud. This young man has an incredibly smooth level lefty swing and he has an extremely disciplined approach in the batters box sporting a ridiculous 53K:50BB on the season. There's no telling where his game will go, but, all the tools are there. The sky is the limit. You've been politely advised again.
 RHP Ryan Middendorf continued his excellent work since his ACL promotion. He held down three pivotal innings late with a mere single hit and four punch outs. He has yet to concede a run in Low-A - albeit, in a mere three outings, but, it is noteworthy he has 10 K to 0 BB. This is an exciting journey to witness from afar and could be another feel good Indy reclamation project for the Brewers organization. A special mention will also go to the continued improvements we've witnessed from RHP Miguel Guerrero since he was sent back to Carolina from the Wisconsin bullpen. Guerrero pitched a scoreless ninth inning tonight for the Mudcats with a walk and two strikeouts.
***
Wisconsin Pre-Game Media Notes            
Cedar Rapids (Twins) 10, Wisconsin 4
Box Score/Game Log                        
Via the Timber Rattlers' site, game details, please visit and review:
Kernels Storm Past Wisconsin - Rattlers See 4-1 Lead Evaporate in 10-4 Loss
The Timber Rattlers came home to Fox Cities stadium to try and recoup some semblance of winning ways. Entering tonight's contest, even though they led the overall Kernels series 8-4 in 2022, the Rattlers had lost seven straight games overall. Fresh off a 1-5 series in West Michigan and an 0-3 series in Beloit, could a Chourio bat in the lineup fix these woes? Well, aside from that misleading score (it was a one-run ball game heading into the ninth), this was another heartbreaking loss for the Timber Rattlers. Make that eight straight losses overall and now tied with West Michigan at six game back of first place in the second half standings.
The silver lining? Outside of Chourio's debut, it is a home series for the T-Rats so let's start with their illustrious media offering(s):
It doesn't look like tonight's meltdown was inviting for a post-game podcast. Hopefully, we'll get some in the games ahead.
Three Quick Strikes:
One things I've noticed in many a Russ Smith start in 2022 is his fastball has a propensity to tail away from him - it's a bit like a slight slice off a tee-box. It would be one thing if this was used as a tool ahead in the count, but, really, it seems to happen on the regular and it often gets Smith behind and in unfavorable 2-0 counts. This was the case to start tonight's game as he walked his third batter and, with two down, fell behind 2-0 again to the Kernels' DH Yunier Severino. Severino ripped the very next pitch into far left field scoring a runner and grabbing third on the throw home. If I could name one thing I'd love to see from Smith moving forward: more control and more pitches in and closer to the zone. Smith walked three and hit a batter tonight. The hit batter led to a mistake change-up the same Severino ripped over the wall in left field making it a 4-3 game. All told, Smith finished a quality start with six complete innings and three runs surrendered.
Jackson Chourio began his High-A career by corralling the first Kernels out on a routine fly out to right center field. He followed that up with a hit - a rope line drive single off the edge of the infield dirt and into left center field on his very first swing in High-A ball. He then closed the second inning with a running basket catch in right center field preventing a run from scoring in the process. Quite the transition to High-A.
It didn't stop there, however. Chourio worked a count full for a walk in his second trip to home plate. He then ripped a double off the wall in deep right field for his first rbi in his third at bat. 
3. One of the ongoing issues I've witnessed during the Timber Rattlers losing streak is a rough adjustment to the loss of RHP's Kent Hasler              and, now, RHP Cam Robinson. The bullpen is thinner and has lost its primary early-season late innings talent. This is going to take some time            for manager Joe Ayrault to find the right mix beyond RHP James Meeker who seems to be their current stalwart. They'll need improvements            from RHP Joey Matulovich and RHP Christian Tripp to help solidify things. And, they'll desperately need RHP's Taylor Floyd and Hobie Baker to            play more effectively - they've both struggled for stretches of 2022. If you want to see the unraveling of a relief pitcher and some very weird            head games played by a home plate umpire, watch Floyd's ninth inning work this evening. It was ugly stuff. Here's hoping he can recover.
***
Final: Biloxi  5, Montgomery (Rays) 3
Box Score / Game Log 

Via the Shuckers' site, game details, please visit and review:
Speed Wins the Day in Shuckers 5-3 Victory - Castañeda Matches Season High with Six Quality Innings
Since returning to the Shuckers pitching staff from a 20-day IL stint June 23rd, it has been a very real struggle for RHP Victor Castaneda. To date, in the 16 innings he had pitched, he had surrendered 16 runs. In July, previous to this start, Castaneda had a 2.42 WHIP while batters were hitting to the tune of 0.396. Something was very off for a pitcher who was absolutely dealing heading into June. How long will it take for him to find the form of April and May when he surrendered 14 runs in 44 innings? Time will tell. Let's see how the stacked Shuckers' lineup fared as they looked to support a hopeful Castaneda rebound performance.
Three Quick Strikes:
IF this is a version of OF Garrett Mitchell we're going to see with any semblance of regularity, "Shiver me timbers!", I say. How about an opposite field bomb - his sixth double in 9 games since his return (!!) - to tie the game at one apiece? Mitchell has all the tools you'd want in an outfielder - he has decent size, a solid arm, incredible wheels, and he is simply just an incredibly smooth and agile athlete. His recent string of play absolutely showcases why he was drafted in the first round. It really comes down to staying healthy. My fingers are crossed. Frankly, they're losing circulation.
Much like with Chourio above, it didn't stop there for Mitchell. His speed absolutely wreaks havoc on the base paths. Just watch this slide and break-up beating the double play grounder, causing the misfired throw to first, and then stealing home base when it's all said and done. It's simply beautiful:
2. As Joey Wiemer continues his ongoing offensive snooze fest, there's yet another Shuckers outfielder who is scorching hot since his return          from the IL: Sal Frelick. He hit lead-off again tonight and finished 2-for-5 with a deep double off the wall in right field and later tagged a solo              shot to extend the Shuckers lead late. Here's a glimpse at the double. The hip flip and smash to right field is becoming a common occurrence            these days: 
About that hip flip:
The operative phrase we use here is: "Oh Baby!" 
3. We will take the Victor Castañeda 6 IP, 2 H, 1 BB, 3 K, 1 ER (a solo shot) and run to the hills. More of this, please, Mr. Castaneda! His broader            July numbers will still look quite ugly but this is the sign of a possible return to his earlier dominant form. I'm all for that. Also of note on the 
mound tonight: Cam Robinson picked up his first save in Double-A and RHP Nash Walters extended his scoreless outing streak to 15 outings.
***
Nashville Pre-Game Media Notes      
Final:  Nashville 5, Charlotte (White Sox) 2
Box Score / Game Log                 

Via the Sounds' site, game details, please visit and review:
Mathias and Turang Homer in Nashville's Win - Tyler Herb Delivers Quality Start in Homestand Opener
The Sounds received a much needed quality start from Tyler Herb (although it wasn't all roses - he did work around eight hits and a couple walks) and got a vintage performance from their constantly shuffling but almost always dominant bullpen. Brice Turang continued to do July Brice Turang things - he's on a tear, folks. Get excited. Mark Mathias proved his AAAA merit yet again. And, hey, Keston Hiura appears to be a part of the most unlikely of left field rotations with C/OF Jakson Reetz. Boy, the things that happen in a baseball season.
Three Quick Strikes:
Let's get back to Brice Turang: 27th multi-hit game for the Sounds after tonight, 21st stolen base (tied for 6th in the International League), 13 game on-base streak, 69 AB/ 0.319 BA/ 0.973 OPS/ 3 HR/ 5 2B/ 1 3B/ 7 SB/ 13 BB:17 K in July. 22 years old. Oh, have I mentioned he's an absolutely incredible fielder? I could showcase his third home run of the month, but, I'm a sucker for defense. He does this on a weekly basis, folks. He's an absolute joy to watch:

It's quite easy to say INF/OF Weston Wilson hasn't had the season he'd like at the plate. But, the flexibility he offers manager Rick Sweet throughout the diamond has been absolutely key in a year where injuries have struck often; players have been shuffled between the Taxi Squad and Brewers roster; and players have requested trades or their release to head for more playing opportunity elsewhere. Weston has played through it all. And, occasionally, he offers us a play like this: 

Is RHP Justin Topa next in the Brewers bullpen shuffle? We know he's on a rehab assignment, so the obvious guess is: 'Yes?' Regardless, he pitched an effective scoreless inning in his inaugural rehab outing in Nashville's bullpen. It will be interesting to see how the Brewers address some ongoing issues in their middle innings (especially considering RHP Trevor Gott's ongoing struggles), but, if all goes well for Justin and he faces no setbacks we could be seeing him in Milwaukee's pen sooner than later.
***
DSL Phillies White 3, DSL Brewers #1 1
Box Score/Game Log
Oh, to lose 3-1 when you outhit your opponents a whopping 4-2. It was one of those baseball games. LHP Osbriel Mogollon continued his fantastic 2022 DSL season. He went 4 IP, 1 H, 1 BB, 4 K's and lowered that ERA to a pristine 1.03. The unfortunate Brewers 1 hurler who will be credited with the loss is RHP Braudin Ciprian. All three runs went unearned and, well, largely due to Braudin's self-induced mistakes. After Braudin mishandled a throw off a sacrifice bunt, we see a fielding error by INF Gery Holguin, and then a wild pitch. Three runs crossed home plate and that was the ballgame. The Brewers 1 finished 1-for-11 with RISP failing to take advantage of a lead-off Arnys Rodriguez double in the sixth.  
***
DSL Brewers #2 9, DSL Texas Red (Rangers) 2
Box Score/Game Log
INF/OF Yeison Perez continued to do 2022 Yeison things: 2-for-4, 1 R, 1 2B (8th on the year), 1 BB. Yeison is now hitting 0.329 with a 1.094 OPS in 85 AB's. INF Juan Baez went 2-for-4 in the lead off slot playing shortstop once again. OF Reminton Batista scored three runs going 1-for-4 with a walk and a strikeout (a passed ball explains the third run). Really, this final result surely seems to be largely in part to the combined six scoreless innings of bullpen work from RHP Daurys Mora (who picked up the win with his 3 IP, 3 K, 2 H, 1 BB work), 21-year-old RHP Roman Perez (2 IP, 1 H, 2 K), and 18-year-old Franddy De Los Santos (1 IP, 1 BB, 0 H). 
***
ACL Reds 9, ACL Brewers Gold 3
Box Score/Game Log
2-for-11 with RISP isn't going to win most nights. 2022 ACL stalwarts, INF's Jadher Areinamo and Jose Caballero went a combined 0-for-7 with 3 K's. Down 9-0, the Brewers Gold managed a brief three-run mini-rally in the top-half of the sixth inning. It all ended there, however. We'll give a special nod and mention to RHP Fray Morelo who pitched his first clean inning since June 30th - 1 IP, 0 H, O BB, 2 K.
***
ACL Brewers Blue 8 ACL Cubs 4
Box Score/Game Log 
This is officially a mini-blurb about OF Jace Avina. He hit his ACL-leading 9th home run tonight in a mere 100 AB's - a three-run blast to take the lead and secure the victory. He knocked across five rbi's and his 25th rbi in the same 100 AB's. His swing is smooth like silk. He comes across as the most likable young athlete I've seen in some time. He is just an easy young man to root for. May he prosper. May he find the ability to cut down on the strikeouts. And, may he give his all to enter the piranha tank of talent that is the Brewers organizational outfield depth. This is also a RHP Quinton Low post. Still scoreless out of the bullpen, baby. Two weeks off to play some offense? No sweat. Quinton will pitch another clean sheet. 
***
Another night passes, but, boy was it a good one from the vantage point of prospects. The organization won some. The organization lost some. But, the prospects really shined and that's what we're all here for. Stay tuned tomorrow as the Timber Rattlers look to stop their skid in a matinee affair - RHP Justin Bullock will look for an elusive quality start. RHP TJ Shook and RHP Caleb Boushley are highlights on the hill for Biloxi and Nashville, respectively, in the evening contests. The DSL Brewers 1 will have the day off but the DSL Brewers 2 will look to make it two in a row as they face DSL D-Backs Red. Both ACL teams will take the day off to rest or possibly fine-tune their crafts. As always, thank you for checking in. 
Organizational Scoreboard including starting pitcher info, game times, MiLB TV links, and box scores

Dominican Summer League Scoreboard

Standings and sortable stat pages

Current Milwaukee Brewers Organization Batting Stats and Depth

Current Milwaukee Brewers Organization Pitching Stats and Depth
Think you could write a story like this? Brewer Fanatic wants you to develop your voice, find an audience, and we'll pay you to do it. Just fill out this form.
MORE FROM BREWER FANATIC
— Latest Brewers coverage from our writers
— Recent Brewers discussion in our forums
— Follow Brewer Fanatic via Twitter, Facebook or email