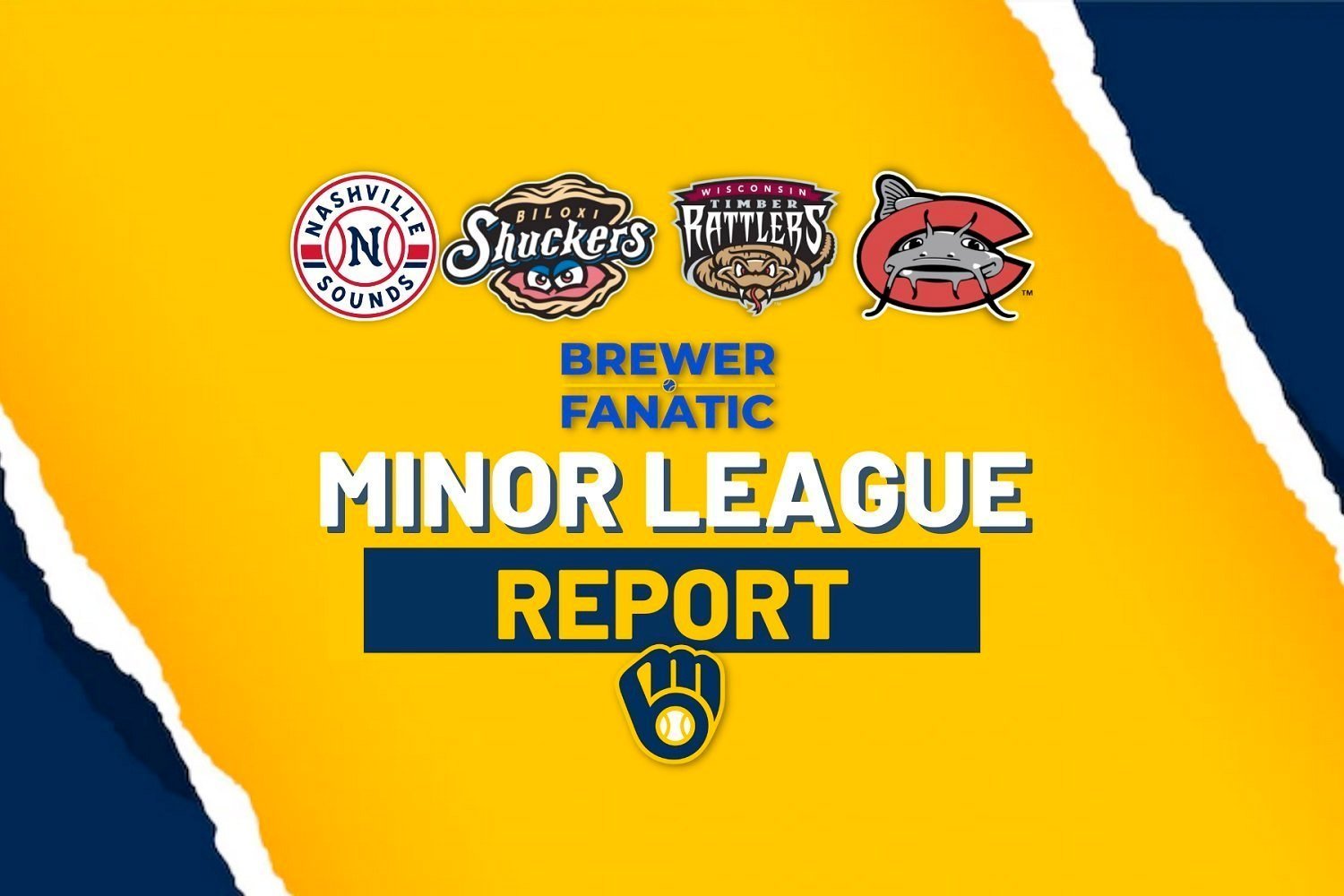 Image courtesy of Brewer Fanatic
Transactions: 
RHP Peter Strzelecki was recalled by the Brewers from the Nashville Sounds bullpen 
LHP Ethan Small was optioned back to the Nashville Sounds starting staff from the Brewers
Additionally, a slew of draft and post-draft signings. A retirement. And a release:
***
Nashville Pre-Game Media Notes   (Note: This 'Game Notes' hyperlink was not working the evening of this game)
Final:  Nashville 12, Charlotte (White Sox) 5 
Box Score / Game Log                

Via the Sounds' site, game details, please visit and review:
Sounds Own the Knight(s) Again - Jon Singleton Homers, Knocks in Five Runs in Win
Jakson Reetz returned to work behind home plate and helped Caleb Boushley absolutely grind his way through five innings and 100 plus pitches (I can't tell you the last time a Nashville starter threw 100 or more - it's been awhile). Reetz also hit an RBI triple in his first at bat of the evening. In a distant train yard, the Reetz Hype Train whistle sent a faint whisper into the bleachers - rusty and weary from weeks of intermittent Triple-A playing time. Two innings later, you could really hear that Hype Train whistle scream: Reetz sent a solo shot (his second in Triple-A) over the wall in left field. 
The Sounds knocked across five runs in their first inning at the plate - key hits arrived via a Jon Singleton double, a Pablo Reyes double, and Reetz's aforementioned triple. This was an offensive affair through and through. Thankfully, the Sounds bullpen once again eliminated any notions of a comeback.
Three Quick Strikes:
Lost in the ongoing discussions of what the Brewers may or may not do with a certain Washington Nationals first baseman is the fabulous July Singleton is having for Nashville. He doesn't have the batting average that will pop off the page, and in fact just surfaced back above 0.200 this week on the season

?

. However, the walks are always there (13 BB:18 K in 68 July AB's - 71 BB on the year). The power comes in spades (18th home run and eighth of July tonight - a three run shot to dead right center field off a lefty) and the defense is fantastic. All told, in the hottest month so far in 2022 Jon has met the mercury with some serious offensive heat of his own: 0.265 BA, 20 H, 8 HR, 4 2B, 8 HR, 21 RBI, 17 R, OPS well North of 1.000. That's fantastic stuff. Please take notice.

This is my standard Nashville Sounds bullpen post: 4 IP, 0 ER, 6 K, 1 H of combined work from RHP's Marcus Walden, a rehabbing Luis Perdomo, and Lucas Erceg . Walden provided the settle down power after Boushley's grind ended in the fifth, Luis pitched a scoreless eighth, and Lucas rebounded from his roughest outing his last time out and worked his way out of a lead-off single. With Strzelecki back with the Brewers, the strength of the Sounds team still shines. 
This is my standard Brice Turang post: a lead-off walk to start the game and a 2-for-4 evening overall (3 R, 1 RBI, 1 2B, 1 BB, 1 K). He is the Yin to Singleton's Yang in July. Any worries we may have had from the precipitous XBH drop-off in June has absolutely vanished. He's been simply put: stellar. At 22 years of age, I think it's absolutely fair to ask: is Brewer Fanatic's #6 prospect the Brewers best current prospect? I don't have that answer but it's certainly worth considering. Like his manager, Rick Sweet, I simply enjoy watching him play baseball. 
***
Final: Montgomery (Rays) 3, Biloxi  2
Box Score / Game Log   

Via the Shuckers' site, game details, please visit and review:
Low Scoring Affair Ends in Favor of Biscuits - Shook Sets New Career High with 6 1/3 Innings Pitched
RHP TJ Shook again showed us again why we're excited about his future and, perhaps, he's simply been slowly adjusting to Southern League play. When all was said and done, Shook gave us 6 1/3 career-high innings of 2 H, 2 BB, 4 K, 2 ER ball. Unfortunately, the Shuckers bats were incapable of rewarding his quality start as he left with the score tied at 2-2. The Shuckers bullpen came aboard and held serve until RHP Zach Vennarro gave up a lead-off walk in the ninth frame. That Biscuits' base runner immediately stole second base and the ensuing batter hit a single. It was 3-2 Montgomery just like that.
Three Quick Strikes:
 With one down and trailing 3-2 in the top of the ninth (after a Garrett Mitchell strikeout), Joey Wiemer saw an inside 97 mph pitch tail in and toward the hands portion of his bat. He swung quite hard, lost control of his bat, and was in clear grimacing pain. This hand injury seems to have first appeared in the Fall League of 2021. It may have surfaced in June of this year. I would not be the least surprised if that scary moment tonight ultimately sends BF's #1 prospect headed to the bench tomorrow. It's been a tough go since the IL stint for the young outfielder and it's been tough to see his season get away from him. What I'm seeing, unfortunately, is his right hand seems to be an ongoing issue.

?

 (For a direct look at what I'm talking about: MiLB.TV Game Link - 03:34:54 Mark)
Why was Wiemer sent on such a hard hit ball to right field with two down in the bottom of the ninth? Probably because manager Mike Guerrero hadn't seen a single hit since the third inning. Thomas Dillard 's well-hit single was merely the third Shuckers hit of the entire game. Unfortunately, the ball was roped so hard it one-hopped directly to the right fielder who threw with plenty of time to tag out the sheepishly sliding Wiemer. It was one of those rough endings to one of those baseball games. There was some offense, however, and it all happened in the third inning: 

I highlighted TJ Shook's fine outing above, a hats off is also due the Shuckers bullpen work of RHP Harold Chirino, recently recalled RHP Luis Contreras , and Vennarro. Vennaro gave up a lead-off single and a stolen base to start the ninth and ultimately conceded the winning run on an opposite field single from ongoing Shuckers nemesis, Biscuits outfielder

Niko Hulsize

r. However, given their were no outs at this juncture and there was an ensuing mini-delay due to a stadium power issue, Vennarro deserves credit for returning to the mound; staying fresh; and striking out three consecutive batters. He gave his team an opportunity to take one in the bottom of the ninth inning and the Shuckers nearly did so.
***
Wisconsin Pre-Game Media Notes            
Cedar Rapids (Twins) 7, Wisconsin 4
Box Score/Game Log                        
Via the Timber Rattlers' site, game details, please visit and review:
Kernels Drop Wisconsin 7-4 - Cedar Rapids Breaks 3-3 Tie and Holds Off the Rattlers
Home Series T-Rats Delicious Media Nuggets:
Post-Game Pod: 'This Stupid Beautiful Game We Love'
***
The Timber Rattlers sent struggling RHP Justin Bullock to the mound hoping to end their eight-game skid. After giving up two home runs and three runs in the top of the first, Justin actually settled in and pitched a fine game retiring 12 in order before allowing a base runner in the fifth inning. Unfortunately, things didn't go the Timber Rattlers way as familiar recent patterns reared their heads - an inability to get timely and opportune hits and an inability for the bullpen to limit damages.
Let's take a quick look at what I saw in this afternoon's contest and let's remind ourselves to stay positive: the young men are giving their all and the hits will come. There were many hard hit balls leading to a sour 2-for-14 mark with RISP. Baseball is a tricky tricky game just as Chris and Kyle's post-game podcast title alludes to, AND, keep in mind, these young men are still putting on kid's camps in the afternoon during this home series. Nine tough losses in a row but still showing up to leave a positive impression on the young ones.
Three Quick Strikes:
Even when the bullpen is struggling and the bats struggle to find that one or two key hits to turn the tide, the Timber Rattlers defense continues to shine. Check out these web gems from INF Antonio Piñero and OF Tristan Peters , respectively. These were absolutely key plays limiting what could have been further damage done to the T-Rats bullpen: 

The loss of INF/OF Tyler Black (BF's #7 prospect) to a club that had already lost Sal Frelick to promotion is huge. Outside of OF's  Peters and Jackson Chourio, it's hard to know who the third fiddle will be on a given night. Joe Gray Jr. has a little hitting streak going, and has shown flashes at the plate in the past month, but he's still hitting sub 0.200 and not walking much at all. Flipping the script, INF/C/DH Wes Clarke continues to take free passes but the bat has gone relatively quiet and INF Ashton McGee has yet to stake a claim to a prolonged consistency in 2022 (his strikeout with men on first and second base was the last real opportunity the T-Rats had in the game). For a team walking an extremely tight line with a struggling bullpen suddenly lacking any real shutdown component, the offense is going to have to heat up or find aspects of itself hidden in the nooks and crannies of the batting cages and the dugout. Time will tell. We know the ball club will put the work in.
Speaking of Gray Jr., he did manage to extend his hitting streak as part of another early lead claimed by the offense. Trailing 1-0, he hit an opposite field line drive single to right field to knot the game at one run apiece. He later took second base and Chourio stole home in a classic double steal, and the Rattlers led 2-1 early. Like all too often in recent memory during this nine game skid, that lead was short lived. As the game progressed, so faded any chance at victory.
***
Carolina Pre-Game Notes  

Final:  Carolina 7, Fayetteville (Astros) 5 
Box Score / Game Log                           
Via the Mudcats' site, game details, please visit and review:
Carolina Wins Fourth Straight, 7-5 in Fatyetteville - Jesus Chirinos Celebrated his 21st Birthday with a Three Hit, Three Run Night
OF Eduarqui Fernandez 's first Low-A AB will go down in the history books as a caught-looking five-pitch strikeout. He managed a single and an RBI as part of a Mudcat three-run third inning where he also ended the inning caught stealing. It was a mixed bag in his first Low-A action including 2 more strikeouts (three total) but a 2-for-5 evening overall and his first double for good measure. We'll have to stay tuned in the games ahead. Ultimately, this was Jesus Chirinos ' night. Happy 21st birthday to the young man. He had quite possibly his best game of the year going 3-for-4 with three runs and a double.
Three Quick Strikes:
RHP Fernando Olguin hadn't pitched since early July but he brought his best stuff to the mound tonight taking his team through five complete innings of 2 R, 4 H, 3 BB, 2 K ball. It's been an up-and-down ride for Olguin since his ACL promotion, but night's like these will always give his team a chance. 
In a game where the Mudcats offense opportunistically scored seven runs (3-for-12 with RISP), one just might notice another stat for the young batters: 18 total strikeouts. Thankfully, the young men also managed to take eight free passes - led by the patient INF

Zach Raabe

's three walks. The overwhelming youth on Victor Estevez's team would do well to simply pick up the plate discipline habits of Raabe and the precocious Hendry Mendez . 
21-year-old RHP Jeferson Figueroa completed four innings of 6 K, 6 H, 2 ER ball for his first career save. A nice line, but, it certainly wasn't easy late. His ninth inning opened with consecutive singles and the runners advanced on a wild pitch. No outs and the tying run at the plate. It's a true testament to digging deep and finding his reserve as he struck out the very next batter on a bevy of full count pitches. Unfazed by an unfortunate Jheremy Vargas throwing error, and with the winning run at the plate, Figueroa struck out the next two batters and escaped to the dugout on a tight rope!
***
DSL  D-Backs Red  2, DSL Brewers #2 1 - Suspended in the bottom of the second inning
Box Score/Game Log
The Brewers 2 were one of seven games suspended in the DSL today with two additional games postponed due to raina. There really isn't much to digest in here as the game will be picked up and completed at a future date - yet to be announced. Through two innings pitched, lefty hurler Anfernny Reyes had given up two unearned runs (a throwing error was charged to OF Reminton Batista) with 2 H, 1 BB, 2 K.
***
All eight teams will take to the diamond again tomorrow - DSL Brewers with their standard day games and the ACL with their standard western time zone evening games. Low-A through Triple-A will be playing all evening affairs. To that tune, we will see RHP Stiven Cruz for Carolina, RHP Israel Puello for Wisconsin, LHP Nick Bennett for Biloxi, and RHP Jason Alexander returns to the mound for Nashville for the first time since his prolonged stint with the Brewers. The big questions I have: Will Cruz rebound and will Bennett stack success? As always, thanks for reading and staying attuned to the Brewers Minor League affiliates.
Organizational Scoreboard including starting pitcher info, game times, MiLB TV links, and box scores
Arizona Complex League Scoreboard

Dominican Summer League Scoreboard

Standings and sortable stat pages

Current Milwaukee Brewers Organization Batting Stats and Depth

Current Milwaukee Brewers Organization Pitching Stats and Depth
Think you could write a story like this? Brewer Fanatic wants you to develop your voice, find an audience, and we'll pay you to do it. Just fill out this form.
MORE FROM BREWER FANATIC
— Latest Brewers coverage from our writers
— Recent Brewers discussion in our forums
— Follow Brewer Fanatic via Twitter, Facebook or email
1