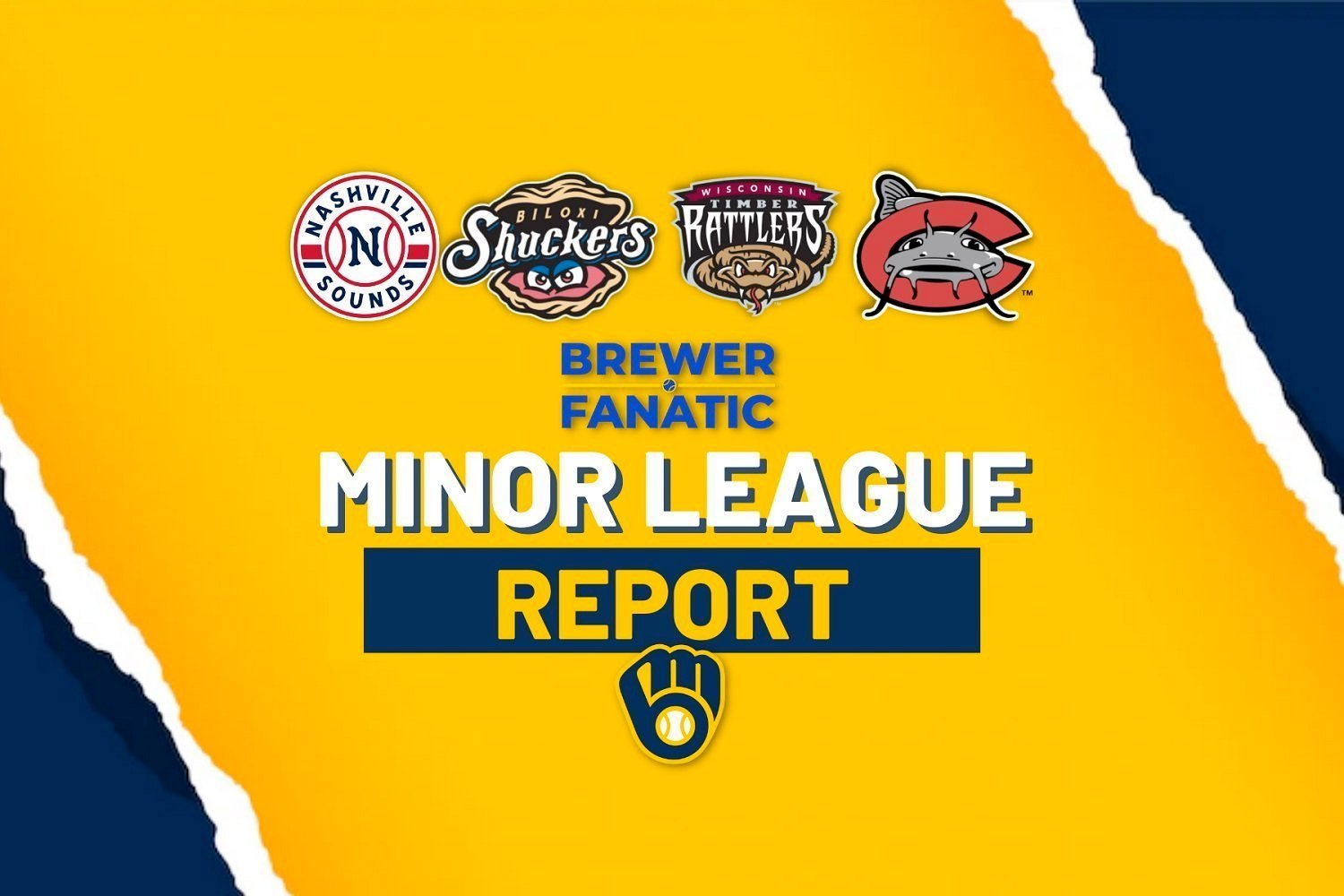 Image courtesy of BrewerFanatic
TRANSACTIONS:
INF Jose Caballero released from ACL Brewers
Caballero was a 2019 signee as a 16-year-old out of Venezuela. He would not debut until 2021 (Covid loss in 2020). Now 20, injuries limited Caballero to 84 games played over three summers, all spent at the Maryvale complex. including only 11 games this summer (3-for-30, 7 BB, 10 K). He finishes his Brewers pro career with a .646 OPS, with 2022 being his best season by far (.292/.404/.319, .723 OPS in 136 plate appearances.
C Jason Ollarve released from ACL Brewers
A 19-year-old LH bat, Ollarve, another Venezuelan native, signed in June of 2021. His rookie season was spent in the Dominican Summer League, and 2023 was his second season stateside. While he never was placed on an injured list, he only saw action in 50 games and has posted a reasonable .255/.326/.312 line (.638 OPS). Clearly having only seven XBH's (six doubles, one HR) limited that profile.

A reminder that each MLB organization has caps on how many stateside players they can roster. For 2023, the limit is 180 (healthy, meaning not on a 60-day or season-ending injured list designation). So as drafted players sign, the Brewers must make moves like the two above. 

For next year, via The Athletic:

"The maximum size of the domestic reserve list for this year is 180 in the regular season and 190 in the offseason. The league has the ability to cut the roster sizes to 165 in the regular season and 175 in the offseason starting in 2024."
 
---

Final: Nashville 5, Norfolk (Orioles) 4

Via the Sounds' site, we encourage readers to review each of the affiliate write-ups as part of your season-long Link Report routine:
VanMeter Plays Hero as Sounds Swamp Tides with Three-Run Ninth - Sounds second baseman hits go-ahead two-run blast, Nashville takes thrilling 5-4 win at Norfolk
Box Score / Game Log

RHP Justin Jarvis was listed as the starting pitcher early Saturday, but RHP Pedro Fernandez got the nod (Hug watch?)

We're not going to get video out of Norfolk this week, at least from a positive Sounds' perspective. So for now, we watch a valid two-out attempt by the Sounds to wave Cam Devanney home in the 6th that required a very good throw:
We hope Voice of the Sounds Jeff Hem is enjoying a well-earned vacation week with the family. Young Jake Lyman, who does work for Vanderbilt University, is filling in quite capably. You can get to know him at the 24:20 minute mark talking Sounds baseball via video interview here.

Burying the lead, as that was a big 9th inning blast by Josh VanMeter. 

Every Sound reached base at least once. Though Keston Hiura and Luis Urias were each "only" 1-for-5, this note from the postgame summary is worthwhile:

Luis Urías doubled in his final at-bat, extending his on-base streak to 11 games. Urías is batting .279 (12-for-43) with 13 runs, two double, three homers, eight RBI and more walks (13) than strikeouts (9). He has a .456 OBP and .991 OPS over the span.
 
---

Final: Biloxi 9, Birmingham (White Sox) 4

Via the Shuckers' site:
Shuckers Score Early and Often in Fifth Straight Win - Lutz homers twice, Chourio tallies 30th multi-hit game of year in 9-4 win

Pre-Game Media Notes 
Birmingham has not been a strong team at all in 2023, though the White Sox' trade season will provide new blood, now, and in future seasons. The Shuckers have been taking advantage this week.

Poor Tristen Lutz. Turning 25 years old in August, the 2017 Competitive Balance Pick (34th overall) should find himself a worthwhile open market deal as a minor league free agent this fall. He hit two home runs Saturday, but we'll ask you to find them via the Biloxi Twitter media feed.

As for videos here, well Jackson Chourio continues to make MiLB his Teenage Wasteland.
My goodness, we are blessed by your presence, Jackson.

Five players, including Chourio, had two-hit games. Tyler Black was back at first base (1-for-5 at the plate, stolen base #47). Freddy Zamora error #15, of the throwing variety.
 
---

Final:  Wisconsin 4, Cedar Rapids (Twins) 3, ten innings, completion of Friday's suspended game

Via the Timber Rattlers' site:
Rattlers Finish Friday's Game with a Saturday Walkoff Win - Wisconsin beats Kernels 4-3 in ten innings to complete last night's suspended game
Pre-Game Media Notes (Download Link) via the team's Virtual Press Box

Box Score / Game Log

Game summary worth your time, video package for you as well:
 
We had a few tidbits through the first 8.5 innings for you within Saturday AM's Link Report also.

24-year-old RH reliever Tanner Shears has proven to be quite the find. Check out that top of the 10th in the game log (Chris Mehring's game summary does it justice too, and oh yeah, the video!). Who is Tanner Shears? Here's our January 22nd post when he joined the organization.
 
---

Final:  Cedar Rapids (Twins) 11, Wisconsin 3, regularly scheduled game

Via the Timber Rattlers' site:
Kernels Stop Rattlers Cold with 11-3 Win - Gray's three-run homer in the first gave Wisconsin the lead
Box Score / Game Log

Five T-Rats (or "Shantymen" on this night) reached base more than once, including Robert Moore three times, but it wasn't a RISPY kind of nightcap (1-for-9).

The two knocks for Hendry Mendez were a welcome site, lifting his OPS to .578 in 20 July games. 

There's no beating about the bush. RHP Stiven Cruz' age 21 season has been a disaster, and whatever adjustments are being attempted aren't working for the Nicaragua native. It's been one of the big mysteries and biggest non-injury related disappointments of the system's 2023. While older Carolina relievers have been successfully plugged in to the Appleton roster, the Brewers have not pushed other Mudcats' starters, all quite young, to swap with Cruz.

Joe Gray says "please, get me back home to Biloxi":
 
---

Final: Carolina 3, Columbia (Royals) 2
Mudcats Win Fifth Straight, 3-2 in Columbia - Carolina erased an early deficit while winning their fifth straight game
Box Score / Game Log

Oh yeah, the boys are rolling. 

Here's my bold proclamation 20+ years in the making. Luke Adams is this generation's Corey Hart. Both were 11th round high school picks (Hart in 2000!). Hart excelled at the rookie and A-Ball levels (oh, how I remember our "Brewerfan Power 50" maven Toby was all over Corey back in the day)!

Now granted, Adams, in his age 19 season, currently mans third base, not right field, but the 6'4" Adams (Hart, of course, was 6'6"). Adams lifted his OBP to .436, reaching all four times Saturday. He also stole his 26th base (was caught once too, now 26-for-34 on the basepaths). By the way, and here's the MiLB Baseball Page to prove it, do you remember who was a third baseman in his formative years? 

Yeah baby, calling it right now. Remember the Seinfeld episode when George walks out of meetings on a high note? I should just stop typing right now. Best analogy/comp - EVER.

The sub-story here is that 21-year-old RH starter Logan Henderson's wonderful season (0.97 WHIP - 29 H in 50.2 IP!) continues.

Many of you may not realize, but the big majority of Carolina League teams do not send their play-by-play voices on the road, this includes the Mudcats' Greg Young, Jr. With no media notes this week, we are hopeful Greg is enjoying time off. The production team did grab road highlights for us, however:
 
---

Final: ACL Brewers 3, ACL Diamondbacks Black 2, seven innings as scheduled

Box Score / Game Log

Borrowing from my fellow Link Reporter @damuelle and his notes:

Encouraging pitching performances from young RHP Daniel Corniel and long-recovering RHP Brailin Rodriguez in ACL Brewers' 3-2 victory.
2B Mike Boeve with another two hits (double, single, HBP, sac fly, 2 RBIs). CF Dylan O'Rae with 2 more singles. 3B Brock Wilken 0-for-3 with a K and an HBP.

Boeve's HBP came with the bases loaded and broke the 1-1 tie in the top of the final frame. The eventual winning run scored on a D-Back error. The game log will show the A-Crew had to hang on for dear life to finish things.

Oh, what's this, Dylan O'Rae's outfield debut (in CF)? Intriguing - likely just a versatility day, but fun for sure.

An alumni note (Carlos Santana trade):
---
NOTE: It's the Dominican Summer League All-Star Game Sunday, you'll be able to follow the action here starting at 11:30 AM Central. Yet to see a roster list to identify Brewers representatives. The game is AL vs. NL.
 
---

There's a variety of start times among the four full-season teams Sunday, from 1:10 Central (Wisconsin) to 5:05 (Biloxi). Both the Shuckers and Mudcats are going for six-game series sweeps, nice!

Organizational Scoreboard including starting pitcher info, game times, MiLB TV links, and box scores
Current Milwaukee Brewers Organization Batting Stats and Depth
Current Milwaukee Brewers Organization Pitching Stats and Depth
Think you could write a story like this? Brewer Fanatic wants you to develop your voice, find an audience, and we'll pay you to do it. Just fill out this form.
MORE FROM BREWER FANATIC
— Latest Brewers coverage from our writers
— Recent Brewers discussion in our forums
— Follow Brewer Fanatic via Twitter, Facebook or email