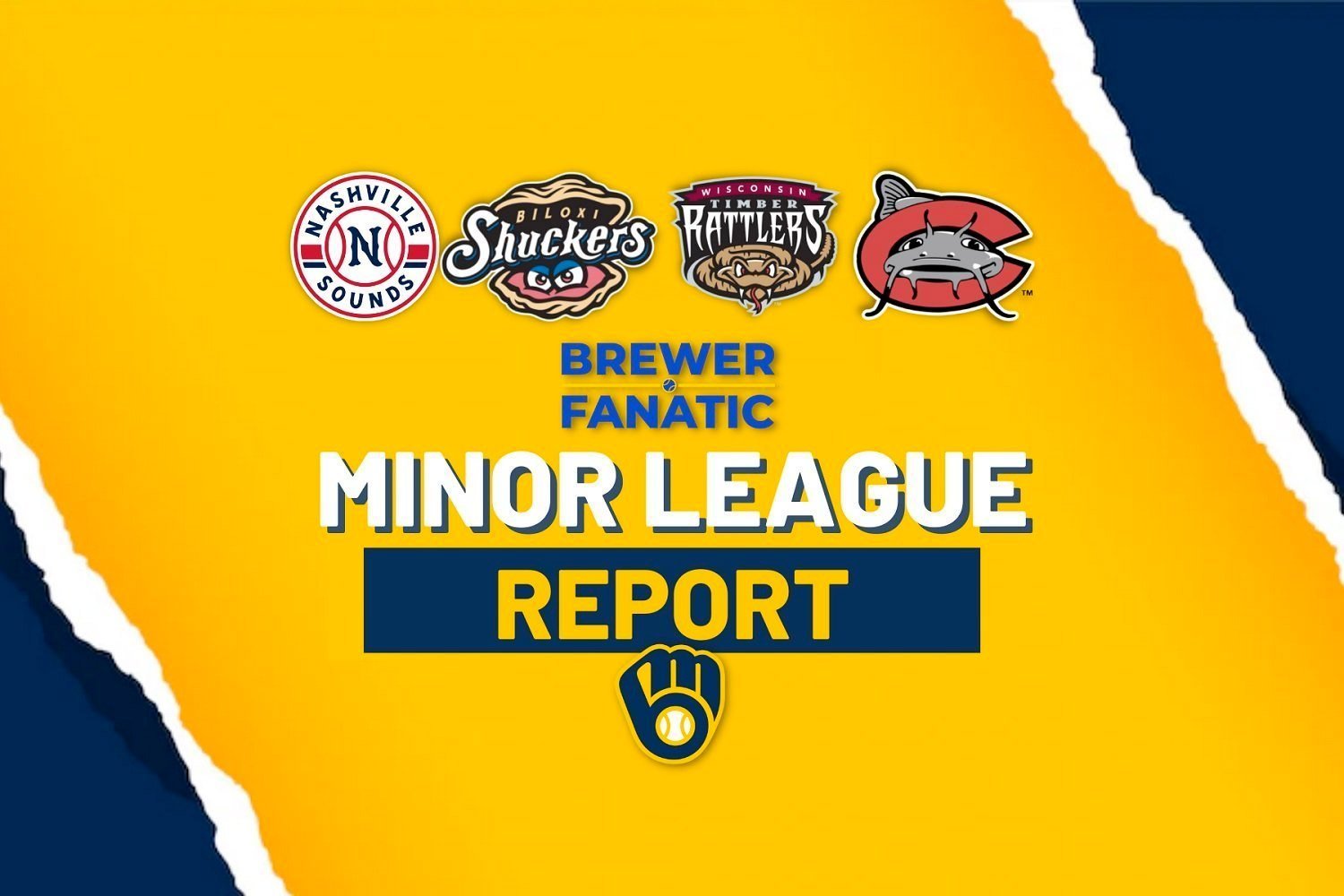 Image courtesy of BrewerFanatic
TRANSACTIONS:
LHP

 

Bennett Sousa

 

sent on rehab assignment to ACL Brewers (from a big-league perspective, Sousa was also moved from the 15-day to 60-day IL)
LHP

 

Eric Lauer

 

assigned to ACL Brewers from AAA Nashville
OF

 

Eduarqui Fernandez

 

placed on High-A Wisconsin's 7-day injured list (one day after being activated from it)
NOTE: Both Lauer and Sousa saw rehab action Friday night, more on that below

While not an official release transaction (will be within a day or so), utility infielder Mike Brosseau is heading to Japan. That MLB Trade Rumors link indicates Brosseau only played in two games for AAA Nashville, but it was 20 games, struggling with a .534 OPS.
 
---

Final: Norfolk (Orioles) 8, Nashville 4

Via the Sounds' site, we encourage readers to review each of the affiliate write-ups as part of your season-long Link Report routine:
Sounds Falter Late in Loss to Tides - Keston Hiura crushes grand slam but Nashville falls 8-4
Box Score / Game Log

Keston Hiura's grand slam (video) is an easy headline, no K's here (23.6 K % in 254 plate appearances), but a wise path is to wait for the trade deadline to pass before further speculation on his future with the Crew or elsewhere.

The takeaway from the game summary would be the progress made by Luis Urias - as the Brice Turang MLB at-bats get tougher to watch by the day, this is important:

Luis Urías drew two walks tonight, extending his on-base streak to 10 games. Urías is batting .289 (11-for-38) with 12 runs, a double, three homers, seven RBI and more walks (13) than strikeouts (8). He has a .481 OBP and 1.034 OPS over the span.

You have to feel for RH reliever Jake Cousins, and as the discussion shows from our "as it happens" thread last evening, his 40-man roster spot seems tenuous, or perhaps a return to the IL is pending (again).

Speaking of 40-man roster spots, RHP Janson Junk is a perfectly capable AAA roster stalwart. Whether he proves long-term to be anything beyond that remains to be seen. Thank you, Elvis Peguero, for your part in the Hunter Renfroe deal.
 
---

Final: Biloxi 9, Birmingham (White Sox) 5

Via the Shuckers' site:
Shuckers Score Nine Unanswered for Third Straight Series Win - Baker, Shook combine to retire 19 straight, Black sets new Shuckers' single-season record with eighth triple

Pre-Game Media Notes 
Box Score / Game Log

VIDEO via WXXV: Highlight package, including a bit of "good" Jacob Misiorowski

Get the feeling we're going to be debating the merits of pushing Misiorowski to AA after just six starts (23.2 IP) at High-A. From my perspective, it's partly about who is in your ear. Fully aware that the various coaching staffs (and system coordinators) are always communicating, it seems receiving direct guidance from three distinct staffs in such a condensed period could be challenging. Again, from our overnight thread:

Definitely not cruise control for Jacob Misiorowski in his 2nd AA start. Of 18 batters faced:
Hit-by-pitch: 4
Hits: 4 (HR, 3 singles)
Walks: 3
Strikeouts: 2
Other outs: 5
He only makes it through 2.1 innings and exits with the Shuckers down 4-0.

On the flip side, let us continue to bask in the brilliance that is Jackson Chourio. 
A ton of additional Shuckers video highlights via the team's Twitter ("X") feed.

Relievers Robbie Baker and TJ Shook slept well last night based on their efforts picking up Misiorowski and the team.

Our regular reminder about the Shuckers' archived pre-game interview page, From Thursday's game, we learn that Asst. Hitting Coordinator Eric Theisen pronounces his last name as Tyson.
 
---

Final:  Cedar Rapids (Twins) 3, Wisconsin 3, suspended by lightning/rain, bottom of the 9th

Via the Timber Rattlers' site:
Wisconsin and Cedar Rapids Suspended on Friday Night Tied 3-3 - Game picks up Saturday at 6:00 PM with Rattlers batting in bottom of the ninth
Pre-Game Media Notes (Download Link) via the team's Virtual Press Box

Box Score / Game Log

We'll have to wait for the full game video package (we'll get two Saturday night!), but that doesn't mean we can't get video treats via Terence Doston and Joe Gray Jr. within the Rattler's Twitter feed.

Successful stolen base attempts for Gray (as you just saw) and Robert Moore. Combined, they are 32-for-50 in that department, so development to be done, as 64% won't get it done over the course of a season. It's an art.

Last time out, we lamented that RHP Tyler Woessner's quest for K's may have cost him overall effectiveness (season-long game log). Glad to see he fanned seven in five innings here while allowing only one hit and one earned run (three walks).
 
---

Final: Carolina 12, Columbia (Royals) 2
Nicasia Homers as Mudcats Win Fourth Straight - The first-place Mudcats won their fourth straight and clinched a series victory in Columbia
Box Score / Game Log

For all you spelling enthusiasts out there...
Columbia, SC 

Colombia (the country)
Contributions throughout for the red-hot Muddies, with first baseman Tayden Hall leading the on-base parade (double, single, walk).

2021 Florida high school pick (16th round) Kay-Lan Nicasia was drafted as a shortstop, still listed as such on his MiLB player page. He has since migrated to just outfield work, primarily in right. The switch-hitter is listed at 5'11, 176, the body frame looks just fine for the 21-year-old, especially here:
RHP Will Rudy hasn't flashed dominance with a "wow" outing since the calendar turned to June, yet seemingly every time out, he manages to limit damage, as evidenced by his last three starts (15 IP, 17 H, 5 R, 4 ER, 5 BB, 13 K). To be fair, Rudy certainly did have a "wow" stretch of appearances in May to begin his season (game log).

Once again, we point you to an affiliate Twitter feed for video evidence of success - nice job grabbing these from the road contest!

We'll try not to jinx it (long way to go), but a 3.5 game lead in the division standings is pretty sweet.
 
---

Final: ACL Dodgers 11, ACL Brewers 9, completion of July 5th game

NOTE: Keep in mind batting stats here reflect the July 5th timeline.

Box Score / Game Log

This home game was initially suspended by a power outage in the bottom of the 7th with the A-Crew down 11-8.

On that date, our @Joseph Zarr wrote:

The ACL Crew lost an 8-7 lead in the sixth frame and they fell into an 11-8 deficit in the seventh after allowing another run to cross on a sacrifice fly. All four runs came against apparent two-way player RHP Miguel Briceno (who also went 2-for-3, 3 R, 1 RBI, 1 2B while playing third base). This is a mildly interesting development at this point though it is apparent that the bat is what plays best at present. We'll stay tuned.

INF Juan Baez was uncharacteristically quiet at the dish, and he greeted Briceno's work on the hill with a throwing error from 3B.

INF Dylan O'Rae continues to carve his path to Low-A Carolina. Remember, you heard it here first: he's been coming on for well over 2-3 weeks as a legitimate lead-off man replacement or companion to OF Luis Lara. Not to be lost in the shuffle were 1B/LF/DH Yeison Perez's 2-for-3 evening and INF Jonatan Guzman's 3-for-3, 2 R, 3 RBI, 1 R, 1 HR evening.

Updates:

Recently-turned 20-year-old Miguel Briceno has played second base, third base, and corner outfield while getting 47 plate appearances this season (.794 OPS). On the mound, he had previously tossed a scoreless inning on June 27th. This July 5th outing was his last (for now).

And as we know, Dylan O'Rae is still an OBP and SB machine, but is still in Arizona.
 
---

Final: ACL Brewers 4, ACL Dodgers 2, regularly scheduled game, seven innings 

Box Score / Game Log

Back to .500 at 19-19.

First pitch 111 degrees.

LHP Eric Lauer's somewhat mysterious return - walked the leadoff man, picked him off (thrown out at second base), then two K's.

(Technically, Lauer is not on an injured list, so this wasn't a "rehab" outing, though in essence, it certainly was.)

Rehabbing LHP Bennett Sousa worked around a leadoff ground-rule double and a two-out walk for his scoreless inning, ending his one-inning outing with a strikeout as well.

Pro debut was a good one for 2nd round pick Mike Boeve, 2-for-4, 2 R, 1 RBI, 1 K as the designated hitter. He singled on a line drive to right in the 4th, and then singled on a line drive to CF in the 6th. Both hits led off innings. He added an RBI force-out in the 7th for an insurance run.

First round 3B Brock Wilken walked twice, now with a .400/.563/.600 line through four games. 

18-year-old (only turned that in June) SS Juan Baez almost offset his 4th inning two-run HR, his 3rd of the year, with three errors at shortstop. The OPS shines at .998. Twelve errors on the season, split between SS (nine) and 3B (3) in 20 games in the field. The bat will find a home.

Both Dodger runs were of the unearned variety. Nice continued efforts from 19-year-old LHP Osbriel Mogollon (four innings) and 20-year-old RHP Gerson Calzadilla (one inning for the save).
 
---

Final: DSL Athletics 7, DSL Brewers #1 Squad 6

Box Score / Game Log
This two DSL summaries are courtesy of @Joseph Zarr via the previously-mentioned daily "as-it-happens" and overnight thread.

The DSL Brewers Uno lost a frustrating one vs the DSL Athletics conceding two runs (one earned) in the bottom of the 9th for the walk-off loss. A sequence of a single - sac bunt (throwing error) - single - single led to the loss at the hands (and arm) of 17-year-old Venezuelan RHP Argenis Aparicio. He picks up his first BS in his first SVO and takes the loss - 0-1 on his season. It's important to note here: he was done in by a 3B Jhon Bencosme throwing error during the sac bunt. Instead of one man aboard at 2B, he had two men aboard - at 2B and 3B. That's a challenging spot for any young hurler. The real blow, however, came in the bottom of the 8th when 17-year-old RHP Oliver Camilo unraveled after an opening pop out. Walk, single (runners advance on a CF Pedro Tovar error), walk, grand slam. The 6-1 game was suddenly 6-5. Just a rough way to lose this one.

Elsewhere in the pitching side of things RHP Jose Meneses threw a fantastic scoreless 3 IP - 0 H, 0 BB, 2 K. Meneses teases us with outings like these throughout his DSL seasons (this being his second with the Crew). But, it's hard to get a read on him other than he is getting better results in 2023 but still likely seeing too many batters on base regularly - 21 H, 17 BB, 3 HB in 27 1/3 IP. This has led to a slightly elevated 1.36 WHIP. But, he's preventing any big blowouts holding his ERA to a very respectable and impressive 1.63 - perhaps, aided by his 27 K. There is certainly enough here to be intrigued moving forward: I also look at the fairly unlucky 0.296 BABIP and consider he could be having an even better season if he could tone back the walks. I definitely want to see what he is capable of stateside.

Offensively, the day's highlights appear to have belonged to 1B/C Brayan Oropeza - 4-for-5, 2 R, 1 RBI, 1 K, 1 2B. INF Kevin Ereu continues to make impact at the dish as well - 0-for-1, 1 RBI, 1 BB, 1 SF (though he was picked off 1B as well). Despite the 8th inning fielding error, CF Pedro Tovar managed a 2-for-4 day at the dish - 1 R, 1 BB, 1 2B, 1 SB.
No doubt, the Crew Uno will look back not so fondly at this one - the late errors, the six runs allowed over the final two frames, and the 3-for-17 mark with RISP will sting for a bit. With their second loss in a row and 5-5 mark over their last 10, the DSL Cerveceros Uno have fallen back to 3rd place behind both Dodgers affiliates in the DSL North Division. They remain 8.5 GB of the first place DSL Dodgers Bautista and now sport a respectable 22-16 record overall.
 
---

Final: DSL Brewers #2 Squad 4, DSL Dodgers Bautista 3

Box Score / Game Log

If I'm not mistaken, that is the 2nd straight victory by the DSL Crew Dos versus the LAD Bautista? Heck of an accomplishment by the young men!

A walk-off single to RF off the unlikely bat of Smarlin Espinal. You love to see it. The 'Day at the Dish' award has to go to 17-year-old OF/1B (1B today) Danny Puerta - 3-for-3, 2 R, 1 BB, 2 2B. Heck of a performance. OF Demetrio Nadal stayed impactful as all get out in the lead-off: 1-for-4, 1 RBI, 1 BB, 2 K, 2 SB. What a season he is having so far this summer.

Dominican 19-year-old RHP Aneuris Rodriguez (in his second Brewers DSL season) closed things over the final 3 IP - 1 H, 0 BB, 2 K, 0 R. He picked up the 'W' and moved to 1-1 on his season. Intriguing arm to date. 
 
---

The DSL kids have a rare Saturday off as the league's All-Star Game is Sunday. Hopefully the Timber Rattlers can finish off Friday's suspended affair and come away with two W's.

Organizational Scoreboard including starting pitcher info, game times, MiLB TV links, and box scores
Current Milwaukee Brewers Organization Batting Stats and Depth
Current Milwaukee Brewers Organization Pitching Stats and Depth
Think you could write a story like this? Brewer Fanatic wants you to develop your voice, find an audience, and we'll pay you to do it. Just fill out this form.
MORE FROM BREWER FANATIC
— Latest Brewers coverage from our writers
— Recent Brewers discussion in our forums
— Follow Brewer Fanatic via Twitter, Facebook or email
1