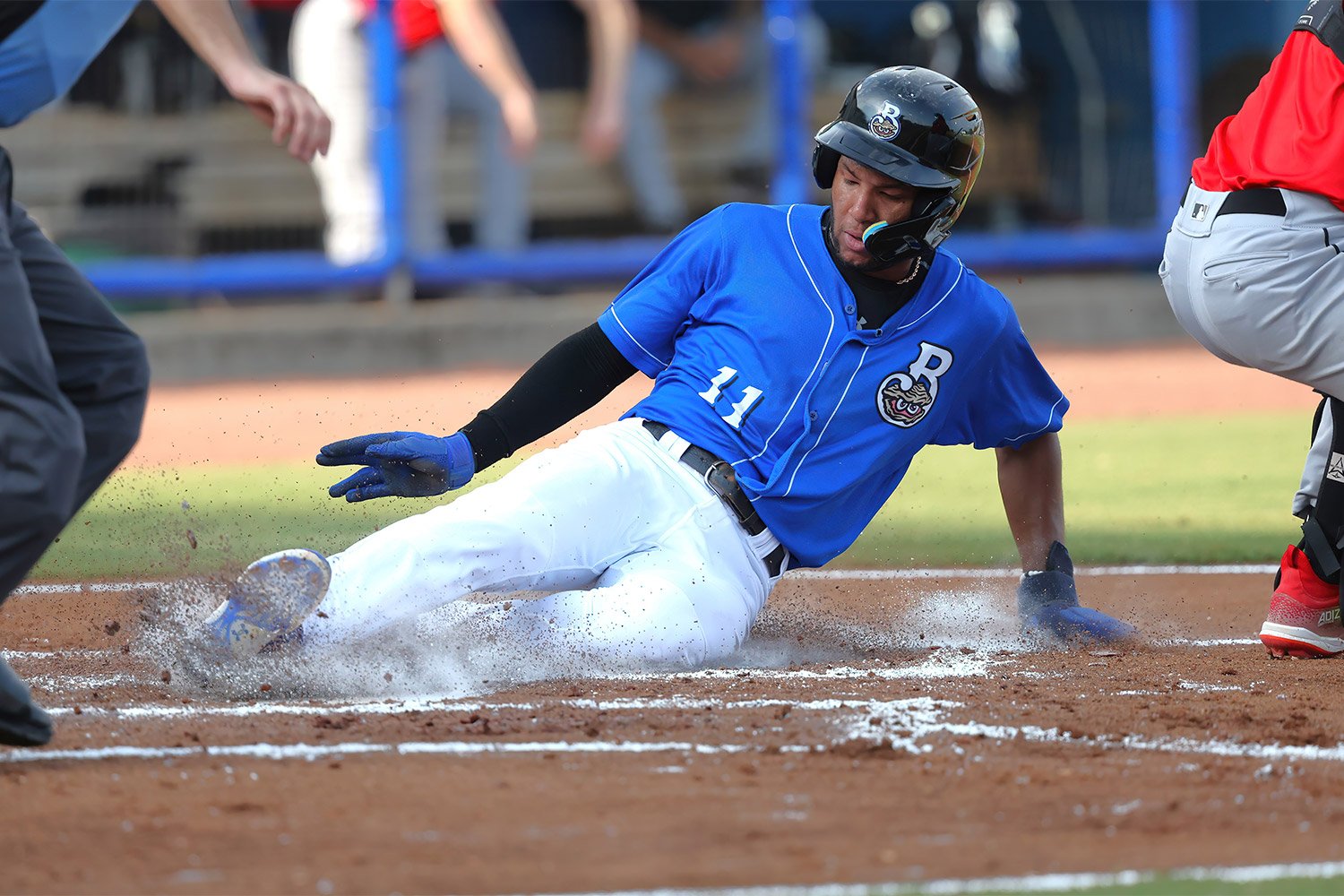 Image courtesy of Biloxi Shuckers
For the week, the Mudcats and Shuckers went undefeated (12-0). The Timber Rattlers also won their series 4-2, while the Sounds split six games.
Transactions:
Game Action:

Nashville Pre-Game Media Notes
Final: Norfolk 6, Nashville 3
Box Score / Game Log

Via the Sounds' website, game details, and we encourage readers to review the affiliate write-up as part of their Link Report routine: Sounds Humbled by Tides in Series Finale

With RHP Jason Alexander (4 2/3 IP, 6 R (5 ER), 10 H, 0 BB, 3 Ks, 1 WP) making his second start of the week, the Tides pounced to take leads of 3-0 by the 2nd inning and 6-2 by the 3rd inning in cruising to a Sunday win over our Sounds.
Sounds' Extras:
Next week's outlook: Nashville (54-46) hosts Rays' affiliate Durham (55-47), with rehabbing Brandon Woodruff expected to make his third and final rehab start in the opening game. Rehabbing 3B/RF Brian Anderson is also expected to play for the Sounds this week.
Biloxi Pre-Game Media Notes
Final: Biloxi 14, Birmingham 1 (in 8 2/3 innings)
Box Score / Game Log

Via the Shuckers' website, game details: Shuckers Break Out the Offense and the Brooms in Rain-Shortened Series Finale

This game was actually close through 5 ½ innings, with the Shuckers escaping a 5th inning jam with a 2-1 lead before erupting for the 10-run 6th inning to the delight of 2,606 home fans.

In the end, eight of the nine Biloxi lineup spots recorded at least one hit, with center fielder Jackson Chourio (2-for-4, HR, walk, 2 RBIs) leading the way. 
You can see more of the hit parade at the Biloxi Twitter feed.
Shuckers' Extras:
Next week's outlook: Biloxi (51-45) heads out to play Marlins' affiliate Pensacola (57-38).
Wisconsin Pre-Game Media Notes
Final: Wisconsin 4, Cedar Rapids 0
Box Score / Game Log

Via the Rattlers' website, game details: Jimenez Tosses a Gem to Beat Kernels

21-year old RHP Edwin Jimenez (7 1/3 IP, 0 R, 1 H, 3 BB, 10 Ks) was back in stellar form after a 6-game rough patch, delivering 7 1/3 innings of no-hit baseball against a solid Cedar Rapids ballclub. He threw 62 strikes in 88 pitches in the masterpiece.

As usual for Wisconsin home games, but quite unusual across the minor league landscape, we're blessed to have extensive video highlights and a nearly 22-minute postgame podcast.
Timber Rattlers' Extras:
Next week's outlook: Wisconsin (42-52) will bus to face Cubs' affiliate South Bend (43-52), with LHP Nate Peterson expected to start the first game of the series.
No Pre-Game Media Notes Available
Final: Columbia 3, Carolina 1
Box Score / Game Log

Via the Mudcats' website, game details: Carolina Drops the Final Game of the Series 3-1 in Columbia

22-year RHP Will Childers (6 IP, 0 R, 1 H, 2 BB, 7 Ks; season ERA dropped to 5.50) didn't start, but still produced his best outing of the year, blanking Columbia for six consecutive innings to give the Mudcats' hitters a chance to come back. Unfortunately, the offense never quite arrived on this day.
Mudcats' Extras:
Next week's outlook: Carolina (51-41) travels to face Astros' affiliate Fayetteville (43-52) in a 7-game series, starting with a doubleheader on Tuesday.
Dominican Summer League All-Star Game
Final: DSL AL All-Stars 4, DSL NL All-Stars 3
Box Score / Game Log

A whopping 70 players participated in the DSL All-Star game, representing 50 teams in the league.
Each of DSL Brewers-1 and DSL Brewers-2 had one representative:
We hope that you enjoy the Minor League Link Report. In addition to the Milwaukee Brewers playing in Washington, DC at 6:05 CST, three minor league squads are in action on Monday: DSL Brewers 1 plays DSL Brewers 2 at 10:00am CST, while the ACL Brewers play the ACL Rangers at 8:00pm CST.

Organizational Scoreboard including starting pitcher info, game times, MiLB TV links, and box scores
Current Milwaukee Brewers Organization Batting Stats and Depth
Current Milwaukee Brewers Organization Pitching Stats and Depth
2