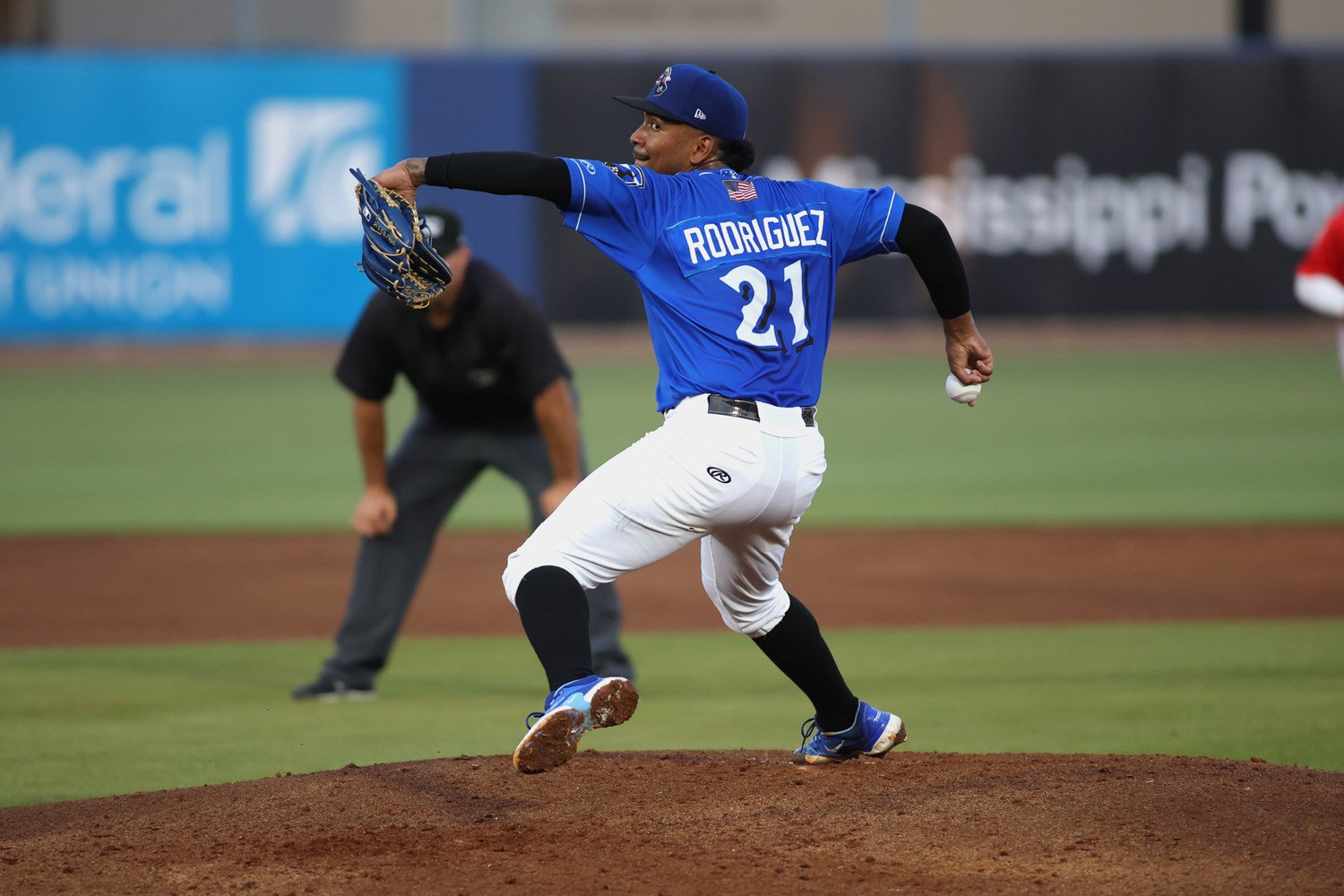 Image courtesy of Biloxi Shuckers
Game Balls:
Honorable Mention:
Transactions:
---
Final:  Nashville 15, Columbus (Guardians) 14
Box Score / Game Log

Game Notes 

Via the Sounds' site, game details, please visit and review: 

Sounds Walk-Off, Take Unbelievable 15-14 Win Over Columbus

Just remember: you will never see it all in any baseball game. Ever. But, man oh man, does every baseball game have the propensity to show you something new. How about this for a walk-off?
I'm not going to lie, we saw very similar baseball happenings at the Timber Rattlers' Fox Cities Stadium on this very same night!
Take a look:
Anywho...
1) It was a 9-3 game headed into the top of the eighth inning. And, boy oh boy, that all changed one hit after the next after the next after the next...after the next. Several of these knocks were of the 'seeing eye' variety. It was 10-9 Columbus after another liner made it into the center field grass. This rally all started with LHP Alex Claudio and his many low-speed hangers. All too many pitches swooped dead center into the zone - it was that kind of night. His final line will read 0 IP, 4 H, 4 ER and I have to say these were definitely earned. RHP Trevor Megill seemed the recipient of some fairly bad luck when it was all said and done though he certainly also gave up his share of decent contact. With a pitching staff stretched to its limits with recent call-ups and overworked arms, it was sink-or-swim no matter what. The Clippers showed they are a team you can't take lightly at any moment of any game. They came into tonight's tilt tied with the Sounds at 5-2 in the second half and this rally absolutely showed they can score in bunches. 
2) RHP Abner Uribe was first on in relief of RHP Jason Alexander after Alexander walked his second man aboard in the top of the sixth inning. It was a high-leverage spot for Uribe so it was a good test for the young fireballer - a 6-2 lead with two men on and nobody down. He rose to the challenge: pop up to shallow right field; full count K looking on the lower outer corner; and an 0-2 groundout to Toro at third base. These are the types of situations we need to see Uribe thrown into. Consider it a success. 
3) INF Cam Devanney thankfully lined a single to RF in the sixth inning. He had a HR robbed by a fantastic play in the fourth frame and he was then robbed of an infield single on a wonderful running stab and two hop throw to 1B. I've been saying it all season long, but the box score so often does not tell the full story. Devanney continues to swing a hot bat even if the results didn't fully demonstrate this truth. 
---
Final:  Pensacola (Marlins) 3, Biloxi 1
Box Score / Game Log 

Game Notes  (* NOTE: As of publish, the Shuckers Game Notes were not updated to reflect Game 2 information)

Via the Shuckers' site, game details, please visit and review:

Shuckers Fall in Pitcher's Duel to Pensacola

No INF Tyler Black. OF Jackson Chourio given the day off. It was up to their Shuckers stablemates. And, they unfortunately weren't up to the task. RHP Carlos F. Rodriguez started very hot retiring the first six batters faced over two innings with two K's tossed in for good measure. Ultimately, he was highly effective going 5 IP of 3 H, 2 BB, 1 ER, 1 HR, 4 K  - a very friendly outing for your ball club. Rodriguez continues to do more than enough on the mound but the now 4-3 record feels quite unfair. And, such is the game of baseball. We know the deeper layers here. Stay the course, young man. 

Three Quick Strikes:
1) I hate to say it, but the failed execution with the bases loaded and nobody out in the top of the second gave me thoughts of "Well, if that isn't about as Brewers as it gets!" ? It was a classic case of failed situational execution. We all know baseball is a very hard game. However, someone has to knock a single run in given the situation. That is not what happened, however. OF Carlos D. Rodriguez flew out to the left field foul territory (not deep enough to tag), OF Lamar Sparks struck out swinging, and INF Isaac Collins flew out to deep center field. It was a bevy of wrong ingredients and the platter was served ice cold. That was the best opportunity the Shuckers had all game.
2) RHP Ryan Brady came on for his inaugural action in Double-A. He was greeted by two errors (one apiece) from 1B Zavier Warren and C Jeferson Quero allowing his lead-off batter to reach second base. It goes without saying, but that's an extremely tough pill to swallow for a young man in his first Southern League action. Brady then threw a wild pitch advancing the runner to 3B and an ensuing single scored that runner. Thankfully, his defense came back to help him get out of the inning with a fly out double play to second base from the hand and arm of none other than CF Lamar Sparks. It was an up-and-down debut for the UDFA out of BYU: 2 2/3 IP, 2 H, 3 BB, 2 K, 1 ER. 
3) Four hits total. Seven walks taken, however. 1-for-10 with RISP and 10 men left on base. That's your ball game right there. There's really not much else to say. The Shuckers lacked the ability to take advantage of situations throughout - the bases loaded flop was the sign of things to come.
---
Final:  Wisconsin 14, Beloit (Marlins) 5
Box Score / Game Log 

Game Notes 

Via the T-Rats' site, game details, please visit and review:

Hall Drives in Nine for Wisconsin in 14-5 Win

It was a little shaky early for RHP Stiven Cruz as he surrendered two long balls and three runs to open tonight's tilt. Kudos to Cruz, however: outings like this ran away from him in the first half. He buckled down from there and gave manager Joe Ayrault five more strong innings. You love to see it. Adversity faced and tossed to the wayside. His final line reads 6 IP, 6 H, 1 BB, 3 ER, 3 K, 2 HR. If you toss out that first frame you really have something there. Despite his elevated season-long ERA, Cruz is definitely trending up.  

Spoil yourselves with some Timber Rattlers home cooking:
Postgame Podcast:
Full Game Highlights: 
1)  I said it on more than one occasion in the first half: with injuries and unlikely promotions coming down the pipeline, the T-Rats needed to rise up from within. And, boy, have they ever. C/DH Darrien Miller is bouncing back from a rough Quad Cities series. OF Joe Gray Jr. continues to lead the team - in the dugout and with on-field production. Now, we have a record-setting night from Australian Winter League masher Alex Hall? 1B Ernesto Martinez is in the midst of a double digit hitting streak? If we continue to pair this sudden offensive production with a resurgence in the starting pitching staff, we absolutely have a team who could surprise in the second half. 
2) That's switch-hitting, Milwaukee Brewers legend, Alex Hall. And, regardless of his first half struggles, the swing always looks pure. As our beloved Chris Mehring exclaims: "Welcome to Slam Town, Mate!"?: 
3) The Box Score is filled with intrigue so I won't belabor any further statistical prowess. However, I do want to add a little observational morsel: OF Hendry Mendez looks as though he has returned to High-A in peak physical condition. If I didn't know any better, I'd say he certainly didn't miss any leg lift days while on the mend. He looks thicker in his lower half. It may take some time to round into form, but, I will be entirely unsurprised if he goes on an XBH tear at some point in the second half. Remember, you heard it here first.
---
Final:  Fayetteville (Astros) 7, Carolina  5
Box Score / Game Log 

Game Notes 

Via the Mudcats' site, game details, please visit and review:

Avina Homers in 7-5 Loss to Fayetteville
 
A season is a long haul and it's fair to say the early-season shutdown performances of RHP Will Rudy have given way to an ongoing rough patch. Coming into tonight's matchup with the Woodpeckers, Rudy had surrendered at least three runs in each of his past five outings - pitching to a 6.17 ERA in the process. He saw three base runners in the first inning - two singles to right field and a deep double off the right field wall. He did manage to escape with only one run scored by striking out his final batter on a tasty slider (the third consecutive offering of the pitch) that dipped below the zone. Overall, I would say Rudy is presently leaving too many hittable pitches over the plate - in favorable or unfavorable accounts. No pitch was more emblematic of this than his 0-2 single he surrendered (his fourth hit allowed) with one down in the second inning - it was a mistake pitch. The body language matches what I'm seeing as well. He's in a grind and he'll simply need to keep working on his craft. All told, Rudy finished tonight with 5 IP of 10 H, 0 BB, 1 K, 5 ER, 1 HR ball. Keep grinding young man.
Three Quick Strikes:
1) INF Luke Adams has been struggling to put it all together lately. The addendum here is: all the tools are there now as they've been all year. His BABIP was improving in the latter portion of the first half, but he found himself in a 2-for-19 slump with a mere single and RBI in an ongoing mini-rut coming into tonight's tilt. The walks, so bountiful in the early season, were also down. When Adams started getting the batting average headed north, he had reduced the early season pop-up tendency. He didn't build off this trend - or, in the very least, he hasn't taken off like we were hoping to see. If we add a recent bout of uncharacteristic throwing errors from 3B, it's fair to say, the hype train had slowed down for the time being. Tonight, however, was a step back in the right direction. He made good contact, he scored a run, and he stole a base. He took a key walk in the failed ninth inning rally. We
2) It's always nice to remember that despite the first half woes and strikeout numbers, OF Jace Avina can still hit for power with anyone on the Mudcats roster. His three-run blast was key in making a ballgame after a lackluster early going: 
It was anyone's ballgame at this point. Unfortunately, for the Mudcats it went the wrong way.
3) Let's continue with the theme of situational baseball as seen above with the Shuckers troubles this fine evening. Trailing by only one run at 6-5, the Mudcats failed to grab the lead runner on a routine grounder to 2B Jheremy Vargas in the top of the ninth inning. It would have been a close play, but it is definitely a play that had to be made (or in the least attempted) given the batter was a slow-footed runner down the 1B line and Areinamo was definitely covering the bag at 2B. Split second decisions often come back to haunt you in the game of baseball. That lead runner then advanced to 3B on a RHP Tyler Wehrle wild pitch. The Mudcats infield shifted in , as a result, then suffered the fate of a high chopper. It somehow made it over the leaping Vargas - leaping on the infield grass - bouncing off the infield dirt and into extremely shallow right center field. And, I simply offer: this all came after the failure to make the play at second base. 
---
ACL Dodgers 11, ACL Brewers 8 - Suspended
Box Score / Game Log

The sun rises, The sun sets. The ACL Brewers lose to the ACL Dodgers. Or DO they? In another odd twist of fate for my Minor League report duties, I was party to another suspended game. This time, oddly, a power outage in the 7th inning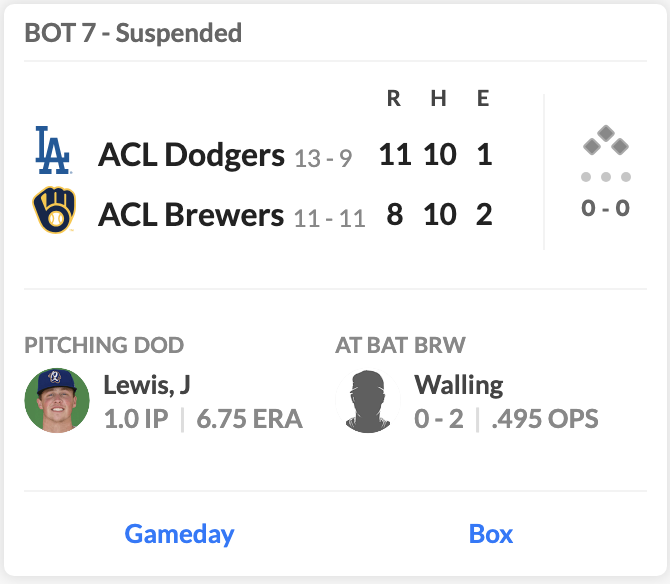 One of the only questions I have for the remainder of both the ACL and DSL season is: If the weather holds and the lights stay on, can any of the Brewers rookie ball clubs actually beat the Dodgers? This remains entirely uncertain given they have collectively lost double digit consecutive games to these West Coast foes. The ACL Crew lost an 8-7 lead in the sixth frame and they fell into an 11-8 deficit in the seventh after allowing another run to cross on a sacrifice fly. All four runs came against apparent two-way player RHP Miguel Briceno (who also went 2-for-3, 3 R, 1 RBI, 1 2B while playing third base). This is a mildly interesting development at this point though it is apparent that the bat is what plays best at present. We'll stay tuned. INF Juan Baez was uncharacteristically quiet at the dish and he greeted Briceno's work on the hill with a throwing error from 3B. INF Dylan O'Rae continues to carve his path to Low-A Carolina. Remember, you heard it here first: he's been coming on for well over 2-3 weeks as a legitimate lead-off man replacement or or companion to OF Luis Lara. His offensive output was noted above in the Game Balls. Not to be lost in the shuffle were 1B/LF/DH Yeison Perez's 2-for-3 evening and INF Jonatan Guzman's 3-for-3, 2 R, 3 RBI, 1 R, 1 HR evening.
---
There will be Brewers baseball tomorrow. And, honestly folks, after enduring that Sounds game I'm going to likely take the evening off. Highlights for me tomorrow will include RHP Justin Jarvis' Triple-A debut as he looks to take on an extremely formidable Clippers offense. Hopefully, his fast-paced work will give them fits. Additionally, RHP Tyler Woessner will start for the Timber Rattlers as he looks to get back to his dominant stuff. As always, thanks for reading and thanks for supporting Brewers Minor League baseball.

Organizational Scoreboard including starting pitcher info, game times, MiLB TV links, and box scores

Current Milwaukee Brewers Organization Batting Stats and Depth

Current Milwaukee Brewers Organization Pitching Stats and Depth
Think you could write a story like this? Brewer Fanatic wants you to develop your voice, find an audience, and we'll pay you to do it. Just fill out this form.
MORE FROM BREWER FANATIC
— Latest Brewers coverage from our writers
— Recent Brewers discussion in our forums
— Follow Brewer Fanatic via Twitter, Facebook or email