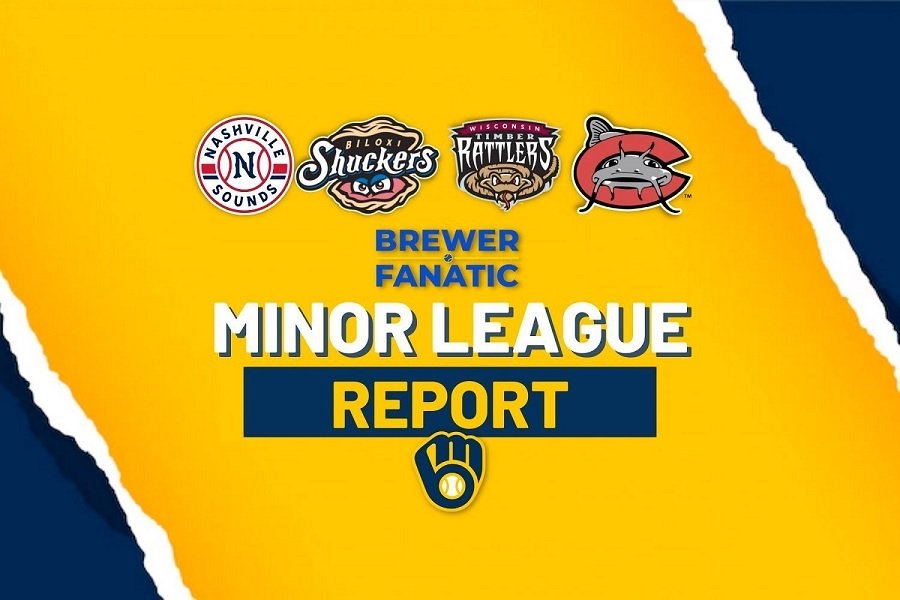 Image courtesy of BrewerFanatic
David Dahl smacked not one but two home runs in the first three innings(!) of the Sounds' 6-2 victory over Columbus, jumping out to a 3-0 series lead. LHP Ethan Small was stellar (save for four walks), giving up just two hits while striking out eight Clippers over five innings.

LHP Nick Bennett had his best game of 2022, striking out nine Biscuits over six scoreless innings to break Biloxi's six-game losing skid in impressive fashion.

While Biloxi's relievers got the job done in Montgomery, RHP Taylor Floyd's Form Rediscovery Tour got off to a rocky start for Wisconsin, as he was tagged by a game-ending walk-off grand slam to lose 8-6 to the South Bend Cubs. Yes, those darned stinking Cubs. The loss was made worse by a scary play involving catcher Darrien Miller.

Jackson Chourio's three-run blast gave Carolina an early lead, but it wasn't enough offense as the team fell 5-3 to the Cannon Ballers.

In short season action, ACL Gold and DSL-1 grabbed victories (RHP Gerson Calzadilla five IP with zero earned runs; C Edgardo Ordonez grand slam), while DSL-2's game was suspended in the 4th inning due to weather.

Thursday's Game Balls go to the aforementioned Bennett, Dahl, Small and Chourio, as well as James Meeker.
Transactions:
Game Action:
Carolina Pre-Game Media Notes
Final: Kannapolis 5, Carolina 3
Box Score / Game Log

Via the Mudcats' website, game details, and we encourage readers to review each of the affiliate write-ups as part of their Link Report routine: Chourio Homers Again in 5-3 Carolina Loss

RHP Stiven Cruz gave up a 2-run blast to White Sox 19-year old prospect Wilfred Veras (13th of the year) in the 1st inning, before appearing to settle in.

As seems to happen too often for comfort, Chourio notched Carolina's sole extra-base hit in this game, a three-run homer (his 11th of the year) in the third inning to give the team a 3-2 lead over Kannapolis.
After Cruz escaped a bases loaded, nobody out situation in the 4th inning (thank you RF Hendry Mendez for that fly out double play rifle home), the Cannon Ballers collected the game-tying run with two hits in the 5th inning, then went triple-homer in the 6th inning for a 5-3 lead. Cruz did manage to strike out seven batters over his six innings of work, but the five runs on nine hits obviously leave room for better days.

The Mudcats collected zero hits in the final four innings of the game and also hit into four ground ball double plays in the game. Each team had two errors, but they didn't result in any unearned runs.

RHPs Junior Montero (3.18 ERA) and Michele Vassalotti (2.04 ERA) were terrific as usual, each throwing a shutout inning of relief, with Montero striking out the side.

20-year-old 1B Jesus Chirinos has not been having the season he anticipated (.558 season OPS), but let's give him credit for a single, walk and run scored in his 1-for-2 effort. 3B Jean Carmona and Mendez each went 1-for-3, with Mendez also collecting a walk.

Friday's outlook: RHP Edwin Jimenez (4.18 season ERA) will get the start, as the Mudcats need a victory in Kannapolis to tie this week's series 2-2.
Wisconsin Pre-Game Media Notes
Final: South Bend 8, Wisconsin 6
Box Score / Game Log

Via the Timber Rattlers' website, details: South Bend Walkoff Slam Beats Wisconsin

Except for the scary play involving catcher Darrien Miller , I'm sure this was a fun game for any Timber Rattlers fans who left early, as well as the Cubs' fans who stayed until the end.

Wisconsin grabbed a quick 2-0 lead on OF Tristan Peters' 1st inning triple, in which he also scored on an error.

However, LHP Antoine Kelly had his second straight difficult outing, throwing 75 pitches while covering only three innings, yielding one walk and one run in each. Kelly's final line: 3 IP, 3 R, 5 H, 3 BB, 4 Ks.

With the game still 3-2 in favor of South Bend, Wisconsin missed a big chance by failing to score with the bases loaded and one out in the 5th inning. However, RHP James Meeker was exceptional in throwing three scoreless middle innings, thus giving the Timber Rattlers more chances. Meeker's line: 3 IP, 0 R, 1 H, 0 BB, 5 Ks.

Three 6th inning Wisconsin hits gave them back the lead, the last a two-run double by OF Arbert Cipion (2-for-4 in the game). That lead was extended in the 7th inning on OF Joe Gray Jr .'s 11th home run of 2022, bringing home Miller who reached base in all four of his at-bats (1-for-1, BB, 2 HBPs). Gray went 2-for-5 in the contest.

But wait, if Cam Robinson was promoted to AA and Meeker is throwing long relief, who's closing games for the Timber Rattlers? Well, RHP Robbie Baker yielded a run on two 7th inning hits to tighten up the contest at 6-4. He then evaded damage in the 8th inning despite a leadoff walk and single, thanks in large part to Gray gunning down the lead runner at 3rd base.

And this was the inning where catcher Miller was down for several minutes after taking a foul ball flush against his face mask. He walked off, but will require close monitoring obviously. Alex Hall came in to finish the game for Miller.

Fanatic Contributor and Colleague @Mass Haas posted more information on the Miller incident in the daily forum.

In Taylor Floyd 's first action in High-A since his promotion to AA Biloxi in mid-August 2021, he faced six batters, striking out none but did manage to induce a fly out and pop out. He conceded two walks despite leading the hitters 0-and-2 and 1-and-2, respectively. After striking out 84 of 227 hitters last year (37.0%), Floyd has just K'd 24 of 116 batters in 2022 (20.7%). The game-ending walk-off grand slam was on a 1-and-1 pitch pulled over the right field wall by Owen Caissie , a 6'4", 20-year old outfield prospect.
Friday's outlook: Also trailing their series 1-2, LHP Russell Smith (5.03 season ERA) will strive for a repeat performance of his last start (6 IP, 1 R, 3 H, 0 BB, 6 Ks). He faces off against formidable 21-year old LHP DJ Herz (1.99 ERA in 54 1/3 innings with a whopping 85 strikeouts) – Cubs' #9 prospect on mlb.com.
Biloxi Pre-Game Media Notes
Final: Biloxi 2, Montgomery 0
Box Score / Game Log

Via the Shuckers' website, game details: Bennett Leads Charge In Shuckers' Shutout Win Over Montgomery

Given the 2020 Covid season wipeout, sixth-round 2019 selection LHP Nick Bennett has been moved quickly up the minor league chain without ever really impressing at any full season club level (just 20 innings in Low-A 2019, ERAs over 4.00 in High-A and AA in 2021, ERA over 5.00 in AA this year), but THIS is the performance to start to build a serious career around: six scoreless innings of three-hit, one-walk, nine strikeout ball. Woo hoo!!
An error and single put Bennett in a dangerous two-on, one-out first inning situation, which he evaded by getting two called strikeouts. Then he also worked around leadoff hits in the 2nd and 5th innings.

However, Bennett's fine outing was matched pitch-for-pitch by Rays' 21-year old RHP prospect Taj Bradley (their #2 prospect on mlb.com), who threw seven six scoreless innings himself, only allowing two singles and zero walks, while striking out seven Biloxi hitters.

The Shuckers did not collect their first hit until the 4th inning, a SS Andruw Monasterio (2-for-4) single. 1B Thomas Dillard (1-for-3, walk) grabbed their second hit with a leadoff single in the 5th inning, but neither hit resulted in any damage.

With the game 0-0 and Bradley finally exiting, Biloxi did its damage with two outs in the 7th inning, getting a Dillard walk and Felix Valerio hit-by-pitch to set the stage for RBI singles by 3B Cam Devanney and Gabe Holt for a 2-0 lead.
RHP Nash Walters retired all three Biscuits he faced in the 7th inning, striking out two hitters. RHPs Harold Chirino and Zach Vennaro then each worked out of difficult jams (two-on, one-out in the 8th inning; three-on, one-out in the 9th inning) to close out the shoutout with a ground ball double play.

A Joey Wiemer highlight is of course required:
Friday's outlook: LHP Brandon Knarr (2.27 season ERA, but 3.81 at AA level) will get the start, with Biloxi also needing a victory to even up their series in Montgomery. He's been solid over his last three games (17 IP, 4 R, 8 H, 8 BB, 17 Ks).
Nashville Pre-Game Media Notes
Final: Nashville 6, Columbus 2
Box Score / Game Log

Via the Sounds' website, game details: Dahl's Homers Extend Sounds Win Streak to Six

OF David Dahl served notice that he's ready for a return to the majors, going 3-for-4 with three RBIs, hitting his 8th and 9th homers of 2022 to give Nashville a 4-1 lead by the 3rd inning. Brice Turang also had an RBI triple in the 3rd inning.

On the mound, starting LHP Ethan Small pitched his third straight solid game, limiting a good Clippers squad to one run on two hits, while striking out eight. However, he was limited to five innings as he's already reached 90 pitches, not helped by walking four batters. Small was assisted in the third inning by OF Weston Wilson throwing out a runner at third base to avoid a two-on, nobody out situation.

RHP relievers Matt Hardy (1 IP, 1 H, 0 BB, 1 K) and Zack Brown (1 IP, 0 H, 0 BB, 2 Ks) were solid in covering the 6th and 7th innings, while Nashville extended its lead to 6-1 on a 2B Pablo Reyes (2-for-4, double) RBI single and C Brian Navaretto coming home when Reyes was picked off base.

Similar to the Biloxi game, RHPs Hobie Harris and Lucas Erceg both ran into difficulties in the 8th and 9th innings, with Harris yielding a run on three hits and a walk, while Erceg walked two and had a batter reach base on a wild pitch strikeout. Thankfully, all that Columbus effort only resulted in one run however, as each got a key strikeout and ground ball double play to escape potentially big innings.

It was good to see 3B Patrick Dorrian (1-for-4) back in action after leaving Sunday's game early, but unfortunately C Mario Feliciano hasn't played since leaving Saturday's game early.

Friday's outlook: RHP Josh Lindblom (3.96 season ERA) will start tonight to try to claim a 4-0 series lead over Columbus.
ARIZONA COMPLEX LEAGUE

Final: ACL Reds 7, ACL Brewers Blue 2
Box Score / Game Log

The Blue team fell to 7-16 on the season, being outhit 13-8 despite OF Garrett Mitchell making an impressive rehab start.

More from @Mass Haas:

In his return to action after being out since exiting a Biloxi game with an oblique injury on May 13th, CF Garrett Mitchell had an eventful night with Arizona Blue.

Mitchell was hit by a pitch in his first at-bat (great - thanks a lot, I'm sure), He was stranded at second base. He also flew out to center field to end the 3rd inning.

In the top of the 4th, Mitchell earned an outfield assist when his throw to shortstop Daniel Guilarte led to an 8-6-2 putout at home plate.

Mitchell lined an opposite-field double to left in the 5th (stranded again). He was replaced in the field to begin the 6th.

The Blue team going 0-for-7 with runners in scoring position and stranding 12 baserunners isn't pretty, but the Reds also left 15 men-on-base in this one.

Starting RHP Jared Albir gave up consecutive first inning singles to start the game, but INF Jonatan Guzman threw out a baserunner at home to help escape. However, a double, two walks and a hit-by-pitch in the 4th inning allowed the first run to score with LHP Junior Castillo then throwing a memorable one-third inning: two wild pitches (scoring one run), one walk, one player caught stealing home.

Castillo then gave up four runs on six singles in the 5th inning, as the Reds blew open the scoreline.

18-year old SS Daniel Guilarte keeps emulating Turang: three singles in this game to raise his batting average to .347. He has 26 singles and 5 doubles on the season (zero triples or homers).

18-year old 2B Guzman also doubled and singled, but his season OPS is still hovering at .650.

20-year old OF Eduarqui Fernandez (1-for-4; .827 season OPS) hit his 8th double of the campaign, but also sports a 7 BB / 37 K ratio in 84 plate appearances).

24-year old Leoni De La Cruz probably had the best outing on the team: 2 IP, 0 R, 2 H, 2 BB, 3 Ks.
Final: ACL Brewers Gold 7, ACL Athletics 1 (final after 7 innings)
Box Score / Game Log
The win boosts the Gold squad to 12-11 on the season, with terrific pitching by 19-year old starting RHP Gerson Calzadilla: 5 IP, 1 R (0 ER), 5 H, 1 BB, 4 Ks (to drop his season ERA to 3.66) and 20-year old RHP Phili Silverio (2 IP, 0 R, 0 H, 1 BB, 1 K). Gold was victorious despite going 0-for-14 with runners in scoring position.

INF Jadher Areinamo had the pleasure of playing shortstop in this game, contributing offensively as usual: triple, single to raise his season slash in the ACL to .318 AVG / .396 OBP / .459 SLG.

Catcher Blayberg Diaz (1-for-3, 2 RBIs) played DH in this game, collecting his second home run of 2022.

Stud 18-year old OF Luis Castillo didn't collect any hits (0-for-4), but still garnered 2 RBIs and only struck out once.

C Nader Garcia smacked a double in the 2nd inning, but promptly exited for a substitute so we'll have to track Garcia's return-to-play in the days ahead. Replacement C Jason Ollarve also collected two RBIs despite going 0-for-3 in the game.
Rough night for catchers:
Maryvale Blue catcher Jhonnys Cabrera was pulled mid-inning in the 6th.

Maryvale Gold catcher Nader Garcia exited immediately upon hitting a double to left field in the 2nd inning.
DOMINICAN SUMMER LEAGUE

Final: DSL Brewers1 4, DSL Rockies 2 (final in 5 innings)
Box Score / Game Log

The win improves DSL Brewers1's record to 9-13, as it appears they were able to complete the 5th inning just in time.

After CF Luis Lara's single, an error and a walk, C Edgardo Ordonez (.895 season OPS) blasted a 1st inning grand slam for his second home run of 2022 and a 4-0 lead.

17-year old Lara (2-for-3; 1.027 season OPS) doubled in the 2nd inning as he builds his resume for a promotion to the ACL.

RHP Leonardo Rivera pitched two scoreless innings in relief for the win, giving up one hit, one walk and striking out one.
Suspended to Future Date: DSL Brewers2 12, DSL Tigers 5 (2-on, 2-out in bottom of 4th inning)
Box Score / Game Log

There were runs scored in each of the half-innings played, though the Brewers2 squad has maintained its lead throughout the initial innings.

Quoting my colleagues, who along with me are somewhat enthusiastic about the performance being put in by 1B Yeison Perez before and after his injury:
@Joseph Zarr It would appear 18-year-old left-handed hitting first baseman Perez is doing just fine. Just fine and dandy. Playing 1B today, he is currently 2-for-3 with his 2nd triple and four more RBIs (19 now on his season). In now 49 AB's he has bumped his BA to .417 and his OPS to 1.441.
@Mass Haas It's insane. Perez was slugging .956 PRIOR to this suspended game in which he singled and tripled! (Just slugging!). He has 13 XBH's among his 20 hits, including six home runs.
2B Demetrio Nadal (3-for-3), RF Irving Igualas (2-for-3) and DH/C Edwin Tamoy (2-for-3) also enjoyed their 4 innings of work. It must be so much fun to put up 9 runs and 11 hits in less than half a game ?.
We hope that you enjoy the Minor League Link Report. Good luck on Friday, teams!
Organizational Scoreboard including starting pitcher info, game times, MiLB TV links, and box scores

Arizona Complex League Scoreboard

Dominican Summer League Scoreboard

Standings and sortable stat pages

Current Milwaukee Brewers Organization Batting Stats and Depth

Current Milwaukee Brewers Organization Pitching Stats and Depth
Think you could write a story like this? Brewer Fanatic wants you to develop your voice, find an audience, and we'll pay you to do it. Just fill out this form.
MORE FROM BREWER FANATIC
— Latest Brewers coverage from our writers
— Recent Brewers discussion in our forums
— Follow Brewer Fanatic via Twitter, Facebook or email
1