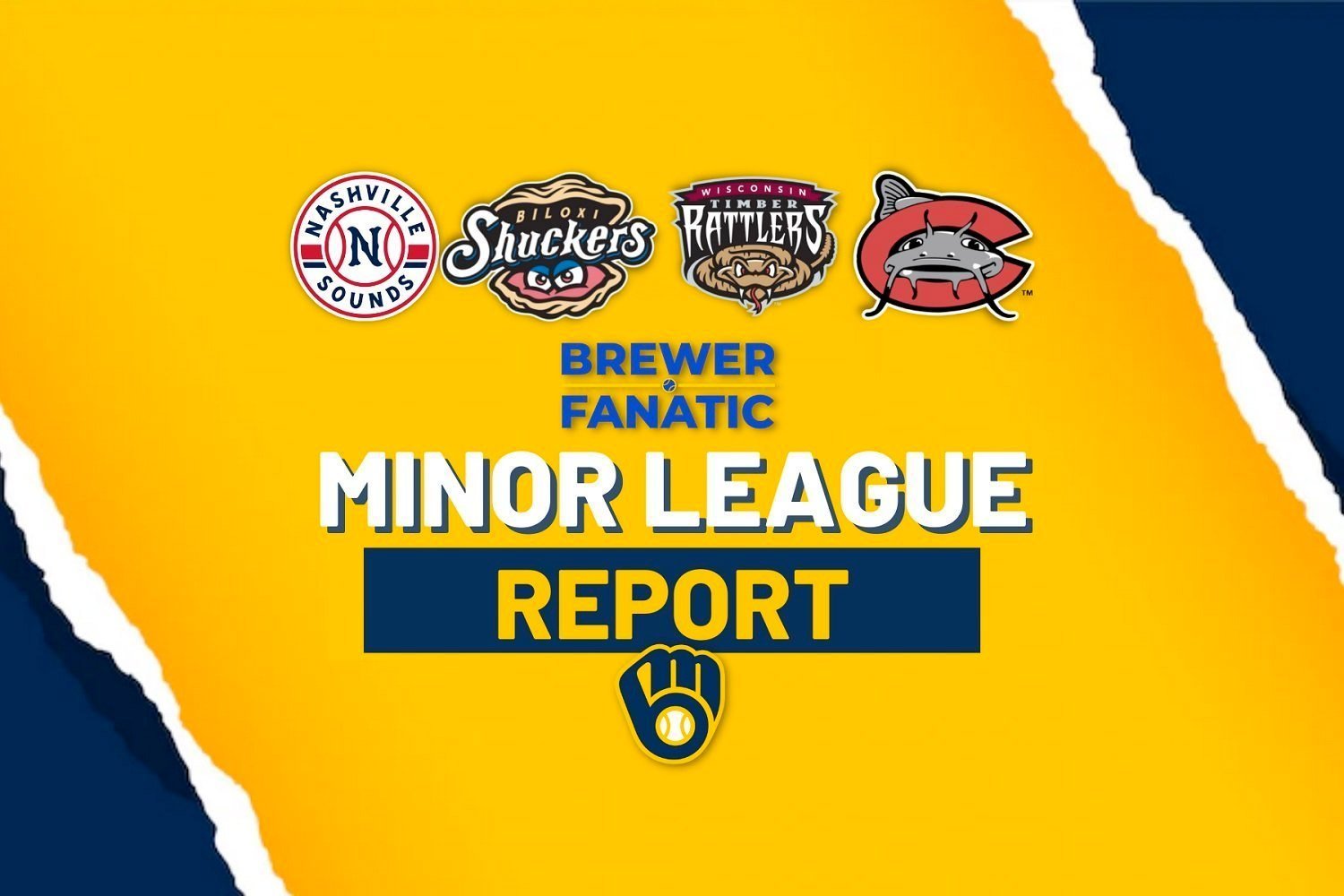 Image courtesy of BrewerFanatic
TRANSACTIONS:
RHP

 

Thyago Vieira

 

placed on AAA Nashville's 7-day injured list
INF/OF Eddy Alvarez activated from AAA Nashville's Development List
C

 

Nick Kahle

 

activated from AA Biloxi's Development List
INF/OF

 

Jheremy Vargas

 

promoted to High-A Wisconsin from Low-A Carolina
RHP

 

Alejandro Parra (6'3", 17-year old from Dominican Republic) signed and added to DSL Brewers-1
RHP

 

Francisco Guevara (5'10", 16-year old Venezuelan) signed and added to DSL Brewers-1
While not official as of post-time here Saturday AM, there is exciting news to come today as fireballing RH reliever Abner Uribe (already on the Brewers' 40-man roster) is on his way to Am-Fam Field today.
---

Final: Nashville 5, Columbus (Guardians) 3

Via the Sounds' site, we encourage readers to review each of the affiliate write-ups as part of your season-long Link Report routine:
Nashville Gets Hot In 5-3 Win - Skye Bolt drives in four, bullpen combines for nine innings against Columbus
Box Score / Game Log

Regarding those game summary references to the "Nashville Hot Chickens", catcher Brain Navarreto helps provide background here.

Not ideal when your starting pitcher gets ejected after literally one-pitch, but that HBP on the backside ended LHP Robert Gasser's night. Depending on Gasser's preparatory routine schedule, we imagine he'll be tossed back into the mix this weekend, prior to the All-Star Break (the full-season MiLB teams will enjoy the same break as the big leaguers). Manager Rick Sweet couldn't have been pleased when RH reliever Trevor Megill, who had not pitched Thursday, somehow got himself ejected at that point. Plus, we just saw above why Abner Uribe wasn't available. Of course, this was all fallout from Thursday's dramatics. 

Looking back to the Sounds' wild 15-14 win Wednesday, Voice of the Sounds Jeff Hem was a radio guest and relived the madness at the 01:20:20 hour/minute mark here.

Huge step-ups by RHP Luis Contreras and LHP Darrell Thompson for five scoreless innings behind Gasser. Just ginormous.

While Keston Hiura DH'd (on base once via HBP), it's been Abraham Toro getting reps at first base. 

Luis Urias homered on his 1-for-4 night, but is not prominent in Brewers' fans minds right now.
It needs to be said, everyone. Sal Frelick is not moving the needle
at all
. An 0-for-4 night has his OPS down to .619, and we're not even getting glimpses of the 2022 Frelick in 2023.
Given the home game, there's plenty more Sounds highlights via
their Twitter media feed
.  
---

Final: Pensacola (Marlins) 10, Biloxi 3

Via the Shuckers' site:
Shuckers Fall to Blue Wahoos Despite Early Fireworks - Blue Wahoos score eight unanswered, the two split the first four games of the series
Box Score / Game Log

With the Shuckers in Pensacola this week, we'd like to thank Tristen Lutz for this blast, because getting to the Blue Wahoos' ballpark to catch this seaside view should be on all of our bucket lists, captivating.
Given he only turned 24 in May, it's RHP Christian Mejias' 8th year of pro ball, his first with the Crew after he maxed out his time in the Astros' system. To my knowledge, when Mejias signed with Milwaukee last December, it was a two-year agreement. So, despite the struggles (1.44 WHIP), it makes some sense that the Brewers remain committed. He certainly has shown glimpses (and major inconsistency).

Sunday lineup on Friday night? If you came specifically for the Chourio / Quero / Black stat lines, you won't find it here. Of course, Jackson and Jeferson are in Seattle for the Futures Game, and Tyler has now missed three games since exiting on Tuesday. Leg injury of some sort? A reminder, this is what @Joseph Zarr saw on the video.

The Shuckers continue to produce video highlight tweets for us for road games (yet with Voice of the Shuckers' Javik Blake's calls). Fantastic, we appreciate the efforts!
 
---

Final:  Beloit (Marlins) 6, Wisconsin 3

Via the Timber Rattlers' site:
Beloit Goes Deep Three Times to Double Up Wisconsin - Sky Carp beat Rattlers 6-3
Pre-Game Media Notes (Download Link) via the team's Virtual Press Box

Box Score / Game Log

Immerse yourself, despite the loss, in the always helpful three-ingredient combo of game summery, video highlights (and lowlights), plus the postgame podcast.
 
Infielder Jheremy Vargas didn't make his T-Rat debut yet, but he'll be a welcome needed body given the unsettled Wisconsin injury-bitten infield situation. Vargas only turned 20 years old in May, expect his appearances to be in fill-in stints. Manager Joe Ayrault discusses Vargas in the podcast.

Military Jersey Auction
 
---

Final: Carolina 6, Fayetteville (Astros) 5
Clutch Defense Helps Mudcats Seal 6-5 Victory - The Mudcats turned a season-high four double plays in 6-5 edging of Fayetteville
Box Score / Game Log

Love when we get the post-game chats after most home game victories:

Post-Game Interview: Manager Victor Estevez

Simply put, this appears to have been a heck of an entertaining game for the nearly 3,000 in Zebulon. 

This was RHP (and sometimes DH/1B) Quinton Low's longest outing at four innings (61 pitches, 40 strikes), here's his pitching game log for 2023. There's some Misiorowski-like dreaming on the 6'4" 20-year-old.

There's potential (and we see it when we look for it) in so many of the young Mudcats. This box score includes those glimpses. We just wait for the consistency and the breakouts. Kudos to this bunch for making their way back to 6-7 after a rough first week to the 2nd half. Check out the early standings (remember, Down East already won the 1st half) - wild stuff here.

As you read in the summary, this one was much about the infield defense - we present partial evidence here:
A bit more from the Carolina production crew via the Twitter Media feed.
 
---

Final: ACL Giants Orange 6, ACL Brewers 2

Box Score / Game Log

Ah, Giants Orange.

We remember those days of Maryvale Gold and Maryvale Blue. More work for the Link Reporters, but still fun.

Visit the 5th game log where the A-Crew scored their lone runs. Inning started double-walk-double-walk, but a GIDP muted the rally.

Dylan O'Rae, playing second base, singled twice and was HBP. Quick year since O'Rae was the 102nd pick (3rd round) in last year's draft, sending even top analysts scrambling to learn more about the Canadian high schooler. Through 17 games in 2023, O'Rae's OBP is .476 (!). Stole his 11th base in 12 tries on Friday as well.

Unheralded infielder Juan Baez (playing SS here) is unconscious, three hits including a double, and his own OBP through 20 games is .437. Only two walks though, his BABIP is .493. Sustainable? No. Fun as heck? Absolutely!

RHP Ryne Moore made his second scoreless inning-long rehab appearnce, awesome to see him successfully navigating post-Tommy John surgery.
 
---

Final: DSL Brewers #1 Squad 3, DSL Guardians Blue 0 

Box Score / Game Log

On Thursday, Cerveceros "Uno" were shut out by a 1-0 score, mustering only four hits (one double).

Friday's batted-ball offense was similar (five hits, two of them doubles), but the team was able to celebrate a victory.

Top 2023 bonus signee Yophery Rodriguez, playing LF in this one (has primarily been in CF this season), has hit safely in ten of his last 11 games. He smacked a line drive one-out single to CF in the 4th, and would score on a clutch two-out double by another 17-year-old, corner infielder Gery Holguin, playing third base here.

It was also a two-out single that netted an insurance run in the 8th, with CF Pedro Tovar (a Venezuelan rookie who only turned 17 two weeks ago) driving in 2nd-year Panamanian RF Irving Igualas. Igualas had walked with one out and advanced on a single by yet another 17-year-old, switch-hitting Jhon Bencosme (playing first base here). It's been a struggle for both Igualas and Bencosme in 2023 thus far, so nice to see them contribute.

Rookie catcher (DH'ing here) Luis Garcia doubled in Holguin (who had singled) for the bonus insurance in the 9th.

Rookie Venezuelan RHP Gabriel Colmenarez cruised through five shutout innings (three hits, one of them a double, 0 BB, 2 K). His countryman, LHP Jose Meneses, followed up with four frames of sweet mound work of his own, as your box score perusal revealed. Meneses did walk two in the 9th to bring the tying run to the plate, but ended the game on a swinging strike. First career win and first career save for the duo, nice!

$1.4M bonus baby shortstop Kevin Ereu's pace has cooled since he missed two weeks of action in mid-June (2-for-22). This was his 6th consecutive hitless game, but he's managed to walk ten times in eight games since his return to action, a great sign when the BABIP gods aren't smiling.
 
---

Final: DSL Rockies 5, DSL Brewers #2 Squad 3, ten innings

Box Score / Game Log

Team Dos lead 3-0 after seven, then 3-1 after eight.

The first two Rockies batters were retired in the 9th - just one more out needed!

Infield single to the pitcher, sigh. Walk, and then two line drive singles, tie game. Brewers went quietly in the bottom of the 9th (one-out HBP).

The Rockies went with the bunt strategy in the 10th, not always deployed by road teams. The Colorado kids never got a ball out of the infield but scored twice. Nothing for the Cerveceros in the last-chance frame. Bummer of a loss.

18-year-old RHP Justin Caceres of Nicaragua wasn't killed with exit velocity but was on the mound for the two fateful innings. LHP Pedro Quintana allowed an 8th inning HR that breathed life into the bad guys. It was the first run Quintana had allowed in his 4th pro game. You'll remember that Quintana missed all of 2021 and 2022 due to injury upon being acquired from the Mets for OF Billy McKinney.

Not only did 2nd-year RHP Aneuris Rodriguez strand two inherited runners upon entering in the 3rd, he would toss 4.2 hitless, scoreless innings (2 BB, 6 K). Ten of his 15 pro appearances have been starts so the Brewers see something in the just-turned 19-year-old Dominican product.

Two intriguing Brewers rookies reached twice. Bonus baby 17-year-old SS Filippo Di Turi seems to fill all his box scores in some fashion. His OPS is .847 through 86 AB's.

Though 18-year-old CF Ramon Moreno is only hitting .224 to Di Turi's .337, Moreno's OPS rivals his teammate at .836. Fun line! 82 plate appearances translating to 58 AB's thanks to 21 (!) walks. Plus 24 K's, 6-of-7 in SB attempts, and six of Moreno's 13 hits going for XBH's, including two HR's. Put it all together, and that's kooky!
 
---

Another seven-game slate on Saturday.

Programming note (thanks for making viewing inconvenient for most, Mr. Manfred!

The 2023 MLB Futures Game will be held Saturday, July 8 at 6 p.m. CT at T-Mobile Park in Seattle. The game will feature many top prospects from the American and National Leagues in a seven-inning contest that will be broadcast exclusively on Peacock and Sirius XM.

Organizational Scoreboard including starting pitcher info, game times, MiLB TV links, and box scores
Current Milwaukee Brewers Organization Batting Stats and Depth
Current Milwaukee Brewers Organization Pitching Stats and Depth
Think you could write a story like this? Brewer Fanatic wants you to develop your voice, find an audience, and we'll pay you to do it. Just fill out this form.
MORE FROM BREWER FANATIC
— Latest Brewers coverage from our writers
— Recent Brewers discussion in our forums
— Follow Brewer Fanatic via Twitter, Facebook or email