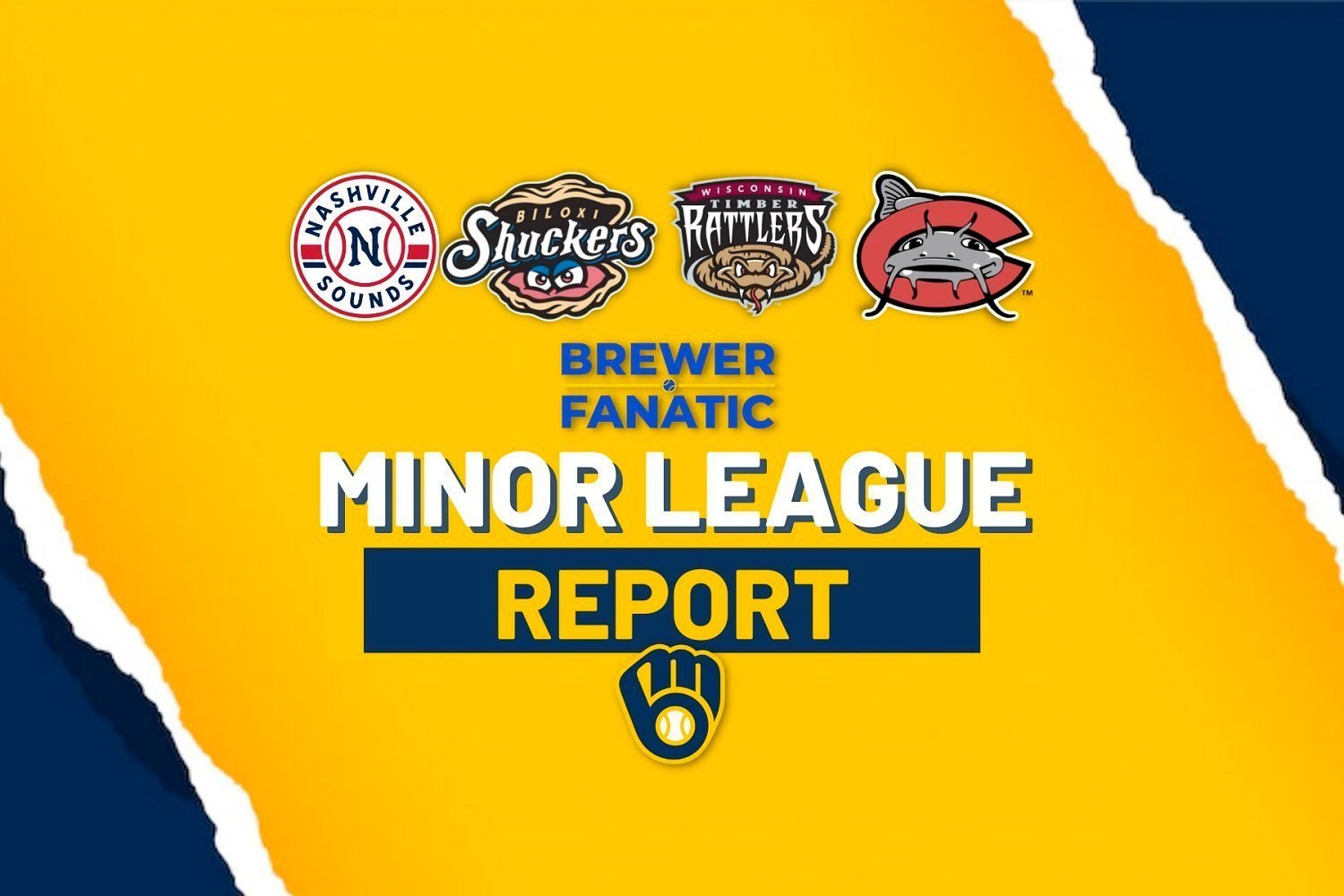 Image courtesy of BrewerFanatic
With so much buzz about RHP Jacob Misiorowski's day, we will still acknowledge Jackson Chourio (0-for-4, two K's), and here's a link to a translated ESPN Chourio feature article with a bonus note about his foot speed.

As for Jeferson Quero's defensive chops, still strong:
Quero had an RBI single in two AB's (box score) as the NL won, 5-0.

Misiorowski is planted all over the webisphere this AM, but here's the MLB.com article with quotes and our Brewerfan Staff Member Emeritus Patrick Ebert (colbyjack) compiled this for us. At some point today, you'll want to pick your jaw up off the floor.
On to the day's more traditional farm fare!
 
---

TRANSACTIONS:
RHP

 

Abner Uribe

 

recalled to MLB Brewers from AAA Nashville
RHP

 

Jason Alexander

 

activated from 60-day injured list and optioned to AAA Nashville
C

 

Alex Jackson of AAA Nashville suspended for his part in Thursday's brawl (George "Punch Thrower" Valera got

 

6 games

)

RHP

 

Tyson Miller

 

designated for assignment
RHP

 

Jake Cousins

 

sent on rehab assignment to ACL Brewers
---

Canceled: Columbus at Nashville

"Saturday's game between the Nashville Sounds and Columbus Clippers has been canceled due to rain at First Horizon Park. The game will not be made up. Both teams will play a single, nine inning game at 1:05 p.m. CDT tomorrow."

There are probably flight considerations for Columbus to prevent the scheduling of two seven-inning games. Regardless, the four-day All-Star break begins for both teams on Monday. As such, individual players may have their own flight arrangements as well. The Sounds play in Louisville, Kentucky starting Friday.

If Caleb Boushley does not start Sunday's game, fellow RHP Janson Junk will.
 
---

Final: Biloxi 10, Pensacola (Marlins) 9

Via the Shuckers' site, we encourage readers to review each of the affiliate write-ups as part of your season-long Link Report routine:
Four Home Runs Over the First Four Innings, Late Heroics Lead Shuckers to Wild Win - Nick Kahle sets season-high with three hits and four RBI, including game-winning double
Box Score / Game Log

This game ranks up there with the 15-14 Sounds victory of earlier this week, not quite the bizarre ending, but still plenty exciting.

Catcher Nick Kahle was a prominent pick out of the University of Washington in 2019 (4th round). He was a Rocky Mountain Vibe (.825 OPS in 40 games) in that affiliate's final season. It was surprising to see Kahle struggle to the extent he did in 2021 at Wisconsin over 70 games.

Kahle has never been placed on an injured list. but has started only 38 games behind the plate in 2022 and 2023 combined at the AA and AAA levels.. With Jeferson Quero at the Futures Game and 1B/C Wes Clarke getting the night off, Kahle made the most of his opportunity, coming within a triple of a cycle and adding a base on balls as well.

Any time there's a final score such as this, a review of the game summary is a must, but you knew Voice of the Shuckers' Javik Blake's calls would find their way here:
Power isn't why Isaac Collins was plucked from the Rockies' system in the minor league phase of Rule 5 last December (.394 career SLG), but the 5'7" switch-hitter does have six HR's from the RH side of the plate among his 17 career dingers. You'll see two of them via the Biloxi Twitter Media feed.

This is an offensive box score you'll want to savor, with perhaps the most critical sight being 3B Tyler Black's return after a three-game absence. He's in his prime .932 OPS form again in this game, including nabbing stolen base #41 on the season.

We weren't expecting another 6 IP, 1 H, 0 BB, 11 K effort from RHP TJ Shook, but he clearly didn't follow up his prior outing with anything resembling that here. Something in-between will qualify as just fine next time out.
 
---

Final:  Beloit (Marlins) 5, Wisconsin 3

Via the Timber Rattlers' site:
Rattlers Drop Third Straight Game to Sky Carp - Beloit builds early lead and denies Wisconsin comebacks
Pre-Game Media Notes (Download Link) via the team's Virtual Press Box

Box Score / Game Log

The T-Rats fall to 7-7 and two games back in the Midwest League 2nd half West Standings.

Wisconsin had 14 men reach base (six hits, eight walks), but had only eight AB's with a RISP (two hits), three double plays hurt, two of them on 4-3 lineouts to second base off the bat of Jose Acosta, as Voice of the Timber Rattlers Chris Mehring noted in his recap.

Alex Hall gets his due on a day in which he reached base all four times, including his 9th poke (I'm going with "poke", as it sounds Australian):
 

RHP Tyler Wagoner falls to 1-11, 7.21 ERA. He's had several of these respectable outings of exactly five innings, three runs or less. A review of his game log shows that six times he has gone exactly five innings (which is his season-high) with three runs or less allowed. In every other start, he's gone less than five frames, so bringing that ERA down is going to be a challenge without an occasional six- or seven-inning effort, with one or zero runs allowed.
 
---

Suspended: Carolina 0, Fayetteville (Astros) 0, two outs, no one on in the bottom of the Mudcats' 4th inning
Mudcats and Woodpeckers Suspended Saturday Night - Saturday's suspended game will resume on Sunday as part of a doubleheader in Zebulon
Box Score / Game Log

Love that we get an extended two minutes of 2021 4th round RHP Logan Henderson here:
---

Final: ACL Brewers 5, ACL Reds 4, seven innings as scheduled

Box Score / Game Log

Nothing personal to the Maryvale Crew, but we'd switch this final score for the one at Am-Fam Field Saturday in a nanosecond.
Also rehabbing (2nd appearance) was 2022 10th round 6'7" LHP Brian Fitzpatrick out of Rutgers, who turned 23 a month ago. Fitzpatrick only pitched in two games last August coming off his summer workload on Cape Cod. He was also post-Tommy John surgery. It was at that time that answered questions at this article link, Word is that Fitzpatrick has been sidelined by a nerve issue with that elbow, delaying his 2023 start until the past week. Two scoreless on Saturday (2 BB, 3 K).

This youngster cracked his first stateside HR (4th of his brief career):
2022 3rd round middle infielder Dyaln O'Rae on base thrice more (OBP now .488). Oh, Canada!
 
---

Final: DSL Brewers #1 Squad 8, DSL Guardians Red 7 

Box Score / Game Log

If you click for the linescore, the first two innings of the game as well as the final three innings were all scoreless. So you'll want to check the game log for those middle four innings. The 4th inning sure was frustrating - the Cleveland club scored four runs, all with two outs, while Team Uno had runners on 2nd and 3rd with one out and did not score.

Four runs for the good guys in the 5th without an XBH. The final run of the game was unearned (but the Crew will take it), scoring on a fielder's choice.

Milwaukee's baserunners were 6-for-8 on the positive side.

Corner OF's Brian Sanchez and Pedro Tovar had matching three-hit days, including a double for each. Sanchez has only played in half of DSL 1's 24 games, but has raked throughout, now at .395/.529/.579 for a ridiculous 1.108 OPS through 51 plate appearances. Sanchez turned 19 four days ago.

Tovar, a LH Venezuelan bat like Sanchez, only turned 17 just two weeks ago. 

Great lesson from the coaches here - you walk only one combined (plus one HBP), and you can win games despite allowing nine hits (two doubles). Ten K's for the four arms. Three are true rookies, RH closer Ramon Perez (three saves) will be 23 in October. He was a $10,000 sign last summer.
 
---

Final: DSL Dodgers Mega 8, DSL Brewers #2 Squad 7

Box Score / Game Log

Dueling 8-7 games on the island, but since this one was against a Dodgers entry, of course the Crew fell. If not mistaken, the organization is up to 13 losses vs. LAD rookie-level teams now without a victory, a dozen on the island. The Maryvale Brewers are 0-1 vs, LA, but are also trailing 11-8 late in a game suspended for now.

The Dodgers broke a 7-7 tie on a bases-loaded sacrifice fly in the 8th. Two walks by 18-year-old first-year RHP Lenin Mendez following around a double set up the fateful at-bat.

We had a professional debut here. Starting RHP Ismael Yanez, a 17-year-old out of Venezuela, allowed two unearned runs in his one inning (2 BB, 2 K). Yanez signed with most of the others within the 2023 international class back in January, so injury must have held him back until now.

We keep saying top $ middle infielder signee Filippo Di Turi keeps filling up box scores in his age 17 rookie season. DH'ing in this one, Di Turi reached base in all five plate appearances, we'd say that qualifies as filling up a box. Brewers beat reporter Adam McCalvy is helping spread the word:
We need to get Quintin Berry to the Dominican to assist Di Turi's speed game, he was both successful and unsuccessful here and is now 5-for-13 in SB attempts.

It's already DSL season three for Venezuelan catcher Eric Martinez, but his nice 2023 season flavored with XBH's continues, now at .270/.360/.476 through 75 plate appearances. It's just his age 19 campaign.

The linescore shows runs were scored in eight half-innings combined. Have fun with the game log breakdowns to learn more.
 
---

Best wishes to the Brewers new draftees this week. I walked out on top after going against the grain at the time and saying that Prince Fielder was the "must have" draft choice in 2002. I totally appreciate the efforts that so many put into preparing Brewers fans for the draft each year (including on our own site), but to be honest from my personal perspective, I don't pay much attention until they are in the Crew's possession, at which time I'm all over anything and everything about the selections.

The rookies rest on Sunday's. Carolina will have double duty in first completing Saturday's game. Biloxi gets the later start (4:05 Central), and RHP James Meeker Shuckers starts are always ones to keep an eye on. Have a great Sunday!

Organizational Scoreboard including starting pitcher info, game times, MiLB TV links, and box scores
Current Milwaukee Brewers Organization Batting Stats and Depth
Current Milwaukee Brewers Organization Pitching Stats and Depth