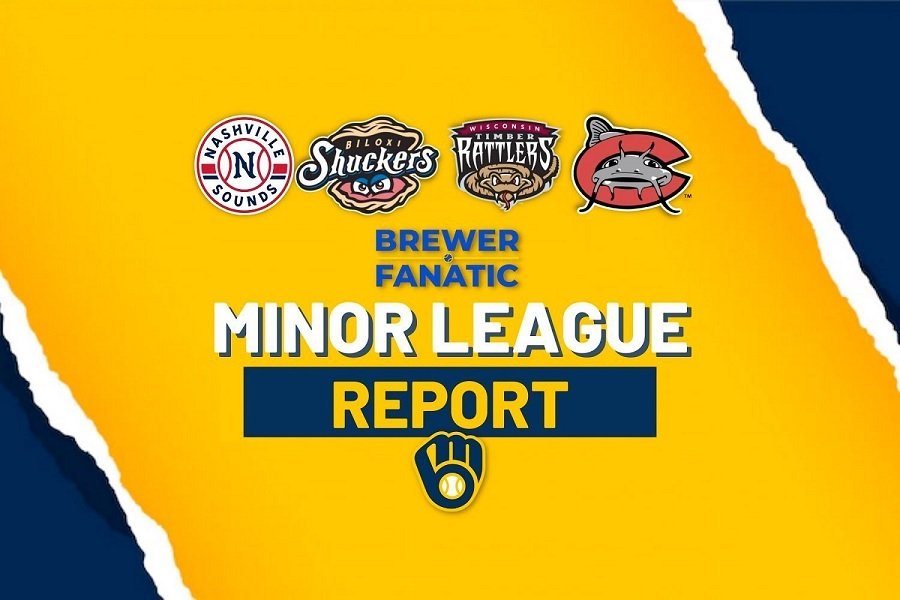 Wednesday's Game Balls go to Corey Ray, Tyler Herb, Garrett Whitley, Justin Jarvis and Stiven Cruz, with Honorable Mentions to Robbie Baker, Jesus Chirinos and Brice Turang.
Transactions:
---
Game Action:
Nashville Pre-Game Media Notes
Final: Nashville 2, Gwinnett 1
Box Score / Game Log

Via the Sounds' website, game details, and we encourage readers to review each of the affiliate write-ups as part of their Link Report routine: Sounds Hold Off Stripers in Series Opener

SS Brice Turang 's (1-for-4, HR, 2 RBIs) two-run homer in the bottom of the 1st inning gave Nashville a 2-1 lead, which held up throughout the rest of the night. Leadoff man OF Sal Frelick (1-for-2, triple, walk) had tripled to get the Sounds off on a good note.
Starting RHP Tyler Herb (5 IP, 1 R, 4 H, 0 BB, 8 Ks) went five strong innings to continue his recent good form, before four relievers kept Gwinnett hitless over the final four innings, including retiring the final 11 Stripers of the contest in order.
Nashville's offense had ample opportunities (1-for-12 with runners in scoring position; 10 left-on-base), while Gwinnett mustered nothing (0-for-2 with RISP; 4 left-on-base).
Three Quick Strikes:
Thursday's outlook: Rehabbing major leaguer RHP Adrian Houser is the scheduled starter for one of Nashville's Thursday home games. Expect RHP Caleb Boushley (11-2 record, 3.62 season ERA) to get the call in the second game.
---
Biloxi Pre-Game Media Notes
Final: Biloxi 6, Rocket City 5
Box Score / Game Log
Via the Shuckers' website, game details: Ray's Four-Hit Game Boosts Shuckers In 6-5 Win

OF Corey Ray (4-for-5, HR, double, 2 RBIs) has re-acclimated quickly to life in Biloxi, boosting his 2022 AA OPS to 1.266 through six games. He doubled on the first pitch of the bottom of the 1st inning, then scored on an OF Garrett Whitley double.

1B Thomas Dillard and OF Terence Doston both singled and scored in the 2nd inning to extend the Shuckers' lead to 3-0, before Ray produced his third hit of the game in the 4th inning, pulling a 1-2 pitch over the right field wall for two more runs.
Whitley (2-for-4, HR, double, walk, 2 RBIs) then followed with a solo home run of his own to give Biloxi starting RHP
TJ Shook a 6-1 lead. That gives Whitley homers on consecutive nights.
Four runs off Shook in the middle innings tightened the game at 6-5, but the bullpen of Kent Hasler (1 2/3 IP), Nash Walters (1 IP, 2 Ks) and Harold Chirin
o (1 IP, 2 Ks, second save) were up to the task, retiring all 11 batters they faced, the last on Ray's diving catch in center field.
Biloxi's victory evened their series with Rocket City at one game apiece.
Three Quick Strikes:
Thursday's outlook: Exciting LHP Robert Gasser will start Thursday's Shucker home game, aiming to replicate his terrific last outing (5 IP, 0 R, 2 H, 2 BB, 5 Ks).
---
Wisconsin Pre-Game Media Notes
Final: Wisconsin 6, South Bend 2
Box Score / Game Log

Via the Timber Rattlers' website, details: Chourio Homers in Wisconsin Victory Over Cubs

Here are excellent video highlights from the Rattlers' solid media team: 
OF Jackson Chourio gave Wisconsin an early lift, blasting a 107mph rocket over the left field wall to stake Wisconsin to a 2-0 lead in the 1st inning.
Two uncharacteristic Joe Gray Jr. errors couldn't derail starting RHP Justin Jarvis's (6 IP, 2 R (0 ER), 4 H, 3 BB, 2 Ks) excellent form, though they did allow the lucky Cubs to tie the game 2-2 by the top of the 3rd inning.

After re-taking the lead on a wild pitch in the bottom of the 3rd inning, Jarvis and RHP Robbie Baker (3 IP, 0 R, 0 H, 0 BB, 2 Ks) locked down the South Bend offense from there. In fact, Baker didn't allow a baserunner over the final three innings to earn a deserved save (his 2nd of the year).

Recent 7th round draft pick 3B Ben Metzinger (1-for-3, walk, RBI) notched his first hit with the club in the 7th inning on a full-count line drive to the opposite field, then scored as part of a two-run inning to give Wisconsin a 6-2 lead. Recently-promoted 19-year old DH/C Jeferson Quero also logged his first High-A ball hit in this game.

In a theme across Wednesday's games, Wisconsin won despite its offense going 1-for-13 with runners in scoring position and stranding nine baserunners. By contrast, South Bend's opportunities were few and far between, as they went 0-for-4 with RISP and stranded only five baserunners.
Three Quick Strikes:
Thursday's outlook: 20-year old RHP Carlos F. Rodriguez (3.35 season ERA) is due to make his 2nd-ever start in High-A ball in their home game against South Bend.
---
Carolina Pre-Game Notes
Rain Delay After 4 ½ innings: Carolina 4, Delmarva 0 (to be continued on Thursday)
Box Score / Game Log

Via the Mudcats' website, game details: Mudcats and Shorebirds Suspended Due to Rain

The only thing which could slow down RHP Stiven Cruz (4 IP, 0 R, 1 H, 1 BB, 4 Ks) in this game was rain. In fact, the rain stopped everything and everyone in their tracks.

Before the postponement, 1B Jesus Chirinos and 2B Robert Moore had combined for three doubles, driving in four runs.

Thus, the Chirinos and Moore show (with special contributions from the Carolina bullpen and other Mudcats) will continue Thursday as part of a pseudo-doubleheader, including the final 4 ½ innings of Wednesday's game and then a 7-inning game to follow.
Thursday's outlook: After completing the remaining 4 ½ innings of Wednesday's contest, RHP Edwin Jimenez (4.33 season ERA) is expected to start the second game, a 7-inning affair.
---
DOMINICAN SUMMER LEAGUE

Final: DSL Phillies White 5, DSL Brewers1 3 (two extra innings beyond planned 7 innings)
Box Score / Game Log

The close defeat drops DSL Brewers-1's record to 18-30 on the season.

Starting LHP Wande Torres (4 IP, 1 R, 1 H, 5 BB, 1 HBP, 1 WP, 1 balk, 4 Ks) limited the Phillies to one run on one hit, though he won't be happy with his five walks. Reliever RHP Hamlet Vasquez (4 IP, 2 R (1 ER), 1 H, 2 BB, 2 HBP, 4 Ks) also put in a solid shift.

A C Edgardo Ordonez (2-for-4, RBI) single and SS Angel Pereira (1-for-2, triple, walk, RBI, SB) triple helped stake the Brewers to a 2-0 lead in the 4th inning, which nearly held up.

However, the Brewer's 2-1 advantage evaporated via a Phillies' RBI single with two outs in the final scheduled (7th) inning.

The Phillies then scored Manfred's Ghost in the 8th inning without registering a hit, but Ordonez kept the Brewers in the game with a tying RBI double. The Phillies then scored on a bunt-plus-error to start the 9th inning and also added a sacrifice fly for the final margin.

A bit of good news: Slumping OF Luis Lara showed some signs of life: 1-for-2, 2 walks.
---
Final: DSL Brewers2 4, DSL Texas Red 3
Box Score / Game Log

The win boosts Brewers-2's season record back above .500 to 24-23.

Although there was eventually some 9th inning drama, this was definitely not a game for the fan, as the teams combined to go 0-for-21 with runners in scoring position and strand 22 baserunners. In fact, the patient Brewers-2 hitters walked 14 times and were beaned three times in this game, yet somehow only produced four runs, all in the 2nd inning. Well, the team producing just three hits in 29 at-bats explains the "somehow".

Perhaps the Brewer offense was deflated by having its best player 1B Yeison Perez (0-for-0, walk, 2 HBPs, RBI) exit the game early after being hit by pitches twice in the first four innings.

Each of starting LHP Anthony Flores (4 IP, 1 ER, 3Ks), LHP David Dominguez (3 IP, 1 ER, 4 Ks) and RHP Roman Perez (2 IP, 0 R, 1 K) were effective in this game.

Nonetheless, Texas chipped away at the 4-0 Brewers' advantage, getting to within 4-3 by the 7th inning.

However, in the 9th inning, two walks gave Texas a golden two-on, one-out opportunity, which the Brewer defense extinguished via a game-ending pop out double play (in foul territory, no less).
We hope that you enjoy the Minor League Link Report. Good luck on Thursday to all teams! And a personal thank you to @Joseph Zarr for swapping days with me – Joseph actually has 10 games to cover now (sorry!), as all teams are in action, with Carolina and Nashville playing doubleheaders.
Organizational Scoreboard including starting pitcher info, game times, MiLB TV links, and box scores
Dominican Summer League Scoreboard
Standings and sortable stat pages
Current Milwaukee Brewers Organization Batting Stats and Depth
Current Milwaukee Brewers Organization Pitching Stats and Depth
Think you could write a story like this? Brewer Fanatic wants you to develop your voice, find an audience, and we'll pay you to do it. Just fill out this form.
MORE FROM BREWER FANATIC
— Latest Brewers coverage from our writers
— Recent Brewers discussion in our forums
— Follow Brewer Fanatic via Twitter, Facebook or email
1