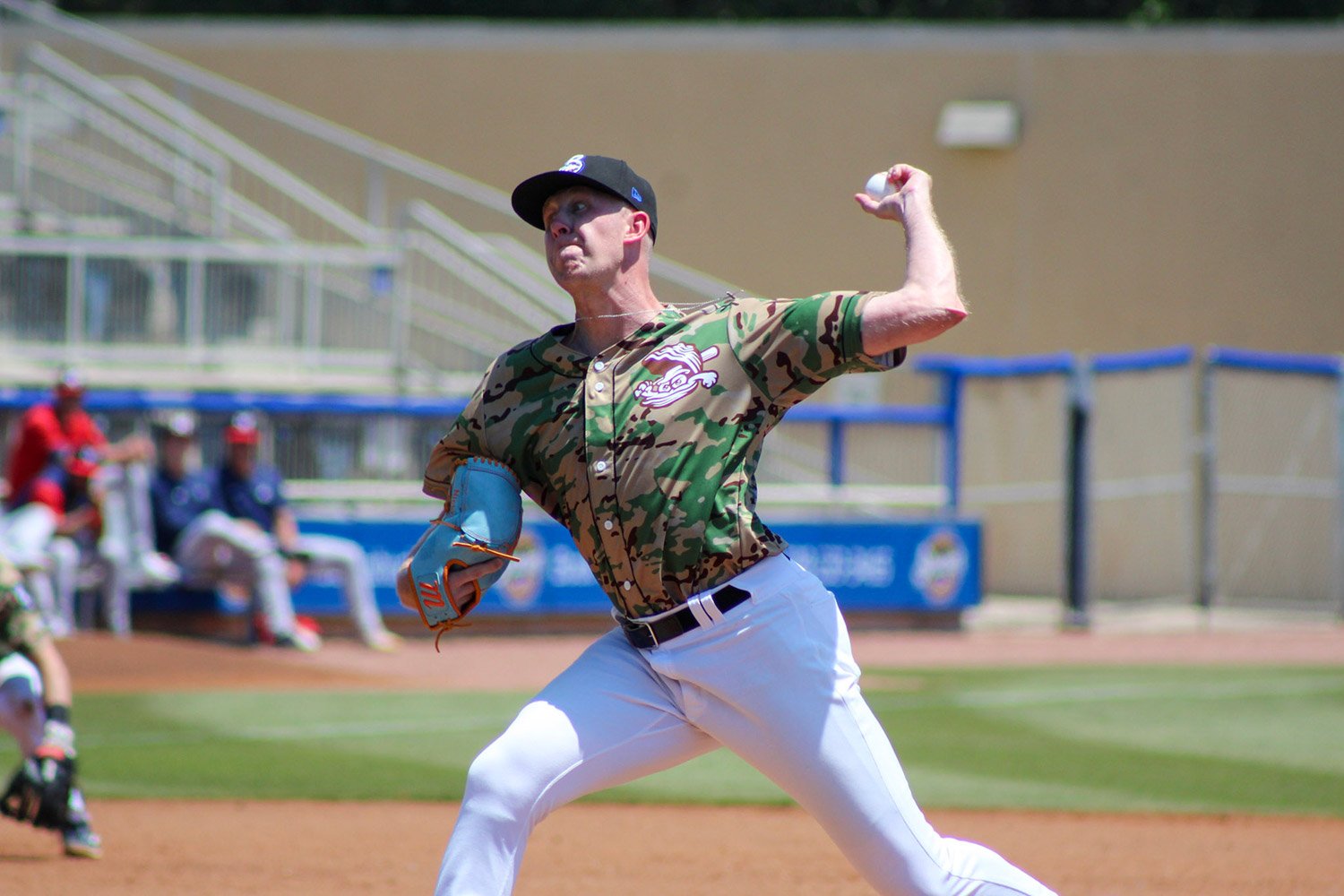 Image courtesy of Biloxi Shuckers and Joshua Sumrall - Nick Bennett Pictured
Game Balls:
RHP Cameron Wagoner is trending up and I am absolutely here for the turnaround. He is starting to put together multiple very solid outings. He's riding his off-speed and breaking pitch arsenal and it's a beautiful thing. 5 IP, 4 H, 0 BB, 5 K, 1 HR, 1 R.
1B Keston Hiura smacked two long balls powering the Sounds offense and pulling them within one in the eighth inning. 2-for-3, 2 R, 2 RBI, 1 BB, 2 HR. He is making his case for a September call-up. 
LHP Brian Fitzpatrick pitched five no-hit innings. He was pounding the zone for the most part and he kept the Cannonballer hitters (a lefty dominant lineup) off-balance: 4 IP, 1 BB, 5 K, 0 H, 0 R. A fantastic second start in Low-A ball for the big left-hander.
RHP Yerlin Rodriguez gets the nod for his pivotal work in the 8th and 9th innings. He rescued RHP Jesus Rivero's final line in a bases loaded situation with a one-pitch DP grounder to INF Jadher Areinamo at SS. He buckled down and grabbed his 10th save as well securing the Mudcats victory. Thanks to the Mudcats media team, you get to take a deep look:

OF Luis Lara was once again phenomenal in CF and he collected his first High-A RBI on a liner through the infield gap into LF. He's a special and exciting talent and we're lucky to watch him on a nightly basis. 2-for-5, 1 RBI, 1 K. 
Transactions:
C Jesus Garcia was assigned to the ACL Brewers from the Nashville Sounds
---
Final:  Nashville 7, Charlotte (White Sox) 5 
Box Score / Game Log 

Game Notes 

Via the Sounds' site, game details, please visit and review: 

Sounds Win Thriller on Rowdy Tellez's Walk-Off Blast

It was the Sounds ninth walk-off victory of their 2023 season. Take a look:
RHP Evan McKendry was fabulous through 5 IP. Given his pitch count and a likely desire to rest an overworked bullpen (all season long, really) manager Rick Sweet left the young hurler in to pitch the sixth and seventh frames where he saw five of the nine hits he surrendered and a two-run HR in there for good measure. All told, it was a fantastic outing and then it was blemished: 7 IP, 9 H, 0 BB, 4 ER, 3 K. LHP Ethan Small picked up the victory for his scoreless ninth inning (2 H, 1 K) and the victory moved the Sounds to 21-19 in the second half. They are 4.0 GB Lehigh Valley and Worcester for a second half crown and playoff birth.
Three Quick Strikes:
1) INF Tyler Black rocked his first Triple-A XBH last night with a roped double ripped down the LF line and into the Sounds bullpen. Tonight, he flexed his innate strength on a reach swing blast to RF on an off-speed pitch sinking below the zone. Black is ridiculously strong and this swing and result show it: 
2) OF Jahmei Jones set the tone from the top of the order with four free passes. That's exactly what you want from your speedy lead-off and that's exactly what he delivered. With long balls leaving the yard throughout, Jones' patient approach tacked on the two winning runs when all was said and done.
3) The Knights outhit the Sounds 12-to-7. The Knights stole two bases to the Sounds zero. Neither team had an abundance of men in RISP (2-for-4 for the Knights and 1-for-3 for the Sounds). This was a tightly contested ball game and it is clear early in this series the Sounds may have their hands full with the clear last place team in the entire International League. The Knights are 7-34 in the second half. I certainly hope they aren't getting hot as the Sounds are pressing for a possible playoff spot.
---
Final:  Biloxi 5, Mississippi (Braves) 1
Box Score / Game Log 

Game Notes
 
Via the Shuckers' site, game details, please visit and review:

Shuckers Staff Twirls Second Straight Gem in 5-1 Win Over M-Braves

The Shuckers best medicine to get their second half back on track was seeing the Smokies series come to its end. The Shuckers jumped to a 2-0 series lead after another fantastic combined pitching effort secured their team a victory . RHP Carlos F. Rodriguez wasn't especially sharp, but, as he's showed time and again he has more than enough in the tank to give solid work in any outing. What's comical here is 'wasn't especially sharp' pertaining to 4 2/3 IP, 1 H, 2 BB, 3 K, 0 R. Rodriguez was working long counts on several occasions and he was ultimately pulled after 82 pitches. The Shuckers moved to 23-18 in their second half and remain just 1.0 G ahead of the Rays' Montgomery Biscuits.

Three Quick Strikes:
1) Hats off to two consecutive shutdown outings from the Shuckers bullpen. What a sight for sore eyes. If the Shuckers are serious about their second half push they are going to need many more of these types of outings. 4 1/3 IP, 3 H, 1 BB, 6 K, 1 ER combine from LHP Nick Bennet, RHP Zach Vennaro, and RHP Ryan Brady. 
2) 1B Wes Clarke continues to absolutely crush baseballs in August: 
You read that right: 115 mph. Clarke is on one and then some. What a joy to watch. That ball made it into the parking lot for crying out loud.
3) CF Jackson Chourio Slump Watch continues: 0-for-18 over his last five games played. Over that span he has 2 RBI - tonight's a bases loaded walk after last night's RBI weak grounder to 3B, 2 BB, and 5 K. He continues to look for the way back to July. Let's not put lipstick on a pig here: it's an ugly stretch of AB's. His OPS has dipped back below 0.800 and sits at 0.798. And, as we know, this can turn around in a single AB. He's done it all season long.
---
Final:  Wisconsin 9, Cedar Rapids (Twins) 2
Box Score / Game Log 

Game Notes 

Via the T-Rats' site, game details, please visit and review:

Timber Rattlers Win to Pick Up Ground in Playoff Race

RHP Cameron Wagoner is trending up and I am here for it. He has tilted the balance to more solid outings than rough ones of late by a fairly good measure - he has turned his season around. We're looking at 14 2/3 IP, 12 H, 3 BB, 17 K, 1 HB, 3 ER, 1 HR in August in 3 GS after tonight's work. That's a 1.84 ERA with a 1.02 WHIP. This is precisely what the T-Rats needed to continue making a run at the Peoria Chiefs for a second half playoff birth. Wagoner is doing it with pinpoint accuracy - no more hangers and surgical precision with his off-speed offerings. After tonight's victory, the T-Rats moved to 22-22 in the second half just 3.0 GB.

Three Quick Strikes:
1) 2B Mike Boeve continues to add a stabilizing and consistent approach at the dish for manager Joe Ayrault and his Timber Rattlers teammates. He wastes so few swings. He is a hitter who seems to find the hole. 2-for-4, 1 R, 3 RBI - neither RBI single hit particularly hard but they were hit in the right place. His AB's are intriguing, for lack of a better description. He also legged out an infield single tonight showing wheels I didn't know he had. What other surprises are in Boeve's bag?
2) Special mention to SS Robert 'Bob' Moore and 1B Ben Metzinger. Both young men reached base in every trip to the dish - a fantastic effort. Both young men took three free passes down the first base line. Metzinger also ripped a gapper double to left CF. To that end, let's add special mention to more of the bottom of the order - C Darrien Miller and LF Hendry Mendez also put some good wood on some balls tonight in their two hit efforts. Let's hope they can keep some semblance of this up.  
3) RHP Stiven Cruz pitched quite well in relief picking up his first save of his professional career - 4 IP, 4 H, 2 BB, 5 K, 1 ER, 1 HR. It's been a disappointing season for Cruz, no doubt about it, but outings like this remind us there is always hope for these talented young men. The right adjustment, a changed mind set, whatever it may be - we shouldn't forget Cruz was one of the more pleasant surprises of the 2022 season. 
---
Final:  Carolina 2, Kannapolis (White Sox) 0
Box Score / Game Log 

Game Notes
 
Via the Mudcats' site, game details, please visit and review:

Fitzpatrick, Rivero & Rodriguez Blank Ballers 2-0

The Mudcats left a lot of men on base in this one - 11 to be exact in a 2-for-13 with RISP evening. As LHP Brian Fitzpatrick was dealing, I saw one two men on with two out failure to execute after the next. It was feeling precariously like one of those road games that might get away. But, alas, the always dependable INF Jadher Areinamo pulled through with a clutch RBI double deep down the RF line: 
It's unfortunate the run support couldn't come earlier - Fitzpatrick more than deserved the 'W'. He was in and around the zone. Controlled. His off-speed dipping arsenal was getting a bevy of misses and he sprinkled in a slider versus the Kannpolis lefty-heavy lineup. The victory tied the series 1-1 and, more importantly, it moved the Mudcats to 28-16. They remain 5.0 G ahead of Lynchburg in the chase for a second half playoff bid.
Three Quick Strikes:
1) CF Kay-Lan Nicasia deserves special recognition in this one. He ripped a double in a 1-for-4 night but he may have made the play of the game when he nailed the Cannonballer runner preserving a 1-0 lead in the seventh inning. Nicasia's defense is vastly underrated and, perhaps, this is due to his up-and-down year at the plate. LF Jace Avina added the insurance run in the next frame. I continue to love watching Nicasia develop.
2) I think it's fair to point out that as 3B Luke Adams continues to mostly struggle at the plate in August (0.178 BA in 45 AB's), he seems to be taking his already free-wheeling swing to new and wilder heights. I may have only noticed this tonight or my eyes may deceive me, but he really seemed to take his high leg kick and unorthodox hacks to levels I haven't seen in 2023. I'd like to, in the very least, see his pre-swing bat and his follow-thru remain consistent. I certainly understand his free spirit is part of what makes his clock tick, perhaps even more entertaining when he's fielding and throwing from third base, but at a certain point he's likely going to have to smooth some edges in and around his game if he is to reach his full and enormous potential. 
3) INF/OF Dylan O'Rae is a real treat to watch play baseball. He is twitchy and he plays with urgency. He is extremely speedy and laterally quick. He made several solid plays at 2B tonight after a full stretch diving snag in CF last night. He also walked, singled, and stole a base from the lead-off spot in this tight victory. Seeing how O'Rae's small frame fills out over the net few years is one of the more intriguing middle infield/CF stories in the affiliated levels as far as I am concerned.
---
DSL Brewers #1 2, DSL Dodgers Mega 0
*Makeup Game from 8/1 Match-Up*
 Box Score  / Game Log

One day after getting smoked in a continuation of a postponed game with the first place Dodgers Bautista, the DSL Crew Uno bounced back and shut out the second place Dodgers Mega. The really story in this one appears to be the combined pitching efforts of RHP Jesael Cabrera (5 IP, 1 H, 1 BB, 1 K, 0 R) and RHP Roman Perez (2 IP, 1 H, 0 BB, 4 K, 0 R). Cabrera picked up his fourth win of 2023 (4-1) while Perez picked up sixth save. On the offensive side of things, C Ludwin Tejada knocked both runs across via a solo shot in the fifth frame and a sac fly in the seventh frame. That was all the DSL Crew Uno needed. Also of note, 1B Gery Holguin took three free passes and INF Eduardo Charles played in just his third game of the summer going 1-for-3, 1 BB, 1 K, 1 SB, 1 CS in the lead-off spot. The Crew won this one despite their 0-for-6 mark with RISP. The Mega never had a man touch second base. The DSL Cerveceros Uno bounce back above 0.500 at 25-24 on their season.
---
DSL Guardians Blue 4, DSL Brewers #2 3
Box Score  / Game Log

The lone loss in a six game Minor League set comes at the hands of the DSL Cerveceros Dos. And, they lost this one late when the Guardians Blue put up a three-spot in the sixth inning of a seven inning contest. After LHP Pedro Quintana put two men aboard with consecutive walks, RHP Dikember Sanchez was summoned to the hill and helped it all fall apart during his third blown save and fifth loss of 2023: wild pitch, walk, walk, wild pitch, single. A 3-1 lead vanished into a 4-3 deficit; the final score. The offense did little to help with an 0-for-8 mark with RISP. I will highlight CF Demetrio Nadal's 1-for-4, 1 R, 1 K, 2 SB lead-off performance. He continues to shine in various ways nearly every game. Feel free to scan the remainder of the box score - there isn't all that much there in this close loss.
---
The ACL Crew returns tomorrow evening. The DSL Cerveceros squads play the morning tilts yet again. It will be a classic late summer seven-game Minor League set. RHP Tyler Woessner will try to give the T-Rats a 2-1 series lead at Cedar Rapids. RHP TJ Shook will look to return to from as the Shuckers aim to take a 3-0 road series lead at Mississippi. Beyond that, at the time of publish we are 'TBD' elsewhere.

As always, thanks for reading and thanks for supporting Brewers Minor League baseball.
Think you could write a story like this? Brewer Fanatic wants you to develop your voice, find an audience, and we'll pay you to do it. Just fill out this form.
MORE FROM BREWER FANATIC
— Latest Brewers coverage from our writers
— Recent Brewers discussion in our forums
— Follow Brewer Fanatic via Twitter, Facebook or email