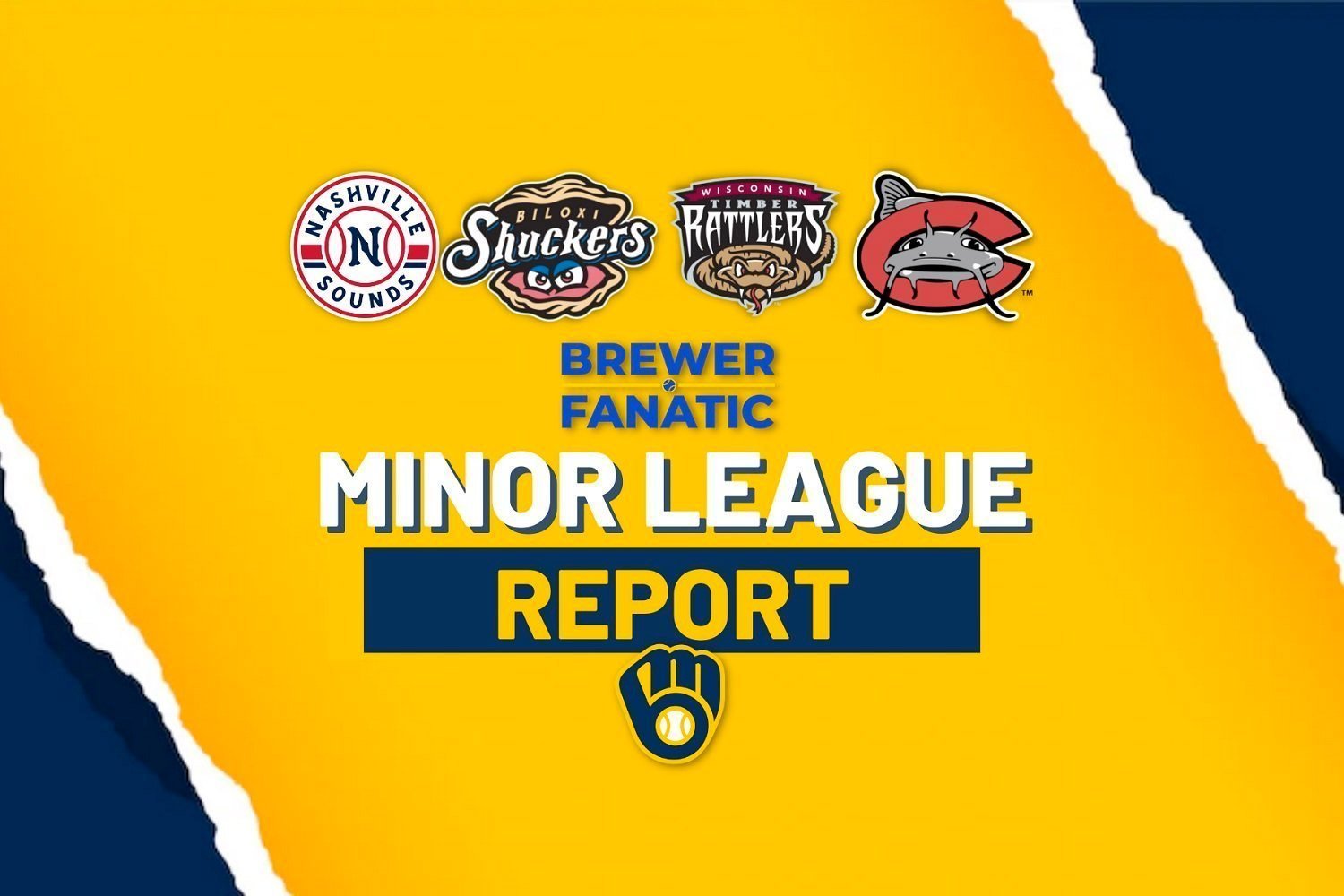 Image courtesy of BrewerFanatic
Transactions:
SS Eric Brown Jr. sent on rehab assignment to ACL Brewers
OF Eduarqui Fernandez sent on rehab assignment to ACL Brewers
Game Action:
Final: Nashville 5, Charlotte 4
Box Score / Game Log
Via the Sounds' website, game details, and we encourage readers to review the affiliate write-up as part of their Link Report routine: Hiura's 20th Homer of Season Secures Sounds Comeback Win
For the second game in a row, 1B Rowdy Tellez (2-for-3, double, walk, RBI) and DH Keston Hiura (1-for-4, HR, 2 RBIs) came through with the big hits to lead Nashville to a late comeback win. One can only imagine how they may have impacted a certain major league game in Los Angeles if they'd been called up already. 
In addition to Tellez's game-tying double and Hiura's game-winning 2-run homer in the bottom of the 8th inning, this game also featured starting RHP Colin Rea's (5 IP, 3 R, 7 H, 0 BB, 6 Ks) first game action since being optioned by the Brewers 13 days earlier. See more highlights from the win at Nashville's Twitter feed.
Sounds' Extras:
2B Patrick Dorrian actually sparked the turnaround with his organization-leading 20th home run of the season, a solo shot to cut the deficit to 3-2. Hiura's blast brought him even with Dorrian at 20, with Keston doing it in just 73 games.
A big credit goes to RHP Jason Alexander and LHP Darrell Thompson, who combined on three scoreless innings of relief while striking out five Knights.
Every spot in the Sounds' lineup reached base via hit or walk, including right fielder Josh VanMeter making it twice (single, walk) along with doubles for 3B Tyler Black and center fielder Monte Harrison.
Per the article link above, this game was Manager Rick Sweet's 300th win with Nashville. He has over 2,200 wins across several organizations in his storied managerial career.
Friday's outlook: LHP Robert Gasser (3.94 ERA, 1.27 WHIP, 11.2 K/9 in 107 1/3 IP) is scheduled to hopefully lead Nashville to a 3-1 series advantage.
Biloxi Pre-Game Media Notes
Final: Biloxi 6, Mississippi 3
Box Score / Game Log
Via the Shuckers' website, game details: Tobias Myers Goes Seven Innings, Leads Shuckers to Fourth Straight Win
After some struggles last week, the Shuckers have truly turned over a new leaf in grabbing a 3-0 series lead over Mississippi, led this time by RHP Tobias Myers' 7-strong innings (7 IP, 2 R, 6 H, 3 BB, 9 Ks, 1 WP). 
The Sounds collected 11 hits on 10 singles and a double, including multi-hit games for center fielder Jackson Chourio (3-for-5), OF Carlos D. Rodriguez (2-for-5, 2 RBIs) and 3B Zavier Warren (2-for-4, RBI). You'll find several video highlights at the Biloxi Twitter feed.
Shuckers' Extras:
The Shuckers' defense came through with timely plays, including Myers picking off a baserunner to end the 1st inning, C Jeferson Quero throwing out an attempted basestealer to end the 2nd inning, a GIDP to end the 5th inning and another double play (of the 1-4-3 variety led by Myers) to defuse a two-on, nobody out situation in the 7th inning.
Left fielder Isaac Collins and 1B Wes Clarke each reached base three times on a single and two walks.
As per the game link above, RHP Cam Robinson notched his 10th Save, with August being easily his best month (1.17 ERA, 1.04 WHIP in 6 games) after a largely difficult 2023 (7.88 ERA in 33 games prior to August).
Friday's outlook: RHP TJ Shook (5.48 ERA, 1.31 WHIP, 11.1 K/9 in 65 2/3 IP) gets the call as Biloxi aims to clinch a series victory.
Wisconsin Pre-Game Media Notes
Final: Cedar Rapids 6, Wisconsin 2
Box Score / Game Log
Via the Rattlers' website, game details: Kernels Fifth Inning Too Much for Timber Rattlers
Two runs weren't going to be enough to defeat Cedar Rapids, but unfortunately the Timber Rattlers bats went quiet after the 5th inning. Prior to that fateful four-run 5th inning for the Kernels, starting RHP Alexander Cornielle (5 IP, 5 R, 5 H, 1 BB, 2 HBP, 2 Ks, 1 WP) had only allowed two hits – an infield single and an RBI double in the 1st inning.
Timber Rattlers' Extras:
Left fielder Je'Von Ward (2-for-4, HR, RBI) and RHP Tanner Shears (2 IP, 0 R, 0 H, 3 BB, 2 Ks) were Wisconsin's players of the day. Shears entered an unenviable bases loaded, nobody out creation of LHP Karlos Morales in the 6th inning and needed only six pitches to escape (strikeout, ground ball double play) without any inherited runner scoring.
Other than Ward, DH Brock Wilken was the only Timber Rattler to reach base twice (single, walk), including drawing the only base on balls issued by Cedar Rapids.
Friday's outlook: RHP Tyler Woessner leads Wisconsin in ERA (3.75 – minimum of 60 IP), so can't be happy to be on a 5-game losing streak (with five other No Decisions). He gets the chance to end that personal streak and lead the Timber Rattlers to a 2-2 series tie.
Carolina Pre-Game Media Notes
Final: Kannapolis 11, Carolina 10
Box Score / Game Log
Via the Mudcats' website, game details: Mudcats Waste Big Lead in 11-10 Walk-Off Loss
We didn't foresee this collapse – blowing a 10-4 lead in the 6th inning by giving up seven unanswered runs. Now the Mudcats have work to do, trailing 2-1 in this series.
On the positive side, 3B Jadher Areinamo (4-for-5, double, RBI, SB) collected four hits and right fielder Jace Avina (3-for-4, HR, double, walk, 2 RBIs) continued his two-month surge. Avina also gunned down the leadoff batter in the bottom of the 5th inning, who was trying to stretch a double to a triple while trailing 10-4. 
Mudcats' Extras:
The negative side was unfortunately the pitching across the board, with each of starting RHP Yujanyer Herrera, RHP Jeison Pena, RHP Tyler Wehrle and RHP Chase Costello conceding at least two runs.
The 23-year old Costello's collapse was quite unexpected, coming in with a 7-1 record and 2.53 ERA. He did have only one save entering this game (and still has only one save to go along with this one blown save), typically working as a multi-inning reliever, so perhaps the closer's mindset will need to be worked on.
Back to positives and negatives – the Mudcats didn't have any errors (vs. two for the Cannon Ballers), but had two runners caught stealing and another picked off.
Two-hits games were achieved by DH Luke Adams, left fielder Tayden Hall (in his first outfield start of 2023, after two OF starts in 2022) and Gregory Barrios, while center fielder Kay-Lan Nicasia reached base three times (single, two walks) and 1B Jesus Chirinos had an early 2-run home run and also walked. 
Friday's outlook: RHP Patricio Aquino (2.82 ERA, 1.19 WHIP, 9.2 K/9 in 70 1/3 IP) will try to lead the Mudcats' rebound, needing a win to tie the series 2-2.
Arizona Complex League Action
Final: ACL Royals 10, ACL Brewers 0
Box Score / Game Log
Don't fade on us now, ACL Brewers. Their magic number to clinch the ACL Central remains two games, after dropping their second contest in a row and seeing the ACL Reds come back from a big deficit for their third straight win. The division lead is suddenly just 2.5 games.
Rehabbing starting LHP Adam Seminaris took the loss, but showed that he may be ready for a return to full season affiliate ball: 3 IP, 1 R, 3 H, 0 BB, 3 Ks. Will we see him back in Biloxi soon?
Other rehabbers:
SS Eric Brown Jr. went 0-for-2 with a strikeout in his first game since July 1
Center fielder Eduarqui Fernandez went 0-for-2 with a strikeout in his first game since June 28
RHP Joseph Hernandez gave up 4 runs in 2 1/3 innings pitched. This was his third rehab appearance
The team's lone hits were singles off the bats of 3B Juan Baez (.976 season OPS) and C Edgardo Ordonez (season OPS .761). INF Cooper Pratt led off and started at second base, going 0-for-3 with a walk and a stolen base. He shifted over to shortstop for the final four innings. INF Eric Bitonti also went 0-for-3 with a walk, DHing in this game.
Dominican Summer League Action
Final: DSL Guardians Blue 4, DSL Brewers-1 Squad 1 (in 7 innings)
Box Score / Game Log
The Uno squad finds itself back even at 25 wins and 25 losses after dropping this contest, with just five games left on their season. 18-year old LHP Anthony Flores (3 IP, 2 R, 5 H, 0 BB, 7 Ks) got the start and didn't concede any walks or extra-base hits, but was nickeled and dimed via five singles.
Left fielder (and sometimes pitcher – with 8 games to his credit) Argenis Aparicio reached base three times, including a double, single and walk. He also stole second base, was caught going for third base and threw out a baserunner of his own going for third base. 3B Gery Holguin also doubled, while 2B Eduardo Charles had a single, a walk and was caught stealing.
Center fielder Yophery Rodriguez's late season fade continues: 0-for-3 with a walk to drop his season OPS to .877. But that's nothing compared to SS Kevin Ereu's nightmare: 0-for-4 with 3 Ks, stranding six baserunners in his at-bats. He struck out to end the game, dropping his season OPS to .556.
Final: DSL Brewers-2 Squad 12, DSL Dodgers Mega 3 (in 7 innings)
Box Score / Game Log
Center fielder Pedro Ibarguen, who just turned 17 years old last month, is clearly this year's DSL Brewers' breakout position player, going 2-for-3 with a home run (his third of 2023), triple, walk and 4 RBIs in this victory. Ibarguen signed for just $60,000, but did get a nod from Baseball America as a potential sleeper. His season AVG is now .306 and OPS is .884 and with the terrific offensive performance have come premium opportunities in center field, where he's made 10 starts in his last 23 games, after making zero starts there in his first 18 contests.
17-year old starting RHP Melvin Hernandez was decent once again (2 IP, 2 R (0 ER), 3 H, 0 BB, 2 K) but pitched just two innings. As such, it was 19-year old RHP Elias Gonzalez who did the heavy lifting: 4 IP, 0 R, 0 H, 3 BB, 4 Ks. That's Gonzalez's first official Win. On the other side, Dodgers Mega had a relief pitcher issue four walks and six(!) wild pitches without retiring a batter. Oh my.
While Ibarguen collected the only extra base hits that the Dos young men generated, the game did see 3B Demetrio Nadal record two singles and each of DH Filippo Di Turi (3 walks), 1B Danny Puerta (single, 2 walks) and left fielder Antony Gomez (3 walks) reach base three times.
We hope that you enjoy the Minor League Link Report. Enjoy Friday's 7-game slate!
Organizational Scoreboard including starting pitcher info, game times, MiLB TV links, and box scores
Current Milwaukee Brewers Organization Batting Stats and Depth
Current Milwaukee Brewers Organization Pitching Stats and Depth
Think you could write a story like this? Brewer Fanatic wants you to develop your voice, find an audience, and we'll pay you to do it. Just fill out this form.
MORE FROM BREWER FANATIC
— Latest Brewers coverage from our writers
— Recent Brewers discussion in our forums
— Follow Brewer Fanatic via Twitter, Facebook or email
1