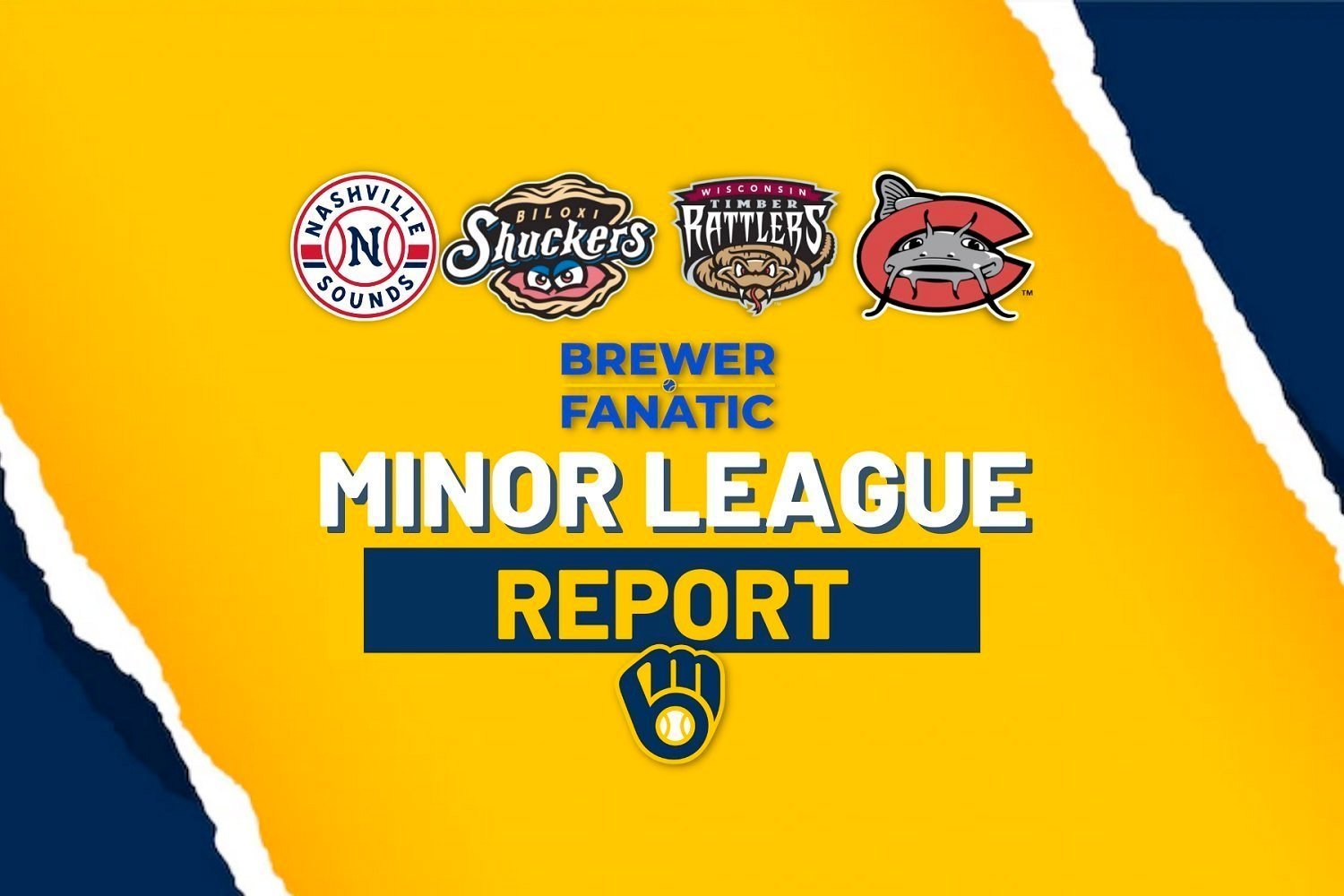 Image courtesy of BrewerFanatic
TRANSACTION:
- LHP Justin King placed on High-A Wisconsin's 7-day injured list retroactive to August 17
---
Final: Nashville 5, Charlotte (White Sox) 1
Via the Sounds' site, we encourage readers to review each of the affiliate write-ups as part of your season-long Link Report routine:
Gasser Gem Gives Sounds Third Straight Win - Left-hander strikes out 10 with no walks in 5-1 win over Charlotte
I have not investigated it, but surely somewhere the Padres' fan websites are lamenting the loss of LHP Robert Gasser in the infamous Josh Hader trade.
Speaking of transactions, trades, etc., check out page 14 of the Sounds' Media Notes linked above. Your head will spin as the tiny font transaction list is about to require a third column.
One of the first things that will strike you upon reading the game summary is:
Charlotte Knights (42-76, 7-36 in the 2nd half)
Maybe we should visit the ChiSox minor league fan sites. That must be one messed up AAA clubhouse.
The Brewers' starting rotation down the stretch is veteran enough and effective enough that the instances when a four-or-five inning true long reliever is needed should be few. Unless Adrian Houser truly blows up Sunday or beyond, a debuting Gasser likely wouldn't be required at the big-league level in September. Gasser also has enough innings in, so that an Arizona Fall League stint seems unlikely. For nearly the rest of MLB, Gasser would be guaranteed a callup soon, certainly for every non-contender right now. It will be fascinating to watch how Gasser's service time is handled regardless. One could envision him being on the Opening Day 2024 roster and thus eligible for draft pick compensation with a stellar rookie campaign as per the new CBA. Regardless, the words from Brewers brass expressing their thrilled status upon his acquisition (remember, from High-A ball no less) ring true.
OF Tyler Naquin is 3-for-27 with zero walks and 12 K's since his trade to the White Sox.
The challenge system!
That's one of eight(!) video highlights via the Sounds' Twitter ("X") feed, including the contractually-obligated-to-mention KestDaddy base knock. We'll include one more here in appreciation of the pretty production work:
---
Final: Biloxi 12, Mississippi (Braves) 3
Via the Shuckers' site:
Shuckers Smash Their Way to Fifth Straight Win - Biloxi hits three home runs, pounds out 13 hits in 12-3 win over M-Braves
This team is hitting its stride despite the bump to AAA of Tyler Black. Really cool how all the affiliates track so closely 2023 milestones vs. their franchise marks. Young Voice of the Shuckers Javik Blake is very good in making those references, as he did here: "In the sixth, (Jackson) Chourio drove in his 74th RBI of the year on a fielder's choice, tying Corey Ray's single-season franchise record."
Video, did we say video? Dead heat as Biloxi matches Nashville with eight highlights on the night, catch them here. Keep in mind Wes Clarke was featured by the organization earlier in the day before poking his 20th.
Do starting pitchers get walk-out songs? I don't think so. But TJ Shook made 13 relief appearances earlier this season, and hopefully his home appearances featured this (maybe his parents helped).
Every Shucker with at least one hit, and five reached base three times. That'll make for a happy postgame spread.
Night off for Jeferson Quero and red-hot OF Carlos Rodriguez.
97 degrees at first pitch in Pearl, MS where 2,210 fans came disguised as empty seats, as per the linked highlights. Humidity must be brutal as well.
---
Final:  Cedar Rapids 6, Wisconsin 4
Via the Timber Rattlers' site:
Cedar Rapids Sends Wisconsin to a 6-4 Loss - Rattlers give up five two-out runs to take another tough defeat
Pre-Game Media Notes (Download Link) via the team's Virtual Press Box
What is it about the Minnesota organization that has their High-A team specifically pretty much phenomenal year after year? Here's a bit of backstory as to the nice name of their ballpark "Rise 2 Greatness Field at Veterans Memorial Stadium".
Fans of the MLB Brewers (I imagine that's nearly all of you reading) have trouble seeing a landing spot back in Milwaukee for rehabbing Jesse Winker. Winker is laser-focused on his current task, it appears:
Time for 26-year-old RHP Sam Gardner to make his way to Biloxi to allow a Carolina arm his turn in Appleton.
It appears the season paths for RHP's Cameron Wagoner and Tyler Woessner are criss-crossing, given Wagoner's summer resurgence and a bit of Woessner slippage of late. Tyler did have a 3.27 ERA in four July starts, so it hasn't been a disaster by any means. Starting pitchers on the minor league level do have it pretty good in terms of their workloads, pretty sure they'd like to pitch more than once a week (except for every 5th week where they may start both ends of the weekly six-game series). Golf games must be solid.
It's quite seamless how Brock Wilken and Mike Boeve have just slid into the 3-4 spots in the lineup after skipping over Carolina. Again, fault me on the lack of thorough research, but I wonder if there's another 2023 draft duo currently toiling similarly at the High-A level. 
Absolutely no video production out of Cedar Rapids, that must drive our friends over at Twins Daly bonkers.
---
Final: Carolina 8, Kannapolis (White Sox) 6, ten innings
First-Place Mudcats Win Thriller, 8-6 in Kannapolis - Jace Avina robbed a game-winning homer in the ninth to force extras in Carolina's 10-inning victory
Let's just get right to it - and watch the two little boys as they realize they won't be getting a souvenir -
It's a signature moment in a signature game in what may become a signature season. Maintains a four-game second-half division lead. The little bobble just adds to the fun and the moment.
Yet another game in which every Mudcat had at least one base hit. In fact, of the 36 players in full-season starting lineups Friday, only five went without a hit and only three (sorry Patrick Dorrian, Owen Miller, and Joe Gray, Jr., because you each have had shining moments in 2023) did not reach base at all.
That's one heck of an A-Ball debut for 20-year-old Venezuelan RHP Yorman Galindez, who netted the deserved win. With a 1.70 WHIP while in Maryvale, the 2nd-year pro wasn't an obvious promotion candidate, but he made Brewers brass look brilliant here.
Dylan O'Rae is a Valentine's Day baby, and boy, do we love the 19-year-old. (OK, that's corny.) O'Rae has come to the plate 209 times in 2023. He has an OBP of .512. He reached base five times Friday and added a key sacrifice fly for good measure. His three steals in this game make him 34-for-36 in attempts this season. Oh, he's the mosquito other teams will look to eradicate throughout his pro journey.
Never been to Kannapolis, North Carolina (just north of Charlotte), but my, this would have been a great game to attend. More highlights for you here.
---
Final: ACL Mariners 7, ACL Brewers 4
It was Cooper Pratt's 19th birthday for this one, and he doubled and singled while manning both middle infield spots while Eric Brown Jr. took part in rehab game #2. Pratt is 11 games into his pro career, and while we await the first long ball, the 6'4" 6th rounder (forever to be referred to as "6th round steal Cooper Pratt", we hope) is doing fine with an .830 OPS.
Speaking of Brown, he pulled a HR to left in the first inning and would later walk and steal a base.
The bullpen did 2023 college picks LHP Tate Keuhner and RHP Josh Timmerman no favors, as the two had combined for shutout ball through the first four frames.
A-Crew plated four runs despite stranding ten (0-for-7 RISP).
The Maryvale regular season ends on Monday, and today's afternoon tilt is the club's next-to-last game. The men have a 2.5 game lead over the ACL Reds, and it appears that the Cincinnati team is playing on Tuesday, meaning that the division crown for the first-place Brewers can be locked up with a single win or Reds' loss. A playoff game awaits (hopefully)!
---
Final: DSL Brewers #1 Squad 2, DSL Reds 2, six innings
Looks like this one will go down as a tie that counts in the standings and stats (it can happen).
"The last time that an MLB game ended in a tie was in 2016 between the Pirates and the Cubs. The game was postponed because of the weather. Towards the end of the season, it was determined that the game no longer needed to be played as the outcome would not affect the postseason picture positively or negatively.
The Cubs ended the season with the best record in the National League and the Pirates had been eliminated from playoff contention. If the game would have had an impact on the playoff standings then they would have resumed the game and played until a winner had been determined. The statistics accumulated in the game did count."
The Dominican League ends its schedule this coming Tuesday. Brewers Team Uno is now 25-25-1.
The biggest beneficiaries of stats counting here are 17-year-old RHP Enniel Cortez, whose amazing season continued (0.88 WHIP). Also, another 17-year-old, switch-hitting infielder Luiyin Alastre with a double and single, 
---
Cancelled: DSL Guardians Red at DSL Brewers #2 Squad, rain
Team Dos' record remains at 21-30.
---
Think you could write a story like this? Brewer Fanatic wants you to develop your voice, find an audience, and we'll pay you to do it. Just fill out this form.
MORE FROM BREWER FANATIC
— Latest Brewers coverage from our writers
— Recent Brewers discussion in our forums
— Follow Brewer Fanatic via Twitter, Facebook or email
1