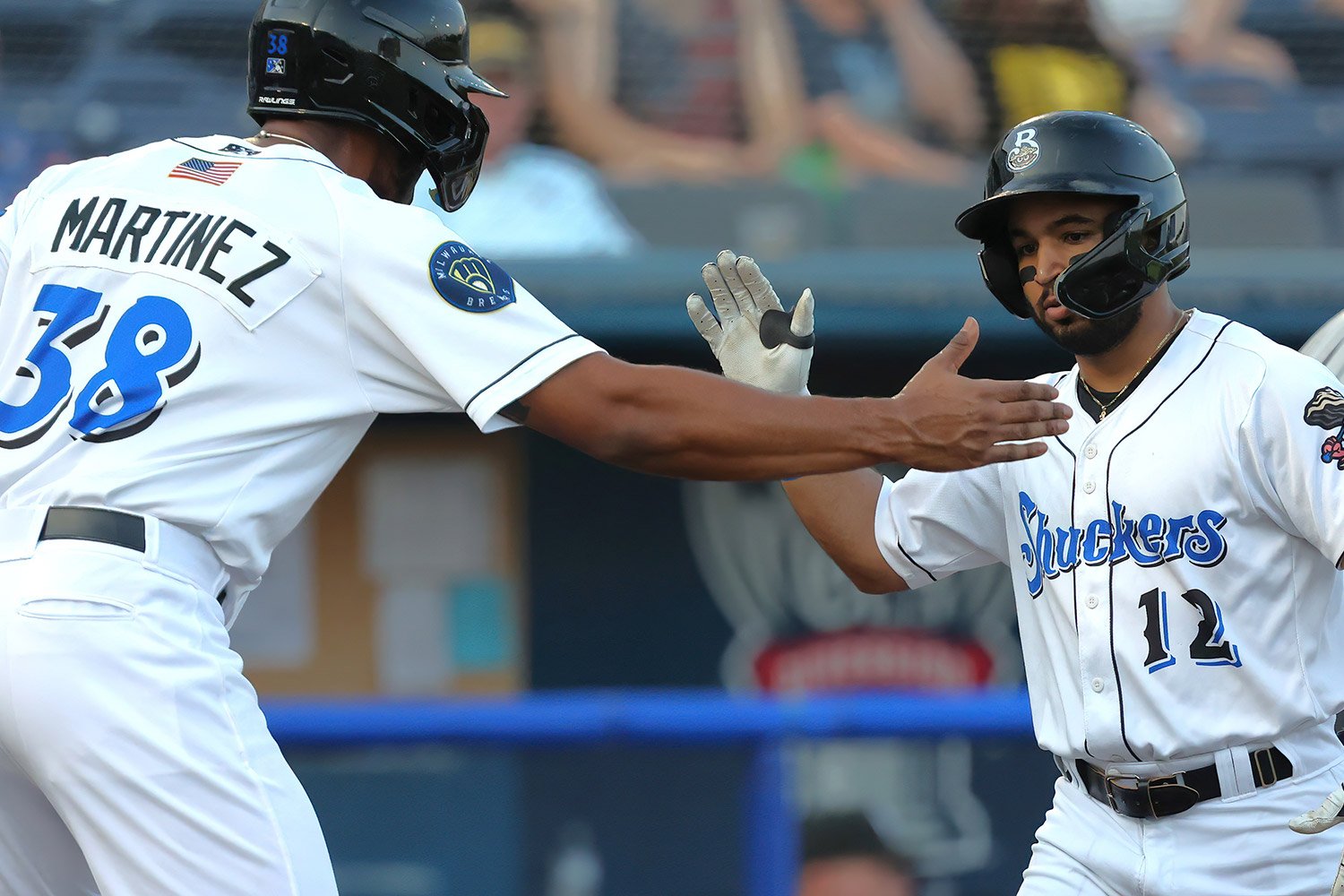 Image courtesy of Biloxi Shuckers and Mike Krebs - Felix Valerio & Ernesto Martinez Pictured
TRANSACTIONS:
RHP

 

Jacob Misiorowski

 

placed on AA Biloxi's 7-day injured list

RHP

 

Kaleb "Bo" Bowman

 

activated from AA Biloxi's 7-day injured list
LHP

 

Darrell Thompson

 

assigned to AA Biloxi from AAA Nashville
Adam McCalvy of Brewers.com:  Brewers' top pitching prospect on IL to rest arm
---
Final: ACL D-Backs Red 14, ACL Brewers 2, Game Two of the Best-of-Three Arizona Complex League Championship Series, which is now tied at one game apiece
No drama here, as the Maryvale men went down 1-2-3 in the top of the 1st, and then starting RHP Daniel Corniel gave up a home run to the first batter he faced in the bottom of the inning. That was just the start, as the next five batters went single (stolen base), walk, double, single, home run. Six batters, six runs. Ouch. Corniel retired the next three batters and somewhat remarkably made it through three innings, allowing just one additional run. Corniel, a Venezuelan native who only turned 19 years old last month, was not overpowering in 2023 outside of his strikeout numbers (48 in 36.1 IP), had a 1.57 WHIP in 11 appearances (eight starts).
Outside of two pitchers combining to strand four inherited runners, no arm shined here. Five pitchers combined to walk 12 and allow four bombs. Mound clunker throughout.

The dirty secret this week is that the A-Crew is fortunate to be alive for the winner-take-all championship game Sunday evening. They have 16 hits total in three postseason games, scoring seven runs. Manager Rafael Neda and Hitting Coach Mike Habas gave five bench players some playoff action before things ended, We'll note that 19-year-old RF Reece Walling (and his prototype 6'3" LH swing) was 2-for-3 with a walk, and 17-year-old (my goodness, not even 18 years old until November) 3B Eric Bitonti (and his prototype 6'4" LH swing) doubled and walked before being lifted.
Hey, how about MiLB, they assigned four umpires at the rookie level for these games.
So, it's all-or-nothing Sunday, have your Gameday-watching eyes ready for 7:00 PM Central, or grab a quick flight to Scottsdale, where first pitch temperature Saturday was 107 degrees. 
Let's go, Maryvale! Our guy @damuelle will have details for you Monday AM.
---
Final: Gwinnett (Braves) 4, Nashville 1
Via the Sounds' site, we encourage readers to review each of the affiliate write-ups as part of your season-long Link Report routine:
Sounds Five-Game Winning Streak Snapped by Gwinnett - Offense goes 0-for-10 with runners in scoring position in 4-1 defeat
As you just read in the summary (just a click away!), LHP Eric Lauer remains an intriguing polarizing figure, with nine K's in 4.2 innings of work (92 pitches). But the four walks (three consecutive) hurt. It's interesting that Lauer now remains under team control through 2025 and not 2024, but would the Brewers offer arbitration this fall to build on Lauer's $5.075 million salary, even if it's only a modest bump? Will Lauer be the LHP added on September 1st?
Old friend Jesus Aguilar did damage as the DH in the 3-hole for the victors.
Night off for Keston Hiura. Notice how when the big-league club produces as they have this week, the K-Train talk dissipates even as Hiura is still banging.
---
Final: Biloxi 6, Pensacola (Marlins) 2
Via the Shuckers' site:
Shuckers Score Early, Tack on Late in 6-2 Win over Pensacola - Biloxi keeps pace with Montgomery, bullpen combines for 3.2 scoreless innings
This is just one of seven video treats at the Shuckers "X" Media Feed:
To be honest, Voice of the Shuckers Javik Blake is only a few years older than Jackson Chourio, but when Javik reflects on his proud broadcasting career in 50 years, he'll always remember his 2023 season with the future MLB star.
Closer Cam Robinson's rebound second-half has been sweet redemption (he did comment to all the doubters back in June, after all), but he's still headed to minor league free agency, where he'll be a popular target as a former 40-man roster player heading into his age 24 season.
You know they'll be cautious with Jeferson, catching is so tough, man...
OF Carlos D. Rodriguez was a late scratch, so something to monitor there. The Biloxi position player group is currently super-lean. With Rodriguez unavailable, Zavier Warren was the only non-catcher on the bench.
---
Final:  Wisconsin 14, Quad Cities (Royals) 4
Via the Timber Rattlers' site:
Rattlers Roll to 14-4 Win Over River Bandits - Wisconsin matches season high for runs scored in a game
Pre-Game Media Notes (Download Link) via the team's Virtual Press Box
Got a nickel? How about a dime? Because as the expanded highlights below will show, there was only one XBH (Hendry Mendez double) among the Rattlers' 14 knocks. The boys drew eight walks as well, and let's just replicate 8-for-19 RISP every night, and things will be fine.
The Wisconsin bench has six players available, could a bump be upcoming to supplement Biloxi's playoff chase?
Overshadowing things was the very early exit by starting RHP Bradley Blalock. Early indications are a side injury (oblique? lat?). Hopefully not arm-related. Blalock is a near lock for 40-man roster placement this fall given the organization's Luis Urias investment. Blalock has fought back from March 2022 Tommy John surgery.
RHP Miguel Guerrero's stat line for the day will show an ERA of 9.00 over four innings, but his emergency appearance and length was big here. Indy-ball find RHP Sam Gardner was excellent and seeks an age-appropriate Biloxi assignment, though the walk rate remains high. Gardner's proven talented enough to mitigate any damage from the bases on balls.
Robert Moore (4-for-5) and Luis Lara (2-for-3, two BB's) each reached base four times.
Sit back and enjoy:
Lara and Brock Wilken the most popular auction jerseys thus far, bidding ends at 7:00 PM Central this evening.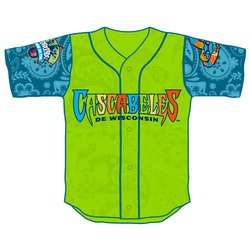 ---
Final: Carolina 9, Columbia (Royals) 5
Areinamo Homers in 9-5 Carolina Victory - The first-place Mudcats - playing as the Raleigh Grays - extended their lead in the second half standings with Saturday's victory

Pregame Media Notes
First baseman Tayden Hall with a 15-game hitting streak, and that's a hitting streak folks, not one of those on-base streaks that we know are nice but don't have the Paul Molitor-esque mystique.
Trending nicely, yeah baby:
OF Jace Avina OPS by month, starting in April: .659, .678, .579, .951, 1.068
Now this play didn't impact Avina's OPS, but is worth your eyes:
It's not quite Richie Sexson hitting the Tal Hill's flagpole in Houston, but this Jadher Areinamo blast is very cool:
In case you didn't remember:
More video available via the Carolina "X" feed as well.
Oh, and this just in - RHP Logan Henderson is still very, very good.
---
OK Maryvale, make it happen.
Among the full-season clubs, Biloxi has the late-afternoon start, otherwise it's a traditional Sunday schedule.
Have a nice day, everybody.
Organizational Scoreboard including starting pitcher info, game times, MiLB TV links, and box scores
Current Milwaukee Brewers Organization Batting Stats and Depth
Current Milwaukee Brewers Organization Pitching Stats and Depth
Think you could write a story like this? Brewer Fanatic wants you to develop your voice, find an audience, and we'll pay you to do it. Just fill out this form.
MORE FROM BREWER FANATIC
— Latest Brewers coverage from our writers
— Recent Brewers discussion in our forums
— Follow Brewer Fanatic via Twitter, Facebook or email
3