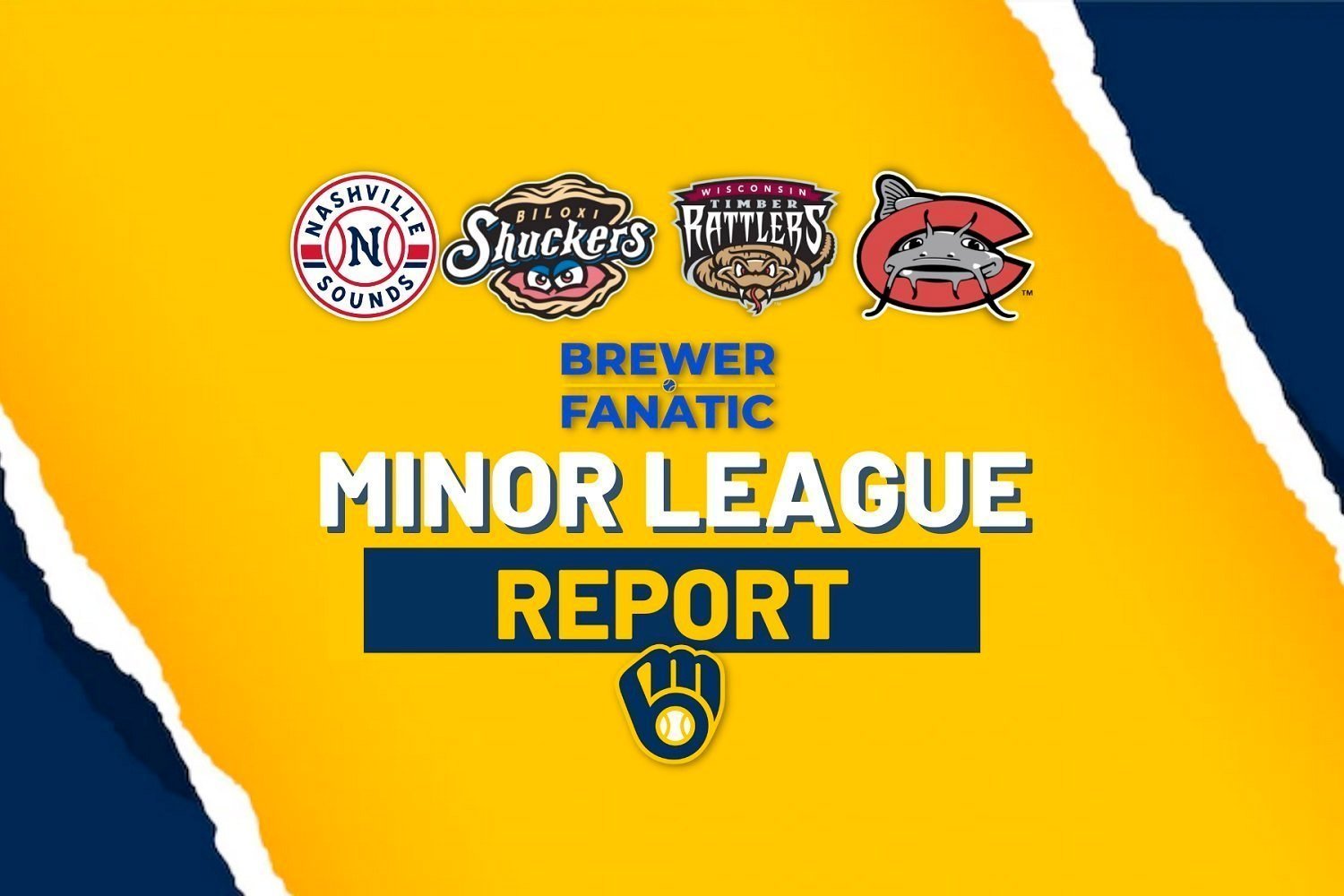 Image courtesy of BrewerFanatic
Transactions:
3B Brock Wilken (1st round draft pick) promoted to High-A Wisconsin from ACL Brewers
RHP Ryan Birchard (5th round pick) assigned to ACL Brewers and activated
LHP Tate Kuehner (7th round pick) assigned to ACL Brewers and activated
LHP Mark Manfredi (9th round pick) assigned to ACL Brewers and activated
RHP Morris Austin (10th round pick) assigned to ACL Brewers
RHP Brett Wichrowski (13th round pick) assigned to ACL Brewers and activated
RHP Ryne Moore assigned to ACL Brewers – essentially continuing rehab work that began in July 2023; Moore was injured while playing for High-A Wisconsin in June 2022
INF Abraham Toro optioned to AAA Nashville from MLB Brewers
RHP Trevor Megill optioned to AAA Nashville from MLB Brewers
Signed LHP Jesus Broca to a minor league contract – 19-year-old native of Mexico currently on the Reserve List, having thrown 33 1/3 innings in the Mexico Winter League and 8 1/3 innings in the Mexican League this summer
Game Action:

Nashville Pre-Game Media Notes
Final: Durham 4, Nashville 2
Box Score / Game Log

Via the Sounds' website, game details, and we encourage readers to review the affiliate write-up as part of their Link Report routine: Sounds Come Up Short Against Bulls

It can't be easy when you plan to pitch for Durham against Nashville, get traded to the other dugout and thus pitch for Nashville against Durham, but that's exactly what Sounds' starting pitcher RHP Evan McKendry had to do this week. The result? – he conceded four runs and seven hits (including two homers) over five innings and was tagged with the loss.

But at least his defense helped him out of a key jam early:
You'll see more defensive and offensive highlights at Nashville's Twitter feed.
Sounds' Extras:
Together, the teams produced for just six runs despite their twenty hits, going a combined 3-for-19 with runners in scoring position while stranding 23 men on base. But the real difference in the game was the four extra base hits for Durham versus none for Nashville.
Bullpen bright spots: each of LHP Alex Claudio, MLB rehabbing LHP Bennett Sousa and RHPs Pedro Fernandez and Thyago Vieira threw a scoreless inning to give the offense a chance, with Fernandez recording two strikeouts while not allowing a baserunner.
Offensive bright spots: Center fielder Skye Bolt had 3 singles and a walk; 1B Keston Hiura had 2 singles, an HBP and an RBI; 3B Cam Devanney had 2 singles, a walk and an RBI.
Not clutch: from the 5th inning onward, the Sounds trailed 4-2 and managed to get the potential game-tying run on base every inning, but failed to score.
Friday's outlook: Trailing 2-1 in the series, 24-year old LHP Robert Gasser (4.15 ERA, 1.32 WHIP, 10.8 K/9 in 95 1/3 IP) faces off against RHP Taj Bradley, who's thrown 74 2/3 innings in the majors for the Rays this year at just 22 years old.
Biloxi Pre-Game Media Notes
Final: Biloxi 7, Pensacola 4
Box Score / Game Log

Via the Shuckers' website, game details: Misiorowski Strikes Out Eight, Shuckers Beat Blue Wahoos, 7-4

21-year old starting RHP Jacob Misiorowski (5 IP, 2 R, 5 H, 2 BB, 8 Ks, 2 WP) dug deep in his third-ever start in AA ball, overcoming a difficult first two innings to retire nine Blue Wahoos in a row at one point, deservedly earning his first win at this level. 
It likely helped the confidence level to have his offense pick him up with a five-run 3rd inning to turn a 2-0 deficit into a 5-2 advantage.

That 3rd inning was like a spark that quickly grows into a blaze: 2B Felix Valerio single, right fielder Lamar Sparks RBI double, center fielder Jackson Chourio RBI single, left fielder Isaac Collins 2-run homer, DH Wes Clarke solo homer. Clarke's homer was his fifth in his last five games, giving him 17 dingers on the season. 
Shuckers' Extras:
19-year old Chourio collected three singles in the game as he stokes the promotion fire. He now leads the Southern League with 108 hits, which is 15 more than the player in second place.
Sparks (2-for-5, double, SB) manned the leadoff spot as Tyler Black had the day off. After the game tightened up to 5-4 with two runs off LHP Nick Bennett in the 6th inning, Sparks played a pivotal role in stemming the momentum: one-out single in the 7th inning, stole second base, scored on an errant throw by the catcher for a 6-4 advantage.
High leverage RHPs Ryan Middendorf and Cam Robinson retired 9 of 10 batters they faced over three scoreless innings to close out the win for a 2-1 series lead, striking out six Pensacola batters.
Collins reached base two times (HR, walk) in five plate appearances, which actually lowered his season OBP to .441, which is second in the Southern League. We're lucky to have the 26-year old Collins under contract for 2024 as well. 3B Ethan Murray added two doubles and some stellar defense.
Friday's outlook: RHP Carlos F. Rodriguez (2.64 ERA, 1.14 WHIP, 12.0 K/9 in 85 1/3 IP), recently named Southern League Pitcher of the Month for July, is the scheduled starter as Biloxi seeks a 3-1 series lead.
Wisconsin Pre-Game Media Notes
Final: South Bend 13, Wisconsin 4
Box Score / Game Log

Via the Rattlers' website, game details: Six-Run First Sinks Wisconsin in South Bend

21-year old starting RHP Alexander Cornielle's run of four decent outings came to an abrupt halt in South Bend, as he retired just one of nine batters faced and exited after 35 pitches (just 15 strikes).

In better news, 2023 first round draft pick 3B Brock Wilken made his debut in full season affiliate baseball: strikeout, ground out, strikeout, walk with a run scored. Somehow, no balls were hit to him in the field, although he did get to make the tag out on a rundown in the 3rd inning.
Timber Rattlers' Extras:
Outhit 14-4 and outwalked 12-3, there weren't many positives to draw from the game, but at least 1B Ernesto Martinez hit the ball hard: first triple of 2023, 3 RBIs in the game, robbed of a double on a great catch early in the contest.
LHP Karlos Morales only allowed one of Cornielle's three baserunners to score, putting in the best pitching line (2 2/3 IP, 0 R, 2 H, 2 BB, 3 Ks, 1 WP) on a difficult day for the team.
Neither of RHP Michele Vassalotti or Nick Merkel were able to deliver much better results than position player Alex Hall on the mound – combined, they yielded eight earned runs over five innings pitched.
Friday's outlook: RHP Tyler Woessner (3.69 ERA, 1.27 WHIP, 7.9 K/9 in 92 2/3 IP) gets another chance to make his case for promotion to AA ball, as he'll try to lead Wisconsin to a win to even the series 2-2.
Final: Fayetteville 3, Carolina 2
Box Score / Game Log

Via the Mudcats' website, game details: Carolina Concedes Late and Drops Game 3 in 3-2 Loss

Where are closers Yerlin Rodriguez (4-out save on Wednesday night), Shane Smith (in High-A ball), Jesus Rivero (converted to a starter), Tanner Shears (in High-A ball) and Nick Merkel (in High-A ball) when you need them?

The young Mudcats nearly polished off a 2-1 victory for starting RHP Patricio Aquino (5 IP, 1 R, 6 H, 1 BB, 4 Ks, 1 balk), with Low-A debutant LHP Brian Fitzpatrick (3 IP, 1 R, 1 H, 3 BB, 4 Ks) throwing three scoreless innings of relief and RHP Jeferson Figueroa (pop out) and C Blayberg Diaz (threw out attempted basestealer) grabbing two outs in the bottom of the 9th inning before Carolina was done in by three consecutive singles.
Mudcats' Extras:
Carolina only managed to produce five hits in the game (two from 2B Jadher Areinamo), then didn't help their cause by being thrown out stealing three times (including twice for Areinamo).
3B Luke Adams had a quiet game (0-for-4, with an error in the field), but we were relieved to see him back in the lineup after exiting Wednesday's game early.
20-year old left fielder Jace Avina has a .777 OPS in 211 plate appearances since flipping a switch on May 11, not including this 1-for-4 game with his 11th homer of 2023. 
Friday's outlook: No starter is listed yet, but RHP Yujanyer Herrera (last pitched 10 days ago) is most likely to get the call.
Arizona Complex League Action

Final: ACL Brewers 7, ACL Athletics 5
Box Score / Game Log

Borrowing notes from @Joseph Zarr:

The ACL squad scored seven unanswered runs over the first four innings to turn a 2-0 deficit into a 7-2 lead which held up the rest of the way, improving their season record to 23-20.

Starting 19-year old LHP Osbriel Mogollon did the heavy lifting going 5 IP, 4 H, 3 BB, 1 ER, 9 K.

Third round draft pick Eric Bitonti was moved to SS (DH last night) and rewarded with a 2-for-5, 2 R, 3 RBIs, 1 HR, 2 K performance. Nice to see that long ball action!

Sixth round draft pick Cooper Pratt was shifted to the DH and lead-off slot and also rewarded with a 1-for-2, 2 R, 1 BB, 1 HBP, 1 K, 1 SB evening.

Second round draft pick Mike Boeve (is he next up for promotion after Wilken?) manned second base again, delivering a double, single, walk and an RBI.

INF Juan Baez was moved to 3B where he went 1-for-4, 2 R, 1 RBI, 1 2B, 1 SB batting clean-up. Baez was also charged with his 16th error (fielding) of the season on the very first play of the game.

C Edgardo Ordonez also contributed with a double, walk, sacrifice fly, 2 RBIs and a stolen base.

20-year old RHP Gerson Calzadilla tossed another scoreless inning in late relief and picks up his 4th Save - 1 IP, 0 H, 0 BB, 0 R, 2 K. His season ERA is now down to 0.83 with a 0.89 WHIP in 32 2/3 IP. Quite the impressive work from this young man.
Dominican Summer League Action

Final: DSL Brewers-1 Squad 4, DSL Dodgers Bautista 1
Box Score / Game Log

The Uno young men chased the Dodgers' starter by producing seven hits in the first 2 1/3 innings to grab a 4-0 lead which was sufficient behind excellent pitching and defense (no errors).

On the mound, starting 18-year old LHP Anthony Flores  (4 IP, 1 R, 3 H, 0 BB, 1 K) was solid once again, while the bullpen of RHPs Jesael Cabrera , Wilfredo Cordero and Roman Perez combined to throw five scoreless innings of relief with seven strikeouts.
Offensive highlights:
Right fielder Brian Sanchez: double, single, RBI
Center fielder Yophery Rodriguez: double, walk, RBI
3B Gery Holguin: two singles, RBI
Left fielder Idalberto Santiesteban: two singles.
The impressive victory over the league-leading 32-8 Dodgers improves their season record to 23-17 and the teams will square off once again on Friday.
Continuation Game (resumed from top of 3rd inning) Final: DSL Braves 8, DSL Brewers-2 Squad 3
Box Score / Game Log

This game began on July 27 and the teams picked up play with the score tied 1-1 in the top of the 3rd inning, with the Dos squad not requiring any lineup change.

Unfortunately, starting 17-year old RHP Melvin Hernandez (4 IP, 3 R, 4 H, 1 BB, 1 HBP, 1 K, 1 WP, 1 balk; season ERA 2.48) wasn't able to deliver his usual excellent performance, conceding two runs on three hits in the bottom of the 3rd inning as the team fell behind 3-1.

From there, it was a game of missed opportunities, as the offense stranded 14 baserunners and went 1-for-9 with runners in scoring position. Eight hits, eight walks and five stolen bases (with nobody caught) weren't enough to keep up with the Braves, who actually went 1-for-14 with RISP but only left eight men on base.

Usual contributor 2B Filippo Di Turi reached base four times (double, single, 2 walks; season OPS .842) and 1B/C Roman La Torre made it thrice (single, 2 walks).

The loss drops the DSL Brewers-2 squad's record to 16-24 on the year.
We hope that you enjoy the Minor League Link Report. Enjoy Friday's 7-game slate!

Organizational Scoreboard including starting pitcher info, game times, MiLB TV links, and box scores
Current Milwaukee Brewers Organization Batting Stats and Depth
Current Milwaukee Brewers Organization Pitching Stats and Depth
Think you could write a story like this? Brewer Fanatic wants you to develop your voice, find an audience, and we'll pay you to do it. Just fill out this form.
MORE FROM BREWER FANATIC
— Latest Brewers coverage from our writers
— Recent Brewers discussion in our forums
— Follow Brewer Fanatic via Twitter, Facebook or email