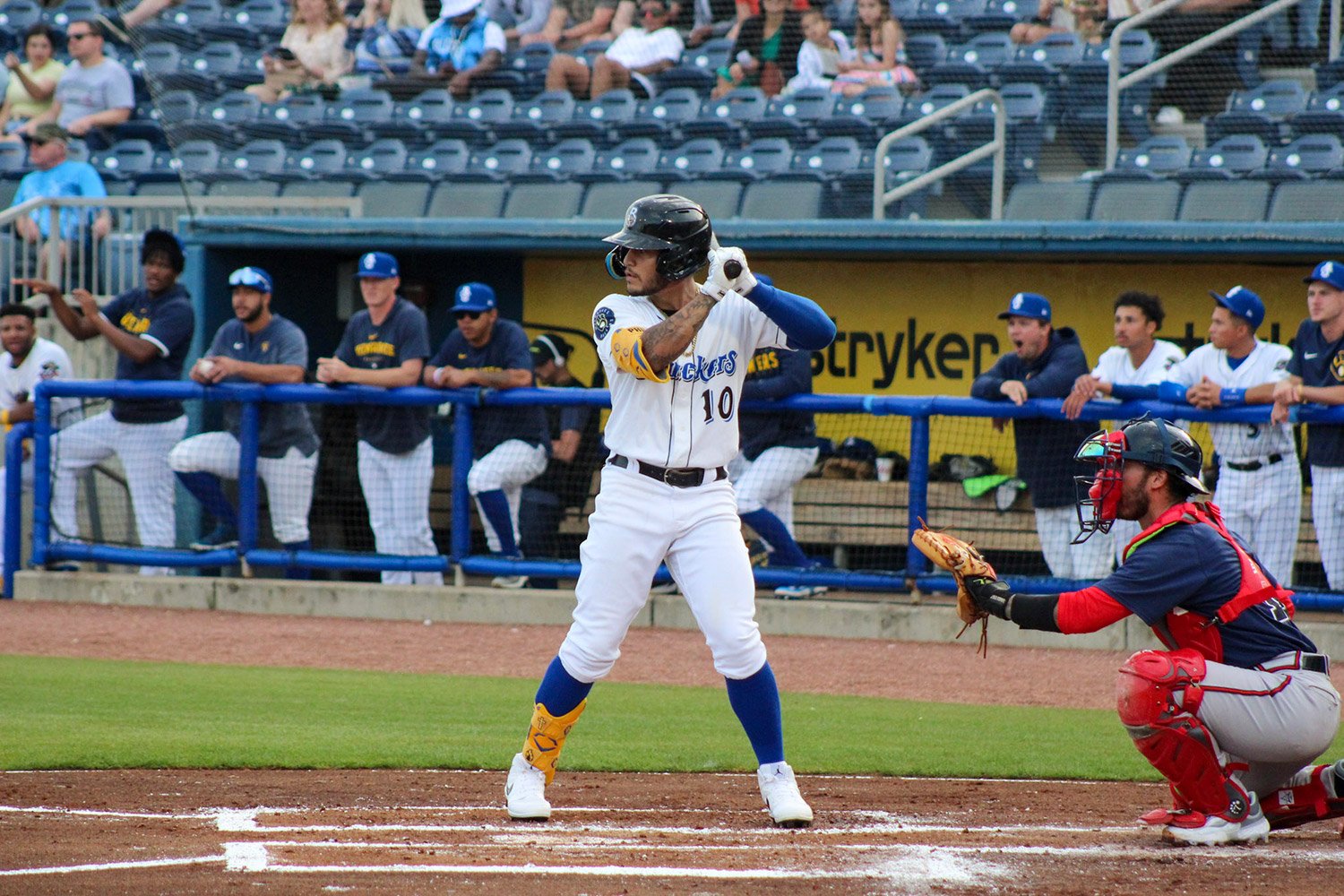 Image courtesy of Biloxi Shuckers & Joshua Sumrall - Carlos Rodriguez Pictured
Game Balls:
Transactions:
NONE
---
A Word on Carolina and Nashville:
Both games were postponed due to inclement weather lasting through the day in both locales. Each game #2 from the respective series will be made up in double-headers. Carolina will play two seven inning games on Friday September 1st beginning at 5 PM EST. Nashville will play two tomorrow, 8/31, at Durham and those games will begin at 4:30 CST.
---
Four Late Runs Lead Shuckers to Second Straight Win Over Smokies
RHP TJ Shook was decent early but he was fighting to find his best stuff. Honestly, it seemed like the Shuckers - Clarke and staff - were slow a bit too slow or hestitant to jump on the magnificence of his change-up. It was a beautiful pitch all night long. I don't think I saw a single swing make contact with that gorgeous offering. Meanwhile, Shook was struggling to locate his four-seamer and his curveball with any consistency in the early going. Unfortunately, this led to several walks. Two of those walks crossed home plate when Shook gave up a three-run jack just over the 320 foot mark of the Smokies' RF wall in the bottom of the second frame. However, a major credit is due a young man I lovingly call 'The Shookster' (apologies to TJ and his family if this is irksome but, man, it just feels right). He worked around a home plate umpire who squeezed his zone inexplicably robbing him of several borderline pitches in key AB's. As his outing progressed, Shook managed to locate the curveball and it opened up his entire approach. He ultimately got a 'No Decision' after 5 2/3 IP and this is largely due to the mistake three-run pitch mentioned above. He continues to be right there in his development as a professional hurler. He absolutely has the tools. It's now about fine-tuning the location and mix consistency. All in all, he gave his Shuckers teammates 5 2/3 IP, 3 H, 5 BB (2 to the ever dangerous lefty Owen Caissie), 3 K, 3 ER. You take back the mistake home run pitch and you are looking at a brilliant workhorse outing. With Montgomery losing to Birmingham, the Shuckers moved to within 0.5 G of 1st Place and that coveted pole position for the Playoff birth. Only 16 games remain in this quest.
Three Quick Strikes:
1) It's just a different creature out there when your infield is throwing to a mammoth 6'5" man at 1B. I can only imagine the benefit to INF's Ethan Murray and Freddy Zamora. As a fan, it's so apparent. Ernesto Martinez Jr. tends to struggle making diving plays within range of his feet - understandable given his OLB size and frame. But, regardless of that deficiency, he covers so much ground and routinely makes lunging catches (as you've seen me write about here) and he has an accurate arm. Here's a brief example of what I see on a nightly basis: 
Routine? Perhaps. Easy? Not in the least. Clean scoop. Accurate dart to 2B. Easy recovery to 1B to grab the final out. I continue to love the 2023 progression. There's a big baseball future here just beginning to unearth itself.
2) In another late season resurgence and joyous turn of events, RHP Cam Robinson has found a groove. It isn't a dominant 2022 groove, mind you. But, it's definitely a groove that is locking down absolutely crucial games in the win column. Tonight, Robinson came aboard inheriting LHP Luis Amaya's small mess (HBP and a single). After walking his first batter on four pitches making it a tension-filled bases loaded one out scenario, Robinson dug deep and got a sac fly to CF and then a fly out to Sparks in RF. He then calmly and cooly pitched a 1-2-3 ninth for the victory. Earlier in the season, Robinson might have caved after that first batter four pitch free pass. It's a testament to his mental strength and resilience he has turned it around. He grabbed his 12th Save of 2023 for the Shuckers. With the earlier loss of talented relievers in RHP Harold Chirino and RHP Abner Uribe (now with the Brewers), Robinson's turnaround has been one of the more unsung qualities of the late-season Shuckers push.
3) Every Shucker got aboard at least one time except for RF Lamar Sparks who had a frustrating 3 K performance. There were timely knocks throughout. No single batter stood out as the game evolved but, rather, the collective; timely; and important knocks in key moments - whether it was the deep LF double smashed off Zamora's bat in the early going or Clarke's insurance-run adding deep blast in the 9th inning. This win was a total team effort. One of the more impressive victories I can recall all season long. Big and opportune plays in big moments. Very very refreshing.
---
Final:  Wisconsin 7, Beloit (Marlins) 2
Box Score / Game Log 

Game Notes 

Via the T-Rats' site, game details, please visit and review:
Rattlers Win Fourth Straight Game Behind a Strong Start from Wagoner
As alluded to above, RHP Cameron Wagoner was stellar. He is a different pitcher in the second half. It's a night and day experience as a fan and as a habitual viewer of Timber Rattlers games. With Wagoner, it's the location and deception - it's a combined Achilles' heel. In the early part of 2023 he was hanging far too many off-speed pitches. In the second half he is precision-point laser-focused dealing surgical cuts with his pitches. He's gathering many many swings and misses and many many weakly hit grounders and fly outs. Tonight was absolutely in the recent lineage of 'stellar stuff'. 6 2/3 IP, 2 H, 2 BB, 0 ER, 5 K. He has become one of my favorite watches in my reporting duties over the past month plus. The T-Rats moved to 2-0 in this road series and they have now won four straight. They remain 4.0 GB of Peoria who squeaked a 3-2 victory out at Quad Cities.
Three Quick Strikes:
1) 3B Brock Wilken is trending up of late while, I would opine, ACL HOF'er 2B Mike Boeve is trending down. This isn't any type of bold proclamation of anything lasting, mind you, it is simply an observation rooted in the most recent 4-6 game sample size. Wilken ripped 106 mph and 104 mph rockets tonight - one for a single to LF and the other a shoelaces fly out to LF. He continues to play sure defense at 3B. Boeve, for whatever reasons, is topping many balls to the 1B side and generally hitting weaker balls. He appears to be struggling within his swing and what he is seeing in the batters box. Boeve also made a very poor error on a weak dribbler up the middle in a 7-1 ball game deep in the ninth inning and also had a throwing error in this one. The grounder is a play he absolutely has to make in future opportunities. It was poor form. I continue to root for both young men to flourish.
2) CF Luis Lara was wreaking havoc all over the offensive part of this ball game. His speed forced an error. He 'grabbed' a catcher's interference. He hit a single. He stole 2B and advanced to 3B on a throwing error from the catcher. He then took home while forcing a rushed throw and error when he slid under the catcher's mitt in a bang-bang play. He causes problems in so many ways and continues to do the little thing impacting ball games that may not even show up in the box score. His breakout season is very very legit. He is easily one of the more entertaining players to watch in all the Brewers Minor League.
3) Eric Brown Jr. had an incredible overall game at SS. He ripped a ground ball single up the middle early. He took two free passes in patient AB's. He stole a base. But, the fielding is what really stood out to me. He made several professional plays from the deep infield dirt. None was more impressive than his sliding stab to his right deep in the hole with a quick pop and accurate rope to, then, Vargas at 1B (he was later injury subbed - source unknown). All the tools continue to show themselves even this late in the season after a seven week absence. About that seven week absence: he still has managed 32 SB on the season as of tonight. It's a hard season to judge based on its many absences but make no mistake: when he's available consistently he impacts games in big ways.
---
That's a wrap for my Minor League reporting duties this week. Remember, the Sounds will get right to a double-header tomorrow early evening (or afternoon for us PST folks). RHP Colin Rea is already on the docket for one of those tilts. LHP Adam Seminaris will get his second start since returning to Biloxi's pitching stables. RHP Joseph Hernandez is back in a starting role after his recent relief appearance since returning from his ACL rehab stint. Lastly, RHP Yorman Galindez will try and give his scuffling Mudcats team all he has to keep pace atop the Carolina League second half playoff push.
As always, thanks for reading and thanks for supporting Brewers Minor League baseball.
Think you could write a story like this? Brewer Fanatic wants you to develop your voice, find an audience, and we'll pay you to do it. Just fill out this form.
MORE FROM BREWER FANATIC
— Latest Brewers coverage from our writers
— Recent Brewers discussion in our forums
— Follow Brewer Fanatic via Twitter, Facebook or email