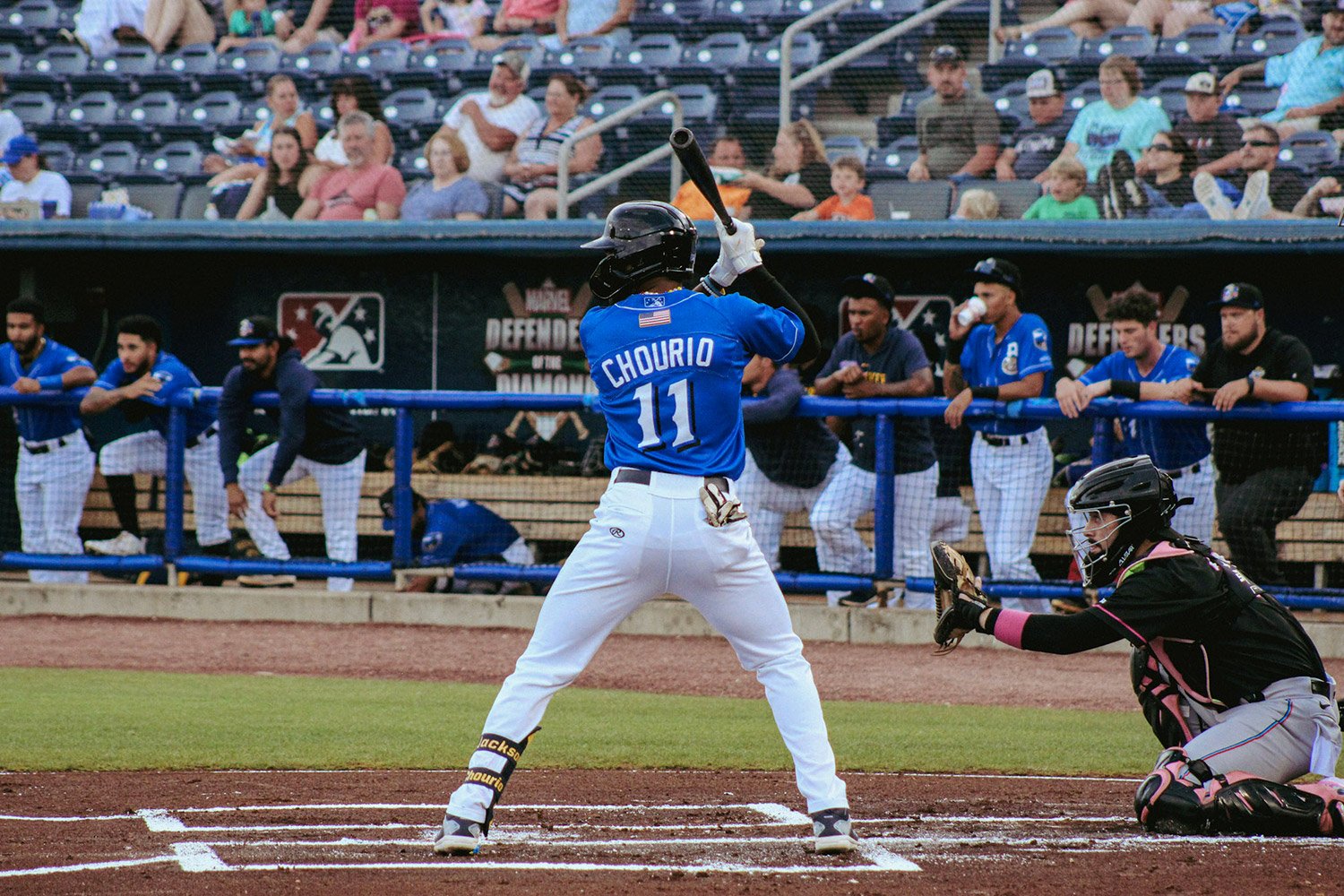 Image courtesy of Biloxi Shuckers & Joshua Sumrall - Jackson Chourio Pictured
Transactions:
Having joined the organization prior to September 1, each of Donaldson, Allen and Roller are technically eligible to be added to the Brewers' postseason roster, if Milwaukee makes the playoffs. Donaldson's 60-day injured list stint with the Yankees has apparently also re-set. While most of the focus is on Donaldson's potential addition to the big league roster, don't sleep on Allen (67 stolen bases in 73 attempts over the last three seasons in AAA/MLB, despite inconsistent playing time) potentially being a pinch running specialist.
Game Action:
Game One Final: Durham 9, Nashville 4
Box Score / Game Log

Game Two Final: Nashville 4, Durham 2
Box Score / Game Log
Via the Sounds' website, game details, and we encourage readers to review the affiliate write-up as part of their Link Report routine: Sounds Split Doubleheader in Durham
As the recap report detailed, the Sounds led early in both games of this doubleheader, but only managed to hold one of the leads behind strong pitching from Game Two starting RHP Caleb Boushley (6 IP, 2 R, 2 H, 2 BB, 8 Ks). Manager Sweet will undoubtedly appreciate the length that Boushley was able to provide despite appearing in a relief role four days earlier.
With the split, Nashville trails in the series two games to one and sits 2.5 games behind Durham and Lehigh Valley in the chase for a playoff berth. Unfortunately, the Sounds are presently tied for 9th place in the second half standings of the 20-team league, as it's a 10-team race to the finish.
Sounds' Extras:
Friday's outlook: Scheduled starter LHP Robert Gasser (3.85 ERA, 1.25 WHIP, 11.1 K/9 in 119 1/3 IP) looks for his tenth win of 2023, while all eyes will be on which two players are added to the Brewers' big league roster.
Biloxi Pre-Game Media Notes
Final: Biloxi 3, Tennessee 2
Box Score / Game Log
Via the Shuckers' website, game details: Jackson Chourio Makes History, Bullpen Tosses Six Shutout Innings in Shuckers Win
The superlatives may at times may feel a bit excessive for 19-year old center fielder Jackson Chourio (2-for-5, HR, 2 RBIs), but then he completely turns a game around with a two-run blast to right field on an 0-2 pitch while trailing 2-0. 
From there, the Shuckers held the momentum, with 3B Zavier Warren (2-for-3, HR, walk, RBI) adding a solo blast in the following inning to grab a lead and the Biloxi bullpen throwing six innings of shutout ball. The victory keeps Biloxi a half-game behind Montgomery in the race for a playoff berth. 
Shuckers' Extras:
Friday's outlook: 21-year old RHP Carlos F. Rodriguez (2.73 ERA, 1.11 WHIP, 11.4 K/9 in 105 1/3 IP) gets the start after his Sunday outing was rained out and canceled while facing the second batter of the game.
Wisconsin Pre-Game Media Notes
Final: Wisconsin 5, Beloit 0
Box Score / Game Log
Via the Rattlers' website, game details: Wisconsin Makes It Five Wins in a Row with Near No-Hitter
Suddenly, everything appears to be clicking for the Timber Rattlers, who won their fifth straight behind seven no-hit innings from starting RHP Joseph Hernandez (3 1/3 IP, 0 R, 0 H, 2 BB, 1 HBP, 4 Ks) and RHP Stiven Cruz (4 2/3 IP, 0 R, 1 H, 4 BB, 2 Ks, 1 balk). The question is whether they can catch Peoria for a playoff spot, as the Chiefs also won to remain four games ahead of Wisconsin in the second half standings.
Wisconsin out-hit the Sky Carp 11-2 behind strong games from 2B Robert Moore (3-for-5, double, 2 RBIs, SB), C Matt Wood (3-for-4, double, SB) and SS Eric Brown Jr. (2-for-5, 2 RBIs).
Timber Rattlers' Extras:
Friday's outlook: RHP Alexander Cornielle looks to build on a scoreless last start (5 IP, 0 R, 7 Ks) to keep Wisconsin firmly in the playoff chase.
Carolina Pre-Game Media Notes
Final: Carolina 7, Down East 4
Box Score / Game Log
Via the Mudcats' website, game details: Sibrian Comes Through in the Clutch in 7-4 Victory
Down East already wrapped up a playoff berth by winning the first half title, but they're certainly not making it easy for Carolina to join them there. Thankfully, C Jose Sibrian's (2-for-3, 2 doubles, HBP, 3 RBIs) clutch play was able to keep the game close (nabbed two runners on the bases to end the 3rd and 4th innings), then give the Mudcats their first lead with a two-out, bases clearing double in the bottom of the 6th inning. 
The victory pushes Carolina's lead in the second half standings to 2.5 games over Lynchburg, with 10 games remaining for the Mudcats and 9 left for the Hillcats.
Mudcats' Extras:
Friday's outlook: RHP Patricio Aquino (3.02 ERA, 1.26 WHIP, 8.7 K/9 in 80 1/3 IP) is scheduled to start one of Friday's doubleheader games, with the other starting pitcher yet to be named.
We hope that you enjoy the Minor League Link Report. Good luck to all teams in the five minor league games on Friday, including the Mudcats' doubleheader.
Organizational Scoreboard including starting pitcher info, game times, MiLB TV links, and box scores
Current Milwaukee Brewers Organization Batting Stats and Depth
Current Milwaukee Brewers Organization Pitching Stats and Depth
2