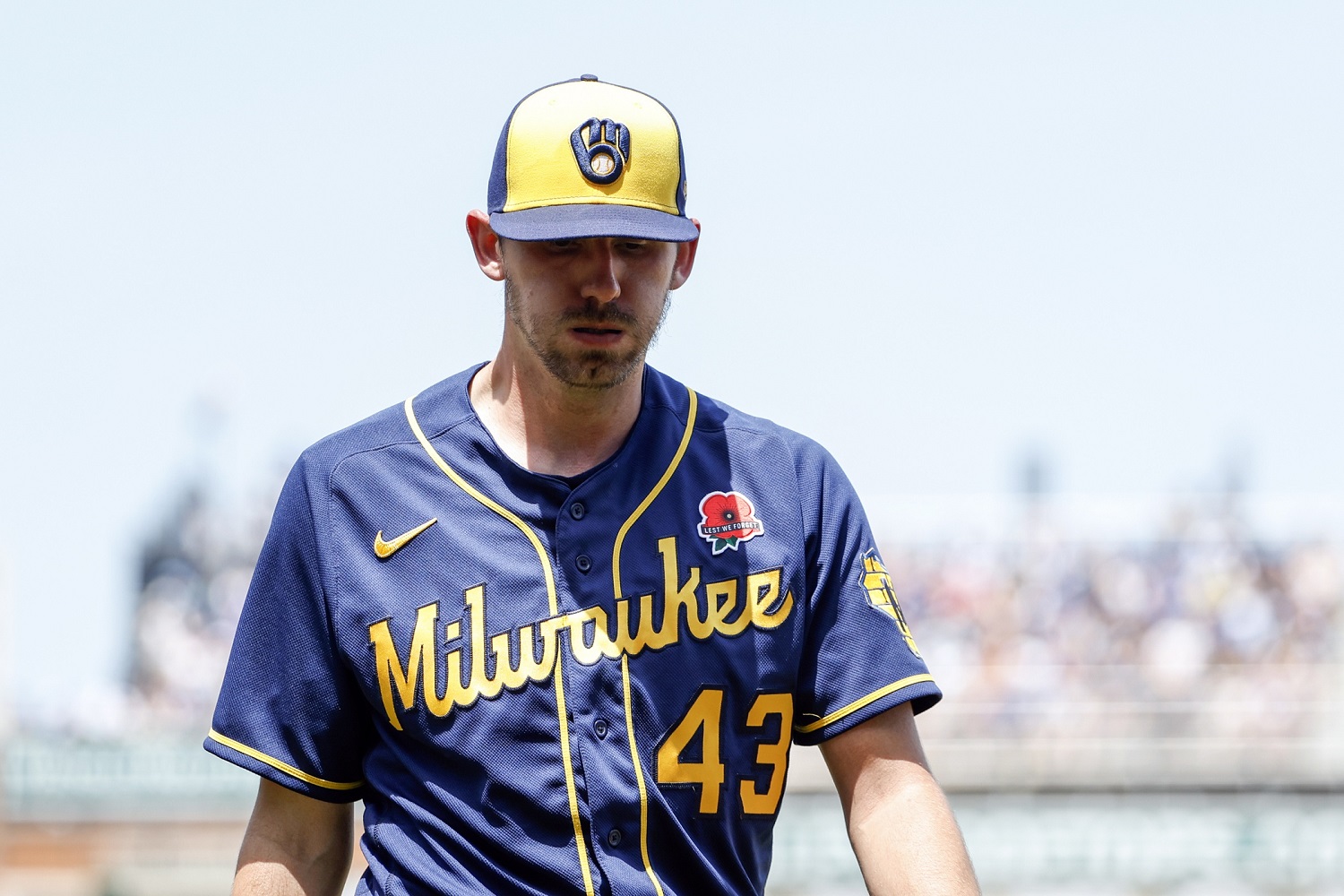 Image courtesy of © Kamil Krzaczynski-USA TODAY Sports
Is he fatigued after winter ball? A 33 pitch first inning with the bullpen active? Yikes. Two more walks in the first inning? Yikes. Another 2-0 count to start inning number two...and then another 2-0 count for batter number two in inning number two? Not good. By my eyes, he's not even sprinkling in his third or fourth pitches (yes, he has them) - currently, he can't consistently locate his primary heater and change with any regularity. I am concerned in the short term. I might be concerned in the mid term. Let's hope the Pitching Lab can do its thing in the off season. 
Transactions:
C Darrien Miller  was activated by the Wisconsin Timber Rattlers (suspension from the Lugnuts series bench-clearing 'brawl')
---
Nashville Pre-Game Media Notes                                                                 
Final: Memphis (Cardinals) 9, Nashville 3
Box Score / Game Log                                                                                          
Via the Sounds' site, game details, please visit and review: 
Slow Start Spells Sounds Defeat to Memphis - Mario Feliciano's Homer a Bright Spot as Redbirds Even Series
With a chance to match their season high win total of 17 (May) for the month of August, the Sounds had promising prospect Ethan Small on the hill to take on the Redbirds for the second game. After last night's thrilling comeback victory, it was anyone's guess how the club would show up for another contest less than 24 hours from such an exhilarating 'W'. Could Small find that earlier season form? Could he manage a more eclectic pitch mix? Could he control the strike zone and limit his ongoing walk problems? All this and more were answered. Unfortunately, it wasn't the result(s) we were looking for.
Three Quick Strikes:
1) We know he can cover quite a bit of ground in the outfield:
And, we know Sal Frelick is currently an OBP machine for Nashville - a 2-for-5 night in game 2 brought his total to 11 multi-hit games in his short stint with the Sounds. Given his output, let's get greedy and ask for more greatness. if we're being honest, many of these hits are slap singles (which is absolutely fine), flares, or dribblers. Is there more power or gap line drives in his Triple-A toolkit? We definitely were seeing this late in Biloxi. This is something I'd like to see in his final 20 plus games in the ongoing Nashville playoff race.
2) C Mario Feliciano spoke in today's pre-game interview with Jeff Hem about his rediscovered power stroke. He's definitely speaking it and he's definitely feeling it. His second home run in two games to straightaway center field would indicate he is correct in his assessment. This is an extremely sexy Feliciano swing. More of this, please!
3) With the Rule 5 draft upcoming, the Brewers have several decisions to make as they consider prized and unprotected assets - read more HERE. Someone making a late-season charge to mandate protection is flame throwing and evolving reliever, Lucas Erceg . What the Brewers have been looking for, admittedly, this season in Erceg's pitching arsenal isn't necessarily results but rather evolution.
We're starting to consistently see a a marriage of the two. I imagine the personnel department and the pitching coaches are tickled pink with Erceg's Triple-A progress. Tonight was another feather in his cap: 2 1/3 IP, 0 H, 0 BB, 2 K. Having seen this young man pitch from the beginning in Biloxi in 2022, his mentality is night and day from the early days of Double-A. A big congratulations are in order for a man who has re-invented himself in so many ways - personally and professionally. 
---
Biloxi Pre-Game Media Notes                                                                         
Final: Rocket City (Angels) 9, Biloxi 7 
Box Score / Game Log                                                                                       
Via the Timber Rattlers' site, game details, please visit and review:
Wild Wednesday Ends with 9-7 Loss by Biloxi - Clarke Hits Home Run in Biloxi Debut
Well, what more is there to say other than this was yet another in a long line of 'another'(s) in this ongoing middling season for our beloved Shuckers. They had leads of 1 run, 2 runs, 3 runs, and 4 runs...only to see every lead evaporate. This is the nature of their season. By now, this is the rule and not the exception. And, as always, there were bright spots in another closely contested loss. Let's get into it. 
Three Quick Strikes:
1) RHP Ryan Middendorf is discovering pitching in the Southern League in that coastal muggy air is not the same as pitching in the upper Midwest or the East Coast. It's a thing. Having gone 32 2/3 IP from the ACL through High-A Wisconsin conceding a mere 5 R with a 49:4 K:BB ratio, one is wise to give the righty hurler some leash. In 3 2/3 IP in Double-A the strikeouts are still ripping at eight overall - quite a nice mark. BUT, hitters are hitting 0.353 and he's sporting a 2.45 WHIP. This is an extremely small sample size. Let's see how he develops from here. He falls to 0-2 in just two outings.
2) Have a night, Mr. Wes Clarke ! 2-for-4, 2 R, 2 RBI, 1 K, 1 HR. This is exactly what the Shuckers needed. Unfortunately, they couldn't rally behind the young man's fine debut. Let's hope for many more solid lines through the final week plus.
3) Why do we never rush to superlative or definitive conclusions on prospects? Because, well, you never know when a talented player (and, yes, all these players are extremely talented) is going to have a successful night working their crafts. Tonight's unusual suspects: Yeison Coca and Arnaldo Hernandez . Respectively, Coca went 3-for-4 with 2 R and his 11th 2B. Hernandez manage a key scoreless inning late (0 H, 1 BB, 3 K) to give his squad the chance to tie it. 
---
Wisconsin Pre-Game Media Notes                                                                    
Final: Wisconsin 7, Peoria (Cardinals) 4 
Box Score / Game Log                                                                                        
Via the Timber Rattlers' site, game details, please visit and review:
Chourio Sparks Rattlers Comeback with Another Home Run - Wisconsin Rallies for 7-4 Win after Being No-Hit until Chourio's Sixth Inning Homer
Let me simply say it's a testament to manager Joe Ayrault, pitching coach Will Schierholz, and RHP Brady Schanuel (4 IP, 2 H, 1 BB, 3 K, 1 R, 0 ER) that they could so confidently transition the young hurler into a spot-starter role. Schanuel has filled the fill-in starter role admirably since being first called upon August 13th in South Bend. There might be a new niche here. A tip of the cap for an incredible late-season storyline.
Three Quick Strikes:
1) One of the minor concerns for super prospect Jackson Chourio before he came to High-A Wisconsin was his Low-A K rate - for the record, I was absolutely not worried ?. Well, that Low-A number has lowered since elevating to the High-A level. So there! Hmmmmm. That's a big positive.
Another concern was his recent absence due to an unknown bout of what is described as  'elbow soreness'. He was shelved for a brief spell and baseball enthusiasts everywhere clamored to know more. Three straight games with home runs off an extended absence is going to calm those worries. His swing is just so pure. He's 18. I keep reminding myself: he's 18 years old! He won't be 19 years old until March of 2023. What more is there to say?
---
2) INF Zack Raabe has taken to his new surroundings with vigor. He's only been given four games since his call-up but he's starting to declare he's ready for more opportunity. I've remained a fan of his on base proclivities all season long - the man can take a free pass with the best of them - but, he's starting to put together better AB's in his limited opportunity. 2-for-3, 1 3B, 1 R, 1 BB tonight. 4-for-11 overall. Let's roll those dice and give this young man more looks.
3) This is a RHP James Meeker appreciation post. What Meeker has done since Cam Robinson 's departure is nothing short of incredible. He has taken on, essentially, all the closer responsibilities. While Floyd has become the damage-control specialist in the 7th and 8th frames, Meeker has become the closing pitcher. Another scoreless frame tonight; another Save. 7-for-8 in save opportunities with a mere single earned run in 12 August outings? Just get this man a lead, please.
---
Carolina Pre-Game Media Notes                                                                     
Final:  Columbia (Royals) 7, Carolina 1 
Box Score / Game Log                                                                                                               
Via the Mudcats' site, game details, please visit and review:
Offense Stifled Again in 7-1 Loss to Fireflies - The Loss Dropped the Mudcats to 5.5 Games Back of First with Just 10 Games Left this Season
I checked in on our Carolina Mudcats throughout their matchup on screen one (and then screen two) and I can verifiably say: this was an absolutely fun Low-A matchup through six innings. Tied 1-1 in the fifth inning, both pitchers faced situations of adversity and rose up. Key hits happened. Good defense was played. And, classic Low-A umpiring missed calls (perhaps two blown caught stealing runners called safe leaving the Mudcats at 81 CS on the year) likely happened as did some head-scratching choices by the young men.
The 7-1 score is a testament to Columbia's opportunism and resilience. And, I'll simply say: lefty Frank Mozzicatto might be 2-6 overall for the Fireflies but he has stuff that should have Royals fans quite excited - I came away quite impressed by the 2021 1st round pick.
Three Quick Strikes:
1) In another round of 'The Box Score Is Not the Truth', Robert Moore was 0-2 early but absolutely making fantastic contact. A laser-shot line drive deep to the warning rack in right field for out one. A rope directly to the third baseman for his second out. Like Eric Brown Jr. last night (who was notably absent again tonight), these are exactly the type of outs we are looking for. Good contact. Line drives. Easy and level swings. The results will come if the motions repeat themselves. All in all, the 0-for-4, 1 K stat line just doesn't tell the full story.
2) RHP Edwin Jimenez pitched a really decent game and most definitely had his team within striking distance - 6 IP, 6 H, 3 R, 0 BB, 5 K. Considering he had a mere 1 R with two outs in the sixth inning and it really comes into focus.
His next step as an evolving pitcher, from my point-of-view, is the closer mentality or the continued development of throwing and mental stamina to finish his outings on stronger notes. I don't have the data to back it up, but I've watched enough Carolina games this season to confidently proclaim: he tends to lose his shutdown performances in that fifth inning and beyond. He is on the precipice of making those next steps. I'm eager to see if he can cross the threshold. 
3) Getting outscored 16-1 through two games at Five County Stadium is certainly not the result the pennant chasing Mudcats were looking for versus a Columbia team who came in with a 48-71 record. Home field is where the Mudcats typically reign supreme, but, through two games this is certainly not the case. 
This is starting to look all too familiar. It's as if the ghosts of their first half breakdown - a breakdown that vanquished their late divisional lead - have visited the clubhouse. It's time to burn some palo santo or some sage and get back to what this young team does best: win at home.
Let's end on a positive note. Here's the best Mudcat highlight of the night - a Hedbert Perez 103 mph double to right center:
---
That's all for me and the Minor League reports this week. Please stay tuned throughout the week as the Sounds keep pushing for that playoff position - now back to a 2 1/2 game lead over a victorious Columbus squad tonight. The Mudcats attempt to keep themselves relevant atop the second half leaderboard (now 5 1/2 back of Fredericksburg) and the Shuckers and T-Rats play for continued development and pride.
And, let's be honest, any Brewers Minor League 'Fanatic' is chomping at the bit to see flame throwing Jacob Misiorowski's debut in Zebulon tomorrow night. Thanks for reading and thanks for supporting these young men as they chase their dreams!
Organizational Scoreboard including starting pitcher info, game times, MiLB TV links, and box scores
Standings and sortable stat pages
Current Milwaukee Brewers Organization Batting Stats and Depth
Current Milwaukee Brewers Organization Pitching Stats and Depth
Think you could write a story like this? Brewer Fanatic wants you to develop your voice, find an audience, and we'll pay you to do it. Just fill out this form.
MORE FROM BREWER FANATIC
— Latest Brewers coverage from our writers
— Recent Brewers discussion in our forums
— Follow Brewer Fanatic via Twitter, Facebook or email