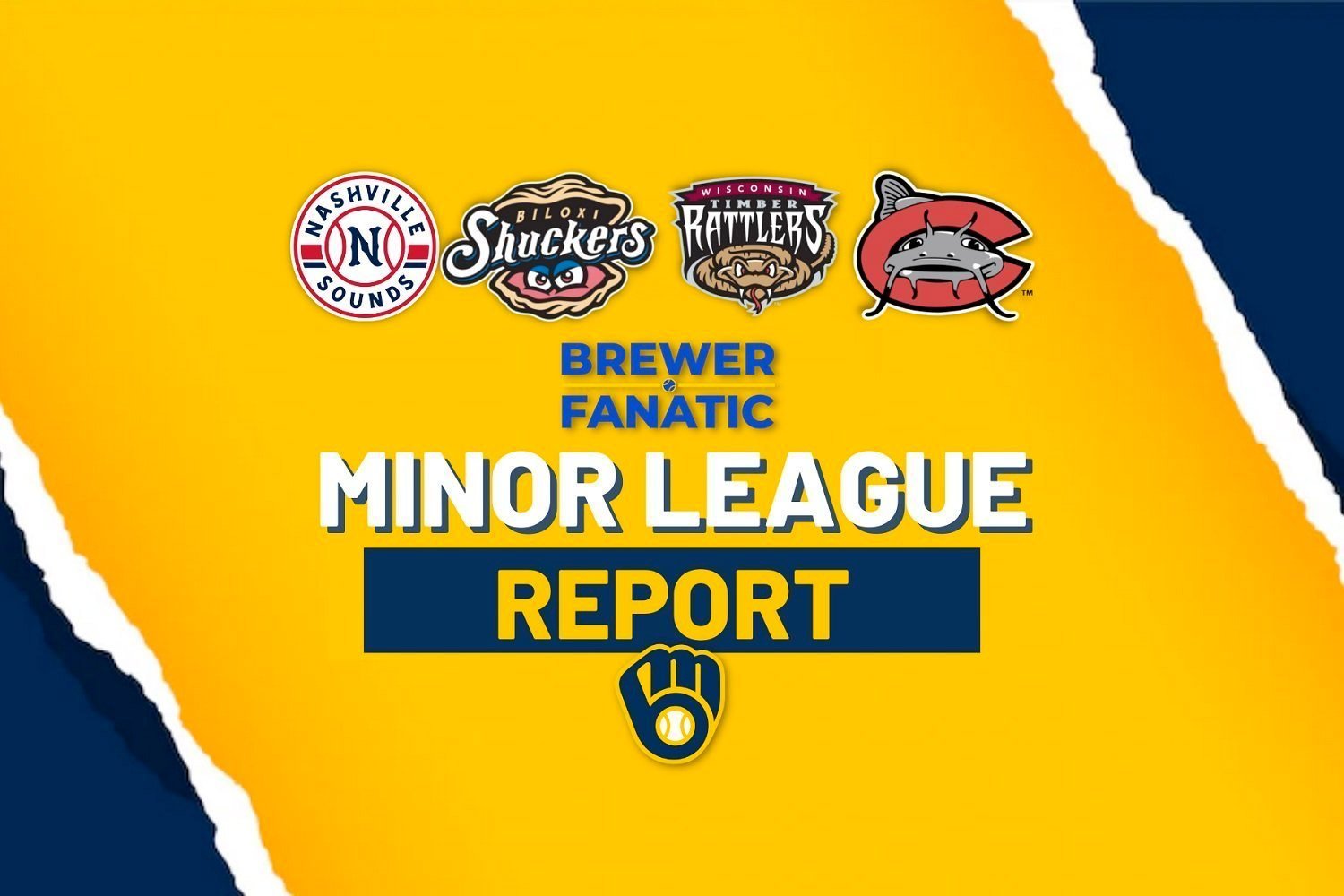 Image courtesy of BrewerFanatic
TRANSACTIONS:
RHP Josh Timmerman assigned to ACL Brewers.
ACL Brewers released RHP Logan Adams.
ACL Brewers placed OF Duncan Garcia on the 60-day injured list.
RHP Wandy Cabrera assigned to DSL Brewers 1.
I discussed each of these moves in more detail within our Minor League Forum's Transaction Thread here. It includes a note about the cruelly brief stat line for 23-year-old Logan Adams.
 
---

Final: Nashville 6, Durham (Rays) 0 

Via the Sounds' site, we encourage readers to review each of the affiliate write-ups as part of your season-long Link Report routine:
Sounds Pitching Dominant in Shutout Win - Offense backs Robert Gasser's 10 strikeout start in 6-0 victory over Durham
Box Score / Wrap

NOTE: The "Game Logs" are now found within to what MiLB refers to as their "Wrap" page, so it'll be indicated under that new term here,

Just a tremendous job on the game summary you just read, and there is an awesome eleven (!) video highlights available via the team's Twitter ("X'") feed.

LF Skye Bolt (you'll see an amazing catch by him when you peruse the videos), exited the game after striking out swinging in the 4th.

Patrick Dorrian was a nice pickup for cash from Baltimore in June 2022. Brewers maintain his rights for 2024.

ICYMI, here's an interesting tidbit about Keston Hiura and the fact that the Brewers surprisingly control his rights for 2024.

Of all the videos, this is the most impactful. Nice job, Sounds.
Here's where you can bid on those awesome jerseys (Robert Gasser, anyone?). As of this AM, 4.5 days remain.
---

Final: Pensacola (Marlins) 8, Biloxi 1

Via the Shuckers' site:
Shuckers' Bats Silenced in 8-1 Loss to Blue Wahoos - Biloxi stays a game ahead of Pensacola for South Division lead

Pre-Game Media Notes 
Box Score / Wrap

The game got away from RHP TJ Shook in a four-run Blue Wahoo 6th as the deficit leapt from three to seven.

Game #7 at first base in 2023 (error-free so far) for Tyler Black.

Only two video highlights for this one (Carlos Rodriguez, Ethan Murray), find them here.
 
---
Final:  South Bend (Cubs) 5, Wisconsin 3

Via the Timber Rattlers' site:
Rattlers Come Up Short in South Bend - Cubs knock Wisconsin 5-3
Pre-Game Media Notes (Download Link) via the team's Virtual Press Box

Box Score / Wrap

It'll go down just on the edge of a quality start, but one-third of the 24 batters RH starter Tyler Woessner faced reached base, 93 pitches in 5.2 IP. Catch up with Woessner, this video has been featured here at BrewerFanatic this week:
Looks like struggling RHP Stiven Cruz is no longer in the starting rotation. As you just read in the game summary, he was partially victimized by "a routine-looking fly to center that was lost in the twilight and the ball dropped in for a double".

Every starter in the lineup save for catcher Matt Wood (DH'ing Friday) reached base, but the game result doesn't reflect that. RISP was 3-for-8, not bad at all. Odd night.
 
---

Final: Carolina 8, Fayetteville (Astros) 3
Adams Homers as Mudcats Beat Woodpeckers 8-3 - Carolina evens the series at two behind Adams' homer and Costello's hitless win
Box Score / Wrap

How cool is it that the Woodpeckers' PBP man is discussing how Luke Adams leads the Carolina League in OBP just as the pitch is sent into orbit:
Really going to take time to adjust our fan sensibilities, having multiple third base prospects to follow, we're not used to this.

Not sure what else 23-year-old RHP Chase Costello (four perfect innings here) has to do to join the other Carolina relievers who excelled and got the bump to Wisconsin earlier for a more age-appropriate assignment (Shane Smith, Tanner Shears, Nick Merkel).

Mudcats stole six of seven bases Friday.
 
---

Final: ACL Brewers 13, ACL Mariners 5, seven innings as scheduled

Box Score / Wrap

Yeah, a 2-run 1st was a nice start, an 11-run 2nd was ridiculous. Check out the wrap for sure.

OK, Mike Boeve, you've made your point. Five of Boeve's 13 hits have been for extra bases, add three walks, and you get a .591/.630/1.000 line (1.630 OPS, 27 plate appearances).

As for his next placement? Nice problem to have. The DH spot helps, but get this man out of the desert heat, Brewers.

Gee, teenagers Cooper Pratt and Eric Bitonti are really having trouble acclimating to pro life, huh?

Don't worry, outfield partners Miguel Briceno and Luis Medina, we see you, nice work at the bottom of the order here.

We'll give RHP Cristofher Carrasco a shout-out for a perfect two innings after a very rough outing last time out.
 
---

Suspended, lightning: DSL Brewers #1 Squad 2, DSL Dodgers Bautista 1, after three complete 

Box Score (Thus Far)
Nice work by 18-year-old rookie RHP Esmir Suarez - only one unearned run in the three innings. At this level, throw strikes. In 27 IP, 26 K and 7 BB's (two HBP's). He's pretty much guaranteeing himself a stateside bump by 2024.

Game will be completed on Tuesday August 15th.
 
---

Final: DSL Giants Black 5, DSL Brewers #2 Squad 1, seven innings as scheduled 

Box Score / Wrap

This game was also affected by lightning, but the teams waited out a 95-minute delay in the 3rd.

Upon entering the game to start the 2nd inning, RHP Aneuris Rodriguez gave up four runs. He had retired the first two in the 3rd, but the weather ended his outing.

Starting the game with a single scoreless inning, this was the Brewers organization debut for 19-year-old LHP Jesus Broca, a native of Mexico. The youngster does have some professional time under his belt, as @damuellenoted in yesterday's report:

33 1/3 innings in the Mexico Winter League and 8 1/3 innings in the Mexican League this summer
 
---

Full Saturday slate on tap. Enjoy, everyone!

Organizational Scoreboard including starting pitcher info, game times, MiLB TV links, and box scores
Current Milwaukee Brewers Organization Batting Stats and Depth
Current Milwaukee Brewers Organization Pitching Stats and Depth
 
Think you could write a story like this? Brewer Fanatic wants you to develop your voice, find an audience, and we'll pay you to do it. Just fill out this form.
MORE FROM BREWER FANATIC
— Latest Brewers coverage from our writers
— Recent Brewers discussion in our forums
— Follow Brewer Fanatic via Twitter, Facebook or email
1