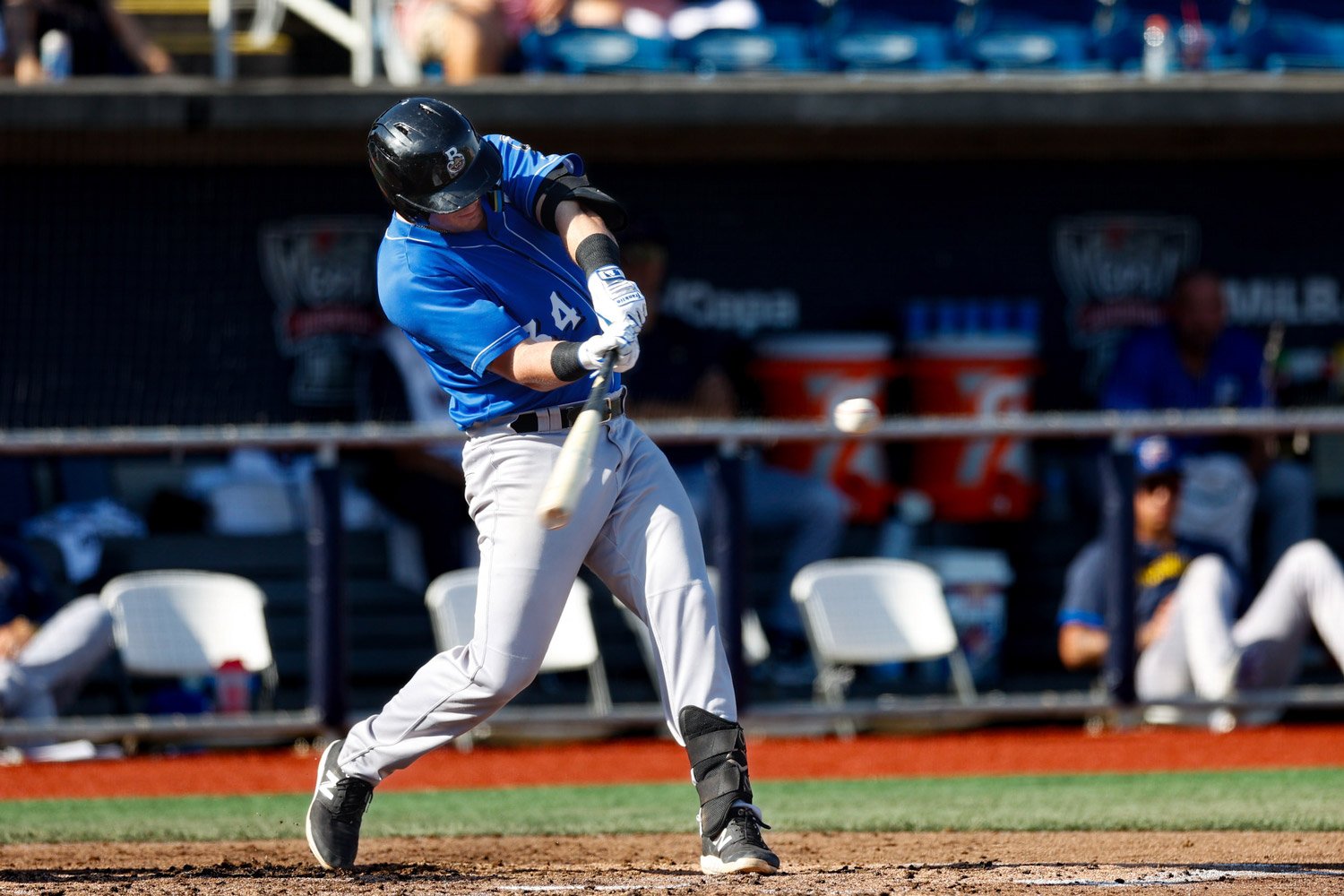 Image courtesy of Biloxi Shuckers
For the week, Carolina (5-2) was the sole series winner, while each of Nashville, Biloxi and Wisconsin dropped tough series (4-2).
Transactions:
Game Action:
Nashville Pre-Game Media Notes
Final: Durham 7, Nashville 6
Box Score / Game Log
Via the Sounds' website, game details, and we encourage readers to review the affiliate write-up as part of their Link Report routine: Sounds Drop Series Finale to Bulls
Did a pitch timer violation ruffle Sounds' starting RHP Janson Junk (5 IP, 3 R, 3 H, 2 BB, 5 Ks) enough to derail his performance?
Junk had retired 12 straight Bulls after a game-opening single and Nashville led 3-0 after four innings, but the 5th inning commenced with a pitch timer violation, consecutive walks and a 3-run homer to knot the affair.
After a blow-up 7th inning for rehabbing LHP Bennett Sousa (2/3 IP, 4 R, 2 H, 1 BB, 1 HBP, 1 K), the Sounds trailed 7-3 and things looked a bit hopeless until consecutive walks from right fielder Jahmai Jones and AAA debutant 3B Tyler Black (0-for-3, 2 walks) with two outs in the bottom half of the inning brought 1B Keston Hiura to the plate for his 3-run blast. 
Keston came up again with two outs in the bottom of the 9th inning, but was hit by pitch so not able to tie things up alone. C Payton Henry battled gamely, fouling off four pitches before flying out to end it.
Sounds' Extras:
Next week's outlook: Nashville (56-50) travels to Indianapolis (50-56) to square off against the Pirates' AAA affiliate, with RHP Caleb Boushley (4.68 ERA, 1.38 WHIP, 7.0 K/9 in 100 IP) expected to start the first game of the series.
Biloxi Pre-Game Media Notes
Final: Pensacola 11, Biloxi 6
Box Score / Game Log
Via the Shuckers' website, game details: Shuckers Fall in Run-Filled Finale against Blue Wahoos
The starting pitching experiment of RHP James Meeker (4 IP, 6 R, 10 H, 1 BB, 4 Ks) continues to be an up-and-down affair, with this game certainly of the down variety.
What stands out most obviously is that Meeker has K'd 44 batters in 135 plate appearances in 16 relief appearances, but only struck out 17 batters in 156 plate appearances in 8 starts.
Shuckers' Extras:
Next week's outlook: The Shuckers (53-49) return home to take on Cubs' affiliate Tennessee (58-43).
Wisconsin Pre-Game Media Notes
Game One Final: Wisconsin 5, South Bend 2 (in 7 innings)
Box Score / Game Log
Via the Rattlers' website, game details: Rattlers Go Deep to Take Game One at South Bend
Game Two Final: South Bend 3, Wisconsin 0 (in 7 innings)
Box Score / Game Log
Via the Rattlers' website, game details: Wisconsin Shut Out as Cubs Gain Doubleheader Split
Newly-acquired (for Luis Urias) 22-year old RHP Bradley Blalock made his Brewers' organizational debut in the first game of Wisconsin's doubleheader, with nerves perhaps playing a part as a walked the first two batters he faced before settling in.
After 80 pitches and six strikeouts in four innings, with the Timber Rattlers trailing 2-1, Blalock's day was complete.
From there, left fielder Alex Hall (3-for-5, HR, walk, RBI) and 2B Jose Acosta (3-for-6, HR, double, 2 RBIs) immediately picked up Blalock and the Timber Rattlers, delivering back-to-back homers in the top of the 5th inning. In the next frame, Acosta doubled home none other than Mr. Hall (who'd walked) to tack on an insurance run.
The night cap was a different story, as Wisconsin produced only three harmless singles in their shutout defeat.
Timber Rattlers' Extras:
Next week's outlook: Wisconsin (44-56) hosts Reds' affiliate Dayton (53-49), with LHP Nate Peterson (3.78 ERA, 1.28 WHIP, 10.8 K/9 in 50 IP) scheduled to start the opener.
Final: Carolina 4, Fayetteville 3
Box Score / Game Log
Via the Mudcats' website, game details: Comeback 'Cats Strike Again and Take Series With 4-3 Win
Sometimes you're clearly the better team. And sometimes you win when you're not supposed to. Sunday's victory for Carolina sure looked like the latter case, as the opposing Woodpeckers went 1-for-16 with runners in scoring position to leave the door open for the Mudcats to waltz through.
Five of the eight Mudcats' hits in the game came in that come-from-behind, three-run 9th inning, with July Carolina League Player of the Month 1B Jesus Chirinos getting the action going with a leadoff double.
Center fielder Luis Lara (1-for-2, double, walk) doubled home Chirinos and two infield singles followed, before C Blayberg Diaz (2-for-4, RBI) gave the Mudcats the only lead they would need with an RBI game-winning single. 
Mudcats' Extras:
Next week's outlook: Carolina (56-43) hosts Orioles' affiliate Delmarva (43-57).
We hope that you enjoy the Minor League Link Report. It's a light day on Monday, with the DSL Brewers' squads facing each other at 10:00am CST and the ACL Brewers playing at 8:00pm CST, with of course the Milwaukee Brewers playing at 7:10pm CST.
Organizational Scoreboard including starting pitcher info, game times, MiLB TV links, and box scores
Current Milwaukee Brewers Organization Batting Stats and Depth
Current Milwaukee Brewers Organization Pitching Stats and Depth 
Think you could write a story like this? Brewer Fanatic wants you to develop your voice, find an audience, and we'll pay you to do it. Just fill out this form.
MORE FROM BREWER FANATIC
— Latest Brewers coverage from our writers
— Recent Brewers discussion in our forums
— Follow Brewer Fanatic via Twitter, Facebook or email
1