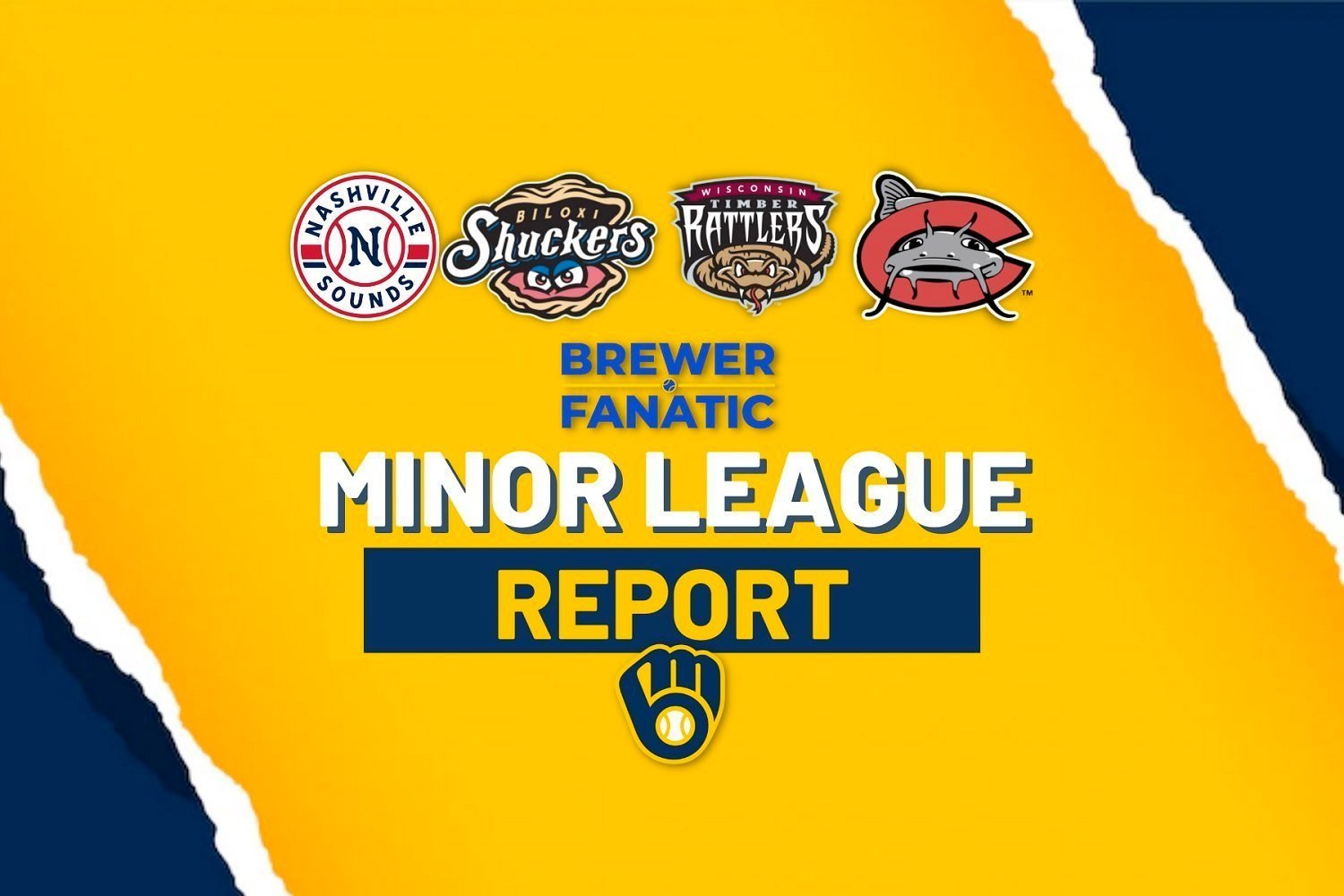 Image courtesy of Brewer Fanatic
Transactions:
2022 3rd round pick INF Dylan Rae was assigned to the ACL Brewers Gold

RHP Rosmel Reyes was transferred to the 60-Day IL from the 7-Day IL by the ACL Brewers Blue
RHP Edrian Robinson was 

transferred to the ACL Brewers Blue full season injured list from the 60-day injured list  

2022 6th round pick, RHP Tyler Woessner was

 assigned to ACL Brewers Gold

2022 UDFA RHP Logan Adams was assigned to the ACL Brewers Blue
C Jason Ollarve was assigned to the ACL Brewers Blue from the ACL Brewers Gold
And, let us quickly recognize and honor the Brewers July Minor League 'Hitters of the Month' - OF Jace Avina and INF/OF Brice Turang:
---
Nashville Pre-Game Media Notes:  
GAME POSTPONED DUE TO WEATHER

RHP Tyler Herb aimed to take to the mound for his ninth start in Nashville and his 13th appearance overall for the Sounds. For the Stripers, sixth ranked Braves prospect and 2020 first round pick, 24-year-old lefty Jared Shuster was in line for his third Triple-A start since his promotion from Double-A Mississippi looking to make his mark. Mother Nature saw these intentions and said quite tersely: "No soup for you!". 
The rescheduled game will be part of a double header this Thursday, August 11th.
---
Final: Rocket City (Angels) 5,  Biloxi 4
Box Score / Game Log                            
Via the Shuckers' site, game details, please visit and review:
Homers Power Pandas Past Shuckers - Biloxi Ties Franchise Record with 18 Combined Strikeouts
LHP Nick Bennett reels you in but he just can't quite fully make the catch yet, it would appear. In an up and down 2022, with quite a bit more good of late, Bennett was incapable of holding the 4-2 lead given to him by the Shuckers comeback bats. It was 5-4 Rocket City after he escaped a brief jam in the fifth inning. Homers caused four of the five runs of damage tonight. All told, Bennett did manage to pitch 5 complete: 5 IP, 8 H, 1 BB, 8 K, and 3 HR. Let's hope for fewer long balls his next time on the mound.
Three Quick Strikes:
1) Having scuffled a bit of late, it was a sight for sore eyes to see RHP Zach Vennarro pitch so efficiently and effectively in the eighth inning keeping the game at a manageable 4-5 deficit. Two strike outs and a fly out to get out of the inning unscathed is just the type of work manager Mike Guerrero is looking for from his former Closer. Vennarro is down but certainly not out - control has been his biggest ailment of late. Let's hope for more of this in the days and weeks ahead. The 
2) Welcome to Double-A, Garrett Whitely ! After an inconsistent start (albeit in an extremely small sample size), in the games I've seen, Whitely had certainly strutted the speed that made him a high draft choice many years ago, but was looking for more meaningful contact. Tonight it was his veteran bat (2-for-4, 1 R, 3 RBI) doing the talking:
3) Can we talk about the struggles of 2022 INF Gabe Holt ? It's been a proverbial 'one of those' types of seasons for the young man. He just can't seem to get anything going at the plate and that struggle certainly continued tonight: 0-for-3, 1K. His season batting average is now sitting at 0.205. We know the batting average is often misleading but when taken in context with a 0.507 OPS...it tells a more complete story. The struggle is quite real. I hope he can turn it around and start making better contact and/or getting on base. We're rooting for you, young man.
---
Wisconsin Pre-Game Media Notes         
Final: South Bend (Cubs) 8, Wisconsin 7
Box Score/Game Log                               
Via the Timber Rattlers' site, game details, please visit and review:
Wisconsin Falls Short After Dramatic Comeback - Rattlers Rally from 7-0 Down to Tie South Bend, but Cubs Win 8-7 in Ten Innings
Home Series Media Nuggets:
Post-Game You Tube Highlights Package: (Check this Package out for Darrien Miller's game-tying 3-run home run in the 8th inning)
 
RHP Israel Puello had a storybook beginning to his High-A career in Wisconsin. Of late, however, Puello has scuffled and struggled quite a bit and tonight was no different. This being said, other than doing the current T-Rats thing of surrendering first-inning runs (a two-run homer tonight) the third run was simply a heck of a swing and a heck of a hit over the wall in right field; the pitch was down and tailing in. There's nothing you can do about that. But, let's call it like it is: the fifth inning definitely got away from the Puello.  
Three Quick Strikes:
1) Trailing 7-0 in the fifth inning and facing a no-hit affair, DH Darrien Miller got things going with a single that snuck past a diving second baseman into right field. Joe Gray Jr. definitely aided that ball as his slight hesitation and hold-up clearly confused the second baseman. However, it was OF Arbert Cipion who will get the detailed kudos here. After being fooled on several off-speed breaking balls, he worked the count full by barely fouling off a change-up. On the 3-2 pitch, he took a fastball middle and away right where the patient swing would take it: into the gap in right-center field for his fourth triple and his fourth XBH in four games. You love to see Cipion get further acclimated. He is definitely easy to root for with his affable and positive personality. Take a quick look: 
2) Since a red hot beginning to his High-A career and after many a worthy accolade received, OF Jackson Chourio had cooled off as of late. Over his last four outings, Chourio was 1-for-15 with 1 R, 1 2B, 6 K, 1 BB.
Well, just go ahead and scratch that. 3-for-17 with 2 doubles and a key SB. As I wrote this, Chourio roped his fourth double and then scored on an ensuing Zavier Warren two-base knock. His ninth inning single (a pro's pro piece of hitting) then gave the T-Rats a real chance at stealing a win. Sometimes the reverse jinx needs to be started and then finished.
Speaking of Warren, coming off an unbelievably hot week he continued going - 2-for-5 tonight with his 26th double. What a run for Warren!
3) One of the things the T-Rats will most likely struggle with since Tristan Peters ' promotion and then organizational departure is filling the lead-off position in their line-up. Looking up-and-down their roster, I struggle to find a single player to fill that important position. For my money, tonight simply demonstrated what we already saw in Carolina: INF Eduardo Garcia isn't a lead-off hitter. He strikes out entirely too much and isn't really an on-base type of player at this point in his career (0-for-5, 4 K on the evening). My meaningless two cents would offer: If INF's Zach Raabe or Jadher Areinamo aren't headed up to Wisconsin, they might just have to throw Chourio into the lead-off spot. 
 
---
Carolina Pre-Game Notes    

Final:  Carolina 7, Delmarva (Orioles) 5
Box Score / Game Log             
Via the Mudcats' site, game details, please visit and review:
Brown and Sibrian Homer as Mudcats Take Opener 7-5 - Jose Sibrian Homered in the Ninth and Eric Brown Jr. Hit His First Professional Home Run as Carolina Won its Third Straight
The Delmarva Shorebirds came into tonight's contest with the Mudcats losers of six straight and losers of nine straight at home. The Mudcats hoped to keep that trend going but fell into a three-run hole early. All told, despite the two-run home run early, RHP Jeferson Figueroa managed to complete 5 IP, 5 ER, 3 H, 2 BB, 7K. Not the best of outings and certainly not the worst - Figueroa kept his team in the game, all things considered. RHP Michele Vassalotti came on relief in the sixth inning with aims of keeping the contest close. He did manage to do so, but he also struggled to the tune of 3 BB's and 28 pitches. It wasn't pretty, but, he got the key bases-loaded pop up to escape the jam.
Three Quick Strikes:
1) If you are looking for unorthodox batting stances, take a trip down to watch this current Mudcats offense. We all know of Hedbert Perez and his unorthodox vertically toe-elevated lead foot with his open stance. But, with the arrivals of OF Luis Castillo and INF Eric Brown Jr., we've taken the 'whatever makes you comfortable' mantra to new heights. If I attempted Castillo's bat maneuvering I would most likely break my wrist. As the Delmarva announcer said: "Castillo is a walking espresso!" It isn't just the bat flip - from one side of his head over to the next (violently) - but, he's also bouncing on the balls of his feet. It's the variety batting pack down in Zebulon.
2) Speaking of Delmarva's nine-game home losing streak, the seventh inning fielding display showed us all we needed to see to understand what might be aiding this Shorebirds' streak of losing play. A routine infield pop-up with not a single infielder to stake their claim fell to the grass gifting catcher Jose Sibrian first base. Then, with men on first and second and two down, struggling (mightily) Shorebirds short stop Frederick Bencosme back-pedaled and completely missed the catch allowing both Mudcats' runners to cross the dish. A 5-4 lead vanished as the Mudcats took the lead 6-5. Adding insult to injury, just after Brown Jr. slid under the catcher's tag, the right field lights literally went out. Sheeeesh. Tough sledding in Delmarva. 
3) Speaking of Brown Jr., his batting stance may be un-orthodox but it is very very much in control and reproduced with absolute ease and consistency - a stance he has been fine-tuning for literally years. After fighting off an inside pitch early for a looping single, he hit this bomb over the wall in left field:
His next at-bat, with calm and collected poise and recognizing the Shorebirds were avoiding his bat, Brown Jr. took the lead-taking walk...when he also hustled from first base and slid home after the aforementioned biffed pop-up to shallow shallow left field. This young man has already caught my eye making several winning plays. This doesn't even get into the quick twitch reaction and speed I saw from switch-hitting second baseman (tonight)
Robert Moore
who made several eye-popping plays early while also hitting a double down the left field line. This will be a duo we'll continue to watch.
---
ACL Reds 10 , ACL Brewers Gold 1
Box Score / Game Log

2022 Brewers 6th round draft pick, RHP Tyler Woessner (Central Arizona JC) was pitching in a familiar state and familiar weather and came out dealing. In his first ACL work for the Brewers, the young hurler tossed an opening inning shutout: 1 IP, 0 H, 0 BB, 3 K, We can work with that! The game was actually 1-1 heading into the 4th inning and, well, it pretty much fell apart after that. Manager, and beloved short-stint Nashville Sounds first base coach, David Tufo, was tossed in the fifth inning. We can only wonder what that was all about. I'll leave it to you to consult the box score and game log. 
ACL Cubs 3, ACL Brewers Blue 2
Box Score / Game Log
UDFA signing, Logan Adams, took the hill tonight for his first Brewers ACL action and opened with a 1 H, 0 BB, 1 K, 0 R opening inning. A fine piece of work for the 22-year-old 6'6" hurler. On the other hand, RHP Quinton Low gave up his first run in 10 IP and I shed a tear for the sudden loss of perfection. It was a good run, young man and we thank you for keeping the thrill alive. Continuing his rehab assignment, 1B/DH Ernesto Martinez continued swinging a good bat - wonderful to see! He finished his evening 2-for-4 with both ACL Blue RBI. Unfortunately, the Cubs plated a run in the seventh and, as they say, that's all she wrote.
---
DSL Texas Blue 6, DSL Brewers #1 2
Box Score / Game Log
The DSL Brewers 1 struck first in this contest leading 1-0 after their half of the third inning. After a fielding error put OF Deylan Gomez aboard, Johnny Severino responded with his 11th double of his season and there were runners on 2nd and 3rd base. A wild pitch plated Gomez and it was 1-0. The runs stopped there, however, as OF Duncan Garcia struck out on four pitches ending any further threat. Unfortunately for the Brewers 1, it was mostly Texas Blue skies from there as they plated three runs in each of the 4th and 6th innings with only two of the runs earned. Ouch. An opening walk to INF Gery Holguin (manning short stop today as Severino was back at third base) led to a run after a wild pitch and two ground outs making the score 6-2 Texas Blue. The game ended shortly thereafter as 1B Richard Rojas struck out on three pitches - his fourth strikeout in an 0-for-4 day.  
DSL Brewers #2 7, DSL Baltimore Orange 2
Box Score / Game Log
This game had the look of a strikeout bonanza with six punch outs across both frames of the first inning. After the Brewers 2 and Baltimore Orange exchanged single runs in the bottom of the second and the top of the fourth innings, respectively, the Brewers 2 broke things open in the bottom-half of the same fourth frame. After a couple of singles and a couple of Baltimore errors, the key hit appears to be INF Juan Baez's double (his 9th of the season) plating two runs and increasing the Brewers 2 lead to 5-1. Baez later walked and stole second base (his 13th steal of the summer) and took third base after a catcher throwing error. As I alluded to yesterday: Baez is really making a case for himself in the 2022 DSL and today certainly drove that point home.
RHP Anfernny Reyes completed 4 IP, 4 H, 2 BB, 4 K, 1 ER. Once again closing the back end in fine fashion was the one-two punch of lefty Jose Meneses and righty Nelson Cuevas - they appear to be the classic set-up to closer combo for the DSL Brewers 2. All told, the duo went 3 IP, 3 H, 0 BB, 1 R (0 ER), 3 K to finish the game handing the Brewers 2 (and Meneses) another victory. Also of note, catcher Eric Martinez continued his red hot summer going 3-for-4 on the day and improving his output to a 0.295 BA / 0.845 OPS in 88 AB's. We'll look past Martinez's catcher interference and pick-off errors - his first two errors of his season.
---
Think you could write a story like this? Brewer Fanatic wants you to develop your voice, find an audience, and we'll pay you to do it. Just fill out this form.
MORE FROM BREWER FANATIC
— Latest Brewers coverage from our writers
— Recent Brewers discussion in our forums
— Follow Brewer Fanatic via Twitter, Facebook or email