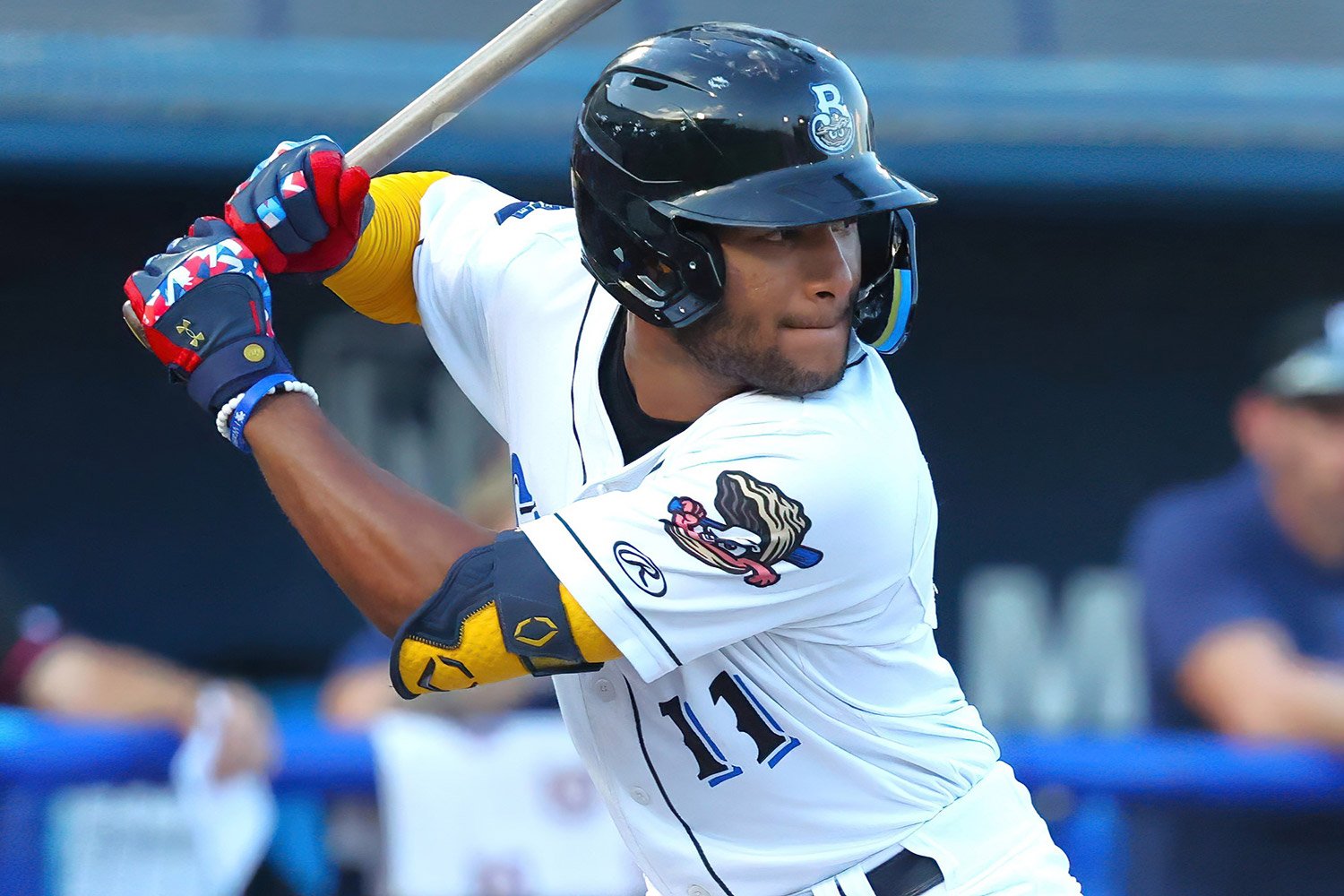 Image courtesy of Biloxi Shuckers & Mike Krebs - Jackson Chourio Pictured
For the week, all affiliate levels were series winners: Nashville (5-1), Biloxi (5-1), Wisconsin (4-2) and Carolina (4-1).
Transactions:
Game Action:
Final: Nashville 10, Memphis 7
Box Score / Game Log
Via the Sounds' website, game details, and we encourage readers to review the affiliate write-up as part of their Link Report routine: Sounds Hold On To Win Over Memphis
The Sounds again demonstrated their resiliency, this time coming back from an early 3-0 deficit, getting clutch hits and pitching when needed to hold on for this 10-7 victory and 5-1 series win. DH/3B Tyler Black (1-for-4, double, walk, RBI) and SS Cam Devanney (2-for-5, double, 3 RBIs) knocked in three runs to get Nashville back in the game, then 2B Josh VanMeter (1-for-3, HR, walk, 3 RBIs) clobbered the 2-out, three-run homer to blow the game open in the 5th inning. 
Sounds' Extras:
Next week's outlook: The Sounds (74-62) head to Charlotte (49-89) to face the White Sox affiliate, while the St. Paul Saints play at the Iowa Cubs.
Biloxi Pre-Game Media Notes
Final: Biloxi 8, Birmingham 3
Box Score / Game Log
Via the Shuckers' website, game details: Shuckers Tie Franchise Record with 40th Road Win, Take Series Finale Against Barons
Utility man Isaac Collins (DHing this game – 1-for-2, HR, 2 walks, 2 RBIs) smacked the first pitch of the game for a home run, then 2B Ethan Murray (2-for-4, triple, double, 3 RBIs) came through with a two-run triple (2nd inning – 3-0 lead) and an RBI double (8th inning – back to 7-3) to help Biloxi keep pesky Birmingham at bay and clinch a 5-1 road series win. 
More difficult to see in the box score is the big advantage Biloxi had defensively. Murray threw out a baserunner trying to grab an extra base at third on an infield single to end the 4th inning, keeping the score 4-2, then center fielder Jackson Chourio caught a runner at second base to avoid a two-on, nobody out situation in the 6th inning. For the game, the Shuckers had zero errors, while the Barons committed three.
Shuckers' Extras:
Next week's outlook: Biloxi (72-59, 38-24 in second half) returns home for the playoff-determining final series of the year, hosting red-hot Montgomery (76-56, 40-23 in second half). The Shuckers must win at least 4 of 6 games in the series to make the playoffs. LHP Adam Seminaris is the most likely starter for Game One, although there's an outside chance that RHP Carlos F. Rodriguez starts on five days' rest.
Wisconsin Pre-Game Media Notes
Final: Wisconsin 8, Cedar Rapids 5
Box Score / Game Log
Via the Rattlers' website, game details: Rattlers Close Out 2023 with 8-5 Win over Kernels
As always for home games, enjoy extensive video highlights and the insightful Mehring-Lobner post-game podcast – it's 18 minutes, 50 seconds with Manager Joe Ayrault for the final session of the year.
After two tough losses at the beginning of this series eliminated Wisconsin from playoff contention, the team has to feel great about regaining focus and winning four in a row against league leaders Cedar Rapids. In this game, with the top of the order struggling, the Timber Rattlers' 4 through 9 batters came through to produce all of their 11 hits, led by center fielder Eduarqui Fernandez (3-for-3, walk, RBI, SB) and left fielder Terence Doston (2-for-4, double, 2 RBIs). 
Timber Rattlers' Extras:
Next week's outlook: The Timber Rattlers have played their final game of 2023, but we'll be watching for possible promotion(s) to AA Biloxi for select players – e.g. 3B Brock Wilken, relief RHPs Tanner Shears and Shane Smith. 
Carolina Pre-Game Media Notes
Cancelled: Carolina at Salem
Via the Mudcats' website, rain details: Regular Season Finale Cancelled in Salem
Although the game was canceled and therefore all statistics were extinguished, the Mudcats actually played three innings of unfocused baseball behind starting RHP Will Childers (3 runs, 1 earned) before the rainout, committing three errors and trailing 3-0. In the end, those innings serve as a timely reminder to play better in next week's playoffs!
Next week's outlook: The best-of-three Division Series against Down East commences on Tuesday with a Carolina home game in Zebulon, NC, before they head 72.6 miles to Kinston, NC for one or two more games. The series winner would face the champion of the Carolina League South in another best-of-three series.
We hope that you enjoy the Minor League Link Report. Minor league teams are off on Monday, so good luck to the Brewers at home against the Marlins at 6:40pm CST.
Organizational Scoreboard including starting pitcher info, game times, MiLB TV links, and box scores
Current Milwaukee Brewers Organization Batting Stats and Depth
Current Milwaukee Brewers Organization Pitching Stats and Depth
Think you could write a story like this? Brewer Fanatic wants you to develop your voice, find an audience, and we'll pay you to do it. Just fill out this form.
MORE FROM BREWER FANATIC
— Latest Brewers coverage from our writers
— Recent Brewers discussion in our forums
— Follow Brewer Fanatic via Twitter, Facebook or email
1