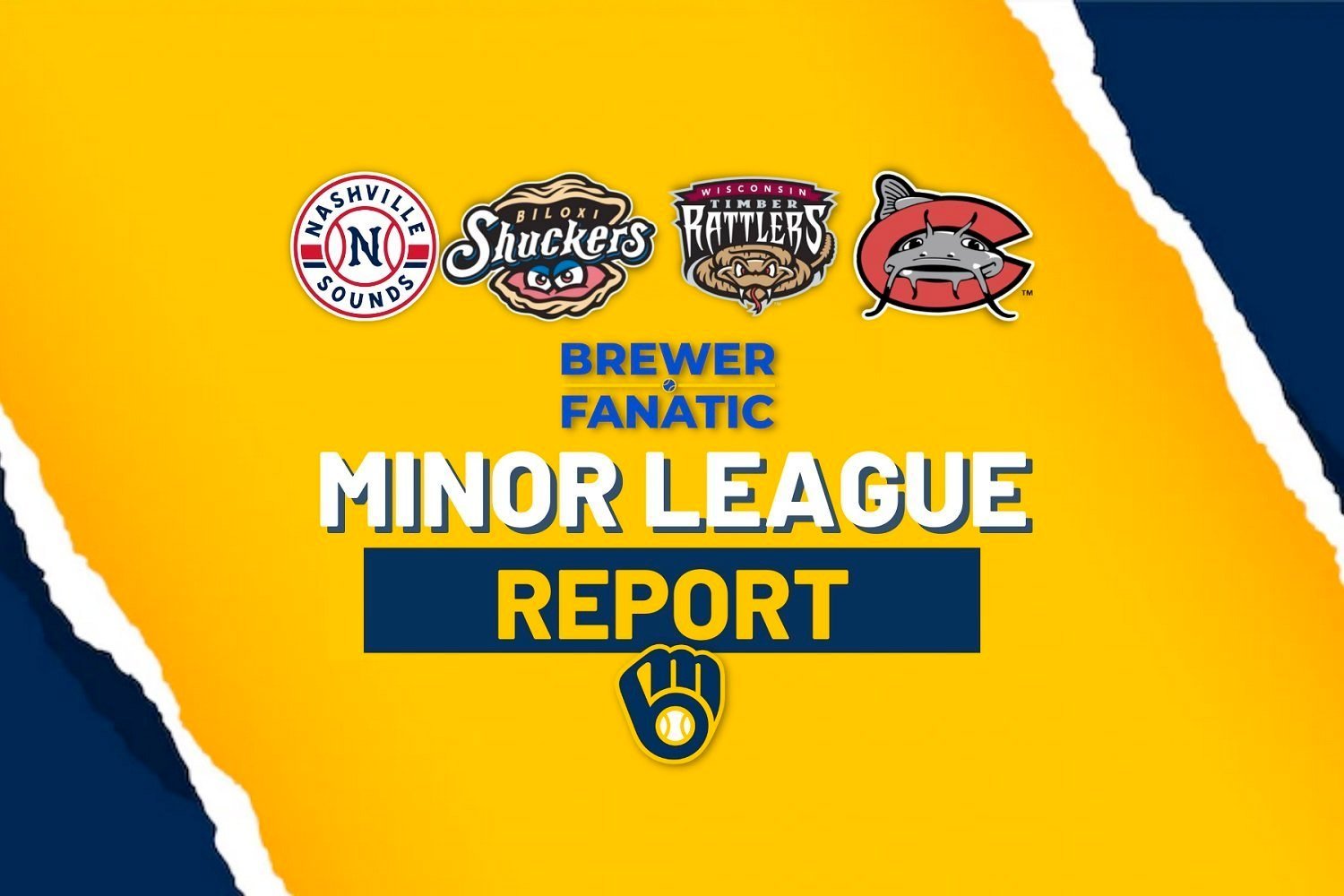 Image courtesy of Brewer Fanatic
Transactions:
Firstly, let's get you up to date with the brief flurry of moves from Monday:
A special congratulations is in order, from my POV, to RHP Taylor Floyd who did it the hard way and earned his way back to Double-A. He was phenomenal in Wisconsin. And, of course, congratulations to all other players who receive these late season promotions. All extremely well deserved. I guess we should also definitely point out the historic nature of Jackson Chourio's late-season send off in Double-A:
That probably deserves a: "WOW!". At this point, these types of things are ridiculously routine for Chourio which is, well, simply nuts.
And, lastly, there were a couple Brewers-related moves today:
RHP Trevor Gott and OF Jonny Davis were both sent on rehab assignments to the Nashville Sounds
---
Nashville Pre-Game Media Notes                                                                  
Final: Jacksonville (Marlins) 4, Nashville 1
Box Score / Game Log                     
Via the Sounds' site, game details, please visit and review: Sounds Drop Series Opener to Jumbo Shrimp - Lead atop International League West Division Remains 2.5 Games
Happy birthday to Marcus Walden who turned 34 years young on this fine September day. Coming in to this game tonight, my first thought was: "A plus 5 ERA does not do justice for the fine work Walden has given the Sounds outside of, say, two rough outings.". By and large, he's been a multi-tool for the pitching staff. He'll start. He'll come out of the bullpen. He's dependable. Like Josh Lindbolm, he's another quality veteran and I've enjoyed the work he's given his team and the fans so far in 2022.
He finished tonight with just 76 pitches, 52 strikes, in 6 complete IP. All told he gave up 1 R (unearned), 4 H, 1 BB, 5 K. He lowered his ERA to 4.53 and I exhaled freely: justice was served in the baseball universe.
Three Quick Strikes: 
1) The air seemed a bit stiff in Nashville tonight - several fly balls seemed to fall flat at the warning track as the ballpark flags drooped listless high atop their poles. It could be I see things less accurately as I age, but, this certainly seemed to be the case. This being said, a Sounds outfield combination of Esteury Ruiz, Jonathan Davis , and Joey Wiemer (left to right) has some serious serious speed and can cover some serious serious ground.
During RHP Trevor Gott's first rehab inning, Ruiz ran down a well-hit liner down the left field line with a man on first. It was a key out. He made the fly out look awfully routine. I'm here to tell you: it most definitely was not. He ran down a hard hit liner in shallow left field an inning or two prior. You have to absolutely earn everything you hit into that Nashville outfield grass.
2) Sal Frelick is an on base machine in Triple-A Nashville. He started his evening 3-for-3 adding his fifth three hit game since his promotion (he also has a four hit game in his bag). He is truly an exciting pure lead-off prospect for the Brewers - every at-bat is a battle, nothing is freely given, and he more often than not can work the count to his benefit even when he's behind 0-2. It's simply a matter of time - there is entirely too much talent in this young man's toolkit - before he's an everyday player in Milwaukee.
3) Five errors committed by the division leading, fielding percentage leading, Nashville Sounds? Unfortunately, that isn't a typo. I saw several of these miscues - none worse than the E2, E6 in succession by Pedro Feliciano and Brice Turang allowing the absolutely not speedy Willians Astudillo to score from first base in the Jacksonville eighth frame.
Feliciano also managed his 11th passed ball on his season in an ugly catch attempt of a Gott outside 96-mph heater. Feliciano got his full glove on the ball and, well, he simply didn't catch it. A smart betting man would opine: we probably won't see a poorer fielding night the rest of Nashville's 2022 season; previous to this laugher, the Sounds had topped out at two errors in a game on 14 separate occasions. This was as ugly as it will get. We're onward and upward from here, folks!
---
Biloxi Pre-Game Media Notes                                                                       
Final: Biloxi 7, Pensacola (Marlins) 2
Box Score / Game Log             

Via the Shucker' site, game details, please visit and review:

Chourio Drives in Three in Double-A Debut as Shuckers Top Wahoos - Luna Twirls Six Quality Innings
All I want for (baseball) Christmas is a solid ending to the Shuckers season. Taking game one in convincing, quality start, shutdown bullpen fashion in Pensacola gives me the fuel I need to watch these young men close their 2022 season in a good way. It's certainly been no secret that I've endured these Shuckers up-and-downs from afar as I have watched the Brewers Double-A affiliate throughout all of 2022. But, let me tell you, the way they bounced back versus Mississippi in their closing home series after seeing a 26-4 deficit through two games has me believing again. RHP Carlos Luna gave us a fantastic quality start to get the series started right. His teammates followed suit.
Three Quick Strikes:
1) OF Jackson Chourio definitely impacted his first Double-A game in classic Chourio fashion: 1-for-4, 1 2B, 1 SF, 3 RBI, 3 K. The strikeouts were back in a hurry with this level jump but so were the timely hits and skillful plays. Take a look on this deep drive to almost leave the ballpark high up the right center field wall nearly clearing the bases (apologies, Jason Lopez):
---
He followed with a very casual deep liner sacrifice fly to extend the Shuckers lead to 7-2 in the sixth inning. The strikeout rate had improved significantly with his jump to High-A dropping to a very respectable 21%. We'll simply have to watch and see if he can adapt in this extremely brief test of Double-A waters. All in all, a very solid debut. 
2) I've said it a couple times recently, but it's worth bringing it up again: the example OF Garrett Whitley is giving in Biloxi is noteworthy. I love his availability, his approach, his body language, his professionalism and his results. After tonight's 2-for-4 outing (1 2B, 1 HR, 1 BB), he pushed his BA to 0.260 and his OPS to 0.865. He has speed that plays all over the outfield and on the base paths. I do not take his efforts for granted and I sincerely hope the Brewers can keep his veteran presence in the fold in 2023. If they could manage to keep both he and Monasterio in the fold, that would be a massive get for organizational depth at the upper levels. Both young men are just entering their primes and both young men are fantastic baseball players. Let's get this done, Brewers! 
3) Welcome back to Double-A, Taylor Floyd. What a turnaround for this young man as he has battled through the early season woes in that early-season arduous return from injury. He has turned many new pages over the past month plus in Appleton and this continues for Biloxi as he looks to close his 2022 campaign. Floyd went 1 scoreless IP, 1 H, 0 BB, 1 K. How rough was his early season tenure with the Shuckers? He lowered his ERA to 8.18 in Double-A after tonight's scoreless frame. 
---
RHP TJ Shook looks to bounce back strong after his most recent outing and LHP Ethan Small continues looking for a quality start. With Nashville barely clinging to a 2 1/2 game lead, and with their worst defensive performance of 2022 in their rearview mirror, now is the time for Small to find that early season shutdown stuff. Your team needs you, Mr. Small. It is time.
Organizational Scoreboard including starting pitcher info, game times, MiLB TV links, and box scores
Current Milwaukee Brewers Organization Batting Stats and Depth
Current Milwaukee Brewers Organization Pitching Stats and Depth
Think you could write a story like this? Brewer Fanatic wants you to develop your voice, find an audience, and we'll pay you to do it. Just fill out this form.
MORE FROM BREWER FANATIC
— Latest Brewers coverage from our writers
— Recent Brewers discussion in our forums
— Follow Brewer Fanatic via Twitter, Facebook or email