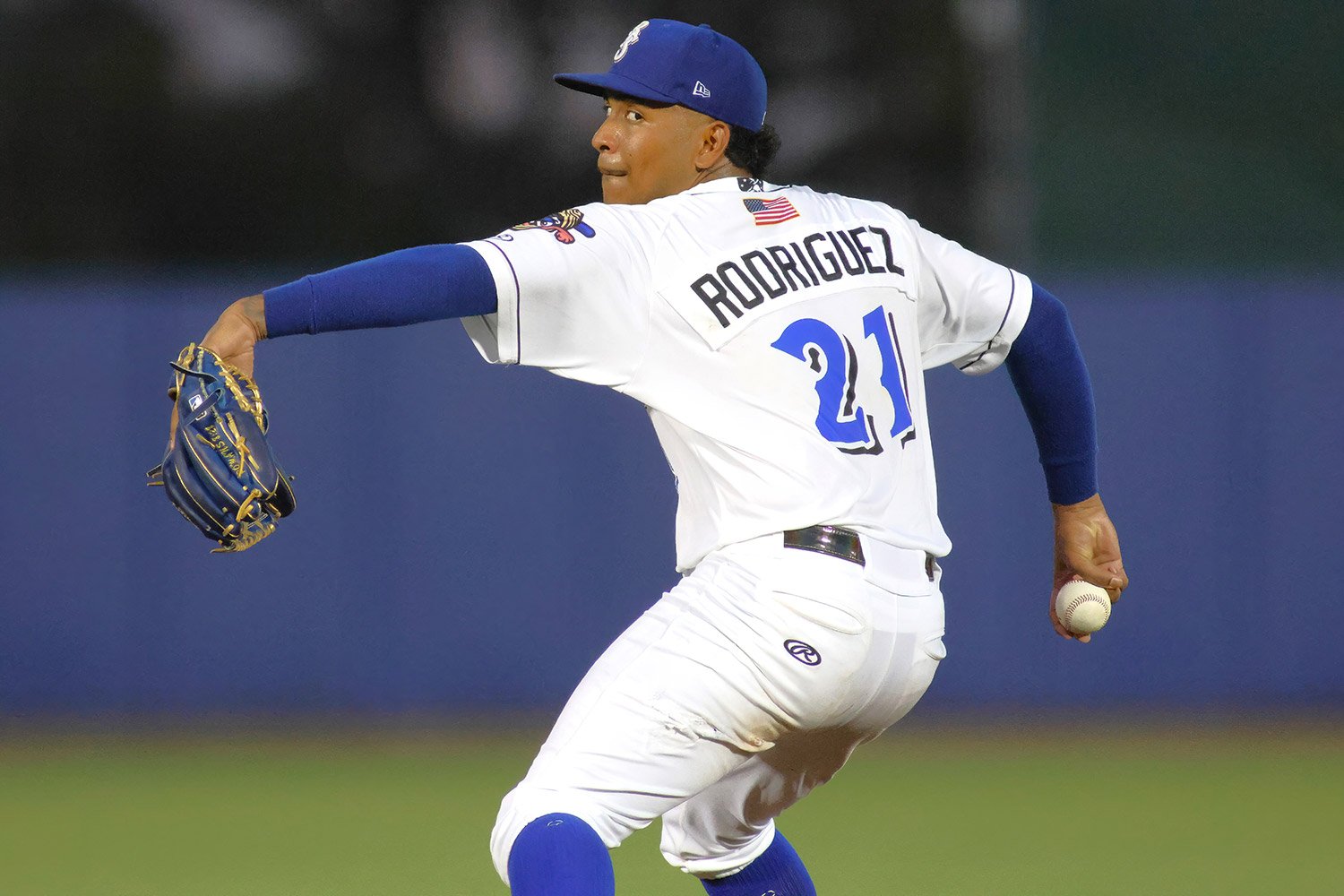 Image courtesy of Biloxi Shuckers & Mike Krebs - Carlos F Rodriguez Pictured
Game Balls:
3B Brock Wilken homered again? Yes. He has two long balls in his first two Double-A games and 6 RBI. Joyous. Oh, and it was another 100 mph line drive. "This young man only drives 100, officer. So, no, he will not slow down." 

RHP Max Lazar gets the nod for rescuing RHP Ryan Middendorf from his extremely rough 0 IP (three singles to load the bases) outing. Lazar got the strikeout and a savvy Wilken initiated DP to end the threat:

LHP Fernando Abad gets some love for shutting down any thoughts the Charlotte Knights had of a big 10th inning of their own. He cooly stepped to the hill and struck out the first batter on three consecutive off-speed pitches. It was a much needed effort for Abad. It was wonderful to witness. The 37-year-old Dominican also picked up his second save for the Sounds in the process in only his second opportunity. Hopefully, this is the version we get moving forward!
LHP Robert Gasser was poked around (albeit fairly pedestrian contact) some in his final inning but other than the early long ball (only the 12th he's surrendered all season) I liked what I saw overall. His sweeper curve was straight butter throughout. He gets the nod from me as he continues to fine tune his arsenal and mature as a pitcher. It's important to note, we really shouldn't take Gasser's historic season for granted. I don't know how he flies so far below the radar (from the affiliated post-game article linked below)

Quote

Robert Gasser passed Norm Charlton (161) for fourth place on the Sounds single-season strikeout list. Gasser's 166 strikeouts are the most by a pitcher since the Sounds made the move to Triple-A in 1985. He is chasing Jay Howell for third place, who struck out 173 batters during the inaugural 1978 season.

I mean, that's a lot of swing and miss folks. He leads the International League strikeout leaderboard by 22 punch outs. AND, he has done it in 15 fewer innings. Do not sleep on this talented young man.

2B Abraham Toro gets the nod from me if simply for his home run in the 2nd inning. With RHP Nick Castrini pounding the Sounds hitters with change-up after change-up, it was Toro who finally broke through with a smash to RF and it opened up the gates for the Sounds hitters. It was a classic case of making an adjustment in the same AB. It was lovely to witness from one of my personal favorite watches in 2023. 
Transactions:
NONE
---
Final:  Nashville 9, Charlotte (White Sox) 6
Box Score / Game Log 
Via the Sounds' site, game details, please visit and review:
Sounds Overcome Charlotte Rally, Win in Extras

It was my first time seeing recently promoted (Lance Lynn trade) RHP Nick Nastrini in his third International League start for the Charlotte Knights. By my eyes, early at least, he was pitching with two primary pitches - a heater and a change-up. Meanwhile, LHP Robert Gasser got the start for the Sounds and early he was masterful with his sweeping curveball. It was really really sweeping up air. Gasser was sitting 92-93 mph but it was the off-speed and the cutter that was doing the heavy lifting. The Sounds managed to pull the game out in extras after they gave up two tying runs in the eighth inning, but with Durham having played a century of baseball with not a single loss it certainly seems as though the Sounds are playing for second place and personal pride. We will root them on, regardless. 
Three Quick Strikes:
1) INF Tyler Black has been putting together better and better AB's at Triple-A Nashville. He lined out very sharply to center field early and was put out by a ridiculously good full sprint shoelaces grab. It was a good sign. He drew two walks. He also singled to right field in the middle innings. Black will likely always live and die by the bat, his pitch recognition, and his speed and savvy on the base paths so it is quite refreshing to see him piece these very advanced qualities back together in Triple-A.
2) INF Patrick Dorrian managed to draw two walks and he also hit a key two-run flare single to plate two crucial runs in the tenth and final inning. It's always refreshing to see the extremely talented Dorrian rediscover success at the dish - he has vastly underrated power and line drive punch when he is dialed in. However, as much as I like the player Dorrian is, it's absolutely fair to say: he just hasn't played a very good shortstop in 2023. His error in the sixth inning absolutely can not happen given the setting and situation and I think he would admit so himself. I won't belabor the point any further but, suffice to say, it is my personal opinion he is a second baseman and third baseman first and foremost. He's also demonstrated, when needed, he can play a very solid first base in a pinch. I just haven't seen any semblance of meaningful consistency in his 22 starts at short to think he would be anything other than a 'break glass in case of emergency' shortstop at the MLB level. And, I could certainly be wrong.
3) WIth the loss of C Alex Jackson in the trade that brought the Brewers RHP Evan McKendry, we've had to look for those mammoth blasts from the catching position mostly off the bat of C Payton Henry. He has definitely laid some wood to the eight long balls he's launched in 2023. Tonight was no different. He crushed a ball over the LF wall and onto high deck. It was a key two-run blast to open an early 3-0 lead. Henry is a more than capable bat at the catching position and he's been a pleasure to watch throughout 2023. He's a solid veteran chipping his way to a MLB opportunity and I hope he gets it.
---
Final:  Montgomery (Rays) 4, Biloxi 2 
Box Score / Game Log 
Game Notes 
Via the Shuckers' site, game details, please visit and review:
Shuckers Fall to Biscuits, 4-2, in Second Game of Series

Shuckers Ace, RHP Carlos F. Rodriguez, gave his team all he had and for the majority of his start it was well more than enough.
Ultimately, with the Shuckers bats sleeping, Rodriguez began hitting bumps in the road in the sixth and seventh innings. He did manage to toss 6 1/3 IP of 7 H, 1 BB, 6 K, 3 ER ball but he can thank RHP Shane Smith for stranding two runners at second and third base when he induced a double play liner to Ethan Murray. All three runs came in the fateful sixth frame via a two-run line drive blast over the right field wall (from old friend, OF Tristan Peters) and a run-scoring single after a wild pitch. One can't but wonder how his outing would have fared has his teammates' bats woken up. When all was said and done, the Shuckers were left knowing they now must win three of their last four games. It's a tough ask. But, it's absolutely in the cards.
Three Quick Strikes:
1) Where for art thou, Mr. Chourio? In a must win series, in a series of must win series of late, the Shuckers need more from their superstar in CF Jackson Chourio. I'm going to call a spade a spade: we need the young superstar to show up and take over a game with his bat. We didn't see it in Birmingham. We haven't seen it in Biloxi. This isn't a tantrum in any way shape or form, mind you, and Chourio continues to offer plus defense throughout that center field grass. It's simply an honest observation. It is time he makes his mark at the pivotal moment of the Shuckers season.
2) One can't help but wonder what would have happened to Rodriguez's sixth inning and the remainder of his outing had RF Lamar Sparks not dropped a very catchable fly ball down the right field line. In classic scorer fashion, the drop was ruled a double. Sparks had a good get off but he took a slightly circuitous route thinking it may have traveled deeper off the sound of the bat. He quickly course corrected. He got to the ball in plenty of time. It bounced off the heel of his glove and rolled out his mitt and into foul territory. Sparks gets the mulligan - he has been phenomenal defensively in 2023. However, this led to more pitches. It led to a wild pitch. It led to the third run. 
3) SS Eric Brown Jr. scored as a pinch runner in the 9th inning. Given Freddy Zamora went 0-for-4 at the dish, one has to wonder if Eric Brown Jr. isn't in store for a start come game three. It may be a stretch but I personally believe he is ready for a full game's worth of this tense atmosphere. Going one step forward, given Ernesto Martinez's 1-for-8 start to the series and quite rough September at the dish I can't help but think we'll see Zavier Warren or Wes Clarke get the chance to cover 1B tomorrow - despite all that Martinez offers as a target. Food for thought and we'll simply have to wait for the line up cards. 
---
The Mudcats will be back at it at Down East for a must win game two of their divisional round. At the time of publish, the starters have not been announced. But, if I were a betting man I would have to throw money down on RHP Patricio Aquino. He is more than deserving of the opportunity. From there, I'd fully expect RHP Jesus Rivero to be ready for meaningful innings to ensure there is a chance at game three. The chess match continues. Elsewhere, I hope to see a revitalized RHP Janson Junk in Charlotte and we are unsure of who we're seeing in Biloxi at this juncture. Given we likely won't see RHP Tobias Myers until game four (his standard six days rest). This means we are likely seeing RHP Christian Mejias. The good thing here is we know he has been much better in his two September starts. We'll leave it at that. Hopefully, we see his best!
As always, thanks for reading and thanks for supporting Brewers Minor League baseball.
Think you could write a story like this? Brewer Fanatic wants you to develop your voice, find an audience, and we'll pay you to do it. Just fill out this form.
MORE FROM BREWER FANATIC
— Latest Brewers coverage from our writers
— Recent Brewers discussion in our forums
— Follow Brewer Fanatic via Twitter, Facebook or email