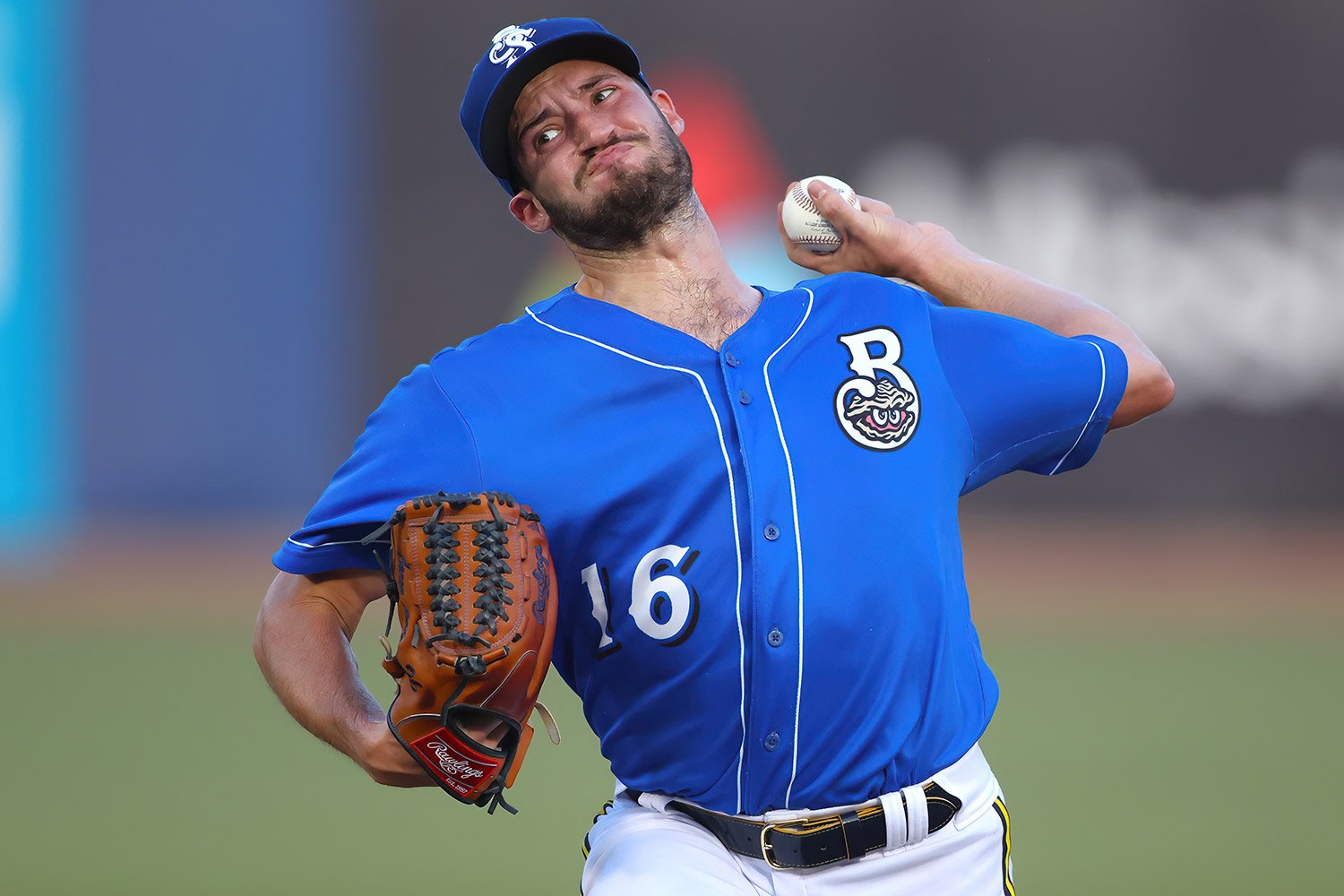 Image courtesy of Biloxi Shuckers & Mike Krebs - Aaron Ashby Pictured
Transactions:
Game Action:
As we did when the ACL Brewers played (and won) their playoff series, I'll start with the Carolina Mudcats and their postseason drama.
Carolina Pre-Game Media Notes
Final: Carolina 6, Down East 5 (in 10 innings)
Box Score / Game Log
Via the Mudcats' website, game details, and we encourage readers to review the affiliate write-up as part of their Link Report routine: Carolina Forces Game 3 With 6-5 Victory in Ten
As voiced here by Mudcats' play-by-play man Greg Young, you may struggle to find a stranger ending to a playoff game, with the Wood Ducks' believing they'd tied the game with two outs in the bottom of the 10th inning, but the umpires boldly calling the runner out for leaving third base early. Kudos to the men in blue for making that tough call on the road! 
Starting RHP Patricio Aquino (6 IP, 0 R, 4 H, 0 BB, 1 HBP, 5 Ks, 1 balk) gave Carolina the dominant outing it needed to even the series, pushing it to a do-or-die Game Three on Friday night. We're extremely fortunate to have gotten three road highlights to savor in these two videos:
Mudcats' Extras:
Friday's outlook: Carolina's starting pitcher has not yet been named, with Manager Victor Estevez having several well-rested long-men to choose from, e.g. RHP Will Rudy, LHP Brian Fitzpatrick, RHP Yorman Galindez. Victory would bring the Mudcats into the best-of-three Championship Series against Myrtle Beach or Charleston.
Nashville Pre-Game Media Notes
Final: Nashville 5, Charlotte 0
Box Score / Game Log
Via the Sounds' website, game details: Junk, Sounds Shut Out Charlotte For Fifth Straight Win
Starting RHP Janson Junk (6 IP, 0 R, 7 H, 0 BB, 4 Ks, 1 WP) delivered one of his best games of the season, yielding only one extra base hit, with the Knights only getting four at-bats with runners in scoring position in the game (and going 0-for-4 in that regard).
Both Junk and RHP Jason Alexander (three scoreless innings, Save) pounded the strike zone all game: 93 strikes in 122 pitches. Offensively, 1B Owen Miller (2-for-4, HR, walk, 3 RBIs) provided the staff with all the runs they would need in his first AAA plate appearance in over two weeks, smacking the ball 415 feet on his three-run, 1st inning homer.
Sounds' Extras:
Friday's outlook: Rehabbing RHP Julio Teheran makes his fifth rehab start and seeks his third straight Win which would clinch this week's series for Nashville.
Biloxi Pre-Game Media Notes
Final: Montgomery 6, Biloxi 2
Box Score / Game Log
Via the Shuckers' website, game details: Biscuits Score Six in Middle Innings, Shuckers Fall 6-2
The Shuckers' second-straight loss puts their backs against the wall, needing to win all three remaining games to win this week's series over Montgomery and qualify for the playoffs.
Biloxi's offense needs to step up in Games 4-6 of this week's series. After stranding two baserunners in the 1st inning, Biloxi didn't put another runner in scoring position until they trailed 6-1 in the bottom of the 9th inning, as Montgomery truly locked them down unfortunately.
Shuckers' Extras:
Friday's outlook: The team is counting on Southern League strikeout leader RHP Tobias Myers (5.21 ERA with 160 Ks in 131 1/3 IP) to be on top of his game to even this week's series 2-2 and avoid elimination from the postseason chase.
We hope that you enjoy the Minor League Link Report. All three teams are back in action on Friday, including Carolina's deciding Game Three at Down East.
Organizational Scoreboard including starting pitcher info, game times, MiLB TV links, and box scores
Current Milwaukee Brewers Organization Batting Stats and Depth
Current Milwaukee Brewers Organization Pitching Stats and Depth
Think you could write a story like this? Brewer Fanatic wants you to develop your voice, find an audience, and we'll pay you to do it. Just fill out this form.
MORE FROM BREWER FANATIC
— Latest Brewers coverage from our writers
— Recent Brewers discussion in our forums
— Follow Brewer Fanatic via Twitter, Facebook or email
2