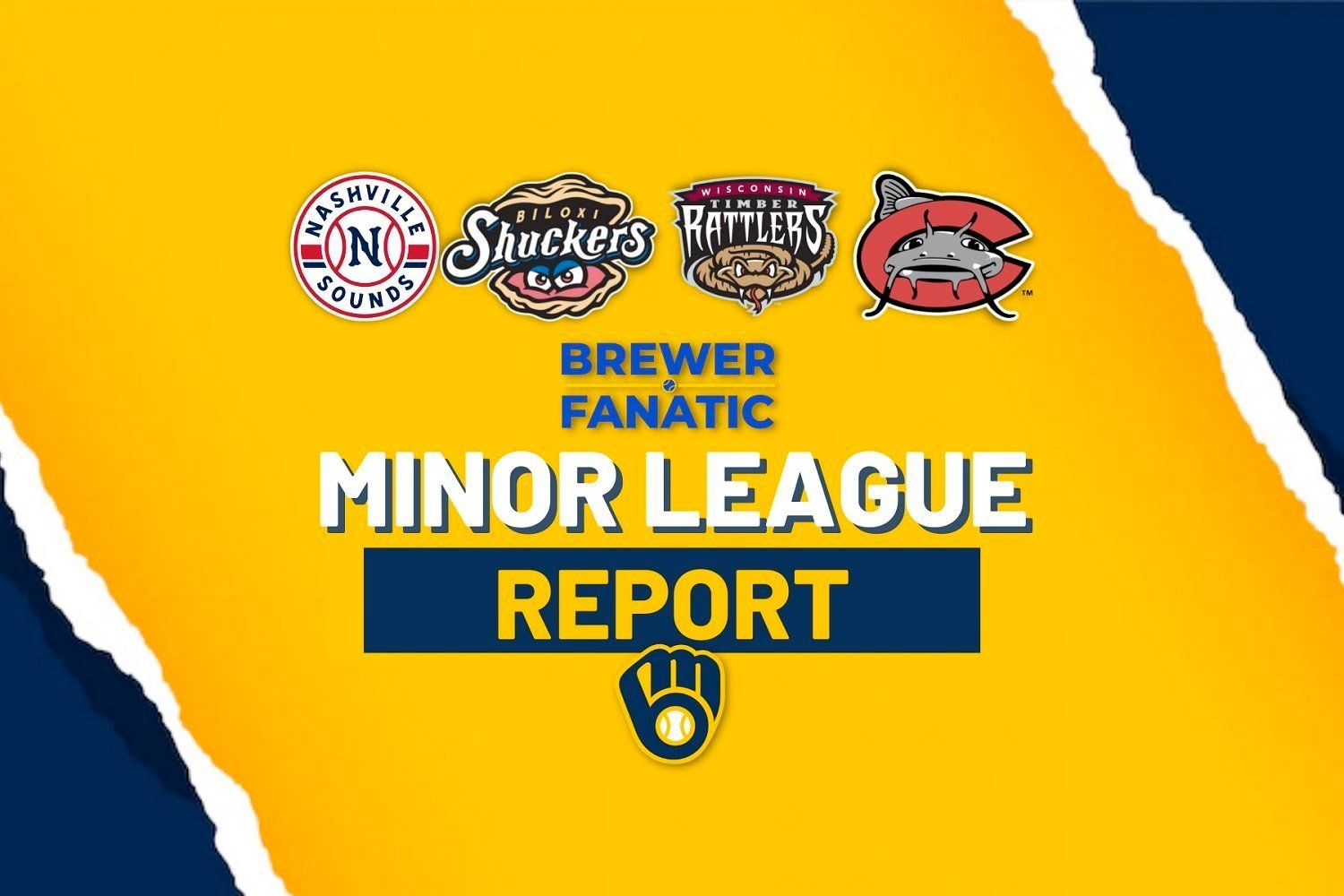 Image courtesy of Brewer Fanatic
Transactions:
None
---
Nashville Pre-Game Media Notes                                                          
Final: Nashville 12, Jacksonville (Marlins) 4 
Box Score / Game Log                                                                       
Via the Sounds' site, game details, please visit and review:

Sal Frelick Homers Twice as Sounds Blast Past Jumbo Shrimp - Nashville Extends Lead atop International League West Division to 3.5 Games
18 hits. 12 runs. This is the Sounds offense I've grown to love throughout the 2022 season. They have so much juice throughout their lineup - this is possible on any given night. With another Columbus Clipper loss, the Sounds push their division lead back to 3 1/2 games. A special mention will go to RHP Victor Castaneda and his quality start in his first Triple-A start of 2022: 6 IP, 4 H, 2 BB, 3 ER, 2 K. RHP's Lucas Erceg and Jake Cousins each tacked on scoreless frames in the 8th and 9th innings, respectively, to close out the victory.
Three Quick Strikes:
1) One of the most impressive facets of Sal Frelick's 2022 season is he has hit better at each promotion. What's been even more fascinating to watch is how well he consistently hits lefty pitching. Tonight's lead-taking three-run jack over the right field wall was yet another example of his now patented hip flip line drive smash:
2) Watching Esteury Ruiz wind-up on the base paths is a thing of beauty. I don't know if I've ever seen a weapon quite like this in the Brewers system. He's a danger to lay down an impeccable bunt single at any moment and yet he can make some serious contact on the ball. He can play cat and mouse every single time he's on a base. And, he's coy about it. Sometimes he'll take off on the first pitch. Sometimes he'll show disinterest and then deep in the count take off when you least expect it. His timing is typically impeccable and his jumps are typically incredibly well timed. Take a look at both these latter qualities in his fifth record-breaking steal:
3) We are seeing something else from C Pedro Severino in September. After another long ball tonight - a no doubter over the wall in left field - he has pushed his September output to: 9 G, 30 AB, 0.467 BA, 1.376 OPS (!!), 8 R, 8 RBI, 3 HR, 5 2B, 4 BB, 3 K. The man is absolutely mashing right now. The Sounds are extremely lucky to have a MLB caliber catcher manning the backstop in their playoff push. 
---
Biloxi Pre-Game Media Notes                                                                   
Final: Biloxi 8, Pensacola (Marlins) 2 
Box Score / Game Log                                

Via the Shucker' site, game details, please visit and review:

Six for Six - Shook Deals Six Frames to Help Shuckers to Sixth Straight - Murray Hits First Double-A Home Run
Winners of six straight games, I am all hands on deck to watch the Shuckers close out their 2022 campaign with a bang. Much like Wisconsin, these Shuckers are showcasing there is plenty to play for even when no post-season birth is on the line. RHP TJ Shook gave us his best outing in some time as he looked calm and collected on the mound: 6 IP, 6 H, 1 BB, 2 ER, 1 HR, 3 K. In what is likely his last start of 2022, it has to feel good to end on a positive note after some scuffling down the homestretch. Thank you for all your efforts in 2022, young man.
Three Quick Strikes:
1) OF Corey Ray continues to demonstrate he will not go quietly into the night as his off season approaches. He extended his hit streak to nine games after his early game single, then hit a two bagger, and followed with a walk. All told, he finished his evening 2-for-4 with 1 2B, 1 RBI, 1 BB. His only blemishes came when he was caught stealing and picked off. Given he still gives high quality defense and outfield range on a nightly basis, the ongoing offensive output is noteworthy. When Ray is healthy, he still offers quite a bit to a baseball team as he's showcased on more than one occasion in 2022. I continue to hope there's a way he stays in the system in 2023 - yes, even if that is unrealistic.
2) C Nick Kahle is making the most of his late season opportunities behind home plate. After only 16 AB's in all of August, he now has 22 AB's through September 14th. Batting in the nine-hole tonight, he gave his team a 2-for-3, 1 HR, 2 R, 2 RBI, 1 BB, 1 K performance. Let's take a look at his home run blast over the left field fence. This one had some pop and came in a very solid at bat:
3)The late season Double-A play we are seeing from High-A mainstays, Zavier Warren; Ethan Murray; and Wes Clarke, is one of the highlights of my 2022 Minor League season. We've seen a three home run game from Clarke (he had another two bagger tonight), Zavier Warren was on base four times tonight and swiped two bases, and Ethan Murray brought the leather in addition to a 2-for-4 evening with a solo jack. This might not have been expected by most casual fans, but, you've seen glimpses of these types of games throughout much of the second half of the 2022 season. To see these young men put it together in the midst of an unlikely six game winning streak for the Shuckers is all the feels Let's take a quick peak at Murray's long fly over the wall in deep center left field:
---
We've got a LHP Brandon Knarr and RHP Josh Lindbolm treat tomorrow night. Both hurlers have proven incredibly reliable in 2022 - I'm expecting more skill and greatness as they take the hill. Will the Sounds push their division lead? Will the Shuckers win their seventh straight? Tune in. As always, thanks for reading and supporting these players as they chase their dreams.
Organizational Scoreboard including starting pitcher info, game times, MiLB TV links, and box scores
Current Milwaukee Brewers Organization Batting Stats and Depth
Current Milwaukee Brewers Organization Pitching Stats and Depth
Think you could write a story like this? Brewer Fanatic wants you to develop your voice, find an audience, and we'll pay you to do it. Just fill out this form.
MORE FROM BREWER FANATIC
— Latest Brewers coverage from our writers
— Recent Brewers discussion in our forums
— Follow Brewer Fanatic via Twitter, Facebook or email