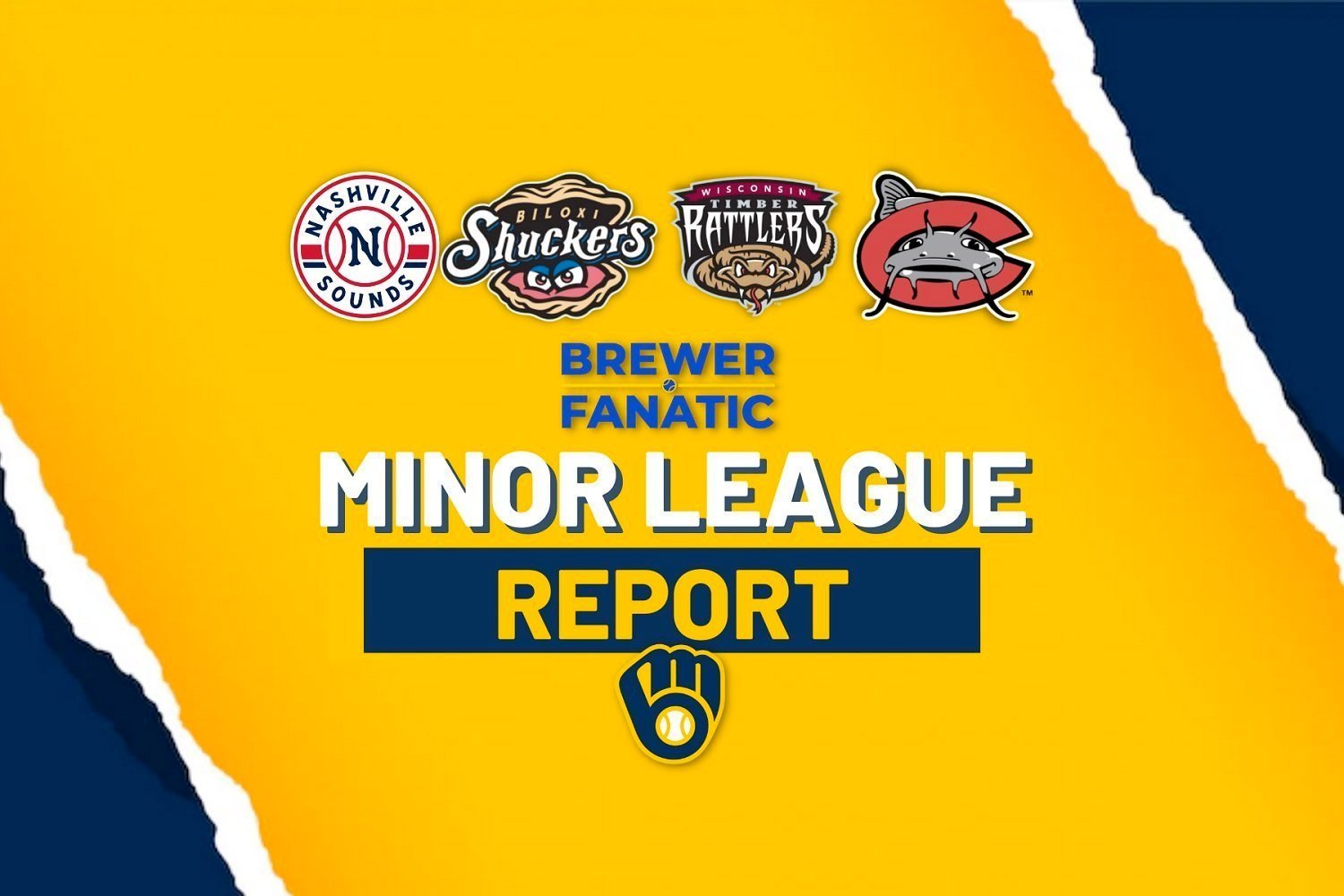 Image courtesy of BrewerFanatic
For the week, Biloxi and Wisconsin both swept their 6-game series. Carolina was also a series winner (4-2), while Nashville had a week to forget (1-5).
Transactions:
Game Action:
Nashville Pre-Game Media Notes
Final: Durham 6, Nashville 2
Box Score / Game Log
Via the Sounds' website, game details, and we encourage readers to review the affiliate write-up as part of their Link Report routine: Sounds Drop Finale in Durham
Nashville's late season fade unfortunately continues, so they'll undoubtedly be looking forward to a return home this upcoming week. Most eyes were on new signee 3B Josh Donaldson, who watched six pitches come and go in a 1st inning walk, then had two infield popouts before exiting after five innings.
On the mound, RHP Janson Junk (5 IP, 5 R (4 ER), 6 H, 1 BB, 7 Ks; season ERA 4.41) gave up three extra base hits in the first three innings as the Sounds fell behind 4-2 and never recovered. Hopefully the Brewers' pitching lab is able to work some magic with Junk this offseason, during which he'll turn 28.
Sounds' Extras:
C Payton Henry and right fielder Monte Harrison were the main offensive catalysts, combining on a 4-for-7 day with two doubles, a walk and two RBIs.
As the article link detailed, DH Keston Hiura and INF Abraham Toro each extended their on-base streaks, but this was on a combined 0-for-5 day with three walks. Toro also stole two bases. Left fielder Jahmai Jones was a forgettable 0-for-5 with three strikeouts in the leadoff spot.
In the bullpen: LHP Fernando Abad retired two of three hitters but a single allowed an inherited run to score, while LHP Darrell Thompson pitched a clean inning and RHP Thyago Vieira gave up a run on two singles.
Next week's outlook: Nashville (69-61) hosts Cardinals' affiliate Memphis (64-68) this week, with RHP Evan McKendry the most likely opening game starter.
Biloxi Pre-Game Media Notes
Final: Biloxi 7, Tennessee 3
Box Score / Game Log
Via the Shuckers' website, game details: Martinez Grand Slam, Seven Innings from Myers Powers Biloxi to Sweep
24-year old 1B Ernesto Martinez (1-for-4, HR, 4 RBIs) has held his own since being promoted to AA Biloxi on August 7, playing excellent defense and coming into the game with a .262 AVG and .720 OPS at this level. That said, he was likely itching for his first home run and it came on a smoothly hit 1st inning grand slam, giving the Shuckers four runs before they'd even made an out. 
That's the Shuckers' seventh straight victory, but they need every one of them to keep pace with Montgomery for a playoff berth. Biloxi trails by a half-game with 12 games remaining, the last six of which will be a head-to-head series in Biloxi. You'll see many more video highlights at the Biloxi Twitter feed.
Shuckers' Extras:
Starting RHP Tobias Myers (7 IP, 3 R, 7 H, 1 BB, 7 Ks) started slowly, allowing the Smokies to claw back to 5-3 by the 3rd inning, then bore down to pitch four more scoreless innings – 93 pitches in total. Considering that this was his second start of the week (earning a Win on both occasions), this was a very encouraging outing, saving Manager Mike Guerrero from having to go to his hit-or-miss bullpen too early.
The outfield of (left-to-right) Carlos D. Rodriguez, Jackson Chourio and Lamar Sparks had a fun day, together going 7-for-14 with 3 RBIs. Of course, they'll want to do better on the basepaths next time (1-for-3 in stolen base attempts).
Bullpen: While RHP James Meeker (1 scoreless IP, one infield single 2 Ks,; 3.39 season ERA) is auditioning for a role at AAA Nashville next season, RHP Cam Robinson (1 scoreless IP, 2 singles, 2 Ks) has 30 teams looking at him as he approaches free agency this offseason.
Next week's outlook: Biloxi (67-58) stays on the road, taking on White Sox affiliate Birmingham (46-80), with RHP TJ Shook the odds-on favorite to start in Tuesday's opener.
Wisconsin Pre-Game Media Notes
Final: Wisconsin 6, Beloit 3
Box Score / Game Log
Via the Rattlers' website, game details: Wilken Leads Rattlers to Eighth Straight Win
Brewers' brass have to like what they're seeing from 2023 first round pick 3B Brock Wilken, as the 6'4" 21-year old appears entirely unfazed by his High-A posting: 4-for-4, HR, walk, 2 RBIs, 3 runs scored in this game to lift his season line (excluding ACL ball) to .307 AVG / .435 OBP / .465 SLG in 124 plate appearances. Of course, the two errors in the field were a downside in this game, but he's done a respectable job to date of manning third base. You can watch highlights of his big day here.
The win was necessary to remain three games back of red-hot Peoria for a playoff berth. Unfortunately, there are only six games left in the season and Peoria holds the tiebreaker advantage.
Timber Rattlers' Extras:
Starting RHP Edwin Jimenez (7 IP, 2 R (1 ER), 5 H, 1 BB, 7 Ks) is another 21-year old that the organization has to be smiling about, knowing exactly what he's giving them week-in, week-out. This was the fourth time that Mr. Jimenez reached thrown seven or more innings in his last six starts, three of which have yielded one earned run or less.
Of course, the team would have expected to plate more runs on a 12-hit day with five extra base hits, but instead went 4-for-15 with runners in scoring position, stranding 12 baserunners. Multi-hit games abounded: left fielder Hendry Mendez (double, 2 singles, RBI), DH Matt Wood (two singles, RBI), right fielder Joe Gray Jr. (double, single, RBI), C Darrien Miller (2 doubles).
Bullpen: RHP Tanner Shears (2/3 IP, 1 R) put himself into trouble by walking or hitting four of six batters faced in the 8th inning, but RHP Shane Smith bailed the team out with a 4-out Save: 1 1/3 IP, 0 R, 0 H, 1 BB, 1 K.
Next week's outlook: Wisconsin (58-66) comes home for its final series of the year, hosting Twins' affiliate Cedar Rapids (80-46), with LHP Nate Peterson (2.91 ERA, 1.15 WHIP, 11.4 K/9 in 43 1/3 IP) scheduled to start the first game of the series. You can bet that Manager Joe Ayrault will tell his players to treat these last six games as their playoffs.
Carolina Pre-Game Media Notes
Final: Carolina 7, Down East 2
Box Score / Game Log
Via the Mudcats' website, game details: O'Rae & Nicasia Lead Mudcats in Home Finale Victory
Starting RHP Will Childers (5 IP, 2 R, 5 H, 3 BB, 3 Ks) and the Mudcats had their work cut out for them against Rangers' number four prospect Brock Porter, so it had to feel great to grab a 1-0 lead which held up until the 5th inning. 19-year old center fielder Dylan O'Rae knocked that in that first run and was a thorn in the side of the Wood Ducks throughout: 3-for-4, RBI, run.
Unsurprisingly, the big 6th inning came after Porter had departed after just 55 pitches, with O'Rae starting the five-run frame with a bunt single. C Jose Sibrian's double gave Carolina its first lead at 3-2, then right fielder Kay-Lan Nicasia's (2-for-3, triple, double, walk, 3 RBIs) two-run triple gave them healthy breathing room at 6-2. 
Mudcats' Extras:
The victory keeps the Mudcats atop the second half division standings, three games ahead of Lynchburg with six games left to play. This would be Carolina's first playoff appearance in 13 years, so you can bet that the coaches and players will be raring to go next week.
What an outing by the Carolina bullpen of RHPs Jose Chavez, Bayden Root and Blake Whiting: combined 4 IP, 0 R, 1 H, 1 BB, 7 Ks! Chavez also grabbed his third Win of the season.
18-year old 3B Juan Baez (1-for-2, walk, SF, RBI, SB) and left fielder Tayden Hall (1-for-2, walk) each reached base twice to help the cause. However, there was an injury delay when Hall was walked and replaced in the 5th inning, so we'll have to watch his availability for next week.
Next week's outlook: Carolina (69-54) hits the road for its final series of the regular season, playing at Salem (in Virginia – 54-69 record) against the Red Sox's affiliate.
We hope that you enjoy the Minor League Link Report. All teams are off on Monday, so enjoy Brewers-Pirates at 5:35 CST.
Organizational Scoreboard including starting pitcher info, game times, MiLB TV links, and box scores
Current Milwaukee Brewers Organization Batting Stats and Depth
Current Milwaukee Brewers Organization Pitching Stats and Depth
1