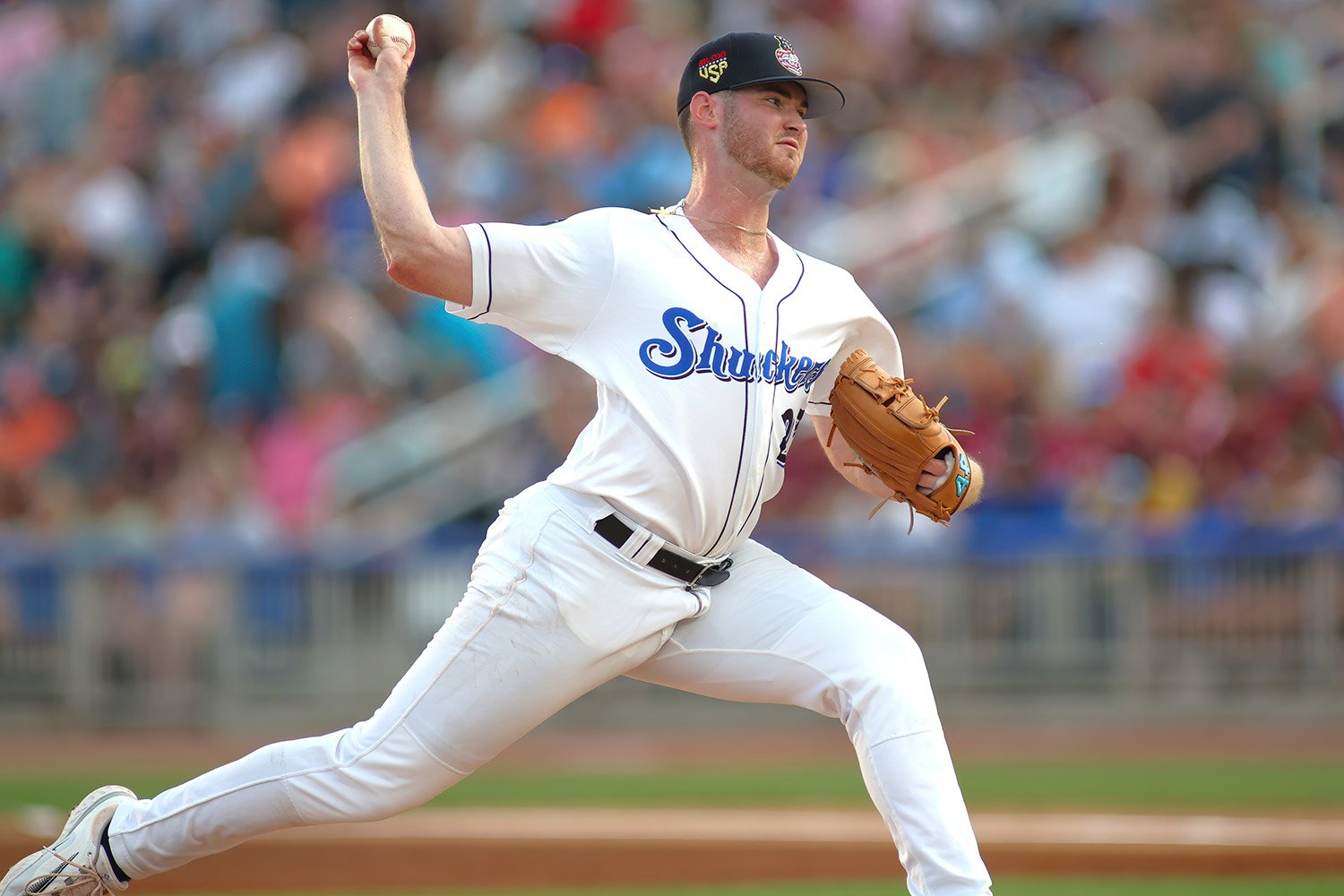 Image courtesy of Biloxi Shuckers & Mike Krebs - TJ Shook Pictured
Game Balls:
Transactions:
Highlights from the System at Large
Many great things happened amongst the affiliates in August. And, before Nashville's rough series at Durham this past week we were looking at possible post-season surges amongst every full-season squad. This has been the most exciting September in some time in Brewers Minor League land. Without further ado, let's take a look at some recent highlights throughout the system.
OF Jace Avina took home 'Player of the Month' honors and deservedly so. He's been discussed at length in the daily game threads of late and, as is often the case, the greater recognition came with it: 

Avina stayed hot, mind you, tonight. The young man has been absolutely fantastic in the second half: 

LHP Robert Gasser took home 'Pitcher of the Month' honors and, like Avina, deservedly so. In what has been a breakout season for the talented Gasser, he has played his best baseball throughout the second half. He has reached another level of potential in 2023 and we are here for it every start:
There are several other intriguing highlight packages at the Brewers Player Development Twitter page - highlights include RHP Alexander Cornielle's recent start at Beloit, RHP Logan Henderson's career record-setting 10 K performance versus Down East, the near combined 'No-No' from RHP's Joseph Hernandez and Stiven Cruz (also at Beloit), and Jackson Chourio's 14-game hitting streak. Check it out for more clips and intrigue.
---
Final:  Nashville 6, Memphis (Cardinals) 2
Box Score / Game Log 
 Game Notes
Via the Sounds' site, game details, please visit and review:
Newcomers Shine in Sounds Victory

With 18 games remaining in their regular season and trailing first place Durham and Lehigh Valley by 5 1/2 G, the Sounds are going to need a lot of help along the way. Regardless, if they keep winning games that will all figure itself out as the dust settles. After tonight's 6-2 victory over Memphis, the Sounds remained 5 1/2 GB of, now alone in first place, Durham. They can thank rehabbing RHP Julio Tehran and his impactful 5 IP, 1 H, 3 BB, 1 R (unearned), 3 K start. He handed the ball over to LHP Ethan Small with a 4-1 lead. Small wasn't as sharp as he has been for much of late but he held it together enough during his 3 K 1 2/3 IP. 
Three Quick Strikes:
1) As the post-game title alludes to above, all the newcomers contributed in this one. With Black's speed on the basepaths already well known amongst ourselves and within the system, it certainly appears they netted another speedster who can do some damage in newly acquired OF Greg Allen. It's not often you see men scoring so easily on sac flies like this one off the bat of Tyler Black. Apparently it won't take much to score him from the hot corner - notable for the Brewers pinch-running department: 
2) INF Cam Devanney has very quietly put together a 23 double 0.828 OPS season at Triple-A. It's quite the feat considering he started so slowly after a prolonged injury held him out of the early season. He finished his evening 2-for-3, 1 R, 1 BB, 1 2B. It isn't the breakout campaign I was hoping for before the season began, but it's telling his numbers are this good given he missed essentially the entire first month and is in an ongoing infield rotation. I don't know what's in store for Devanney moving forward, but he certainly hasn't hurt his case in any way in 2023. From the affiliated post-game article above (go ahead, click that link):
Quote

Cam Devanney extended his on-base streak to 20 games with a single to lead off the fourth inning. It is the sixth streak of 20 games or more by a Sounds player this season. Over the span, he is batting .308 (20-for-65), 10 runs, seven doubles, a home run, nine RBI, nine walks and an .854 OPS.
3) With the arrivals of Allen, Roller, and Donaldson this inevitably means (at least) short term playing time shifts for several other players. Something to watch moving forward is how this adjusts playing time for players like INF/OF Josh Van Meter, OF Skye Bolt, and OF Monte Harrison. One of the more unenviable tasks for managers at this level of Minor League baseball is apportioning playing time and ABs for the entirety of talent on the roster. Iron sharpens iron, they say, but maintaining consistent quality of production with spotty playing time is a challenging feat for any athlete. I don't envy this part of manager Rick Sweet's job - thankfully, he's quite adept at appeasing his players.
---
Final:  Biloxi 9, Birmingham (White Sox)  2
Box Score / Game Log 
Game Notes 
Via the Shuckers' site, game details, please visit and review:
Eight-Run Seventh, Six Shutout Innings from Shook Extends Win Streak to Eight

RHP TJ Shook was very good early. He struck out two (of his three total punch outs) in the second frame. Overall, he was inducing many weak fly outs and grabbed two key double play balls with his only two runners on base. With his curveball working beautifully, as alluded to above, he hurled a mere 55 pitches through six complete innings. It was a fantastic display. It was also a display that allowed manager Mike Guerrero to end Shook's night early - potentially pivotal as the season has a mere 11 games remaining - and save the most high-leverage arms in the bullpen. 
Three Quick Strikes:
1) Holding steadfast to a 1-0 lead, thanks to the above-mentioned shutdown work from Shook, the Shuckers broke it open early and often. It was a buffet of hard hit deep liners to the wall. First it was INF Zavi Warren who knocked in his second RBI of what became a four RBI night: 
But, things got really interesting after OF Lamar Sparks blasted a deep ball high off the right center field wall and it turned into a 3 RBI error-induced round tripper! 
The floodgates had officially opened. An eight-run inning was underway.
2) All nine Shuckers tallied a hit in this one. Six Shuckers got aboard multiple times. The breakout inning gave me shades of their torrid output earlier in the second half when runs were being scored at an astronomical rate. This divisional second half push between the Shuckers and Montgomery is truly a sight to behold. Let's hope the young men can keep dealing at Birmingham.
3) CF Jackson Chourio extended his hit streak to 15 games with his oppo-double smashed high off the right center field wall. It was a classic Chourio rocket that missed circling the bases by a mere 5-6 feet. He also picked up two more stolen bases pushing his season total to 39 swipes. It may be streaky in 2023, but, man, those streaks are eye-popping to say the least.  Sit back and enjoy the ride, folks. There is infinitely more to look forward to than there is to nitpick about with this young phenom.
---
Final:  Cedar Rapids (Twins)  6, Wisconsin 3
Box Score / Game Log 
Game Notes 
Via the T-Rats' site, game details, please visit and review:
Cedar Rapids Stops Wisconsin

I'm going to come out and declare on thing: this was the biggest loss of the Timber Rattlers season. With Peoria improbably losing game one at their ballpark, 6-3 to Beloit, the T-Rats had a golden opportunity to pull within 2.0 GB with five games to play. They squandered the opportunity. It was a tough pill to swallow and a hard game to witness.
LHP Nate Peterson was not sharp early in a crucial game one knock versus the juggernaut Cedar Rapids Kernels. He was missing the zone and extending counts and then throwing off-speed over the heart of the plate - not a good recipe for success in any inning in any game. It led to a ripped two-run homer over the LF wall and several very hard hit liners - the outing gave me shades of his second High-A start at South Bend. Miraculously, he escaped with only a two-run deficit after the first frame. And, even luckier for Peterson his teammates were able to muscle several weakly hit bloops for hits in the bottom half of the first to tie the contest at 2-2. There was sudden hope! All in all, Peterson struggled through 4 1/3 IP, 4 H, 5 ER (6 R), 4 BB, 3 K. He was done in, somewhat, by a rough error by 2B Robert Moore (more below) who sailed an attempted force out throw at second base into the shallow left field grass - it scored a run and advanced a runner to third base (who also scored). Regardless, it wasn't the start Peterson or his team needed and it severely wounded any thoughts of a miraculous run to the post-season.
Full Game Highlights: (Bless the T-Rats Media Team - we are truly spoiled)
Three Quick Strikes:
1) 3B Brock Wilken is on one. At one point in tonight's contest, Wilken had gotten on base in eight consecutive AB's over the past two contests - whether by hard hit knock or walk. As each game progresses, he just looks more and more the part in many more ways than one. I will be absolutely unsurprised if Wilken is promoted to Double-A Biloxi for their final series at Biloxi versus their first place competition in Montgomery (if the Rattlers should fail to make-up the unlikely ground on the Peoria Chiefs).
2) It hasn't always been pretty, and he's had two blow-up outings since his promotion, but RHP Miguel Guerrero continues to look night and day improved in his second High-A stint in the past two years. He is simply a more poised, a more experienced, and a calmer pitcher than he was in 2022. Guerrero is an imposing pitcher on the hill but he actually relies heavily on low 70's sweeping off-speed pitches as his bread and butter. He came to the hill tonight to spell Peterson after he saw runners on first and second in his fifth and final frame. Guerrero handled the work with skill and savvy - and, he did this after the umpires requested he toss the glove he's used all season into the dugout to use a spare. It was a very odd moment. Kudos to Guerrero for tossing the glove and the strange request to the wayside and escaping the inherited runner jam. It was a huge moment for the young hurler and I was extremely proud he ably met it.
3) 2B Robert Moore needs to be better if his team is going to make a serious run at Peoria  - especially with INF Mike Boeve's mysterious prolonged absence. In the limited action he received at 2B tonight, Moore just wasn't sharp. It's a shame - we all know Moore can play a very solid (and, sometimes spectacular) second base and we also know he filled in extremely well at shortstop during Eric Brown Jr's extended injury absence. Moore aided a run to score early when he forced a throw to second base trying to nail a lead runner and avail a double play ball in the next at bat. This gaffe - the throw sailed inside and then into the shallow left field grass - allowed the lead runner to score and the runner at first base to advance to third base. It's a fine play if you make it. If you don't? It leaves a sour taste in the mouth. Later in the top of the eighth inning, Moore also dropped an absolute dime in the base path from C Matt Wood. It prolonged RHP Sam Gardner's outing and it put another runner in scoring position when he should have been heading to the dugout. Moore ended the game with a first pitch weak pop fly to shortstop on the first pitch of his ninth inning AB with Mendez standing on first base in a 6-3 game. It was an appropriate ending to a very frustrating night.
---
Final:  Carolina 6, Salem (Red Sox) 1
Box Score / Game Log 
Game Notes  
Via the Mudcats' site, game details, please visit and review:
Mudcats Lower Magic Number to Two with 6-1 Victory

Facing MLB rehabber, RHP Zack Kelly, the Mudcats were patient and opportunistic early. INF Gregory Barrios led off with a four pitch walk. He then stole two bases and was sent home by a INF Dylan O'Rae groundout to shortstop. 
INF Jadher Areinamo then blasted a deep 96 mph triple high off the right field wall. A walk to 1B Jesus Chirinos saw men on the corners and Kelly's night was done after a mere 1/3 IP. C Jose Sibrian walked in five pitches facing the Red Sox's lefty reliever (2023 18th rounder) but OF Jace Avina grounded out hard into an inning ending double play. And so it goes. Avina got his later in the game. RHP Jesus Rivero was effectively wild (41 of 71 pitches thrown for strikes, 1 HBP). In past outings, Rivero would surely have walked more than one batter. Tonight, he showed the poise we need to see more of as the Mudcats push for the post-season: 5 IP, 5 H, 0 BB, 1 HBP, 4 K, 0 R. It was an even bigger performance if you consider he was sitting on a mere two-run lead throughout. And, he can thank C Jose Sibrian for nailing the lead-off runner in the third frame. Two batters later, Rivero gave up a triple. Sibrian is every pitcher's best friend.
Three Quick Strikes:
1) INF/OF Dylan O'Rae continues to impress on a nightly basis. You add his baseball skills and savvy to the massively underrated Jadher Areinamo's skillset and your baseball team is already cooking with gas. O'Rae has wheels for days so even with his size limitations he can track down most balls hit his way into the CF grass. Couple this with his already plus defense at 2B, his dangerous speed on the base paths, and his overall heady brand of baseball and he just improves and enhances the viewing experience. We can worry about adding muscle mass as he progresses. For now, I am absolutely just going to enjoy the player he already is. Interestingly, manager Victor Estevez has rewarded O'Rae with the second spot in the batting order while he plays around with INF Gregory Barrios in lead-off. It's an intriguing look
2) INF Jadher Areinamo missed out on further extending his Carolina League-leading double total to 27 in the first frame. He hit a triple instead. Everything is on the upward trajectory here - more hard hit line drives; more elevated launch angles; more XBH production. With the defense already upper-echelon, we are looking at yet another highly intriguing middle infielder in the Brewers system. Areinamo has already quadrupled last year's home run output and the season isn't over! <Looks at notes> Ok, fine. He only hit one long ball in 2022. 
3) Here's a Carolina League nugget for you - riffing off of Areinamo's League leading double tally: Carolina has three of the top ten Carolina League leaders in the double department. Who else adorns this hallowed wall? OF Jace Avina (22), who you might have guessed, and INF Gregory Barrios (20). And, then there's INF Luke Adams sitting just outside the top 10 with 18 two-baggers. I've been saying it for months, but there are many reasons why the Mudcats have been the most consistently enjoyable Brewers Minor League team to watch throughout 2023 - it would appear doubles play a part in that. Here's to many more to close out this regular season campaign.
Feel free to visit the Carolina Mudcats twitter page for a handful of highlights from tonight's game...
---
We are back at it tomorrow as game 2's commence in all four series - Nashville and Wisconsin continue their home cooking. Carolina and Biloxi look for continued comfort in distant locales. Wisconsin will start early in a matinee affair as LHP Aaron Ashby looks to extend his second rehab outing further into the game. LHP Brian Fitzpatrick will attempt to reduce Carolina's magic number further as the evening games begin. LHP Adam Seminaris grabs another start as he moves further away from his extended ACL rehab work - the Shuckers will need his best stuff as they look to keep pace with the Biscuits. And, RHP Evan McKendry will look to keep fine-tuning his stuff in hopes he won't surrender runs as his innings stack. McKendry has been brilliant at times but he's been somewhat shaky, from time-to-time the third time through the batting orders.
As always, thanks for reading and thanks for supporting Brewers Minor League baseball.
Think you could write a story like this? Brewer Fanatic wants you to develop your voice, find an audience, and we'll pay you to do it. Just fill out this form.
MORE FROM BREWER FANATIC
— Latest Brewers coverage from our writers
— Recent Brewers discussion in our forums
— Follow Brewer Fanatic via Twitter, Facebook or email
2