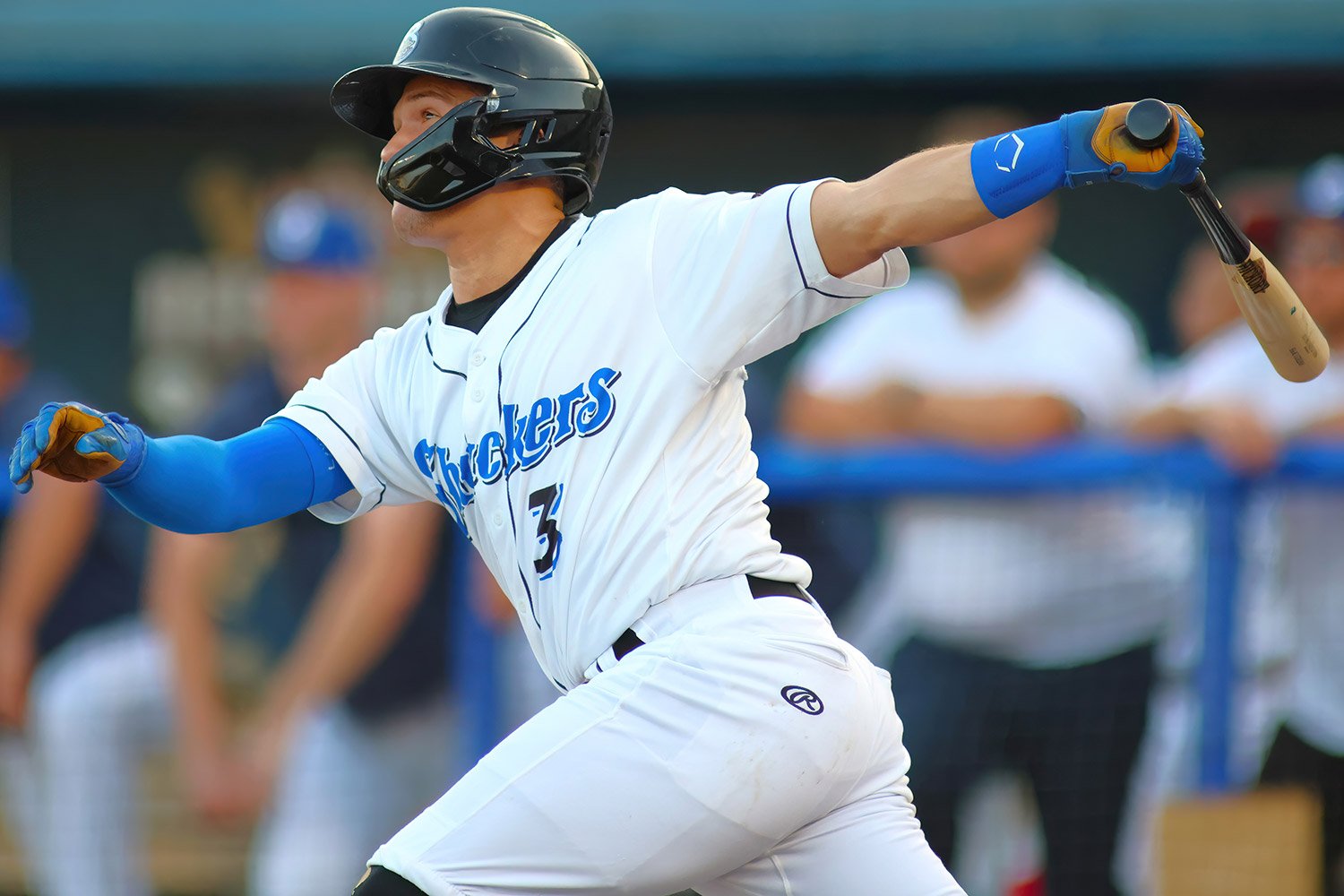 Image courtesy of Biloxi Shuckers & Mike Krebs - Isaac Collins Pictured
Game Balls:
Transactions:
LHP Clayton Andrews was optioned to the Nashville Sounds from the Milwaukee Brewers
The Milwaukee Brewers selected the contract of RHP Thyago Vieira from the Nashville Sounds 
---
Final:  Nashville 4, Memphis (Cardinals) 1
Box Score / Game Log 
Via the Sounds' site, game details, please visit and review:
Vihuelas Claim Victory Over Memphis
RHP Evan McKendry was simply put: fantastic. He put it all together tonight and then some pitching into the eighth inning. His final line read 7 1/3 IP, 2 H, 1 BB, 5 K, 1 ER. What an outing. When he came out to start the eighth frame I was quite surprised but he got that first out in just six pitches and his night ended after 101 pitches total. I opined in the daily Game Thread, McKendry's Achilles' heel to date with the Sounds had been his third time through opponent's batting orders. Tonight, he laid that to rest. And, unfortunately for the Sounds, the red hot Durham Bulls won their fifth straight so they remain 5.5 GB the second half crown with 16 games to play. That series in Durham still weighs heavily on their chances.
Three Quick Strikes:
1) 3B/1B Tyler Black (first base tonight - an error tonight...every base is a work in progress) was once again wreaking havoc on the base paths. He walked three times. He stole two bases. He forced an uneasy throw from deep shortstop in what could have been a double play ball and scored on the play standing up as the ball went into shallow CF. He's a disruptor. He is definitely still adjusting his swing mechanics during a prolonged drought (by his standards) but he is still impacting games in very positive ways. 0-for-1, 1 R, 3 BB, 0 K for his final line.
2) The key hit in this one was DH Abraham Toro's muscled bloop liner two-run bases loaded double down the RF line in the bottom of the fifth frame. This gave the Sounds their first lead of the game (2-1) and it was the turning point. Toro continues to provide value on nearly every night he plays - whether with the Brewers or the Sounds. He's definitively been one of the revelations of 2023. I don't take his steady work for granted. From the post-game article above:
Quote

Abraham Toro extended his on-base streak to 25 games with a two-run double. He is hitting .384 (38-for-99) with 20 runs, 14 doubles, three homers and 18 RBI during the streak dating back to July 9.
3) It's definitely early, but I certainly don't see anything from recent veteran signee 3B Josh Dondaldson to indicate he is worthy of taking AB's from other worthy call-ups or rostered Brewer players. I am seeing quite a bit of softly hit balls. I am seeing a late-30's player running the bases. It may be a feel good 'what if' storyline, but, at this point, it would be forcing the issue if he were to take AB's from other candidates. This is my humble opinion and nothing more. He went 0-for-3 tonight with a free pass.
---
Final:  Biloxi 6, Birmingham (White Sox)  4
Box Score / Game Log 
Game Notes 
Via the Shuckers' site, game details, please visit and review:
Career-High Four RBI from Isaac Collins Leads Shuckers to Ninth Straight Win
You wouldn't know it looking at the box score, but LHP Adam Seminaris was sitting on a 1-0 lead and was casually working through 1 2/3 IP and empty bases. It all briefly fell apart from there. Sadly, this is what I was witnessing before the prolonged injury absence and the ACL work. The worst of the four-run Barrons rally was an 0-2 count devolving into a walk and C Jeferson Quero's botched throw to 1B on an absolute dribbler up the first base line. All in all, it was just an ugly sequence of two out defensive baseball in the bottom of the second inning. A pitch count of 13 had ballooned to 45. Yes, that kind of ugly. However, we do certainly give Seminaris credit for calming everything down after that ill-fated second inning. He managed to go three more with a final showing of 5 IP, 6 H, 1 BB, 2 K, 4 ER, 1 WP, 1 HBP. It could have been a lot worse and it certainly could have been a lot better. He'll look to polish things up for his next go-around.
Three Quick Strikes:
1)  CF Jackson Chourio has begun this Birmingham road series in a very quiet 1-for-9 showing at the dish. In the long slog of a full baseball season, this isn't the first time we've seen a slow start in a series from Chourio. Regardless, he is obviously always a dangerous threat. We sit back and hope he can find that roaring contact we've all grown to love. He was covering plenty of ground and safely corralling outs throughout, so the defense was still dialed in. But, let's call a spade a spade here early: lots of swings and misses and many an out off casual contact.
2) RHP James Meeker is a high-leverage relief pitcher - middle innings or late it really doesn't matter. He's really really good in this role. I sincerely hope the entire Brewers organization learned this during the ongoing struggles he faced as a fill-in starting pitcher. A spot start here and there? Sure. Absolutely. But, let's not get goofy beyond that. Meeker once again filled a key shutdown role in a tie ball game and, honestly, he made it look easy. Please, oh please, Brewers leave this young man where he belongs: high leverage relief innings. He picked up the win in his 1 IP, 0 H, 0 BB, 1 K eighth inning work.
3) Tenured Brewers Minor League fans might be wondering why INF Felix Valerio's playing time is so sparse in 2023. I will simply offer it's because INF/OF Isaac Collins has been the better complete player. It's just the plain honest truth and, as a result, Valerio has become a back-up or spot player for Biloxi. Collins has done everything we've wanted Valerio to do and then some and on a much more consistent basis. Tonight was absolutely no different. Actually, if you want to go an easy step forward: one could argue Collins should be in the candidate pool for the Shuckers MVP. He hit the game-tying two-run homer. He hit the game-winning two-run single in the top of the ninth. Winning players make winning plays. Collins does this on a nightly basis. 3-for-4, 2 R, 4 RBI, 1 BB, 0 K, 1 HR. Money.
---
Final:  Cedar Rapids (Twins)  4, Wisconsin 1
Box Score / Game Log 
Game Notes 
Via the T-Rats' site, game details, please visit and review:
Kernels Take Game Two from Wisconsin
The lackluster post-game article title says it all. It was that type of game. Wooof. I said it after game one and it absolutely remains true: the Kernels are entirely too good to be gifted anything. Well, OF Hendry Mendez dropped a routine fly ball right off the bat and gave the Kernels two free bases. With C Darrien Miller repeatedly struggling to catch rehabbing LHP Aaron Ashby's tailing off-speed arsenal, it just didn't look good. Ultimately, it was another T-Rats stinker against the best team (by a decent margin) in the Midwest League. Ashby was quite low in the velocity department but upon review (and after listening to the post-game podcast) it would appear he is intentionally working on movement and action over letting it fly. I saw primarily off-speed deliveries. It certainly looked as though he was intentionally holding back. If he wasn't? Well, then we certainly have a 'problem' on our hands. When all was said and done, Ashby only managed 1 2/3 IP, 1 H, 2 BB, 1 WP, 2 K, 1 ER (2 R). He only threw 33 pitches in his slow road back to reclaiming his prior MLB form.
Post-Game Podcast:
Full-Game Highlights:
Three Quick Strikes:
1) What was once such a promising ascending young prospect storyline has become one filled with question marks in 2023. OF Hendry Mendez committed his seventh error of his season when he dropped a very catchable ball in the first inning - it led to the Kernels first run. This isn't the first time Mendez has struggled making a routine play with the glove in the outfield grass. In 2022, before the very scary injury running into a RF brick wall (literally), Mendez looked like a possible uber-talented bat-to-contact lead-off hitter with the frame to develop into some intriguing pop. However, after battling through another unfortunate injury in 2023 Mendez has fast become an 2023 AFL candidate with the hopes of rekindling his promise. He's had his moments in 2023, for sure, but they've really only been moments. Let's hope he can reclaim that former promise-filled glory.
2) One of the most humorous thoughts I've had during the early stages of this season-ending serious versus the talented Cedar Rapids Kernels is: Brock Wilken looks like a Kernels player. If you haven't watched this Cedar Rapids squad let me just share: they are almost universally big, athletic, and uber-talented. Wilken fits that bill. He's just a guy I have come to expect to show up and produce every single game. When this series ends, and the T-Rats season likely ends with it, I fully expect Wilken to get the brief call-up to Biloxi to help their playoff push. He's every bit the Double-A player. I honestly don't think he'd skip a single beat - the young man is absolutely that good.
3) Witnessing a second consecutive woeful offensive performance, I'm going to tip one out for the continued resurgences of RHP's Cam Wagoner and Nick Merkel. These young men absolutely dug deep and gave us their best stuff as the season progressed. Both imposing hurlers rely on the impact of their off-speed arsenals and both young men have fine tuned these pitches over the past two months. Their best outings and their greatest impact has arrived when the games counted the most. These are extremely encouraging signs. I've become steadfast fans of both righties. Here's hoping they keep ascending!
---
Final:  Salem (Red Sox) 8, Carolina 3
Box Score / Game Log 
Game Notes  
Via the Mudcats' site, game details, please visit and review:
Barrios Blasts First Homer in 8-3 Loss in Salem
LHP Brian Fitzpatrick has been very good since his promotion to Low-A Carolina from the ACL. Tonight was definitely not one of these 'very good' outings. He began his night by giving up a three-spot in the very first frame. His squad was already in a decent hole. He gave up another run in the second frame. He gave up two more in the third. It was 6-0 at that point and his evening was over after just 3 IP - 8 H, 2 BB, 3 K, 6 ER. He'll look to rebound if the Mudcats find their way into the post-season. And, the optimist in me absolutely sees Lynchburg losing 12-3 tonight. The post-season magic number is ONE. ONE Mudcats win or ONE Lynchburg loss and we are playing game 1 in Zebulon. Stay thirsty Mudcats! It's right there for the taking. Let's end the drought.
Three Quick Strikes:
1) As the post-game write-up title reveals: INF Gregory Barrios hit his first Low-A long ball and it was an absolute muscle shot over the LF wall. It was a sight to behold as he took the inside riding pitch and somehow pulled it over the wall in left field. Let's take a look:
2) INF Luke Adams looked every part of the 0-for-3 and 2 K evening at the dish. With the promotion of Baez, Adams has seen his playing time cut into. He has fallen off some in the past month so this isn't all that surprising. However, if the Mudcats are going to try and make some noise in the Carolina League playoffs they are going to need all hands on deck. It's very fair to say Adams is in a mini-funk. Let's hope he gets back to what was working throughout the heart of this 2023 season.
3) Outhit 12-to-4. 1-for-9 with RISP to the Red Sox's 5-for-17. Yet, the Mudcats still walked five times and managed to swipe four bases (hence 1-for-9 with RISP on only four hits). They certainly had their opportunities but this was Salem's game to take from the get go. And, take it they did. It's on to the next. The Mudcats can seal their post-season birth tomorrow. Let's root them on!
---
Very enticing game three pitching match-ups across all levels tomorrow. RHP Yorman Galindez will begin things at Salem for the Mudcats. LHP Robert Gasser brings his skills to the mound in Nashville hoping to boost the Sounds to a 3-0 series lead. RHP Joseph Hernandez looks to build off his recent combined effort in the T-Rats most recent near 'No-No' as he also looks to help chip away at their 0-2 series deficit. And, in Biloxi RHP Carlos F. Rodriguez will look to dominance once again and push the Shuckers lead over the Barrons to 3-0. Lots of skilled arms on the hill.
As always, thanks for reading and thanks for supporting Brewers Minor League baseball.
Think you could write a story like this? Brewer Fanatic wants you to develop your voice, find an audience, and we'll pay you to do it. Just fill out this form.
MORE FROM BREWER FANATIC
— Latest Brewers coverage from our writers
— Recent Brewers discussion in our forums
— Follow Brewer Fanatic via Twitter, Facebook or email
1