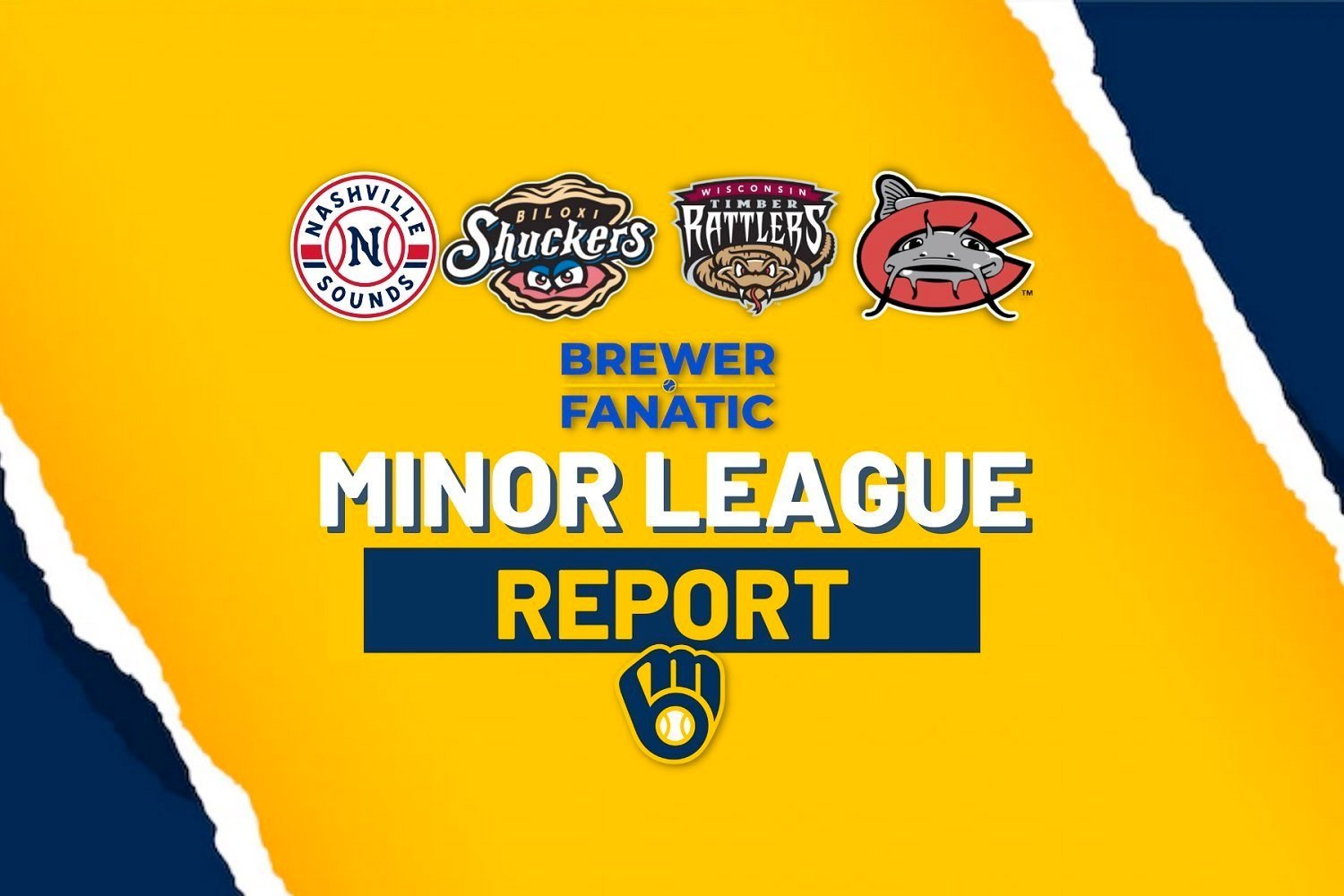 Image courtesy of Brewer Fanatic
Transactions:
RHP Miguel Segura was placed on the 7-Day IL by the Carolina Mudcats
RHP Logan Henderson has officially been assigned to the Carolina Mudcats (previously, he was in Carolina on a 'rehab assignment')
RHP Jeison Pena was assigned to the Carolina Mudcats from the Wisconsin Timber Rattlers
INF Cam Devanney was promoted to the Nashville Sounds from the Biloxi Shuckers
INF Ethan Murray was promoted from the Wisconsin Timber Rattlers to the Biloxi Shuckers
INF Mike Brosseau was sent on a rehab assignment by the Milwaukee Brewers to the Wisconsin Timber Rattlers
A big congratulations to RHP Carlos F. Rodriguez and his Midwest League 'Pitcher of the Week' honors. This is the second week in a row for the Timber Rattlers pitching staff (RHP Stiven Cruz took last week's, if you recall). 
And, lastly,  before we get you into the game recaps, here's a quick glimpse at the tantalizing recent outing from RHP Logan Henderson. Now that he's officially assigned, might we be afforded one last longer outing and look his final time on the hill in 2022? Will we see him in the AZL as he builds his arm and game back up?
---
Nashville Pre-Game Media Notes                                                             
Final: Charlotte (White Sox) 4, Nashville 0
Box Score / Game Log                                                                                            
Via the Sounds' site, game details, please visit and review: 
Sounds Shutout by Charlotte in Series Opener - Joey Wiemer's Seventh Inning Double the Only Hit for the Sounds
The Sounds postgame write-up says it all.
After three consecutive fantastic series versus three top teams in the International League - two on the road and one at home - perhaps an egg was destined to be laid. Either way, an egg was absolutely laid on the road in Charlotte tonight. The Sounds put forth their worst effort in some time with uninspired play and sloppy play. We'll toss this one up to 'excellence fatigue'. With Columbus' loss to the Lousiville Bats, they'll even hold on to their 4 1/2 game lead on the divisional leader board. How about that?
Three Quick Strikes:
1) Through 5 IP, the stat line read: Nashville 0 H, Charlotte 1 H. 0-0. It was most definitely a Tuesday snooze fest of a game in Charlotte. Now, this being said, Charlotte has been using the Minor League '3 Challenge' option for teams the entire second half of the 2022 season - something in use in the PCL in 2022 as well. I have to say, the ability to challenge balls and strikes from the dugout is awesome. The feedback is near instantaneous because it uses an on-demand automated strike zone. I love this and hope to see more of it in the future. Both teams tested it out with mixed results.
2) Joey Wiemer, as noted in the article above, grabbed the sole Sounds hit in the unlikely outcome in game 1. However, what isn't mentioned in that byline is his ongoing BB:K improvement. When Wiemer left Biloxi he had a fairly unimpressive 113: 34 K:BB ratio. He was trending in the direction of a classic: 'all or nothing hitter'. However, in his limited exposure in Triple-A (101 AB's after tonight's contest) he's knocked that ratio down to a very respectable 25:13 ratio (K:BB). He has gone on record in interviews with Jeff Hem stating he's working on identifying and waiting for his pitches. This would certainly seem to validate these statements in the early going. Boy, what a development this would be. Also, look at this hit. My goodness:
3) I'm not going to discuss the ugliness I witnessed in the bottom of the seventh inning. I refrain. I'm taking a mulligan! Rather, I will simply share: the Columbus Clippers also lost this fine evening. The Sounds maintain their 4 1/2 game division lead. That's all we'll take from this snoozer. On to the next:
---
Biloxi Pre-Game Media Notes                                                                         
Final: Mississippi (Braves) 13, Biloxi 2
Box Score / Game Log                                                                                      
Via the Timber Rattlers' site, game details, please visit and review:
Early Runs too Much to Overcome for Shuckers in Opener - Valerio Records Multi-Hit Night
Three Quick Strikes:
One team had 13 runs on 13 hits. The other team had two runs on 11 hits. This game was essentially over after RHP TJ Shook gave up eight earned runs on eight hits and five walks in 2 IP. And, well, apparently that was a wrap. Naturally, RHP Arnaldo Hernandez had to remind us of his second half melt down giving up four runs of his own late on 2 1/3 IP, 5 H, 3 BB. I am grateful he gave us a clean sheet, however, in the past week - they've been few and far between.
1) I want to talk about the digression I've seen in RHP TJ Shook's time in Biloxi. Firstly, his promotion was absolutely earned and, speaking for myself, I know he is an extremely talented pitcher. He took that promotion and crushed it in the early going. However, what I've seen all too often in his second half in Double-A is a strange departure from his best stuff. I don't know what has gone on or what is going on - it could be fatigue, it could simply be a funk, it could be the muggy Southern air...it could be any number of things. But, he is too talented a pitcher to let outings like this become the norm. What I saw tonight was entirely too much flat, minimal-movement, hittable stuff. This isn't what we were seeing in his best outings in Wisconsin. I want to remind all of us of what we were seeing regularly in High-A. This is what I expect when he takes the hill : 
2) RHP Robbie Baker continues his second half surge while he continues to put up solid innings for Mike Guerrero and his Shuckers teammates. After 1 1/3 IP of scoreless work (1 H, 0 BB, 2 K) he lowered his Double-A ERA to 2.70 in a very small sample of 6 2/3 IP over five games. However, what I notice is the 7:1 K:BB ratio and the 0.217 BAA and 0.90 WHIP. I alluded to this at the halfway mark when Robinson was promoted: he'd have to step up. This is what is in his pitching toolkit. He has power, movement, and competitiveness for days. I am absolutely thrilled he is getting these results early.
3) Felix Valerio, Garrett Whitley, Yeison Coca, and Zavier Warren all had two hit evenings. However, when those hits aren't strung together they fall on deaf ears on the scoreboard. All in all, just another in a long line of frustrating games for Biloxi. Frankly, after the top of the third inning I turned it off and headed north to watch the T-Rats finish their game at home. I have rode the Double-A Shuckers seesaw all season. In these final moments, I most likely need relief. Here's hoping they can give us one or two more games of excitement. 
---
Wisconsin Pre-Game Media Notes                                                                    
Final: Wisconsin 13, Beloit (Marlins) 0
Box Score / Game Log                                                                                         
Via the Timber Rattlers' site, game details, please visit and review:
Wisconsin Records 13-0 Shutout to Beat Beloit - Quero and Acosta Homer; Schanuel and Mort Combine on Four-Hitter
Full Game Highlights: 
13 runs on 13 hits. With the win tonight, the T-Rats moved to 221-218 versus Beloit all time in their ongoing series (since 1995). I'm sure each and every one of you is going to update your Minor League ledgers. Right? I kid. I kid. This was actually a 3-0 game headed to the fourth frame. And, well, it certainly got away from Beloit from there. RHP Brady Schanuel continues to perform admirably in his fill-in starting pitching role - if he could cut down on his free passes, he'd really be on to something. Regardless, he gives manager Joe Ayrault everything he needs and more while filling what had become a troubled spot in the Timber Rattlers starting rotation. 
Three Quick Strikes:
1) It's Jeferson Quero season, folks. It truly is. What we are witnessing in his development as a young catching prospect is nothing short of remarkable. I've watched him all season and the ongoing evolution of his plate appearances is a sight to behold. The confidence is palpable. The swing has power to all fields. And the production is undeniable. He hits his 3rd home run in a Timber Rattlers uniform tonight - a two-run blast over the wall in left field:
2) After he lined out to left field at 106 mph of the bat earlier in the game, I wondered what OF Jackson Chourio would do with two men on base and the T-Rats clinging to a 3-0 lead. How about a 97 mph rope (essentially a one-armed shot - his bat drops in his follow-through) past the leaping third baseman? As always, thank you @Smichaelis9 for capturing these gems - truly appreciated: 
3) Let's go ahead and recognize RHP Zach Mort's fine close-out piggyback work in tonight's contest. He shuts the door entirely going 5 IP, 3 H, 0 BB, 5 K. This was, perhaps, his finest and most effective outing of the 2022 season. The T-Rats appear to be pairing Schanuel with Mort to close the season, and, it's hard to argue with results like tonight's. A fine way to end a season.
---
Carolina Pre-Game Media Notes                                                                     
Final:  Myrtle Beach (Cubs) 5, Carolina 4
Box Score / Game Log                                                                                                            
Via the Mudcats' site, game details, please visit and review:
Carolina Eliminated from Playoffs with 5-4 Loss in 10th - The Mudcats Fell 5-4 in the Tenth in Tuesday's Series Opener
Other than two hanging breaking balls (perhaps a portent to the ugly outing we witnessed by LHP Taylor Rogers in Colorado - I digress ?), RHP Arielbi Gonzalez should feel good about his outing. He finished his night with 5 IP, 4 H, 1 BB, 1 K, 2 HR. LHP Pablo Garabitos gave his patented multi-inning shutdown performance - he was ultimately let down by a rare Robert Moore error in the 10th inning and he, sadly, took the loss. It was a comeback that fell short, as did the Mudcats improbable playoff push. All in all, however, 2022 has been a major success in Low-A for the greater Brewers organization. I tip my cap to the fine work of manager Victor Estevez in his first full season stateside. Incredible work.
Three Quick Strikes:
1) Considering what we've seen offensively from 1B Jesus Chirinos since his late June birthday, I would propose we consider giving him two every season. He finished his evening 2-for-3, 1 R, 3 RBI, 2 BB, 1 K, 1 HR, 1 2B. There's a reason he's taken the clean-up spot on a consistent basis. Let's take a look at his raw power - power he's just developing, I would propose, given his unorthodox lead foot work:
He followed that up with an absolutely crucial game-tying double over the very talented 6'6" 20-year-old Kevin Alcantara in center field:
2) In 30 1/3 IP since August began, LHP Pablo Garabitos has conceded just two earned runs. He has a 32:4 K:BB ratio. He has given up a mere 18 hits and a mere three walks. He has hit one batter. He has given up zero home runs. He's as crafty as they come. I, for one, am very much looking forward to seeing him start 2023 in Wisconsin. He gave his team yet another chance to take a victory with 4 2/3 extremely effective innings tonight. Unfortunately, the Mudcats couldn't send the winning runs home.
3) We were mostly told Eric Brown Jr. was a 'contact hitter' by draft experts as he came into his first Minor League action in Low-A. To date, what I've seen is a hitter who consistently puts hard wood on balls - lots of power and exit velocity in the kit. We're also seeing he has quite a bit of base stealing savvy on the base paths. Tonight, he added another successful swipe into his stat ledger and now has 11 steals in just 16 games for Carolina. He has 15 steals overall between the ACL and Low-A and only been caught stealing twice in just 23 overall games.  This is a big weapon in his skillset. 
---
That's a wrap for me in what was mostly an extremely frustrating night across the entire organization. I wrote this report just long enough to watch the Brewers blow a 6-1 lead in the 8th inning and then lose it in the 10th in ugly fashion. Coupled with the Sounds game, that was a wee bit too much violence below the belt for my liking. So, we're back at it tomorrow and I give a huge thanks to the Timber Rattlers for pounding out a 13-run victory to assuage any pangs of frustrations we fans may have experienced. I'm personally hoping RHP Israel Puello can build off his first solid outing in weeks his last time out in tomorrow's game two in Wisconsin. Let's go for stacked success! Thanks for reading and thanks for supporting these young men as they chase their dreams.
Organizational Scoreboard including starting pitcher info, game times, MiLB TV links, and box scores
Current Milwaukee Brewers Organization Batting Stats and Depth
Current Milwaukee Brewers Organization Pitching Stats and Depth
Think you could write a story like this? Brewer Fanatic wants you to develop your voice, find an audience, and we'll pay you to do it. Just fill out this form.
MORE FROM BREWER FANATIC
— Latest Brewers coverage from our writers
— Recent Brewers discussion in our forums
— Follow Brewer Fanatic via Twitter, Facebook or email
1