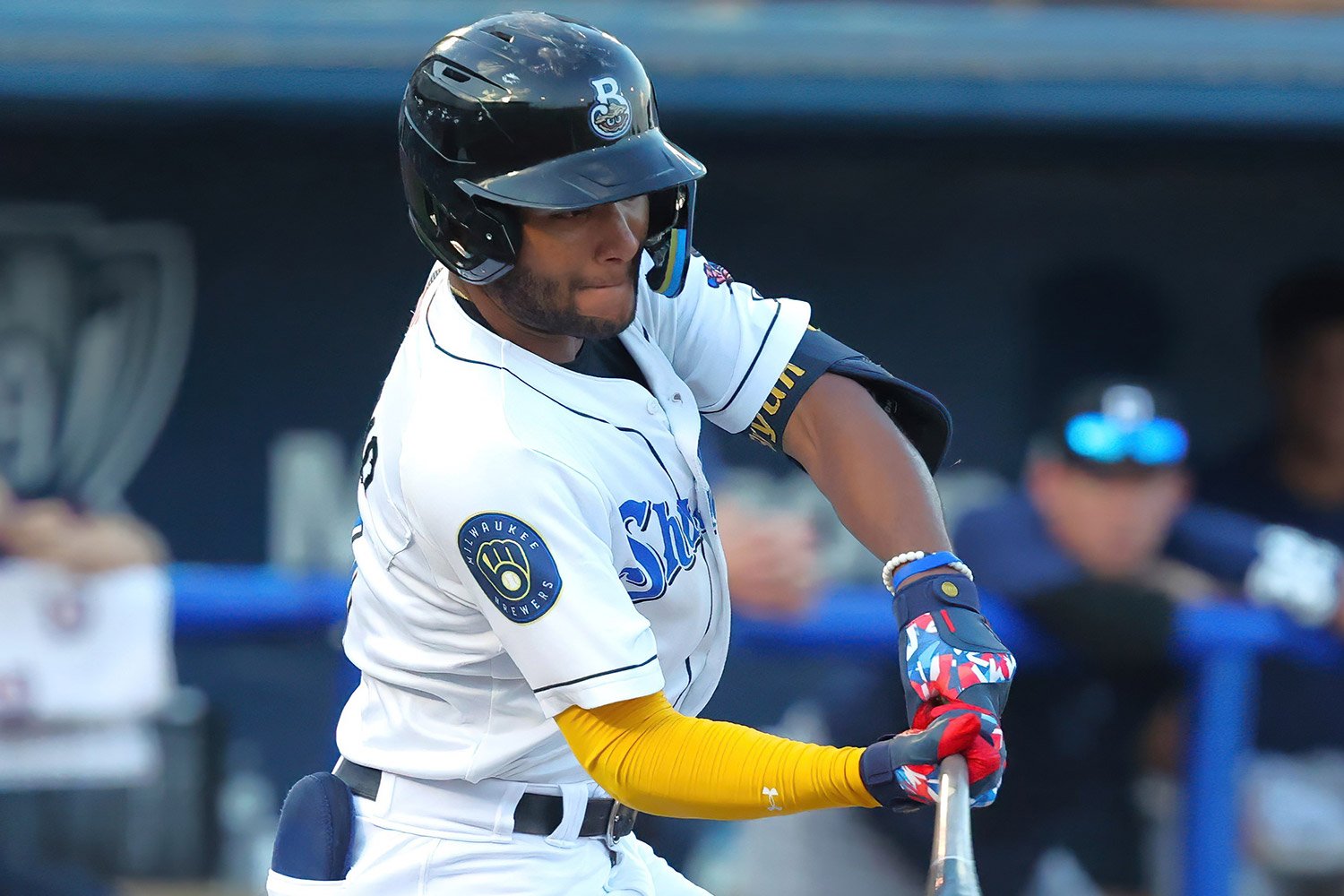 Image courtesy of Biloxi Shuckers & Mike Krebs - Jackson Chourio Pictured
Transactions:
As always, you'll find more information about the three departing players in our minor league transactions thread and we wish them all success in future endeavors.
Game Action:
Nashville Pre-Game Media Notes
Final: Nashville 7, Memphis 6
Box Score / Game Log
Via the Sounds' website, game details, and we encourage readers to review the affiliate write-up as part of their Link Report routine: Sounds Erase Six Run Deficit, Walk Off Redbirds
This is one of those memorable victories which can stay with players for a long time: down 6-0 in the bottom of the 7th inning, 5 ½ games out of a playoff spot with about 15 games to go on the season, the Sounds' offense finally came alive, starting with a C Brian Navarreto walk, escalating with 1B Abraham Toro's bases clearing triple and rightfully concluding with right fielder Monte Harrison's walk-off single. 
Sounds' Extras:
LHP Robert Gasser (4 2/3 IP, 4 R (3 ER), 7 H, 3 BB, 5 Ks) had a strong first two innings (no runs, 2 Ks, one infield single, one outfield single), before giving up two runs on three hits in the third frame, then another two runs (one unearned) on two hits and two walks in the 4th inning. He'll look forward to better outings over the final two weeks of the season.
While Brewers' brass obviously knows best, I'll forever wish that Toro (playing first base in this game) had been given more opportunity to play infield in MLB while having a hot bat, similar to how OF Mark Canha's bat makes his outfield play tolerable. Toro came through with a game-changing hit on Wednesday, threw out a runner at home in the 4th inning of this game to keep it a 4-0 scoreline, then had the clutch triple with 2 outs in the bottom of the 8th inning to even the score 6-6. Simply put, Mr. Toro knows how to win.
Other notes: The Sounds' patient offense drew 9 walks (three by center fielder Chris Roller, two by Jones, two by DH Josh VanMeter) and seven players collected at least one hit, with Harrison (3-for-5, RBI) having one of his best days of 2023. In the field, two errors (3B Tyler Black, left fielder Jahmai Jones) didn't help the cause. And two of three bullpen arms conceded runs, with RHP JB Bukauskas (1 IP, 0 R, 0 H, 0 BB, 0 Ks, Win) coming through with a three-up, three-down 9th inning as he aims to earn another shot with the Brewers. 
Friday's outlook: RHP Janson Junk gets the start as Nashville seeks a series-clinching fourth straight victory.
Biloxi Pre-Game Media Notes
Final: Biloxi 18, Birmingham 1
Box Score / Game Log
Via the Shuckers' website, game details: Shuckers Tear Open Record Books for 10th Straight Win
Biloxi let it be known far and wide that they intend to chase down Montgomery (winning elsewhere) for the final playoff spot, setting records across the board (runs, hits, etc.) as articulated in the article link above. Every Shucker notched as least one hit during this incredible performance.
It's an amazing day when you can strand 14 runners and not be sad about it, as Biloxi went 11-for-29 with runners in scoring position while plating 18 runs. SS Ethan Murray (4-for-5, double, walk, 2 RBIs) reached base five times, while OF Carlos D. Rodriguez (4-for-6, 2 doubles, 2 RBIs), C Wes Clarke (1-for-4, HR, 3 walks, 3 RBIs) and 3B Zavier Warren (3-for-5, HR, walk, 3 RBIs) reached base four times each.
Catch this and many more video highlights from the offensive barrage at the Shuckers' Twitter feed. 
Shuckers' Extras:
Of course, with Carlos F. Rodriguez (6 IP, 1 R, 2 H, 2 BB, 1 HBP, 5 Ks) on the mound, this wasn't necessarily the day that the team needed offensive records to be broken, but I digress. Rodriguez ran into minor trouble (for him) when the bases were loaded in the 1st inning with big stick Tim Elko (26 homers this year) at the plate, but he only needed four pitches to strike him out swinging.
The game was 8-1 when Rodriguez handed over to the bullpen, but let's not diminish their excellence: LHP Luis Amaya, RHP Ryan Brady and LHP Russell Smith combined on three shutout innings, conceding one hit, one walk and striking out five batters. It's great to see the bullpen rounding into shape just in time for next week's season-ending series against Montgomery.
The article notes 19-year old center fielder Jackson Chourio (1-for-4, SB) joining the 20-40 club by stealing his 40th base, but doesn't mention him being substituted a half-inning later. We trust that this was simply a breather for the teenage sensation. 
Friday's outlook: RHP Christian Mejias gets the opportunity to lead Biloxi to an eleventh consecutive win, which they need in order to make up the 0.5 game deficit behind Montgomery.
Wisconsin Pre-Game Media Notes
Final: Wisconsin 11, Cedar Rapids 6
Box Score / Game Log
Via the Rattlers' website, game details: Rattlers Get a Fast Start to Beat Cedar Rapids
As always for home games, enjoy extensive video highlights and the insightful post-game podcast.
Facing 82-46 (now 47) Cedar Rapids, the Timber Rattlers were undoubtedly aware that their early 7-0 lead may not be enough, thankfully adding pairs of runs in the 5th and 7th innings to keep the Kernels at bay. Credit C Matt Wood (2-for-4, 3 RBIs) for contributing in all facets:
Singled in two runs to extend the lead to 3-0 with two outs in the 1st inning

Threw out a baserunner when Cedar Rapids got two aboard to start the 5th inning

When the Kernels cut the deficit to 7-5 in that rough 5th inning, Wood singled in another run in the bottom half to increase the lead back to 8-5 
Timber Rattlers' Extras:
Friday's outlook: RHP Alexander Cornielle starts tonight, as Wisconsin strives to even their final series of the season 2-2.
Carolina Pre-Game Media Notes
Final: Carolina 5, Salem 1
Box Score / Game Log
Via the Mudcats' website, game details: Mudcats Win Second Half Title With 5-1 Victory
Let's start with the joy of reaching the postseason for the first time in 15 years, with right fielder Kay-Lan Nicasia making the final diving grab: 
The 5-1 final score doesn't capture the tension of the game being scoreless through six innings, with both pitching staffs dominating up to that point. 20-year old starting RHP Yorman Galindez (5 IP, 0 R, 1 H, 2 BB, 9 Ks) was sensational, only allowing an infield single and two walks in his five innings of work.
With so many young, wiry, speed-first players coming through the system, it was fun to see slightly beefier 1B Jesus Chirinos (3-for-4, double, 2 runs) and C Jose Sibrian (1-for-2, 2 HBPs, RBI) get big hits (or an HBP) in the 7th and 8th innings to break the scoreless deadlock and add necessary insurance runs. 
Don't forget to enjoy the post-game interview with winning Manager Victor Estevez.
The win clinches the Carolina League North second half title for the Mudcats, giving them a home playoff game against Down East on Tuesday next week before heading to the Wood Ducks' home for two games. Victory in that best-of-three series would lead to another best-of-three against the Carolina League South winner. Yes, this means that four wins are required next week to capture the league title. 
Mudcats' Extras:
RHP Yujanyer Herrera entered in the 6th inning and grabbed the Win, but there was a nervous moment with the game 3-1 with two baserunners on in the bottom of the 7th inning which he escaped via flyout. RHP Chase Costello similarly faced some tension by walking two of three batters in the 8th inning, before Nicasia caught the second out and doubled a runner off base. RHP Bayden Root (just his 7th game as a Brewer) didn't face any difficulty in retiring all three batters to close out the win.
For Carolina, Chirinos has established himself as their most potent bat, collecting the team's first hit in this game (4th inning single), but that made the end of the 6th inning all the more frustrating when 2B Jadher Areinamo was thrown out attempting to steal third base with Chirinos at the plate in the 0-0 game. Thankfully the Mudcats held firm and Chirinos' 7th inning leadoff double got the offense going.
It was truly a team effort, with seven Carolina players collecting hits, while those who didn't hit still had key contributions: Nicasia walked and had two key defensive plays, left fielder Jace Avina had two walks, an RBI and a run scored.
Friday's outlook: RHP Will Rudy makes tonight's start, with Carolina aiming to grab a 3-1 series lead.
We hope that you enjoy the Minor League Link Report. Enjoy Friday's 4-game Minor League slate, along with the Brewers returning to action in New York.
Organizational Scoreboard including starting pitcher info, game times, MiLB TV links, and box scores
Current Milwaukee Brewers Organization Batting Stats and Depth
Current Milwaukee Brewers Organization Pitching Stats and Depth
2