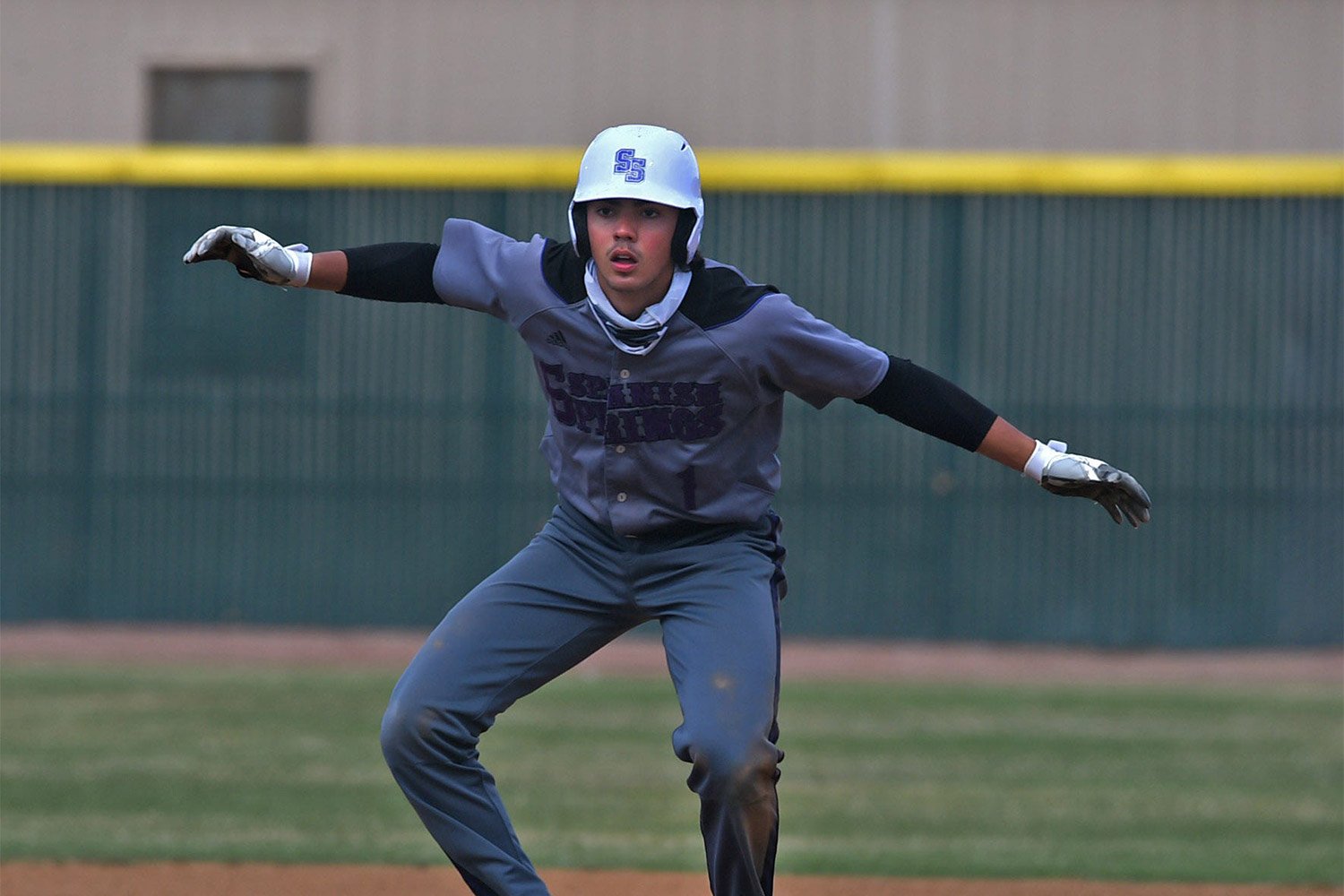 Image courtesy of © Andy Barron/RGJ via Imagn Content Services, LLC
Jace Avina, OF, Carolina (A)
5-11, 180, R-R
Avina was chosen in the 14th round of the 2021 draft out of Spanish Springs HS in Sparks, Nevada. He was Nevada's Northern Region 5A Offensive Player of the Year as a senior in high school, with three homers, 17 RBI, and a .478 batting average. 
The 20-year-old is in his second season playing for the Mudcats and has a slash line of .229/.367/.425 in 92 games, including 13 homers and ten steals. He needs to cut down on his strikeouts a bit, but he does walk a fair amount. Avina can play all three spots in the outfield and has a good arm, as witnessed by his 11 assists.
Avina has an older brother, Austin, who has autism. Jace's dad Armando said: "Guardian angel; that's what Jace has been to Austin."
---
Terence Doston, OF, Wisconsin (A+)
5-10, 160, L-R
Doston was grabbed in the 22nd round of the 2019 draft. His high school, Hillsborough (Tampa, Florida), was the starting place of players like Carl Everett, Dwight Gooden, and Gary Sheffield. Doston batted .361 in his senior year, ran a 6.48 60-yard dash in track, and had a weighted grade point average of 4.3 in his final year in high school.
It was anticipated that Doston would enter West Virginia University as a two-sport star (also football). Still, he elected to sign with the Brewers and began his pro career in 2019.
Doston, 22, is in his second season at Class A+ Wisconsin and has split his time between center and left fields. He is currently fourth on the team with 15 steals and his slash line of .246/.317/.301 shows little power (one HR in 203 plate appearances) but indicates the ability to draw a walk. 
---
Kay-Lan Nicasia, OF, Carolina (A)
5-11, 175, S-R
Nicasia was born in the Netherlands but played ball at Champagnat Catholic HS in Hialeah, Florida. He was the 21st-round pick of the Brewers in 2021. Nicasia played two years in the Arizona Complex League and moved up to Class A Carolina in 2023, where he has shown some power (six HR) and speed (24 SB). He was drafted as a shortstop but has played outfield exclusively this year, mainly in RF. 
Although he strikes out too much (101 Ks in 273 ABs), he has shown a good eye (45 walks) at times. His slash line of .216/.329/.344 indicates he needs to improve to move up, but the potential is there.
And for you music fans, Nicasia's full name on Baseball-Reference.com is listed as Kay-Lan Paul Simon Nicasia.
To some extent, all three are struggling at the plate, but Avina and Nicasia have shown the ability to draw a free pass, and both have a little pop in their bats. Doston has speed to burn and is very intelligent, as witnessed by his 4.3 GPA in high school.
One major problem for all three is that they are blocked in the outfield at the big league level (Christian Yelich, Joey Wiemer, Sal Frelick, and Garrett Mitchell) and the higher levels in the minors (Jackson Chourio). Guys like Yophery Rodriguez (ACL Brewers) and Luis Lara (Carolina) are at the same level or lower but are ranked higher than Avina, Doston, and Nicasia. 
There is room for improvement, and it will be interesting to see if any of these young players can make the next steps and roam 'the corn' at American Family Field in the next 2-3 years.