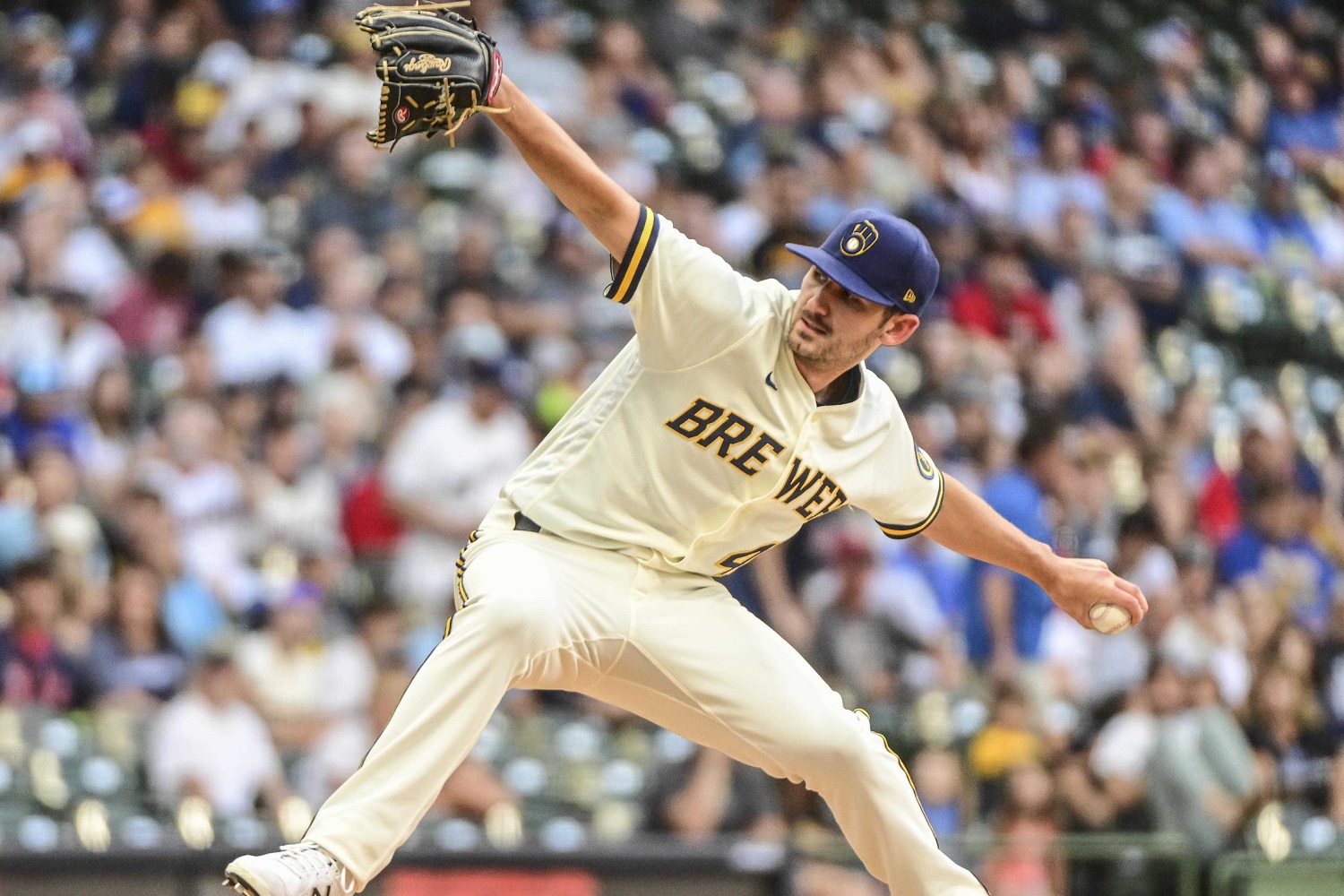 Image courtesy of © Benny Sieu-USA TODAY Sports
For the past few seasons, the Major League team has relied heavily on its strength: their pitching. While the MLB team has experienced almost unprecedented success (for the Brewers anyway) with both their starters and relievers in recent years, they are currently struggling to replicate that success in the minor leagues.
Of their current Top 10 prospects, only one, RHP Jacob Misiorowski, is a pitcher. This year's second-round pick is only 20 years old, but has shown enough promise with his two-pitch arsenal (70-grade fastball, 55-grade slider) that he vaulted all the way to the top of the Brewers pitching prospects.
The next pitcher on the list is a recent addition to the Brewers system, LHP Robert Gasser (#11). He arrived via the infamous Josh Hader trade with San Diego, as the front office really liked his abilities (55-grade fastball, slider, and changeup, 50-grade control).
Right behind Gasser at #12 is 2019 first-rounder for the Brewers, LHP Ethan Small. Small has fallen recently, as he has not been able to take that final leap from AAA Nashville and establish himself at the MLB level. His 55-grade fastball and 60-grade changeup give him two really good pitches, which he uses to get lots of strikeouts, but he also has walked way too many batters in his minor league career. This might spell future relief pitcher if he can't find the solution to this ongoing problem.
Next is the Brewers other Carlos Rodriguez, the right-handed pitcher at High-A Wisconsin. The 2021 sixth-round pick has been very impressive in his first year of pro ball, using a three-pitch mix (55-grade fastball and changeup, 45-grade slider) to show promise of a real future with the Brewers.
Two other players in the Top 30 that must be talked about are likely pure relief pitchers, but don't let that fact fool you. RHP's Abner Uribe (#26) and Cam Robinson (#27) are legitimate threats late in games, and each could be contributing at the MLB level sooner rather than later.
Uribe has had some injury issues the past two seasons, both times with meniscus tears. When healthy, he might have the most potent fastball in the minors (80-grade), which routinely hits triple-digits. Pairing that with his 60-grade slider, if he can learn to harness those two pitches consistently, he could be a dominating force out of the bullpen.
Robinson is a completely different animal, showing a much-more traditional low- to-mid-90's fastball (55-grade), a 12-to-6 curveball (55-grade), and even an occasional cutter (45-grade). His control problems (45-grade) are what is keeping someone with a three-pitch mix in the bullpen, but he has thrived the past two seasons working primarily as a closer, earning 38 saves across all four full-season levels.
Last but not least, let's move our focus to the Brewers catching prospects. While only two players cracked the Top 30, one of those players has a chance to make a real impact at the Major League level someday.
Seventh-ranked prospect Jeferson Quero, who doesn't turn 20 until early October, is already playing at High-A Wisconsin, although he has struggled in his short time there. He is already a defensive stalwart, throwing out 30 percent of baserunners so far in his two seasons. His 60-grade arm and field show that defense is going to be a strength for Quero as he moves up the system.
However, he also has the ability to be a strong offensive player as well. A 50-grade for both hit and power for a catcher with stellar defensive abilities shows why the Brewers are so high on him, and why he may be pushed a little as he continues his climb towards the Majors.
The other catcher listed in the Top 30 is a newcomer to the Brewers, 2022 fourth- round pick and #29 prospect, Matt Wood . The left-handed hitter is probably more of an offensive-minded catcher (45-grade hit, 50-grade power) than defensive, but he has strong enough defensive skills (50-grade arm, 45-grade field) to stay behind the dish.
It's been exciting to watch the Brewers Minor League prospects, as both individuals and as a collective group, climb their way back to respectability. Not only have they accomplished that in a rather short period of time, they have several players that appear ready to contribute in a big way at the MLB level right now, or at least in the very near future.
Let me know your thoughts on the Brewers Top 30 prospects.
Think you could write a story like this? Brewer Fanatic wants you to develop your voice, find an audience, and we'll pay you to do it. Just fill out this form.
MORE FROM BREWER FANATIC
— Latest Brewers coverage from our writers
— Recent Brewers discussion in our forums
— Follow Brewer Fanatic via Twitter, Facebook or email