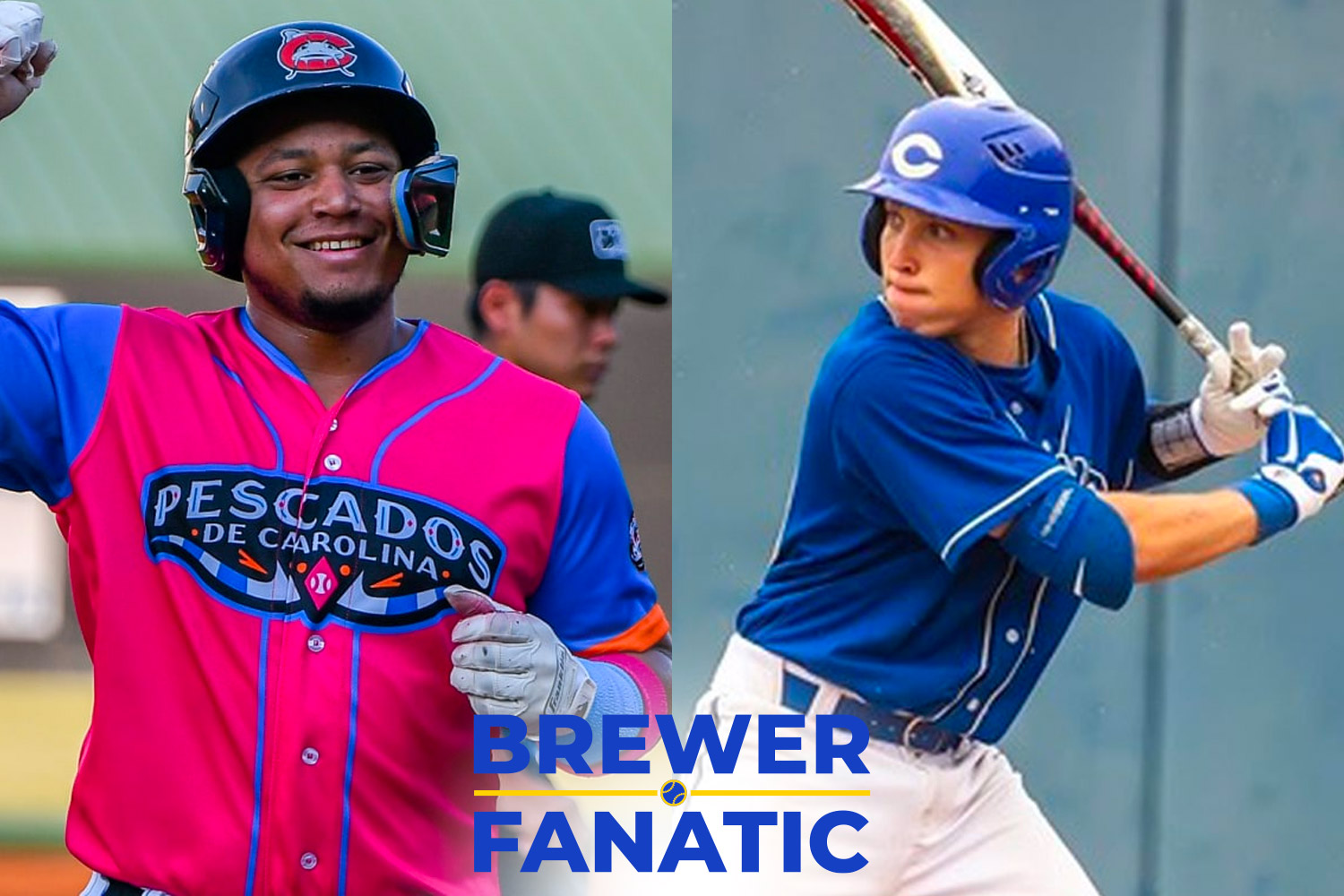 Image courtesy of Brewer Fanatic
Brewers fans may be more familiar with Brent Suter, a 31st-round pick in 2012, who gave the Brewers outstanding performance from 2016-2022. All Suter did throughout his career (majors and minors) was produce. His departure to Colorado via a waiver claim earlier this offseason may have quite an impact on the team.
Right now, there are players in the farm system who could be crucial contributors to future Brewers teams while not as heralded as Jackson Chourio, Jeferson Quero, Jace Avina, or Sal Frelick. Talent and skills matter, but the production has to come as well.
I'm excluding those from our Top 20 Prospects ranking to determine if the prospect is underrated. This analysis is about finding those rough gems – players whose contributions could be crucial to the Brewers but don't make top prospect lists, much less get the hype of well-known names.
Catcher 
Darrien Miller, Appleton (A+)
.224/.372/.388 in 304 AB, 12 2B, 12 HR, 49 BB, 84 K
Bats: Left, Throws: Right
Age: 21
Miller was drafted in the ninth round of the 2019 amateur draft. Since then, the left-handed hitter has shown excellent on-base skills and some pop in his bat. This certainly bodes well should he make the majors, especially if he plays half his games at American Family Field. The OBP skills and power continued during winter ball in Australia, where six of his 11 hits in 50 at-bats went for extra bases, and he added seven walks for a .220/.339/.380 line down under.
Edgardo Ordonez, DSL Brewers 1 (FRk)
.290/.400/.410 in 100 AB, 6 2B, 2 HR, 18 BB, 27 K
Bats: Left, Throws: Right
Age: 19
Ordonez is a year younger than Quero and signed before the 2021 season. He hasn't left the DSL yet, but the signs over two years point to incredible on-base skills and the ability to dive the ball hard (19 extra-base hits in 184 at-bats over two seasons). Like Miller, he hits left-handed. Ordonez has also seen some time at first base.
Overview
Miller and Ordonez don't get Quero's attention, but in some ways, they may be more likely to succeed. If nothing else, they could be very solid partners with Quero behind the plate. 
First Base/Designated Hitter
Ernesto Martinez, Appleton (A+)/ACL Brewers Blue (R)
.244/.412/.474 in 78 AB, 3 2B, 5 HR, 22 BB, 28 K
Bats: Left, Throws: Left
Age: 23 
Martinez has been around since 2017, and he flashed power and on-base skills before the COVID-19 pandemic at various rookie ball stops. After the pandemic, though, in 2021, Martinez added speed (30 stolen bases) and showed he could play the outfield. The early skill sets reminded of Eric Thames, who played first base and both corner outfield positions for the Crew. Imagine Thames (who batted leadoff 42 times during his tenure in Milwaukee) adding 30 stolen bases and the ability to cover center field in a pinch.
Jesus Chirinos, Carolina (A)
.237/.354/.358 in 405 AB, 13 2B, 12 HR, 69 BB, 152 K
Bats: Right, Throws: Right
Age: 20
Chirinos has flashed OBP skills throughout his career. Starting as a catcher in the DSL, he has since moved to first base. The power potential was evident from his first season in the DSL, where he belted 17 doubles and two homers in 173 at-bats. He's continued to deliver power during his seasons with the Brewers, and in the Venezuelan Winter League, it looks like he has worked a bit on his contact skills (19 hits in 52 at-bats, with one double and one homer, but a 13/11 BB/K ratio). If he can balance the VWL contact with the minor-league power, Brewers fans could believe in Jesus again.
Overview
In 2017-2019, the Brewers had the tandem of Thames and Jesus Aguilar covering first base, which worked well for them. With much less stress for Craig Counsell, Martinez and Chirinos could do the same thing, given that the National League got with the times and adopted the designated hitter in 2022.
Think you could write a story like this? Brewer Fanatic wants you to develop your voice, find an audience, and we'll pay you to do it. Just fill out this form.
MORE FROM BREWER FANATIC
— Latest Brewers coverage from our writers
— Recent Brewers discussion in our forums
— Follow Brewer Fanatic via Twitter, Facebook or email