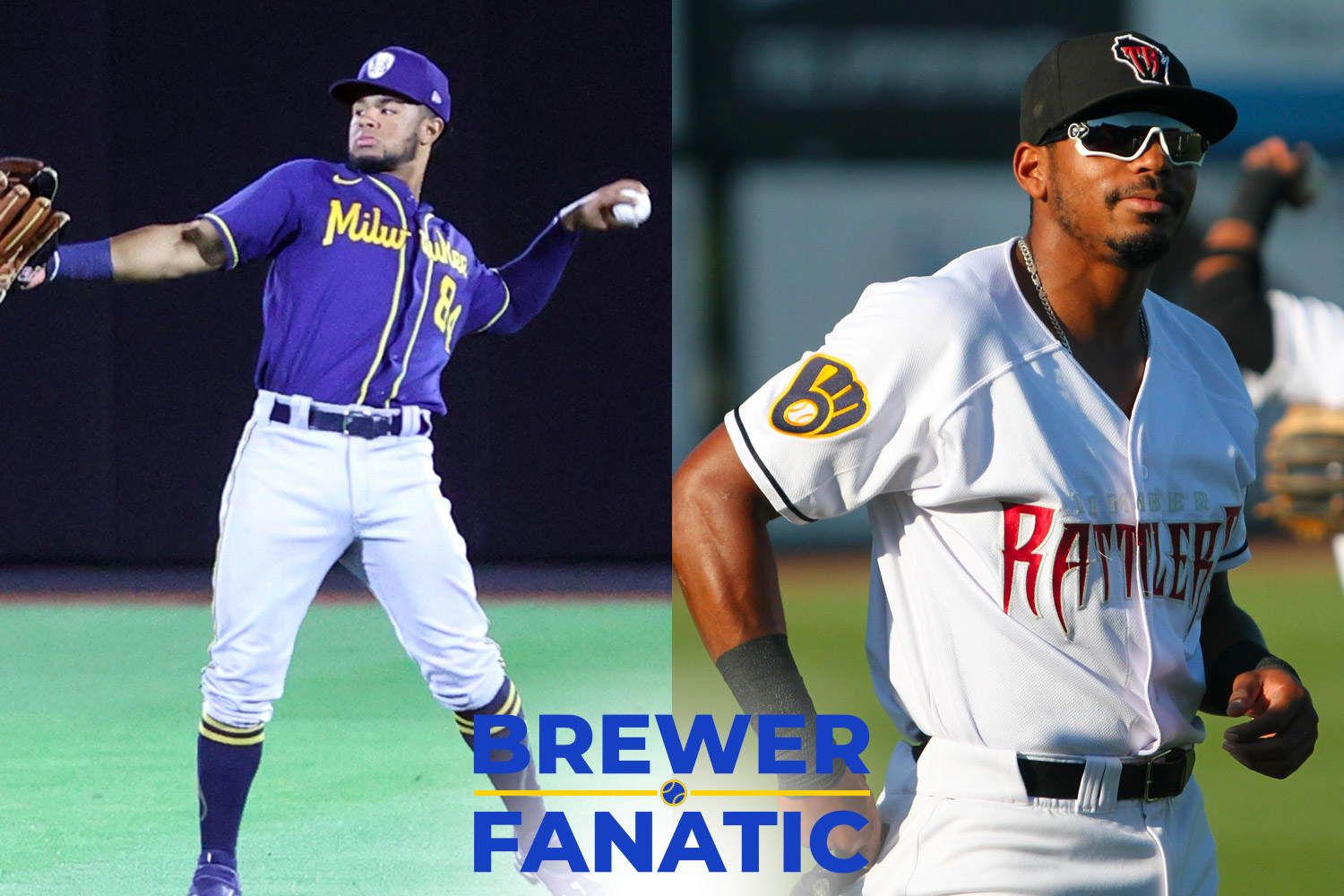 Image courtesy of Brewer Fanatic
But behind these players are people who are no slouches. Some of these names were highly heralded. Others have been a bit more under the radar for Brewers fans. But a closer look will show these players could be valuable for the Brewers, one way or another.
Left Field
Tristen Lutz, Biloxi (AA)
.259/.353./.443 in 255 AB, 11 2B, 12 HR, 34 BB, 88 K
Bats: Right, Throws: Right
Age: 23
Lutz was one of the Brewers' premier outfield prospects pre-pandemic. He scuffled in the first year back, but when repeating at Biloxi in 2022, he flashed some improved on-base skills. A right-handed power bat, he's been overshadowed by 2020 draftee Joey Wiemer. These days, he could be traded, but he also is a solid option if the Brewers deal a top prospect, as they did this week when they traded Esteury Ruiz in return for William Contreras.
Thomas Dillard, Biloxi (AA)
.233/.364/.391 in 425 AB, 29 2B, 12 HR, 81 BB, 157 K
Bats: Both, Throws: Right
Age: 24
Dillard was primarily a left fielder in college before the Brewers began working him primarily at catcher and first base in his professional career. Dillard has also seen action in left field. The versatility, the high walk rate, and being a power-hitting switch-hitter are very reminiscent of Mickey Tettleton and former Brewers prospect Cooper Hummel.
Noah Campbell, Biloxi (AA)
.262/.364/.380 in 195 AB, 15 2B, 2 HR, 31 BB, 58 K
Bats: Both, Throws: Right
Age: 22
Campbell was drafted out of high school in 2017 but instead went to college. The Brewers signed him in 2021, though, and he has shown the ability to walk and play multiple positions (he even noted a save while at Carolina). In essence, he is a switch-hitting Hernan Perez. He jumped from full-season A to AA in 2022 and held his own in that jump. Campbell may never be a star, but he could be a valuable bench asset for a few years.
Overview
Lutz and Dillard are good prospects. They're just caught behind six excellent players, five of whom handle center field. Dillard's positional versatility, though, could make him a valuable asset on the Brewers bench if he is not dealt for a rental. Campbell is the kind of player most teams need on the bench.
Center Field
Joe Gray Jr., Wisconsin (A+)
.193/.279/.353 in 462 AB, 21 2B, 15 HR, 51 BB, 177 K
Bats: Right, Throws: Right
Age: 22
Over his professional career, Gray has shown power and speed, and he can take a walk. That's the good news. Hitting for average, though, has been an issue. He only topped the Bob Uecker line in one of his seasons. Gray's probably your guy if the Crew (or another team) needs the next Keon Broxton.
Right Field
Luis Castillo, ACL Brewers (R)/Carolina (A)
.275/.364/.427 in 218 AB, 11 2B, 6 HR, 28 BB, 53 K
Bats: Left, Throws: Left
Age: 19
Castillo is a left-handed bat who knows how to walk. He leveled up his power playing at Carolina at 18, and it could be interesting to see how that develops. His on-base skills are solid, and he's primarily played corner outfield positions.
Hedbert Perez, Carolina (A)
.216/.272/.393 in 407 AB, 23 2B, 15 HR, 30 BB, 132 K
Bats: Left, Throws: Left
Age: 19
Hedbert Perez was highly touted early on, and many commenters at Brewer Fanatic love his toolsy potential, and he's handled all three outfield positions. That said, while his OBP ability has improved slightly, and he certainly has power, will the poor OBP numbers come to haunt him at higher levels?
Overview
Two left-handed hitters with two very different profiles. Castillo looks like a solid backup, while Perez could be a left-handed Hunter Renfroe or Keon Broxton. None are awful, but none are precisely Mitchell, Frelick, Avina, or Chourio, either.
Think you could write a story like this? Brewer Fanatic wants you to develop your voice, find an audience, and we'll pay you to do it. Just fill out this form.
MORE FROM BREWER FANATIC
— Latest Brewers coverage from our writers
— Recent Brewers discussion in our forums
— Follow Brewer Fanatic via Twitter, Facebook or email