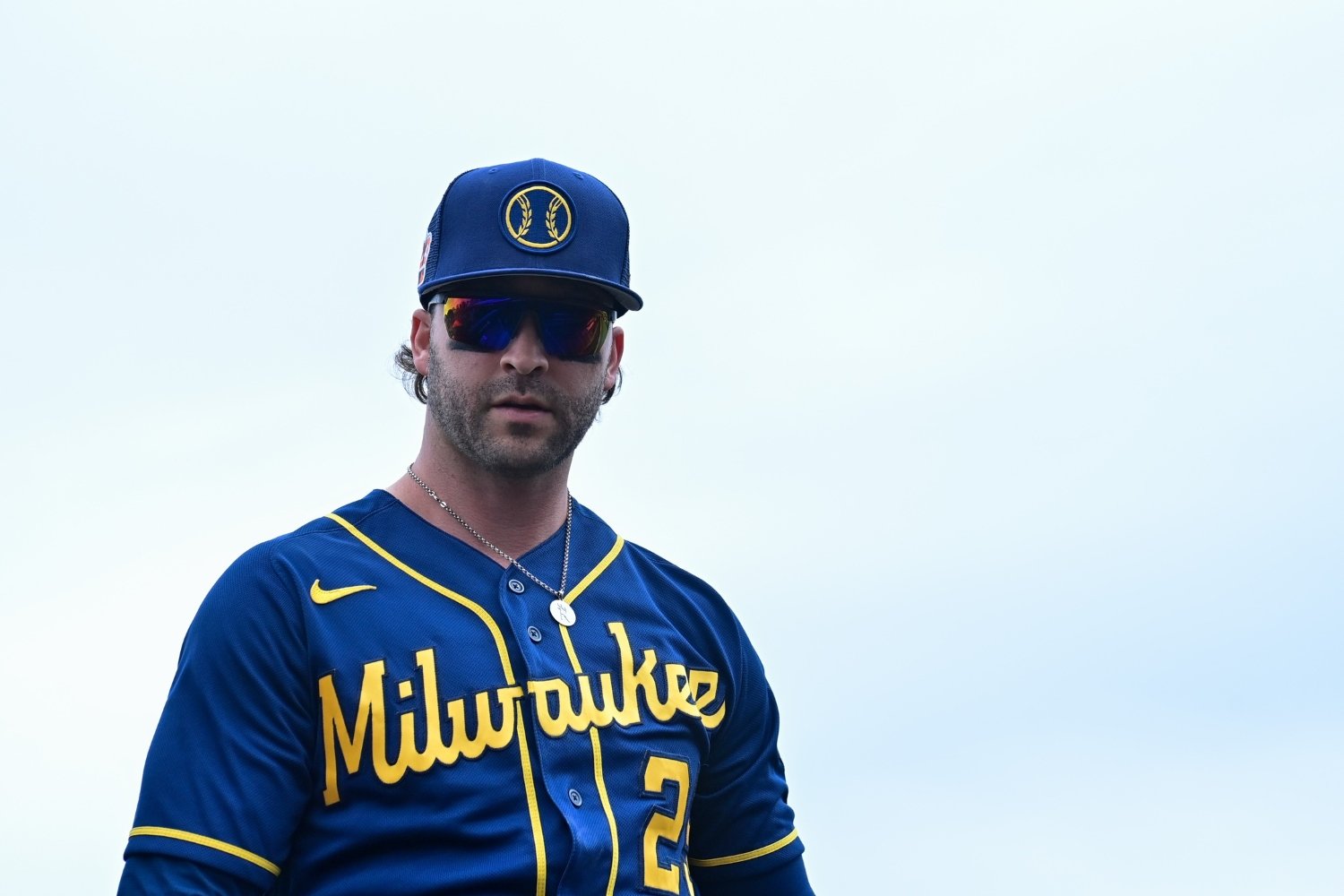 Image courtesy of © Matt Kartozian-USA TODAY Sports
Let's take a look at the farm's left fielders.
Nashville Sounds
Keston Hiura and Skye Bolt have been the primary left fielders for the Sounds, with Hiura also seeing time at second base, first base, and designated hitter. Tyler Naquin has also seen time in left. Hiura seems to have had an offensive rebound and may have put the struggles of 2021 and 2022 behind him.
Biloxi Shuckers
The Shuckers have featured a three-headed monster in left field, with Noah Campbell, Isaac Collins, and Carlos Rodriguez all seeing significant action. Campbell has truly broken out as a versatile offensive threat who can hold down multiple positions. Collins is a versatile OBP-speed threat. Rodriguez, who only bats left-handed (as opposed to Campbell and Collins being switch-hitters), still has superb OBP skills and rack up doubles.
Wisconsin Timber Rattlers
As in Biloxi, a three-headed monster handles left field in Appleton, with Je'Von Ward, Alex Hall, and Terrence Doston all holding the position down. Hall is arguably the best of the three, when he isn't seeing action behind the plate or at first base. Jose Acosta also has seen some action in left field.
Carolina Mudcats
A pair of 20-year-olds, Jace Avina and Hedbert Perez, have been the top two left fielders in Zebulon. Perez, once touted as a prospect, struggled in past years but has improved his OBP skills, while Avina is showing a Three True Outcome bat and some speed offensively, even as he is about 30 points below the Uecker line as of July 15. Jheremy Vargas, who has shown an OBP-speed-doubles offensive profile, also saw action in left for the Mudcats.
ACL Brewers
Left field has been a revolving door for the ACL Brewers, with five players seeing time there. Angel Pereira has seen the most games there, and is drawing walks, but also a lot of strikeouts. Yeison Perez posted a decent batting average and some power, while Miguel Briceno and Luis Castillo have flashed dominance in limited playing time.
DSL Brewers 1
Brian Sanchez has been the primary left fielder for the first of Milwaukee's two DSL teams – and he's been posting some dominant numbers. Behind him, both Argenis Aparicio and Idalberto Santiesteban have both flashed some serious OBP skills. Yophery Rodriguez, the DSL Brewers 1 offensive MVP as of July 15, has primarily played center field, but also saw action in left.
DSL Brewers 2
There has been somewhat of a revolving door behind Fabricio Valera in left field for the second Brewers DSL affiliate. Valera has walked more than he struck out, but behind him, Demetrio Nadal and Danny Puerta have both flashed signs of superb offense as of July 15. Smarlin Espinal and Ramon Moreno have also seen time in left.
Overview
While many of the left fielders do not get the hype that the center fielders in the Brewers system receive, a few are showing signs they could be very productive players at the MLB level. If nothing else, some of these players could get the Crew some real help elsewhere.