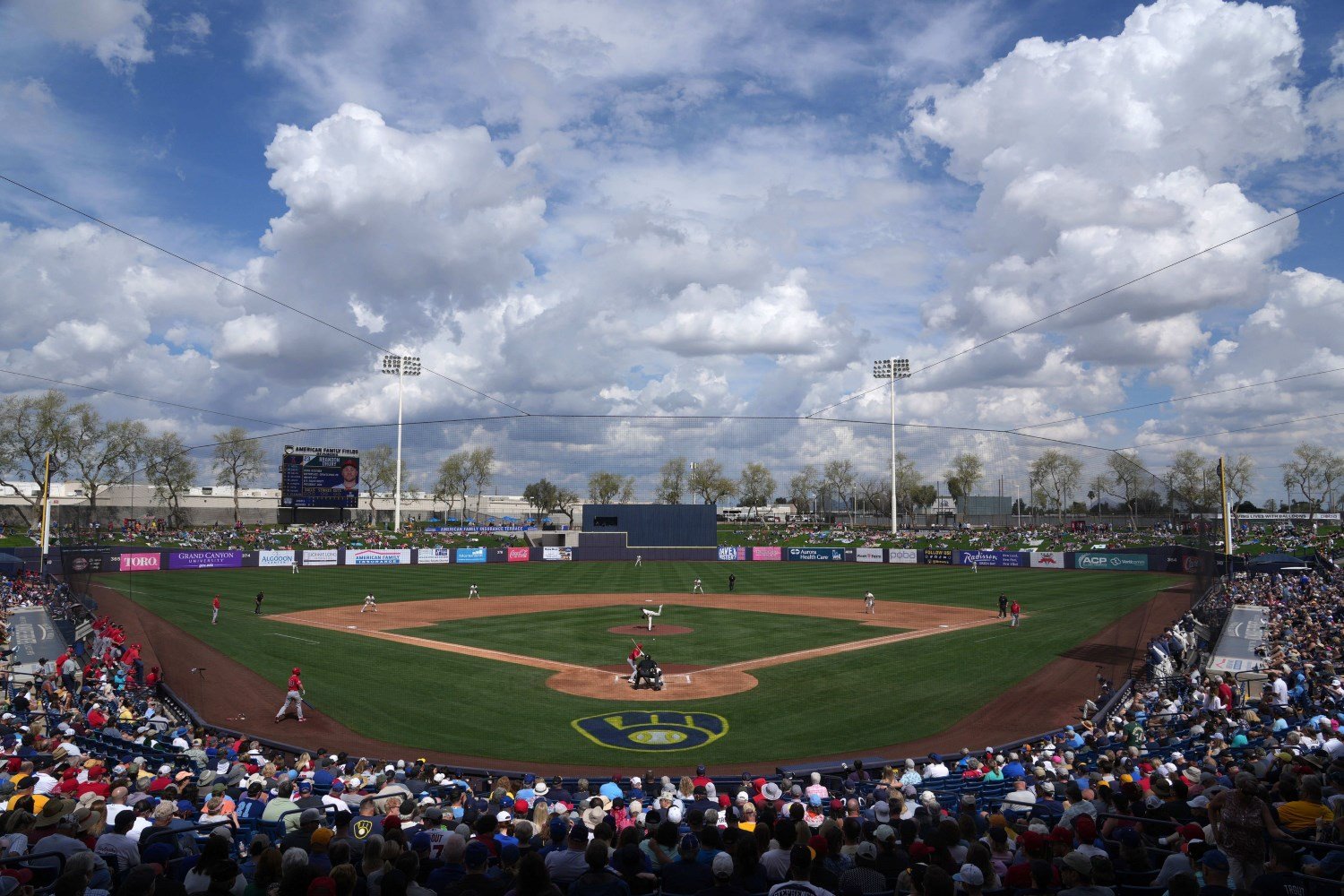 Image courtesy of © Joe Camporeale-USA TODAY Sports
That said, the rookie leagues are a place where, often, excellent talent will emerge. Let's look through the three teams the Brewers have at this level.
ACL Brewers
The ACL Brewers bullpen is distorted by the presence of players sent on rehabilitation assignments. Jake Cousins and Justin Wilson combined for four appearances there, before they moved up the ladder on their recovery from injury. The top reliever for the Cactus Crew is Gerson Calzadilla, who has a sub-1.00 WHIP as of July 21. Jesus Rivero also posted a sub-1.00 WHIP before he was called up to Carolina. Manuel Rodriguez and Christofher Carrasco have also been assets for the Maryvale team, while Edrian Robinson, Anthony Perez, Anfernny Reyes, and Henrison Mota have been workhorses. Some of the Brewers' 2023 Draft signees will likely also make appearances from the bullpen in Maryvale.
DSL Brewers 1
Jose Meneses and Jesael Cabrera are arguably the two best pitchers with the DSL Brewers 1. The former has a 1.82 ERA as of July 21, while the latter posted a 1.08 WHIP. Roman Perez leads the team with four saves, but as of this writing has issued more walks than strikeouts. Yonawil Florimon has three saves, and a 2.00 WHIP. Saul Sances and Nestor Mena have also been workhorses for that squad. One interesting asset is Argenis Aparicio, who has split time between the DSL Brewers 1 bullpen and the outfield.
DSL Brewers 2
Pedro Quintana has been the lockdown guy for the second Brewers affiliate in the DSL, posting a 1.50 ERA, one save, and 0.83 WHIP in six outings. Dikember Sanchez, Lenin Mendez, and Justic Caceras have all posted saves for the DSL Brewers 2, while David Dominguez, Luis Guevara, and Carlos Maurera have also worked out of the pen. Elias Gonzales, Johan Zapata, and Dencer Geraldo have also provided some innings in relief.
Overview
Small sample sizes aside, there is a lot to like at each of the DSL teams. Many of these pitchers are raw, but as a whole, they have not been giving up the go-fer ball. Some in the DSL are flashing brilliance out of the bullpen, and doing so in outings lasting more than one inning. In Maryvale, Calzadilla and Chavez looked like they could follow in the footsteps of other dominant Brewers relievers.