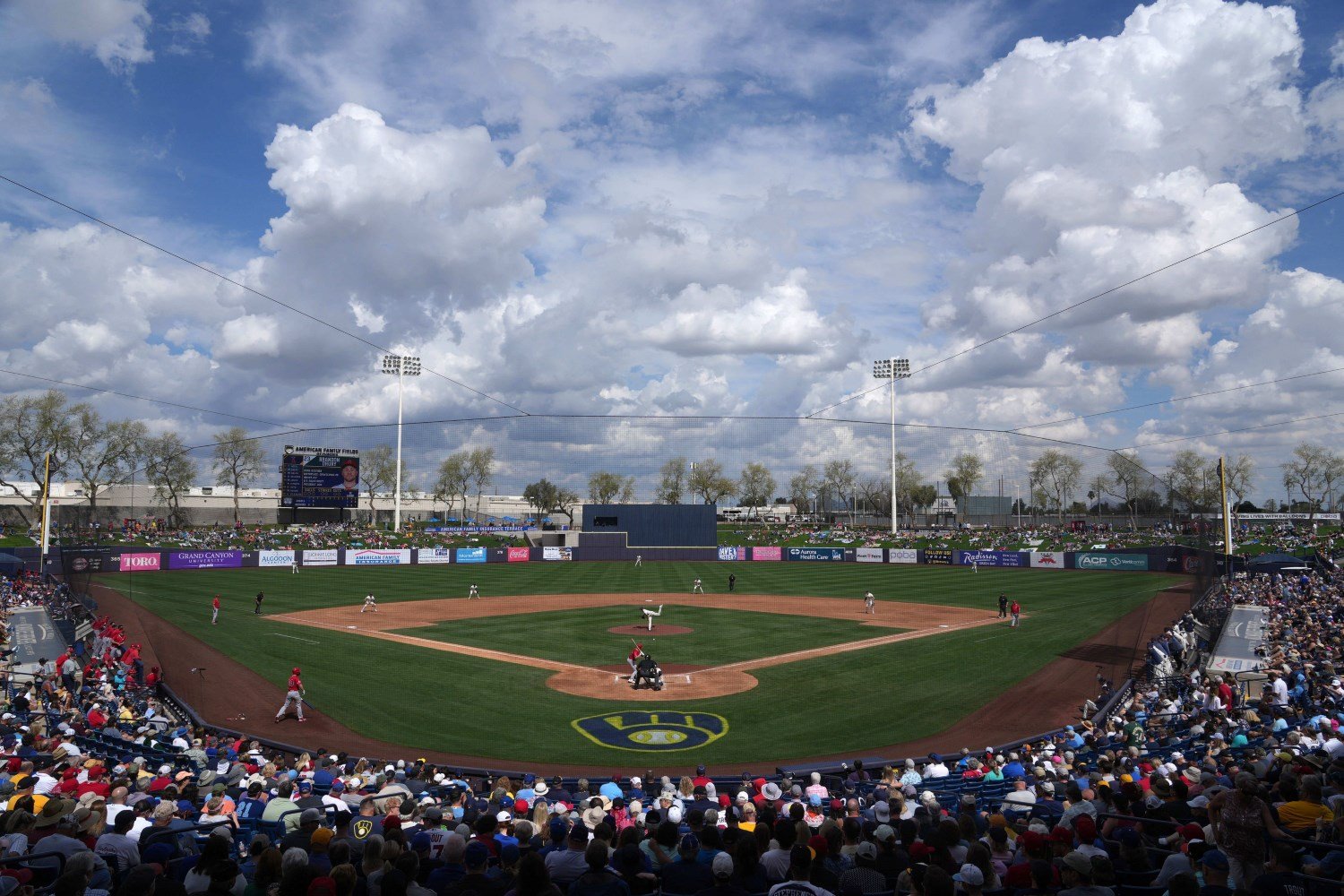 Image courtesy of © Joe Camporeale-USA TODAY Sports
The Arizona Complex League, in particular, gets distorted in another way: Players often go there on rehabilitation assignments. As such, it is harder to tell just why a pitcher may appear to have struggled.
But with those caveats in mind, let's look over the starting rotations in the rookie leagues.
ACL Brewers
To get one sense of the distortion in the ACL so far, five of the 28 starts for the ACL Brewers as of July 17 were by players on rehab assignments: Jason Alexander, the fill-in from 2022, made two, while Ryne Moore, a prospect drafted in 2021, made three. But Yorman Galindez has made huge strides from 2022, having taken his ERA down by about 50%. Daniel Corniel has struggled some after coming up from the DSL. Other pitchers appearing in the ACL rotation include Brian Fitzpatrick (currently on the 60-day IL), Osbriel Moggolon, Felipe De Los Santos, and Brailin Rodriguez, who is coming off missing the entire 2022 season.
DSL Brewers 1
The same sense of caution concerning numbers in the ACL should apply to some of the eye-popping numbers among the DSL Brewers 1 rotation. That caveat aside, the big question is: Which prospect has been the best? Is it Eric Prado, with a sub-1.00 ERA as of July 17 while splitting time between the rotation and the bullpen? Is it Enniel Cortez, who posts a 7.5:1 K/BB ratio and a 1.75 ERA? What about Gabriel Colmenarz, who has posted a 1.89 ERA despite only getting 6.2 strikeouts per nine innings? And let's not forget lefty Anthony Flores, who is averaging almost four strikeouts every three innings. So far, with anywhere from three to six starts, they all look very good, but it will be interesting to see if it continues past this initial small sample.
DSL Brewers 2
With a similar small-sample warning for the second Brewers affiliate in the DSL, there are some numbers that indicate some starting pitching prospects deserve a closer look. Melvin Hernandez is posting a 2.25 ERA, with only five walks in 20 innings as of July 17. Ismael Yanez is only 17, but has a 0.00 ERA in three innings as of July 17. Bryan Rivera has dominated over six starts, with a sub-1.00 WHIP, while Jesus Flores has allowed just one home run in just over 20 IP. Aneuris Rodriguez has taken some huge steps up in his second season in the DSL as well.
Overview
Small samples and rehab assignment distortions aside, the rookie leagues feature a lot of intriguing talent for the Brewers. While these pitchers have a long road to MLB, in the past, rookie-league talent has been used to make deals work at times. On the flip side, one just has to look at Freddy Peralta to know that in a few years, rookie-league talent can pay off big time for a major-league club.
Think you could write a story like this? Brewer Fanatic wants you to develop your voice, find an audience, and we'll pay you to do it. Just fill out this form.
MORE FROM BREWER FANATIC
— Latest Brewers coverage from our writers
— Recent Brewers discussion in our forums
— Follow Brewer Fanatic via Twitter, Facebook or email
1