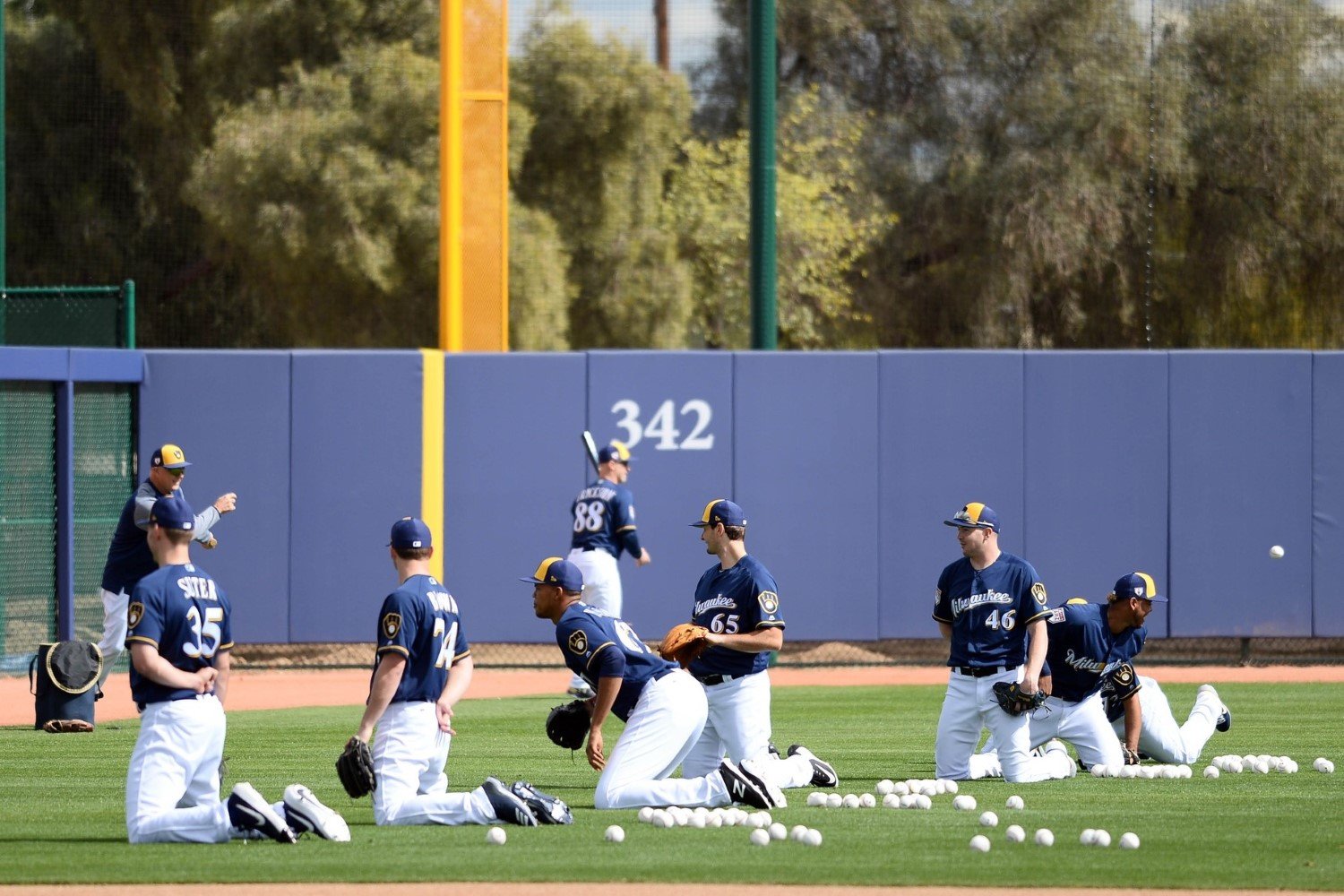 Image courtesy of © Joe Camporeale-USA TODAY Sports
While the Brewers have some excellent starting pitching prospects in the higher levels of the minors, there are some truly exciting players on the lower rungs of the farm-system ladder. Let's look over some of the starters who stood out in the lower levels of the minors in 2023.
Nate Peterson (High-A Wisconsin, Low-A Carolina)
6-4, 3.75 ERA, 1.28 WHIP, 64 hits, 31 walks, 78 strikeouts over 74 1/3 innings pitched in 19 games (12 starts)
Peterson made two-thirds of his appearances with the Mudcats, and was very good in Zebulon. After earning a promotion to Wisconsin in his first year of full-season baseball (despite spending about a month on the injured list), he struggled some, but he could do better after getting used to the rigors of full-season ball.
Patricio Aquino (Low-A Carolina)
5-3, 2.75 ERA, 1.26 WHIP, 80 hits, 31 walks, 86 strikeouts over 88 1/3 innings pitched in 21 games (19 starts)
Aquino was arguably the ace for the Mudcats, as a 20-year-old in his first full season of professional baseball. Most notable was his improved control, as he decreased his walk rate. He also lowered his home run rate. He's likely to move up to Wisconsin to begin 2024, but could move fast.
Will Rudy (Low-A Carolina)
5-3, 3.46 ERA, 1.29 WHIP, 78 hits, 26 walks, 69 strikeouts over 80 2/3 innings pitched in 18 games (18 starts)
Like Peterson, Rudy made his professional debut in full-season ball. He stayed with the Mudcats all season, and posted solid numbers, even if he didn't overpower hitters (7.7 K/9 IP). This was Rudy's first season of pro ball (he didn't play after being drafted in 2022), so he could take a big step up in 2024.
Logan Henderson (Low-A Carolina)
4-3, 2.75 ERA, 0.97 WHIP, 50 hits, 26 walks, 106 strikeouts over 78 2/3 innings pitched in 18 games (18 starts)
Aside from Jacob Misiorowski, Henderson arguably has the best "stuff" of any pitcher in the Brewers system. He was ramped up relatively slowly, but by the end of the 2023 season he was able to pitch into the sixth inning. He spent time on the 60-day injured list in 2022, so his health will be crucial.
Brian Fitzpatrick (Low-A Carolina, Rookie ACL Brewers)
1-2, 6.46 ERA, 1.60 WHIP, 31 hits, 18 walks, 33 strikeouts over 30 2/3 innings pitched in 11 games (seven starts)
Fitzpatrick's 2023 was derailed by a trip to the 60-day injured list, but he put up decent numbers at Carolina. The lefty, a 10th-round pick in 2022, will seek to rebound in 2024 and is headed to Brisbane for the 2023-2024 winter season.
Quinton Low (Low-A Carolina)
1-3, 4.68 ERA, 1.50 WHIP, 20 hits, 29 walks, 47 strikeouts over 32 2/3 innings pitched in 14 games (seven starts)
.207/.324/.345 with one double, one home run, three RBI, five walks, 11 strikeouts in 29 at-bats
In some ways, Low is at a crossroads. He flashed intriguing two-way ability in 2022, splitting time between the bullpen and first base in the ACL. In Carolina, the batting took a backseat to development as a potential starter. The Brewers need to make up their mind as to what they want: a two-way threat? A reliever? A starter?
Melvin Hernandez (Dominican Summer League Brewers 2)
2-2, 2.06 ERA, 1.17 WHIP, 32 hits, 9 walks, 30 strikeouts over 35 innings pitched in 10 games (seven starts)
Hernandez was one of the youngest players in the DSL, but he was arguably the ace for the Brewers 2 squad. Of particular note was the lack of free passes issued to hitters–with Hernandez almost going four innings between walks, on average. Listed at 5'11", 139 pounds, he clearly has a lot of development ahead of him, but the command and control seem to already be there, and he may have nothing left to prove in a short-season league.
Enniel Cortez (DSL Brewers 1)
4-1, 1.58 ERA, 0.88 WHIP, 35 hits, 5 walks, 49 strikeouts over 45 2/3 innings pitched in 11 games (eight starts)
Cortez put together a dominating season for the DSL Brewers 1 squad, punching out more than one hitter per inning, and allowing less than one walk per nine innings. Cortez earned Brewer Fanatic's Short-Season Pitcher of the Year in 2023 with his performance, allowing just one home run on the season. Like Hernandez, he may be ready to skip future short-season leagues.
Eric Prado (DSL Brewers 1)
2-1, 1.54 ERA, 0.93 WHIP, 24 hits, 14 walks, 37 strikeouts over 41 innings pitched in 11 games (seven starts)
Prado actually outperformed Cortez by some metrics in 2023, and did so while being about a year and a half younger than the average DSL player. While he was less hittable than Cortez, he did walk more batters and give up more homers. Still, he's made a strong case to skip the ACL in 2024.
Anthony Flores (DSL Brewers 1)
1-3, 3.22 ERA, 1.10 WHIP, 33 hits, 16 walks, 57 strikeouts in 44 2/3 innings pitched in 11 games (11 starts)
Oftentimes, the numbers Flores posted would be considered indicative of the best pitcher a team had at the Rookie level. Flores improved virtually across the board in 2023 in just about every metric (his home runs allowed went up, but only fractionally). Flores spent a second year in the DSL, so it is an open question as to whether he goes to Maryvale or if he starts off in Carolina.
Which of these low-level starters have you excited? Do you think we forgot any? Let us know in the comments below!
Think you could write a story like this? Brewer Fanatic wants you to develop your voice, find an audience, and we'll pay you to do it. Just fill out this form.
MORE FROM BREWER FANATIC
— Latest Brewers coverage from our writers
— Recent Brewers discussion in our forums
— Follow Brewer Fanatic via Twitter, Facebook or email