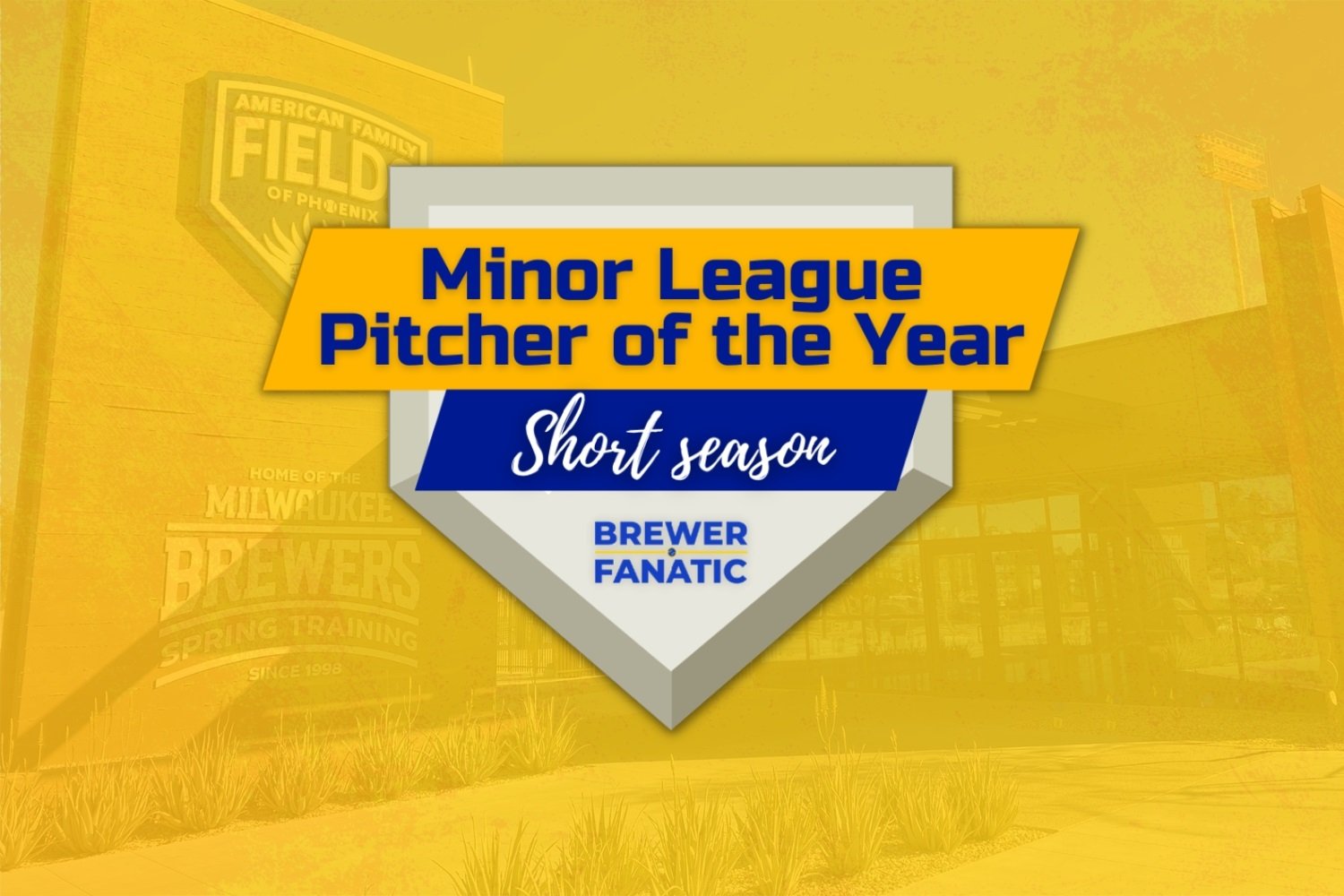 Yesterday, we presented shortstop Juan Baez, one of the standouts on the ACL Brewers, with Short-Season Hitter of the Year. Today, we'll discuss the top pitchers in the short-season complex leagues affiliated with the Brewers.
These teams didn't get started until June and finished early in September. The ACL team saw a lot of flux between major-league rehab assignments and promotions, but the two DSL squads were quite stable.
Brewers fans saw the importance of having a lot of pitching depth this season across the system. Whether it was having promising talent who filled crucial roles (see Abner Uribe) or who could help fill holes in other ways (see the Justin Jarvis trade for Mark Canha), pitching depth is important.
There were a lot of outstanding performances in the minors, including these short-season leagues. Writers for Brewer Fanatic were asked to vote on these awards. Before we discuss the top three, here are the other pitchers who got votes:
LHP Anthony Flores, 18, DSL Brewers 1, 11 games, 11 starts, 3.22 ERA, 1.10 WHIP, 44.2 IP, 33 H, 16 BB, 57 K
RHP Gerson Calzadilla, 20, ACL Brewers, 16 games, 0.98 ERA, 0.96 WHIP, 36.2 IP, 25 H, 10 BB, 36 K
Short-Season Pitcher Of The Year
Here are the top three vote-getters for Brewers Short-Season Pitcher of the Year:

3. RHP Melvin Hernandez, 16, DSL Brewers 2
10 games, 7 starts, 2.06 ERA, 1.17 WHIP, 35 IP, 33 H, 9 BB, 30 K
Hernandez did not turn 17 until after the DSL season started and is listed as being 5-foot-11 and 139 pounds. On paper, that doesn't sound imposing, and one would expect the debut to pro baseball to be rough. Instead, Hernandez became the undisputed ace of the DSL Brewers 2 squad. He averaged almost four innings a start, but what was notable was the signs of advanced command and control, allowing only nine walks and one home run all season, despite being over two and a half years younger than the average DSL player. His stuff is likely to get better as he fills out and gets professional conditioning.
2. RHP Eric Prado, 17, DSL Brewers 1
11 games, 7 starts, 1.54 ERA, 0.93 WHIP, 41 IP, 24 H, 14 BB, 37 K
Prado put in a strong case to be considered the ace of the DSL Brewers 1 squad, allowing less than one baserunner per inning. In particular, he was unhittable, giving up 5.3 hits per nine innings, and only allowed two home runs all season. His control was also solid, plunking only one hitter in 2023. He averaged four innings a start, and also had several multi-inning relief appearances. He's made a case as one of the top pitching prospects in the Brewers system.
1. Enniel Cortez, 17, DSL Brewers 1
11 games, 8 starts, 1.58 ERA, 0.88 WHIP, 45.1 IP, 35 H, 5 BB, 49 K
Cortez was signed out of Nicaragua in this international season, and prior to the DSL season, he pitched briefly in the Nicaraguan winter league. Once with the DSL Brewers, he wasn't just unhittable, he displayed incredible control and command – the five walks he allowed was almost as impressive as the fact he gave up only one home run. He averaged over four innings an appearance, and most impressively, pitched a complete game. If he stays healthy, he could be an incredible asset for the Brewers.
The Brewers had some very strong standouts this year in the short-season minors – and these pitchers could be as good as Jacob Misiorowski, Robert Gasser, and Carlos F. Rodriguez in the next year or two.
Think you could write a story like this? Brewer Fanatic wants you to develop your voice, find an audience, and we'll pay you to do it. Just fill out this form.
MORE FROM BREWER FANATIC
— Latest Brewers coverage from our writers
— Recent Brewers discussion in our forums
— Follow Brewer Fanatic via Twitter, Facebook or email