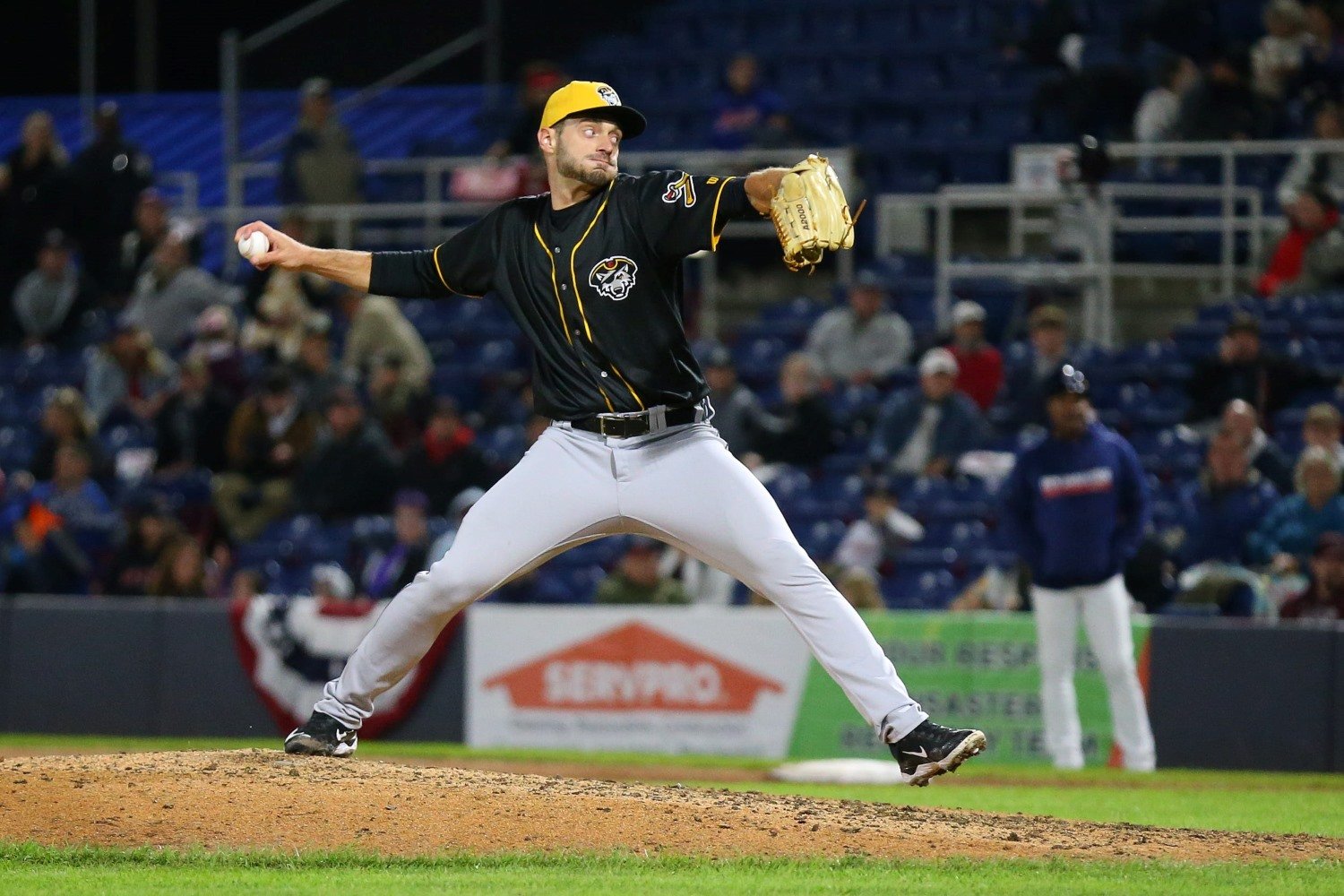 Image courtesy of © Jeff Miller / Special to the Press & Sun-Bulletin / USA TODAY NETWORK
A former two-way player at Division II St. Edward's (TX), Blake Holub has an interesting delivery. He throws from a three-quarter slot that looks similar to how an outfielder throws. Holub sits in the 94-95 range with his fastball, and tops out at 97 miles per hour. The fastball has some natural cut to it, and it also has extreme ride. It's a borderline plus pitch overall, and is the pitch the Brewers will likely continue to build his repertoire around.
As for his secondaries, Holub throws a short, vertical-breaking slider that sits in the mid-to-upper 80s, as well as a splitter. The splitter he showed in 2023 appears to have replaced what used to be a more traditional changeup at the time he was drafted. It's a pitch that he's still learning to throw, but it shows signs of being a solid offering to generate whiffs. In 2022, Holub would mix in a curveball in the low 80s at times. The pitch was a bit "slurvy," and it appears to have been scrapped in 2023. The Brewers have liked the combination of curveball/splitter or curveball/cutter in the past, so perhaps they will try to bring the hook back after some tweaking in their pitch lab. For now, you can expect Holub to be working primarily with his riding, cutting fastball, and mixing in both the slider and splitter.
After a tough professional debut in 2022 wherein he posted a 6.23 ERA (struggles driven by a walk rate of 5.4 per nine innings), Holub saw quite a bit more success throughout his 2023 season. Splitting time between the Tigers' High-A and Double-A affiliates, Holub appeared in 18 games for the former and 30 for the latter. Pitching exclusively out of the bullpen, he posted a 3.03 ERA between the two levels, to go along with a solid 3.75 FIP. Holub also struck out a strong 10.5 per nine innings. What changed from 2022 to 2023 to yield such better results? Outside of the tweaks to his repertoire, Holub also showed tremendous improvement in his control. Holub cut that ugly walk rate by more than three full walks per nine frames, bringing it all the way down to 2.3 in 2023. 
While Holub did a great job of cutting down the free passes, his in-zone command will continue to be a work in progress. He does struggle to locate his secondaries at times, leaving them in vulnerable hitting zones. He didn't get burned too often in High A, but that lack of command within the zone did start to hurt him a bit more at Double A. As he continues to climb through the system, continued improvement in that area will be paramount to his success. As a two-way player in college, this will only be Holub's third season where he will be solely focused on pitching. There's likely still more untapped potential in his arm than what would normally be expected from a 25-year-old prospect.
Likely beginning 2024 at either Double A or Triple A, Holub doesn't need to be added to the 40-man roster until he is big-league ready, or when he becomes eligible for the Rule 5 Draft next winter, whichever comes first. He has the type of arm (as well as the previously mentioned projectability) where a 2024 MLB debut couldn't be ruled out--if he can get off to a strong start to his season at the upper levels.