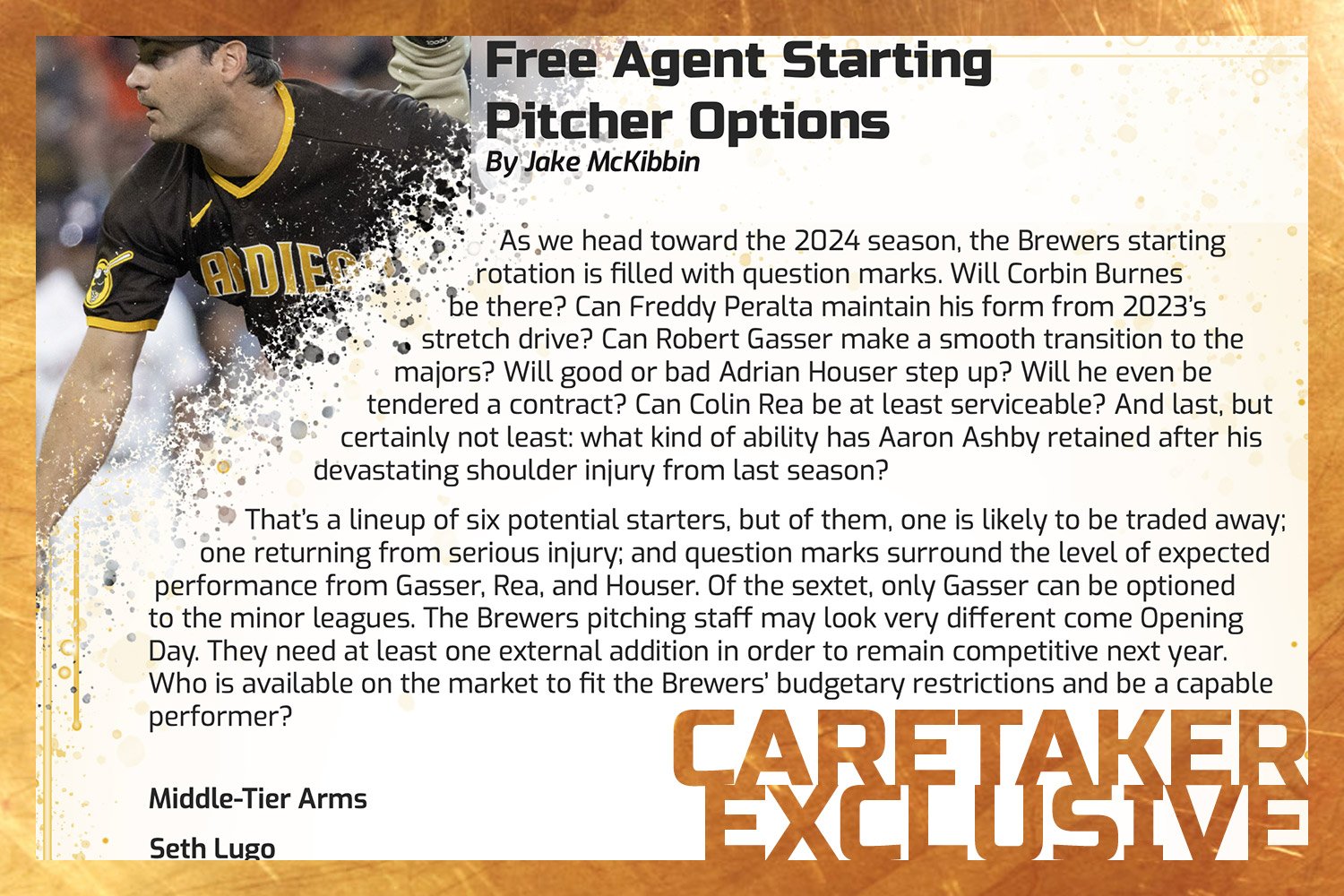 This is an excerpt from the 2024 Brewer Fanatic Offseason Handbook, you can find a link to download the entirety of Week Two of the handbook at the bottom of the article.
This publication is funded by Brewer Fanatic Caretakers and future entries will be available exclusively to Caretakers. During the publish period of the handbook, we are offering 25% off all Caretaker packages using the coupon code HANDBOOK. To become a supporter of Brewer Fanatic, click here.
Another perk of Caretaking is ad-free browsing across all of Brewer Fanatic.
---
That's a lineup of six potential starters, but of them, one is likely to be traded away; one returning from serious injury; and question marks surround the level of expected performance from Gasser, Rea, and Houser. Of the sextet, only Gasser can be optioned to the minor leagues. The Brewers pitching staff may look very different come Opening Day. They need at least one external addition in order to remain competitive next year. Who is available on the market to fit the Brewers' budgetary restrictions and be a capable performer?
Middle-Tier Arms
Seth Lugo
An intriguing mid-rotation arm with a career 3.50 ERA across 641 innings, Lugo spent seven years with the Mets before moving to the Padres. After opting out of a deal that would have paid him $7.5 million in 2024, he's an enticing, slightly under-the-radar arm. He spent 2021 and 2022 in the bullpen for the Mets, but stretched out as a starter for the Padres in 2023, pitching to a 3.57 ERA across 146 1/3 innings. On the positive side, Lugo has a devastating curveball, an 83rd percentile walk rate, and generates a lot of ground balls that were eaten up by the high-quality Padres infield this year. 
His peripherals leave much to be desired, with a significant uptick in hard-hit balls on both his primary pitches, the four-seam fastball and the curveball. His weak contact numbers dropped from 6% in 2022 to 3.1% in 2023, while his solid contact rate (as defined by Statcast) rose from 1.6% to 7.5%. There is a definite worry with Lugo that the transition to the starting rotation has negated his effectiveness, and that the quality of the Padres' defense had a big hand in his topline results. That being said, he pounds the strike zone and eats innings. Perhaps he has more to unlock in his second year of returning to the rotation.
Lugo figures to be seeking a multi-year deal. MLB Trade Rumors predicted a three-year, $42-million contract for him, which may be feasible for the Brewers should they trade Burnes and his final-year arbitration obligations away. He's the type of pitcher the Brewers enjoy working with, sporting an above-average spin rate that leads to good movement on both his fastball and his curveball, allowing them to play up.
Verdict: Definite potential, but slightly overpriced based on last season. Potential to excel or dip off.
Kenta Maeda
Maeda is injury-prone. He's 35 years old. He's barely surpassed 100 innings in each of his last two seasons. All of that means he'll be significantly cheaper than most pitchers who possess the upside he still owns. Maeda could be brought in on a two-year contract, and combines welcome veteran presence with a skill set that's effective in the big leagues. After the All-Star break in 2023, Maeda pitched to a 3.79 ERA across 71 1/3 innings, with 82 strikeouts and a 1.12 WHIP, albeit with a propensity for home runs. His xERA on the season was 3.77. The Twins' good-not-great infield defense, wherein Jorge Polanco and Carlos Correa combined for -1 Defensive Runs Saved, probably cost him a bit. That said, Maeda had just a 33.6% ground ball rate in 2023, a 9th-percentile number far below his career norms of around 40%.
Maeda is the kind of risk that could be worth taking, given the quality of the Brewers' defense. With an xERA that's never gone above 4.00, a splitter that had a 35% whiff rate last season, and a slider that played well when kept out of the heart of the strike zone, he has a high floor and some chance to improve on the results he posted last year. With many new pitchers coming through, a facsimile of Wade Miley could benefit Milwaukee, especially one who still has the potential to be a significant contributor on a competing team. As he gets further removed from surgery, there remains a possibility that he will take that next step.
According to MLB Trade Rumors, Maeda could be in line for a two-year deal worth $36 million. If he comes in a bit lower, though, he would be entirely affordable for the Brewers. His innings pitched over the last three seasons will prevent Maeda from attaining more, but as long as his splitter keeps splitting, there's a strong chance for him to have one more high-quality season. If the Brewers can find a way to help him get the ball on the ground more often, those results could come through, but they'll also need more than 100 innings to make this contract justifiable.
Verdict: 2 years, $24 million would provide value for the Brewers, given injury history, but any more could be costly
Michael Wacha
The Padres declined Wacha's two-year, $32 million option, sending him into free agency, and he's an intriguing arm. Wacha has pitched 251 innings over the last two seasons, recording a 3.26 ERA and a 1.14 WHIP led by his increasing use of his changeup, which held hitters to just a .187/.304 xBA/xSLG in 2023. With almost a 36% swing-and-miss rate, it's an elite pitch that's brought a lot of success to him over several seasons. With above-average walk, Barrel, and chase rates, to boot, Wacha is a highly effective middle-of-the-rotation pitcher who can deliver quality starts...
Think you could write a story like this? Brewer Fanatic wants you to develop your voice, find an audience, and we'll pay you to do it. Just fill out this form.
MORE FROM BREWER FANATIC
— Latest Brewers coverage from our writers
— Recent Brewers discussion in our forums
— Follow Brewer Fanatic via Twitter, Facebook or email