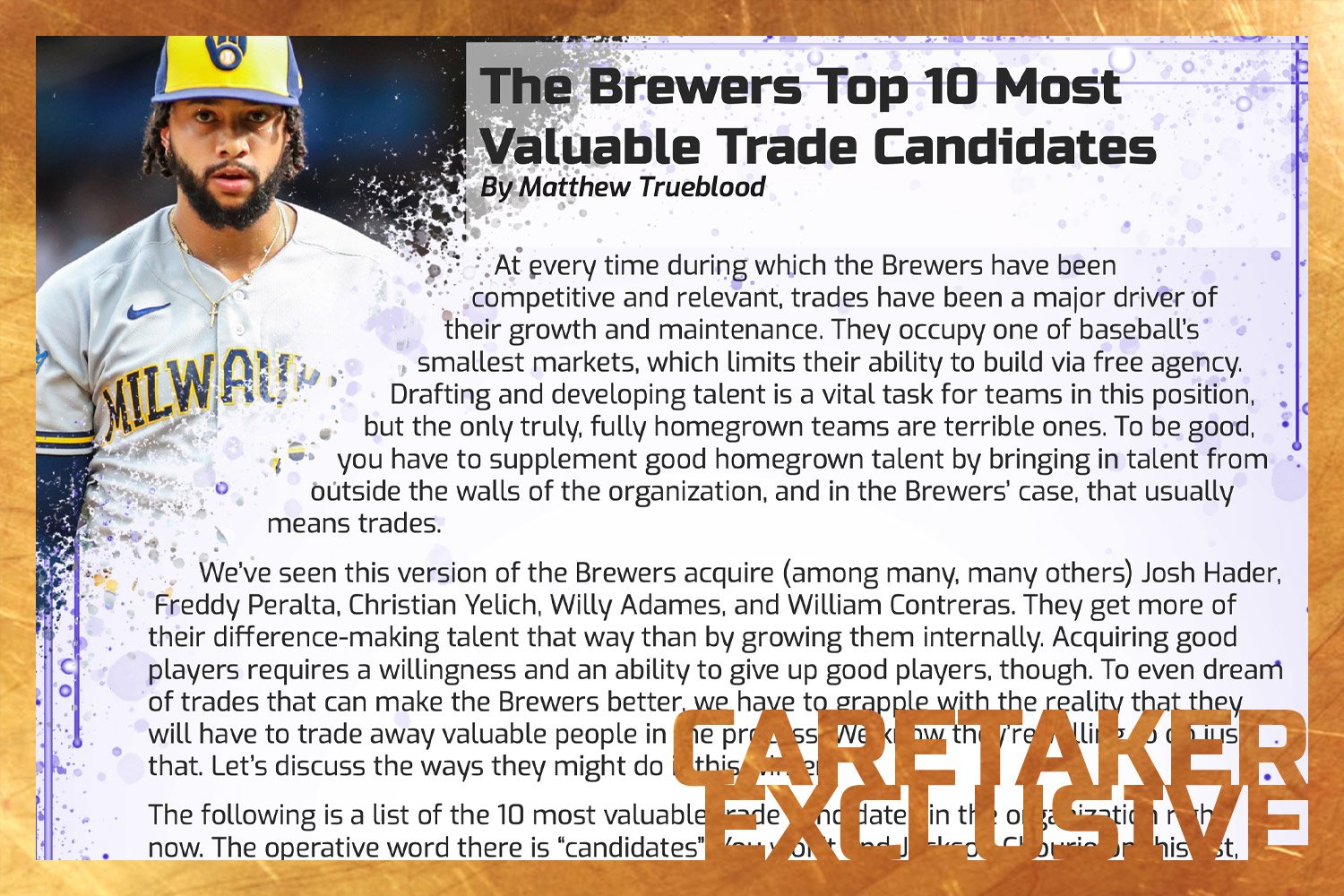 Image courtesy of Brewer Fanatic & Brock Beauchamp
This is an excerpt from the 2024 Brewer Fanatic Offseason Handbook, you can find a link to download the entirety of Week Two of the handbook at the bottom of the article.
This publication is funded by Brewer Fanatic Caretakers and full entries are available exclusively to Caretakers. During the publish period of the handbook, we are offering 25% off all Caretaker packages using the coupon code HANDBOOK. To become a supporter of Brewer Fanatic, click here.
Another perk of Caretaking is ad-free browsing across all of Brewer Fanatic.
---
We've seen this version of the Brewers acquire (among many, many others) Josh Hader, Freddy Peralta, Christian Yelich, Willy Adames, and William Contreras. They get more of their difference-making talent that way than by growing them internally. Acquiring good players requires a willingness and an ability to give up good players, though. To even dream of trades that can make the Brewers better, we have to grapple with the reality that they will have to trade away valuable people in the process. We know they're willing to do just that. Let's discuss the ways they might do it this winter.
The following is a list of the 10 most valuable trade candidates in the organization right now. The operative word there is "candidates". You won't find Jackson Chourio on this list, because while the team could get considerably more for Chourio than for anyone else in their employ, they seem extremely unlikely to trade him. I've also left off Freddy Peralta (with his extremely team-friendly contract) and William Contreras (still under cost control, four years from free agency, and one of the team's best three or four players). Rather, this list ranks the players for whom they might get the most value, but whom the Matt Arnold-led front office genuinely might surrender. Let's dive in.
1. Devin Williams, RP
It says something strange (and not altogether good) about a franchise when their best potential trade chip is a relief pitcher. In this case, though, that's only because the Brewers have three great pieces who are effectively untouchable. Williams, by contrast, is very much in play, if the right type of deal comes along. He's one of the five best relievers in baseball, and he still has two seasons of team control remaining. However, now that he's the closer, those seasons will be fairly expensive ones. Nor is he immune to the variance inherent to being a reliever–especially since he relies on a screwball, and has previously fallen victim to the shoulder trouble that usually catches up to purveyors of that pitch, at some point. 
None of that would stop him from being immensely valuable on the trade market. The only true comp in recent memory–the only time a team traded a reliever this dominant in the offseason before his penultimate campaign under cost control–is Billy Wagner, whom the Astros dealt to the Phillies 20 years ago this month. In exchange, Houston got three pitchers: Brandon Duckworth (a promising but not thriving swingman with four years of team control attached), Taylor Buchholz (whom Baseball America would rank 50th in their Top 100 Prospects list the following spring) and Ezequiel Astacio (who would land 80th on BA's list prior to 2005). A controllable big-league arm and two legitimate prospects would be a huge haul, but not an unreasonable one. If the Brewers do deal Williams, as they did with Josh Hader at almost (but not quite) the same juncture, it will be with an eye toward restocking the farm system for another year or two, while still yielding some value at the MLB level.
2. Corbin Burnes, SP
Yes, Burnes will be a free agent after 2024, but until the season starts, any team who acquires him can still console themselves with the reminder that he can be tendered a qualifying offer on the way out the door. That would allow his new, stopover team to regain some long-term value after wringing out significant short-term value from him. That's one reason why the Brewers can still expect top-echelon talent in return for Burnes. The other is that he remains one of the game's best starting pitchers.
It's been frustrating to watch Burnes at times since the 2022 All-Star break, but he's piled up innings and strikeouts even during some periods of struggle. He's not at the elite level he attained in 2020 and 2021, but every team in baseball would love to use him as a starter at some point in a playoff series. For many clubs, he would still be a Game 1 or Game 2 starter. That makes for good trade value, even if Burnes's projected salary and the well-publicized friction between the player and the organization slightly compromise Milwaukee's leverage.
3. Sal Frelick, OF
Entering this season, the hope was that Frelick would end up in the category Chourio, Contreras, and Peralta now occupy. Ideally, he'd have come up for at least half the season, demonstrated the considerable value of his well-rounded skill set, and secured a long-term role on this team....
Think you could write a story like this? Brewer Fanatic wants you to develop your voice, find an audience, and we'll pay you to do it. Just fill out this form.
MORE FROM BREWER FANATIC
— Latest Brewers coverage from our writers
— Recent Brewers discussion in our forums
— Follow Brewer Fanatic via Twitter, Facebook or email