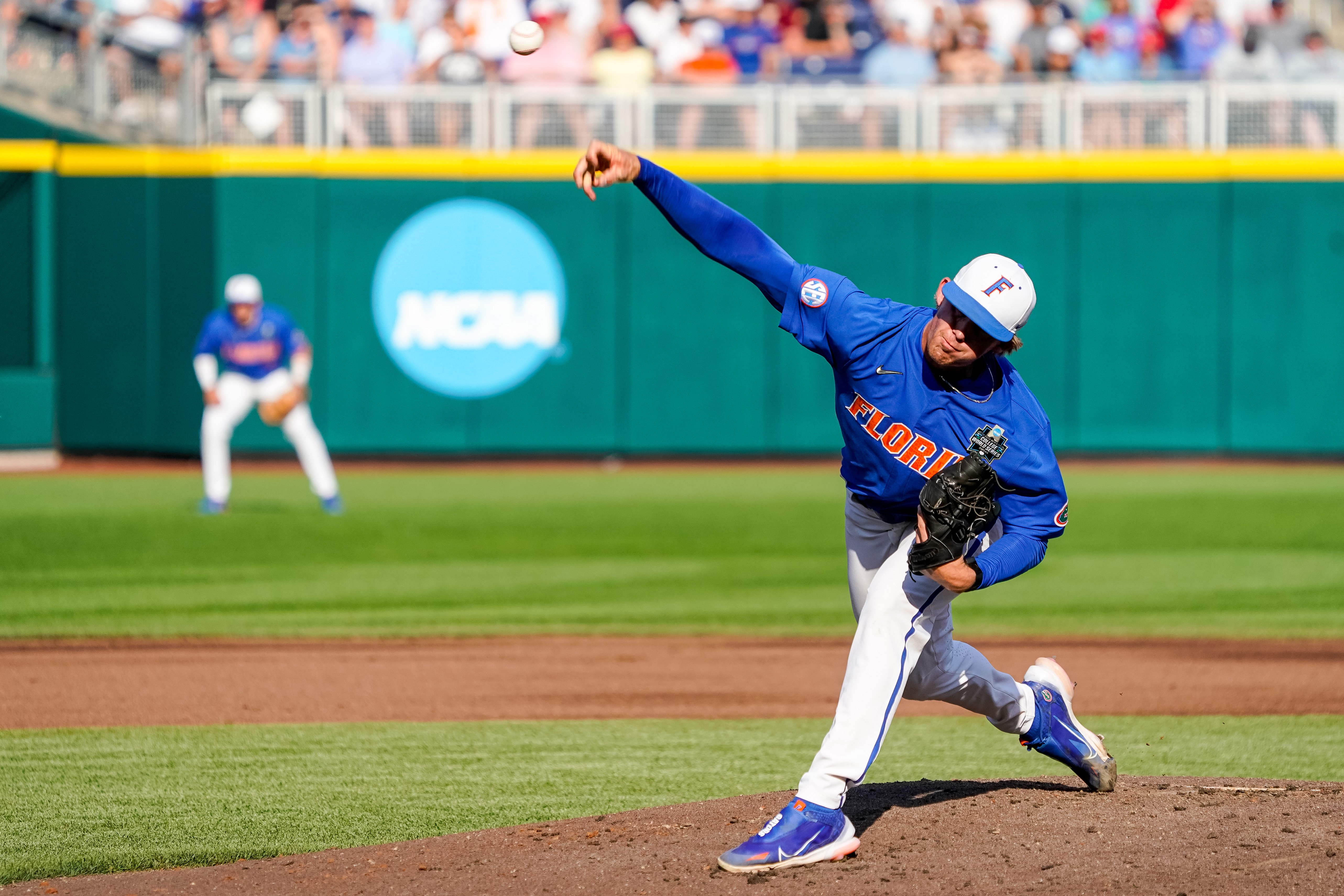 Image courtesy of Brock Beauchamp
The Draft is now just days away. We continue our profiles of potential Brewers picks with an arm who would be an interesting fit in Milwaukee, Hurston Waldrep. While Waldrep may be gone by the time the Brewers pick (Cubs?) he fits the Brewers' preferred profile of a college pitcher with unique pitch traits. In his case, it's a cluster of outstanding secondary pitching that give him enormous upside.
Who is He?
Hurston Waldrep is a right-handed starting pitcher for the University of Florida who has had an uneven year for the Gators after transferring from Southern Miss. Waldrep turned it on in his first two starts in the College World Series before struggling in game two of the Championship Series. Still, his dominant end to the season helped surface that much of his inconsistencies during the regular season was as a result of poor pitch calling, specifically, an over reliance on his fastball as opposed to his secondary pitches. For me, Waldrep is comfortably the second-highest upside starting pitching prospect in the draft behind Paul Skenes.
Why the Brewers Will Draft Him
Waldrep currently sits 15th overall on the Consensus Board and has rankings between 6th and 26th on the boards I use as inputs to it. The appeal of Waldrep lies in having two comfortably plus secondary pitches and a possible third in the making. His fastball has good velocity, sitting 95-97mph (although it can reach 99 mph). He struggled to throw it for strikes consistently this season and its the one pitch opposing lineups have done damage against. His slider is plus, creating a ton of swing and miss. Waldrep also throws a curveball as a second breaker which is above average, and used significantly less. His best pitch is his split change. It's an easy plus pitch and my favorite pitch in the entire class. It tumbles and just drops away from bats as it crosses the plate. Waldrep tends to command his secondaries more effectively than his fastball. Waldrep's stuff is tantalizing, a four-pitch mix with each offering being at least above average. Combine that with his velocity and ability to command his secondaries and you have a rare combination of stuff resulting in uncommon upside.
Why the Brewers Won't Draft Him
While Waldrep is a higher upside play than someone like Rhett Lowder , there's much more risk in the profile. Waldrep has a high effort delivery, with a longer arm stroke and a lot of moving parts in his operation on the mound. The spotty control and command of his fastball adds another element of risk. The Brewers have done a good job of ironing out pitcher's mechanical inconsistencies, and the potential payoff from drafting the caliber of stuff Waldrep possesses is rich. Ultimately, I think Waldrep might be gone when the Brewers pick. The way the board is shaping up currently, it looks like there will be a cluster of excellent college hitting available to Milwaukee at eighteen. 
What do you think of Hurston Waldrep as a prospect? How would you feel about him being the Brewers pick at 18 overall? Join the discussion in the comments.