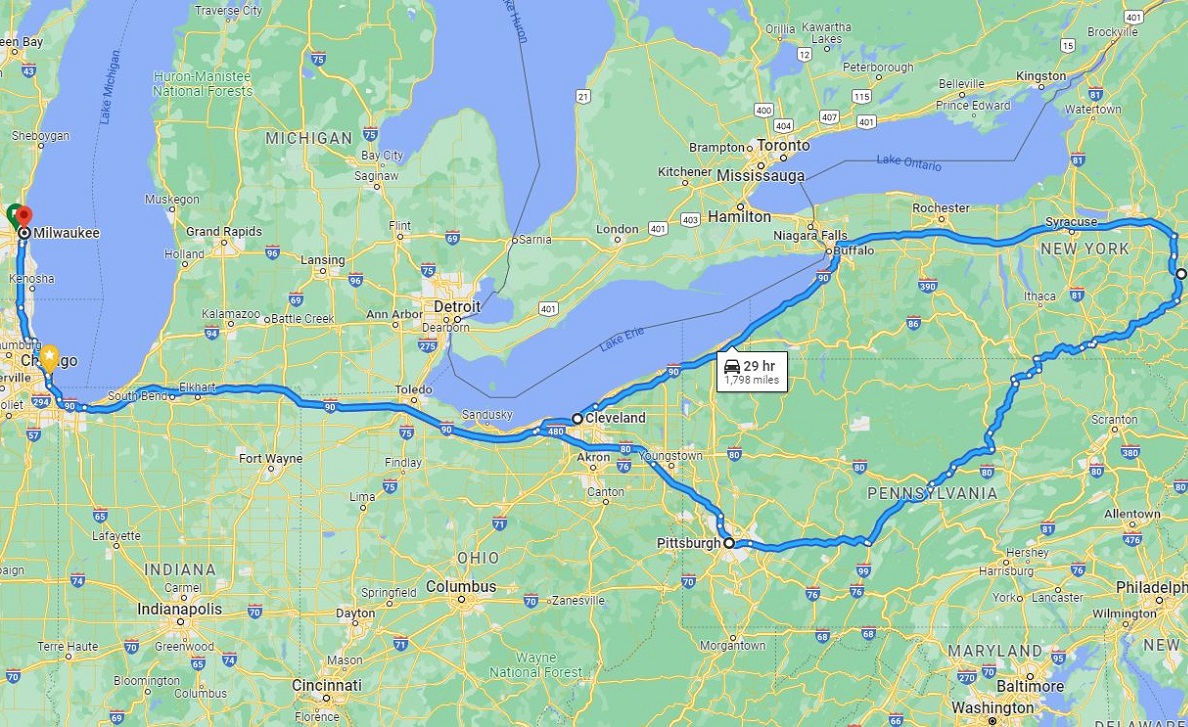 The Brewers' 2022 season is far from over (even the projection systems think so), but since Milwaukee released their 2023 schedule yesterday, let's peek ahead to find some fun trips to new ballparks.
Major League Baseball's schedule changes next year so that several series previously played versus divisional opponents will now be interleague games. This allows the Brewers to play at least three games against every other team in Major League Baseball, making it much easier for Brewers fans to see games in American League ballparks. Four killer road trips stood out to me.
#4 – Toronto Blue Jays (end of May)
Canadian baseball fans travel well when their team visits a northern American ballpark. So why not return the favor?
Unfortunately, this three-game series isn't over a weekend, but it is the week of Memorial Day. It's about a 10-hour drive, but the most direct path takes you within an hour of Niagara Falls, and you're already on the (far superior for viewing) Canadian side. Stop there for a night either on the way there (the Brewers have Memorial Day off?) or the way back. I advise you spring extra for a hotel room with a view of the falls. You won't forget that night soon.
Rogers Centre, on the other hand? It's aged, and not particularly well. When it was built its retractable roof was praised as a marvel to behold, and the good news is that you won't have to worry about a rainout. If you want to spring for it, they still do have a hotel inside the stadium where you can get rooms with a view of the game.
Plus, Toronto is a world class city – markets, museums, distilleries, breweries – they have it all, even if if you're not visiting on a weekend.
#3 – New York Yankess
Speaking of world class cities, the Brewers visit New York City on a weekend in September to face the Yankees. If there aren't at least four items in that last sentence that excite you might want to check your pulse.
If you are a baseball fan, and haven't been to Yankee Stadium, can you pick a better time? Personally, I was a little disappointed; as its name suggests, it's more "stadium" than "ballpark" which is not my aesthetic. But get there early to poke around or arrange a tour, and you might feel differently than I. And New York is, of course, amazing.
#2 - Arizona Diamondbacks and San Diego Padres
Spring is wonderful in the upper Midwest, and Brewers fans are fortunate to have a ballpark where baseball can be played in all kinds of weather. That doesn't mean we aren't ready to skedaddle to a southern climate in mid-April, and the schedule provides exactly that opportunity with a trip to Arizona and San Diego. Fly in and out of one, or take a week and visit both; they're about a 6-hour drive apart.
If you're forced to pick one, the San Diego Padres trip is the obvious winner. Not only is it an unbelievable city and a fantastic stadium, it's also a four game weekend series. Petco Park is located in San Diego's entertaining Gaslamp Quarter and includes a built-in warehouse out in left field. It's definitely a top 10 MLB stadium. 
But don't sleep on Phoenix. The Arizona Diamondback's Chase Field is also located downtown, surrounded by a surprising amount of nightlife, especially considering the state of that franchise. The ballpark itself is a little more generic, but if you get a chance, ask about visiting the organist. It's one of the few places in MLB you can do that, and we found him very entertaining to talk to in-between his musical enhancements to the game. Afterwards, Phoenix will certainly find a way to keep you entertained.  
#1 – Cleveland Guardians, Baseball Hall of Fame, Pittsburgh Pirates 
Nothing screams Midwestern baseball like a road trip, and there's a pretty good one awaiting you at the end of June. The Brewers will play the Cleveland Guardians (a 7-hour drive) for a weekend series. After that, the team travels to face the New York Mets, but rather than make that trek, you have four days to visit Cooperstown, NY (also 7-hours) and the Baseball Hall of Fame.
(By the way, you have the option of an even shorter jot to Niagara Falls as you pass through Buffalo. Again, just make sure you go over to the Canadian side.)
The next weekend, the Brew Crew makes their way back through Pittsburgh (yep – also 7 hours) to play the Pirates at beautifuly scenic PNC Park. At the end of that series, you have to drive a little longer – 8.5 hours – to get back to Milwaukee, but you gain an hour, so we're going to call it close enough.
Any of those strike you? If not, there are plenty more to consider, like a weekend series versus the White Sox, a trip to Denver or San Francisco, or a series in Dallas (in August, blech). You can find the full 2023 Brewers schedule here, and I'd love to have your ideas in the comments below. 
Think you could write a story like this? Brewer Fanatic wants you to develop your voice, find an audience, and we'll pay you to do it. Just fill out this form.
MORE FROM BREWER FANATIC
— Latest Brewers coverage from our writers
— Recent Brewers discussion in our forums
— Follow Brewer Fanatic via Twitter, Facebook or email