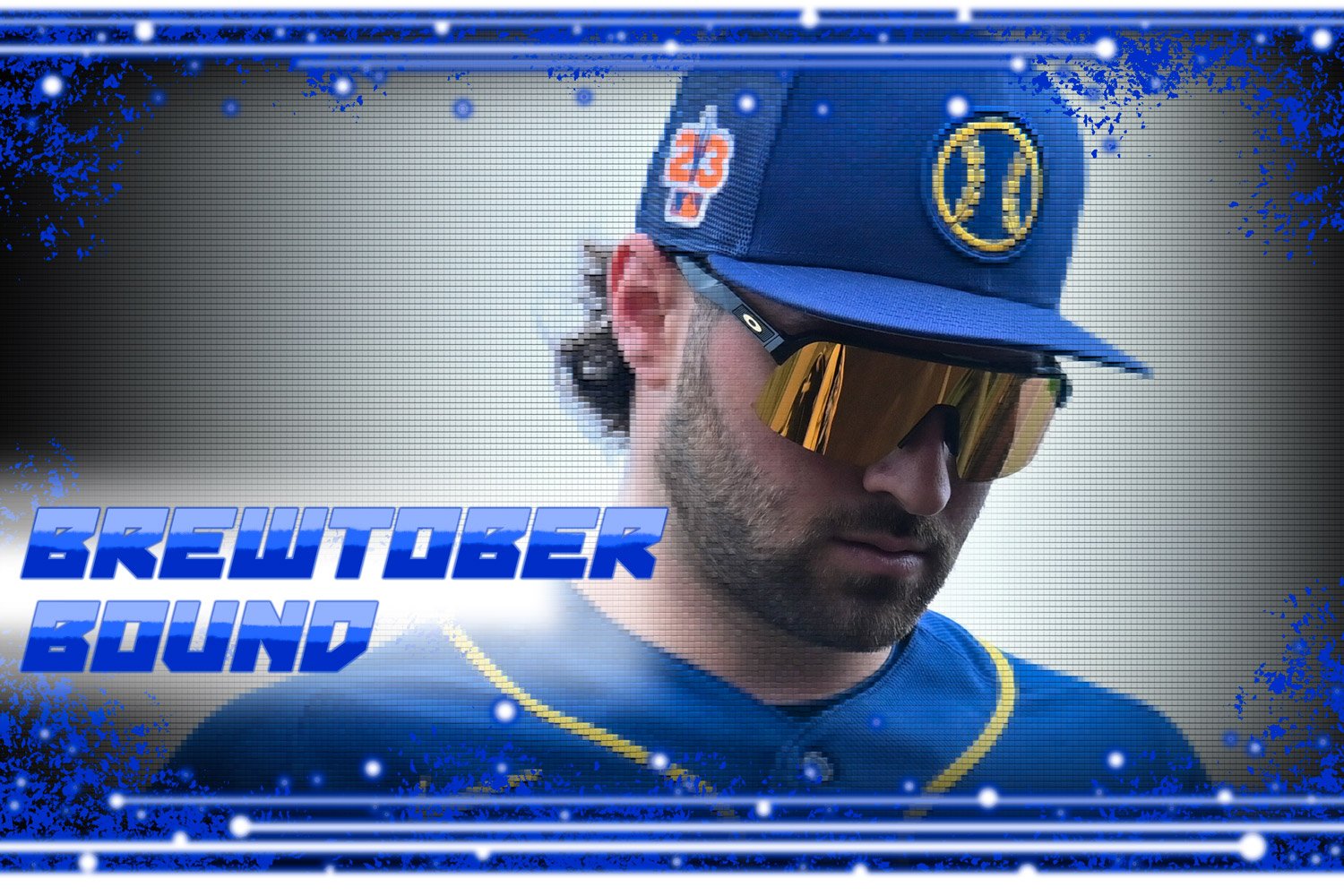 Image courtesy of Brock Beauchamp & Brewer Fanatic
The latest masterpiece of September management by Craig Counsell has made the Brewers comfortable atop the NL Central. The competition will be stiffer in the Wild Card Series and beyond, though. To meet the challenge their opponents will pose, the Brewers need to answer a handful of questions about their club.
What's the Bullpen Hierarchy, After Devin Williams?
No team in baseball, perhaps, has as secure and reliable a closer as do the Brewers. Williams still has the highest average Leverage Index of any pitcher in baseball, but although he and Counsell have given us a glimpse or two of a future in which he might pitch multiple innings for a playoff save, he's not likely to work solo during October. Behind him in the relief corps pecking order, meanwhile, things have been much more fluid.
Joel Payamps was the clear-cut primary setup man for the meaty middle chunk of this season, and after a slightly later emergence, Elvis Peguero became a reliable secondary one. Lately, though, Counsell has experimented pretty liberally, making later and more high-stakes use of both Abner Uribe and Trevor Megill. Those guys have the utterly overwhelming stuff to rack up strikeouts late in playoff contests, whereas Peguero and Payamps lean more toward managing contact and throwing strikes. If Counsell is going to trust either of his triple-digit terrors with a slim lead in the seventh or eighth inning of a postseason game, though, he's going to have to see that they can find the zone consistently, too.
Can William Contreras Earn Corbin Burnes's Trust?
The Brewers really wanted the match of Corbin Burnes and William Contreras to work. They were paired up in spring training, and on Opening Day, and twice more in April. Contreras started behind the plate for two Burnes starts in May. Then, that having rather resoundingly not worked, Victor Caratini became Burnes's personal catcher for four months solid. Not until Saturday did Contreras resume his place in a battery with Burnes.
The results were mixed. The first five innings were dominant, but Burnes fell apart in the sixth, and Contreras wasn't able to help him survive it. Over the course of the season, Contreras has earned the faith and respect of almost everyone on the Milwaukee pitching staff, as a game-caller, a receiver, and a situation manager. If he can get to that place with Burnes, there's a good chance Caratini doesn't make a start in the playoffs, except perhaps deep in a second- or third-round series. If not, Caratini will have to pair with the ace, but that will mean squeezing one of the team's bat-first players out of the lineup.
Who Will Start at Second Base?
Remember when Brice Turang returned from Triple-A Nashville and looked downright competent at the plate for an extended period? In his first 40 games after that sojourn in the minors, he batted .230/.331/.353. That sounds underwhelming, but it's all the team needed from him and more. He's an excellent defensive second baseman, and he had an above-average on-base percentage in 142 plate appearances. Over that span, he had 19 walks and just 21 strikeouts.
Now, the league has adjusted back to him, and it's a nightmare. In 98 plate appearances over the last 30 days, he's hitting .239/.292/.250. He has one extra-base hit (a double), six walks, and 21 strikeouts during that month of work. Just as he's sagging toward inutility, Josh Donaldson has arrived, giving the team a credible third baseman and freeing up Andruw Monasterio to slide to second base if needed.
Monasterio isn't a Turang-caliber fielder at the keystone, but he's above-average, and he's a much more valuable hitter. The most dangerous formulation of this team is likely to include Monasterio at second most days, with Turang available for late defense and as a pinch-runner--especially for Donaldson, if he gets on base with a potentially game-changing run late. Because Turang and Willy Adames work so well together around the bag, though, the team is likely to give the lefty swinger a chance to snap out of this deep slump before the playoffs roll around.
Is a Healthy Garrett Mitchell the Secret Weapon?
Though he nosed his way back into the lineup for a bit during Christian Yelich's time on the bench with back trouble, Joey Wiemer looks overmatched at the plate and less confident and dazzling afield than he did early in the season. Yelich and Sal Frelick seem like the fixtures in the lineup for a postseason series, and Mark Canha and Tyrone Taylor have locked in their places in the outfield firmament. The missing element, in terms of tactical usage in a playoff setting, is a speedy bench player with good defensive skills. Wiemer could have been that guy, but doesn't feel like he's ready to be right now. 
Mitchell, out since April after that bummer of a shoulder injury in Seattle, has the perfect toolkit. He'd work nicely as a left-handed counterbalance to Taylor and Canha, too. The question is whether he can get ready and healthy enough during his rehab assignment in Nashville to make the team confident adding him to their 26-man crew when the chips are down.
How Should The Rotation Line Up?
This sounds like an easy question, at first. Obviously, you want Burnes, Brandon Woodruff, and Freddy Peralta to start the Wild Card Series games, right? That means ensuring that the first two pitch in the first half of the final week, and that Peralta goes no later than Saturday in the Cubs series, but that series isn't going to matter, as it turns out. Just line them up.
It's not actually that simple. The new playoff schedule includes the Wild Card Series the Tuesday, Wednesday, and Thursday after the season ends, but then the Division Series starts Saturday. The NLDSes each take Sunday off, then resume with Game 2 Monday, take another day off, play two games in the lower seed's city, then return for Game 5 (if needed) the following Saturday.
That's a bizarre schedule, and it introduces some fascinating dilemmas. None of the three guys who start in the Wild Card Series can come back (except on short rest) in Game 1 of the Division Series. Could the Brewers line things up, instead, to have one of their Big Three make the final start of the regular season, and slot in Wade Miley as the starter in a potential Wild Card Series Game 3? 
It sounds crazy, but it isn't. If (for instance) Burnes doesn't start during the Wild Card Series, he can pitch Game 1 and Game 4 against the Dodgers on regular rest. Another member of the Big Three (let's say Brandon Woodruff) could start Game 1 of the Wild Card Series and Game 2 of the NLDS, and still be ready for Game 5 of that series on regular rest. Freddy Peralta would be in position to start Game 2 of the WCS and Game 3 of the NLDS. 
The risk of letting your season end without one of your three star starters taking the mound is considerable. It's the kind of thing teams don't do, just because they fear the backlash if things go wrong. In the Brewers' case, though, it might be the right move. The goal here should not be merely to win the Wild Card Series. They can and should aspire to reach the World Series, and taking a bit of a gamble might be the approach that maximizes the chances of that.
At any rate, it's nice that none of the remaining questions about the Brewers' playoff push are, "Will they make it?", or even "Will they be at home for the Wild Card Series?" They've won the regular season. Now, they can focus on the kinds of difficult problems that only teams who earn the privilege of doing so have to solve.
Think you could write a story like this? Brewer Fanatic wants you to develop your voice, find an audience, and we'll pay you to do it. Just fill out this form.
MORE FROM BREWER FANATIC
— Latest Brewers coverage from our writers
— Recent Brewers discussion in our forums
— Follow Brewer Fanatic via Twitter, Facebook or email