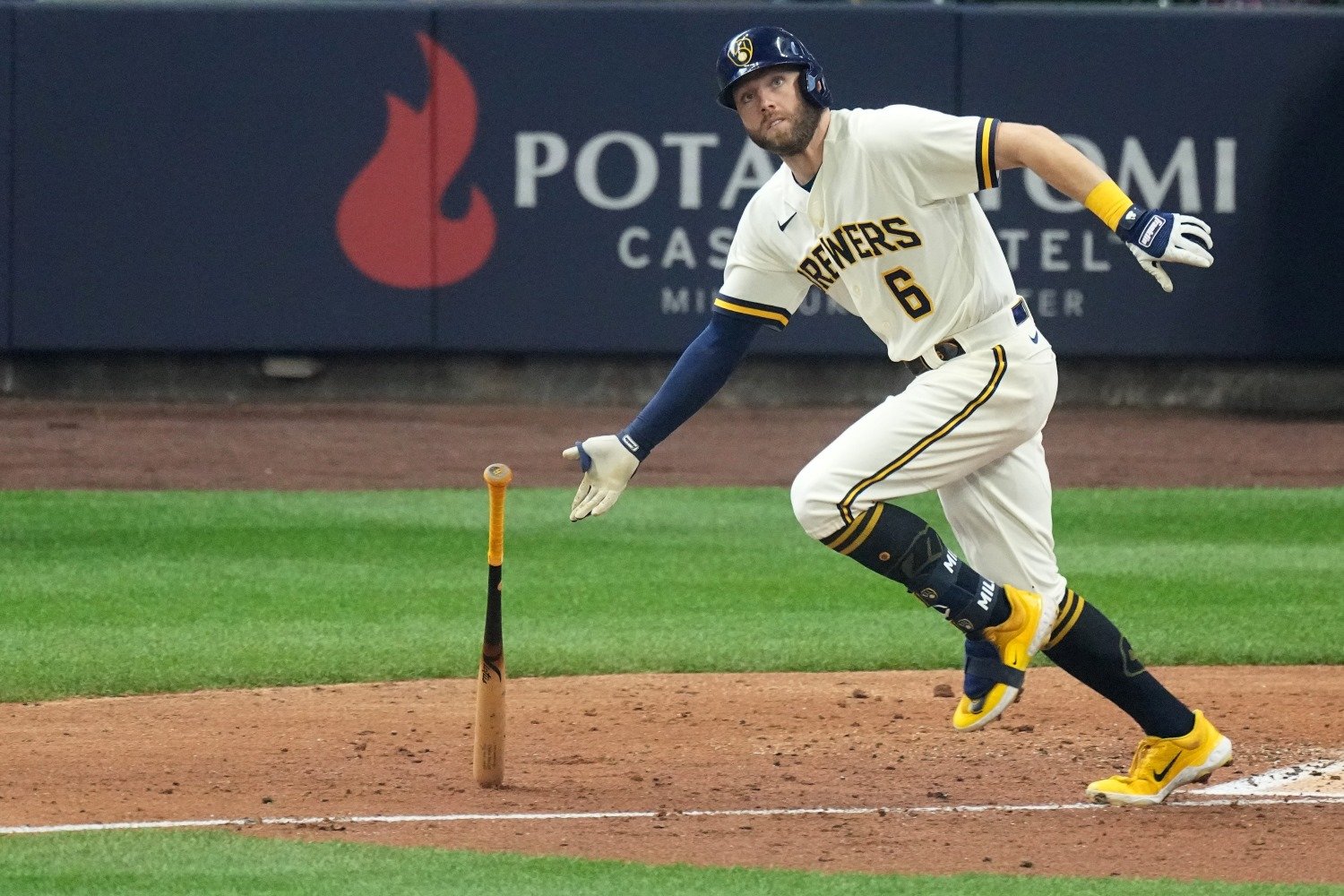 Image courtesy of © MARK HOFFMAN/MILWAUKEE JOURNAL SENTINEL / USA TODAY NETWORK
Arm Strength
Owen Miller's defense so far for the Brewers has been of seriously high quality, including some highlight-reel plays at third. However, at the hot corner especially, his arm strength can be an issue, with Miller favoring a quickish release over strength, and there have been a couple of infield hits with him over there that Brian Anderson's arm just wouldn't allow.
He's in the 9th percentile for arm strength, meaning he probably performs better at second base, but with Brice Turang being locked into that position, his versatility has allowed him to find regular playing time during his hot streak.
The Expected Stats
One thing Miller has seriously benefitted from so far is a .386 BABIP, resulting in a wOBA .080 higher than would expected thus far, based on his batted-ball data. His expected batting average of .276 and expected slugging average of .408 are still sturdy numbers that would significantly outperform his career bests, but they're also a far cry below his current .346/.548 marks.
It also seems important to note that Miller isn't hitting the ball harder, or in the air, more often than he was last season. He has a .946 BABIP on line drives so far, which is obviously unsustainable, and is finding a lot of holes both up the middle and to the pull side, while players like Christian Yelich seem to be finding the fielders with much more regularity. In short, there is due to be a period wherein Miller's regular contact doesn't yield the hits we're seeing at the moment.
There also could be a period of adjustment on the part of opposing pitchers, given his approach changing (as mentioned in part one). Most of Miller's damage has come up in the zone, which is also where he's being pitched to most often.  Given his contact rates, swing-and-miss is less of an issue for Miller as to whether he can make consistent aerial contact, yet he struggles to hit the ball hard when pitched down in the strike zone;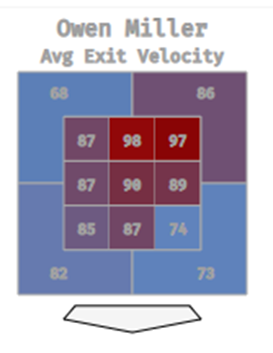 This drop in velocity might be manageable for flares into the outfield if he could consistently keep the ball in the air. However, as you can see below, he creates a lot of low-value ground balls.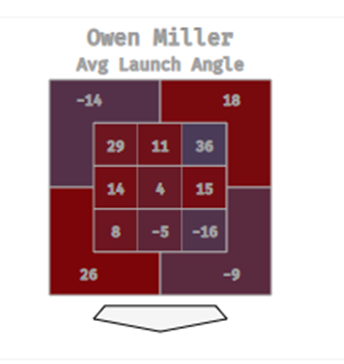 Almost all of Miller's loud contact comes on the inner and middle thirds of the plate, using his short swing to pull the ball with relative authority. He has just two hard-hit balls (out of 41 swings) on pitches on the outer third of the plate.
In short, there are enough weaknesses that he may get figured out sometime in the next month or so. The biggest question will be if he can stay in the at-bat using his contact skills until he gets a pitch more to his liking. Sliders down and away are his biggest swing-and-miss pitch, and I'm surprised that (thus far) he hasn't been exploited more, in the way we see Willy Adames being peppered with them.
To Sum it Up
I don't think anyone expects Owen Miller to carry a .915 OPS through to the postseason, but the timing at which he has provided this run of form has been invaluable to the Brewers. He's making solid contact, putting the ball in play and providing high-quality defense (93rd percentile for outs above average). He's versatile, and is showing signs of hitting for power recently, having managed just six home runs in total across 2022. The Brewers must be incredibly happy with the production they've received so far, and long may it continue.
Think you could write a story like this? Brewer Fanatic wants you to develop your voice, find an audience, and we'll pay you to do it. Just fill out this form.
MORE FROM BREWER FANATIC
— Latest Brewers coverage from our writers
— Recent Brewers discussion in our forums
— Follow Brewer Fanatic via Twitter, Facebook or email