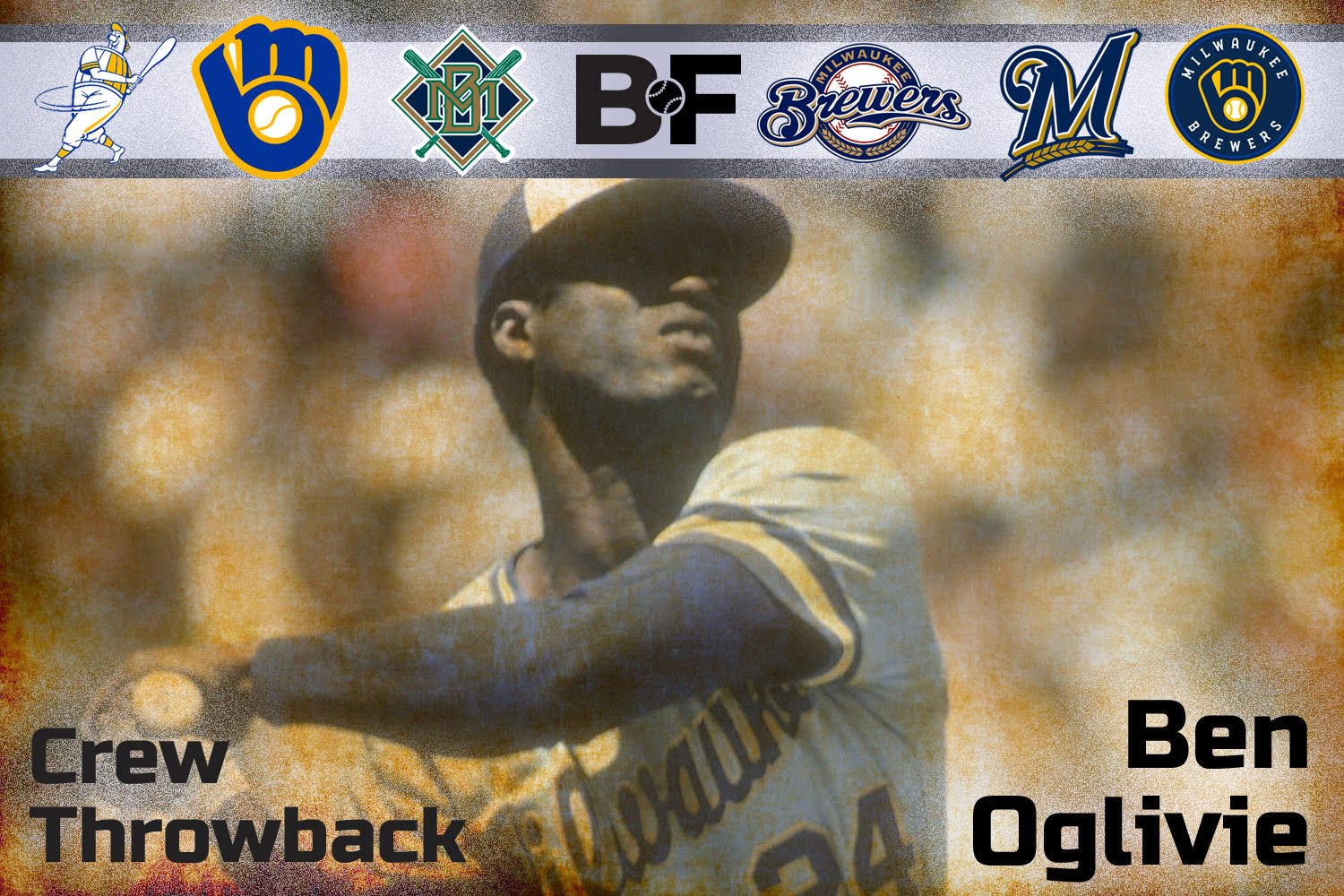 Benjamin Ambrosio Oglivie Palmer was born in Panama in 1949. At age 17, he and his family moved to New York following the death of his father. The Red Sox drafted the athletic Oglivie in 1968 in the 11th round. The tall, lanky left-handed outfielder steadily worked his way through the Boston system, reaching the big leagues in 1971.
After two years as a part time player, Oglivie was dealt to Detroit, where he played for four years, primarily as a platoon player. Just when it looked like Oglivie was ticketed for a full time job, the Tigers traded him to Milwaukee for pitcher Jim Slaton (who would return to Milwaukee a year later as a free agent).
The trade for Oglivie was the best thing for the then 29-year-old outfielder. He hit .303 in 1978, then followed up with 29 HRs the next season. In 1980, Oglivie hit .304 and pounded out a league leading 41 HRs (tying Reggie Jackson), thus becoming the first foreign born player to top the circuit in round trippers. He made the first of three All-Star appearances that year, finish 13th in the league MVP voting, and won his only Silver Slugger Award.
He would never top his fantastic 1980 campaign, but he did hit .277 and produce an OPS of .806 during his time with the Crew. 
Oglivie played nine years in Milwaukee, primarily in left field, but also in right field and as a designated hitter. After leaving the Brewers, Oglivie played two successful years in Japan (hitting over .300 and having more than 20 HR both years). He attempted a comeback at age 40 with Milwaukee in the minor leagues, but an injured knee ended the affair after only 2 games.
As a player, Oglivie was known as quiet, intelligent and low-key. Perhaps it was his introspective nature that kept him out of the spotlight. He was viewed as a bit of an odd duck, more comfortable reading philosophy than drinking beers with larger-than-life characters such as Gorman Thomas. In fact, early in his career, many took his cerebral approach and polite attitude as a lack of passion. The opposite, however, was true. Oglivie was immensely curious and intelligent, and just approached things differently. Former teammate Bill Lee said Benji could do the New York Times crossword puzzle in five minutes.
After retiring, Oglivie stayed in the game, primarily as a hitting coach, in the Padres, Brewers, Tigers and Rays organizations.
For his Brewer career, Oglivie is ranked 8th in hits, 7th in HRs (176) and 6th in RBI (685). For his entire career, he hit 235 HR and drove in 901 runs. In 1983, in one of his more memorable games, he slugged three home runs as the Brewers came from behind to beat Boston 8-7 in 10 innings. Oglivie's 3rd homer tied the score at 6-6 in the bottom of the 9th.
It should be noted that Oglivie put up a lot of impressive numbers in his career despite not becoming a full time major league player until the age of 28.
He was elected to the Latino Baseball Hall of Fame in 2012. 
Please share your memories of former Milwaukee Brewer great Ben Oglivie .
Think you could write a story like this? Brewer Fanatic wants you to develop your voice, find an audience, and we'll pay you to do it. Just fill out this form.
MORE FROM BREWER FANATIC
— Latest Brewers coverage from our writers
— Recent Brewers discussion in our forums
— Follow Brewer Fanatic via Twitter, Facebook or email
3