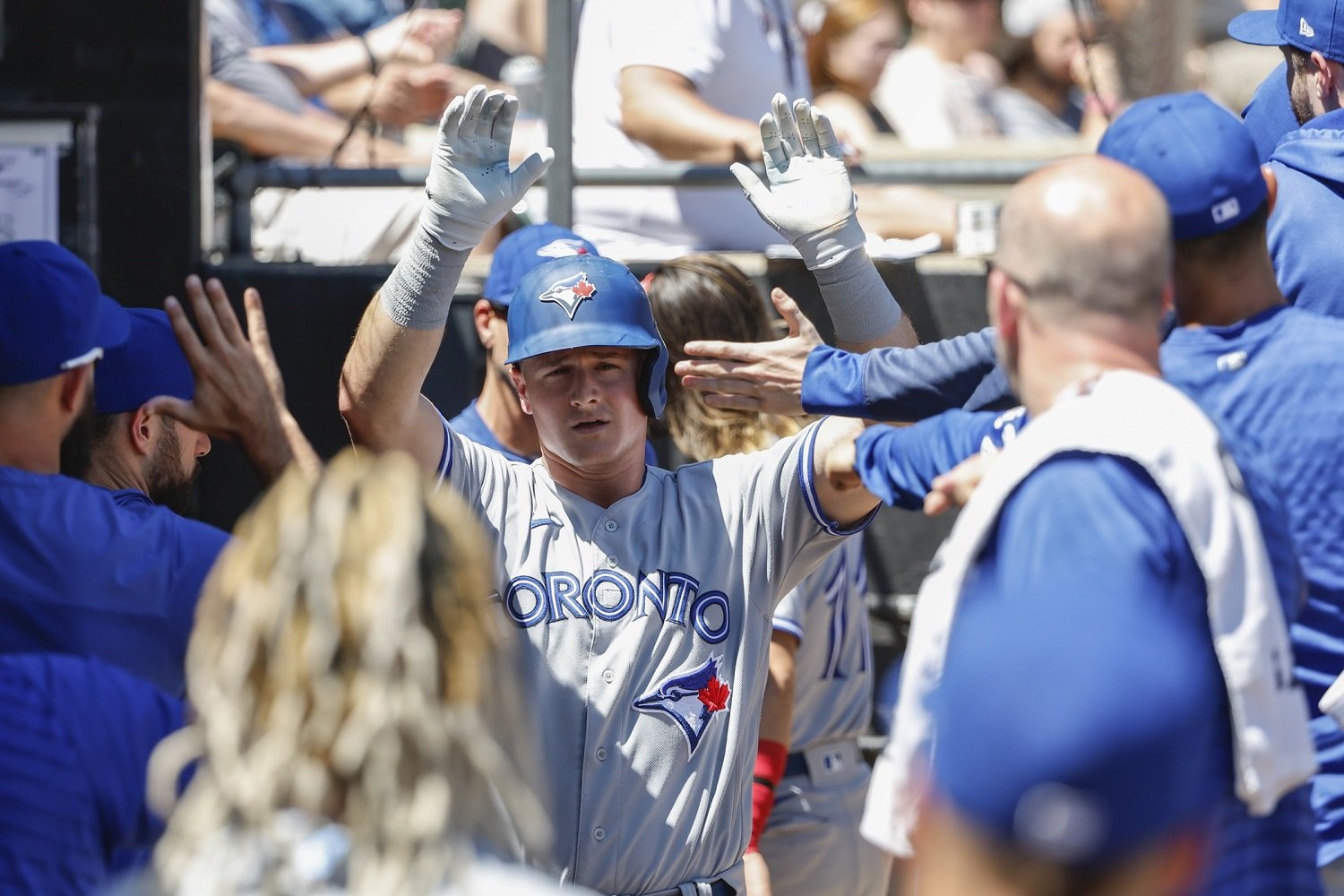 Image courtesy of © Kamil Krzaczynski-USA TODAY Sports
After four games with the red birds it's time for three with some blue ones. It's an interleague match-up, the mystique of which carries a little less oomph with the addition of universal DH and a far more engrained interplay of interleague play in general, but fun nonetheless.
The Toronto Blue Jays were picked by a good number of reputable and thoughtful baseball minds to handily dominate their division, but illustrating well the delightful chaos of baseball and the notion to never underestimate the Bronx Bombers, the Yankees have proven too monstrous a force for the Blue Jays to hold first place. Still, at 38-29, the more than competent Blue Jays will be bringing a formidable style of play to AmFam Field. Let's check out the match-ups.
Friday June 24th
Alek Manoah (8-2 2.00 ERA)
Adrian Houser (4-7 4.24 ERA)
From the fan standpoint it's hard to feel optimistic about the Brewers chances in this one. Houser's season started strong but has faded so aggressively since the end of May that he's effectively a negative WAR player to this point. Meanwhile Alek Manoah is putting in a Cy Young worthy performance. I make the case for keeping an eye on him below.
Saturday June 25th 
Yusei Kikuchi (2-3 4.94 ERA)
Corbin Burnes (5-4 2.31 ERA)
After a mediocre start to his career, Yusei Kikuchi levied a 2021 All-Star appearance in to a three-year contract with the Blue Jays. To this point it looks like the Japanese born lefty has regressed back to said mediocrity, with an arc and stat line not dissimilar to Adrian Houser in the first match-up. Harking once more to the previous match-up, Corbin Burnes' status as an ace remains ironclad as he continues to dominate and is unquestionably the Brewers best pitcher in a strong rotation. 
Sunday June 26th
Jose Berrios (5-3 5.11 ERA) 
Undecided
It's a little hard to prognosticate on a game where the match-up still hasn't been declared yet, but for better or worse the reason for it's undeclared status is precipitated on the impending return of All-Star righty Brandon Woodruff. Regardless of who's on the mound, the truth remains that José Berríos has been mysteriously ineffective after being traded from the Twins to Blue Jays last July.
Statistically and metrically, he's been woefully unimpressive, even with sparks where he demonstrates his previous brilliance. In his last start he was shelled for three home runs by the equally baffling White Sox, but struck out 13 in a start against his former team in an early June drubbing of the Twins. The Brewers should assume the excellent Berrios of yore comes out to play, of course, but pragmatically speaking there's not a lot to be optimistic about for this Jays arm.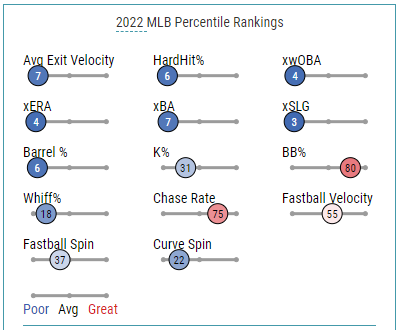 As evidenced here, despite the fact that he does get some swing and miss and maintains a low walk rate, everything else orbiting Berrios' repertoire is struggling mightily. 
Players To Watch
Alek Manoah: If you can separate yourself from your fandom and marvel at greatness, even at your favorite team's expense, Alek Manoah is someone to watch. The 6' 6" righty's imposing presence has a resume to match, with two or fewer earned runs in 26 of his 33 career starts. If the Brewers weak spot is offense, they'll need to strategize with Manoah, or they'll be feasted upon.
Alejandro Kirk: Remember for a few sweet years when Jonathan Lucroy was considered the most underrated player in baseball? The quiet reception he got despite his excellence reminds me a lot of Alejandro Kirk. In his sophomore year, the Jays 23-year-old catcher is absolutely crushing the ball right now. .304/.395/.473 isn't quite the offensive output you normally expect out of a catcher, but thanks to a K rate of 10.2% (firmly putting him in the top 2% of the league) he's taking every opportunity at the plate, and feasting in the process. 
Christian Yelich: It's getting tiresome waiting for Christian Yelich to even resemble a shade of his former self, and while the days of MVP viability feel more conclusively bygone than they did in the years immediately following his peak, the peripherals still beckon patience. He's hitting the ball hard, and with regularity. Is Yelich less threatening strictly as a result of bad luck? No, but it's fair to say that bad luck has something to do with how limp his offense appears. 
Predictions 
The Blue Jays are a solid team top-to-bottom, but the Crew is lucking out by hitting on a weaker part of their rotation. The Crew seems more confident than they did at the beginning of June, so I'll give them the slight edge to take the series 2-1.
Think you could write a story like this? Brewer Fanatic wants you to develop your voice, find an audience, and we'll pay you to do it. Just fill out this form.
MORE FROM BREWER FANATIC
— Latest Brewers coverage from our writers
— Recent Brewers discussion in our forums
— Follow Brewer Fanatic via Twitter, Facebook or email
1